Original URL: https://www.theregister.co.uk/2010/11/17/review_tablet_smartphone_samsung_galaxy_tab/
Samsung Galaxy Tab Android tablet
Shrunken slate or fat phone?
Posted in Personal Tech, 17th November 2010 12:00 GMT
Review The buzz surrounding Apple's iPad has prompted a rush of me-too tablets hoping to combine its up-to-the-minute spec, with practicality and usability. Unlike the iPad, Samsung's much-anticipated Galaxy Tab also has the advantage of being a phone, and a 3G Android smartphone at that, with huge potential for add-on functionality. It's also got 802.11n Wi-Fi, GPS, Bluetooth 3.0 and a 3.2Mp camera.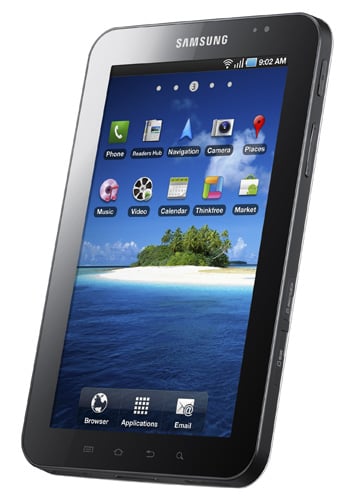 Slate of hand: Samsung's Galaxy Tab
The outcome of the tablet wars may ultimately be decided by the optimal size of the screen – just how small or large can it be before it becomes impractical in either direction? The Galaxy Tab is too big for a pocket, but it's lighter and smaller than the iPad at 191 x 121 x 12mm and 384g compared to 243 x 190 x 13mm and 730g for Apple's fondle slab.
At 1024 x 600 pixels, the sharp, bright 7in multi-touch capacitive screen is certainly large enough for viewing films and also, crucially, for reading e-books. It may only be 2in bigger than Dell's interesting Streak hybrid, but that makes quite a difference in elevating it from 'big phone' to 'enhanced tablet' status. Yet the Tab's display revealed fingerprints rapidly become quite a serious problem, and I soon found myself pining for the iPad's grease-resistant coating.
Powered by a 1GHz processor, the Galaxy Tab is generally pretty nippy, although running several apps at once can occasionally cause it to stall. It also tends to get a little warm with extended use. Having a plastic back seems to contribute to this, given that the iPad stays cool in its metal casing. The tablet runs Android 2.2, also known as Froyo, the latest incarnation of Google's Open Source mobile OS.
Indeed, you're frequently reminded that this tablet is running handset software with numerous phone references in various prompts. None too surprising perhaps, given the distinct advantage the Galaxy Tab has over the iPad is that it can function as a standard mobile phone. Yet pressing its brick-sized bulk to your ear looks a bit Dom Joly 'I'm on the phone!'. Calls through the onboard speaker don't sound too great either, but adequate, if you're pushed.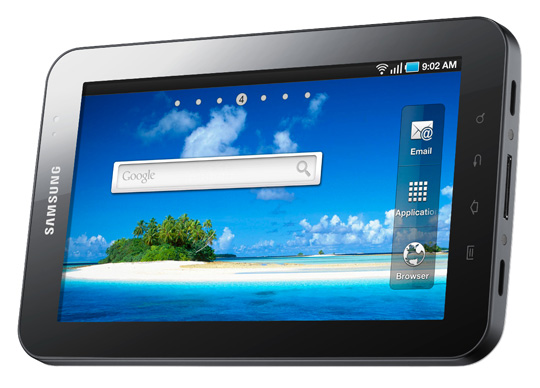 The soft keys on the right are all too easy to prod by accident when rotating the Tab
There are multiple home screens which can be populated with all manner of shortcuts and widgets, although only a few appear on Samsung's own Apps store. Usefully, there's an active applications widget called the Program Monitor that you can attach to the home page. This app tells you exactly what you're using so you can quickly quit unused apps to save on battery. There's also a basic file browsing app but, frustratingly, it won't let you rename files.
Bought to book
As usual with Android, e-mail is easy to set up with most accounts requiring just address and password, and the screen's size means there's room for a viewing pane next to the list of incoming messages. The keyboard's big enough (just about) for ten-digit touch typing in landscape mode, but the inclusion of handy keys like .com and @ cause the space bar to be perilously small. There's also Swype keyboard text recognition, which is an engaging way of inputting text, but takes a little bit of getting used to.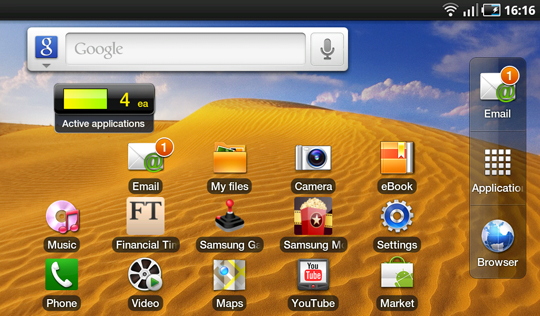 Customisable homescreens - depending on your view mode you can have up to nine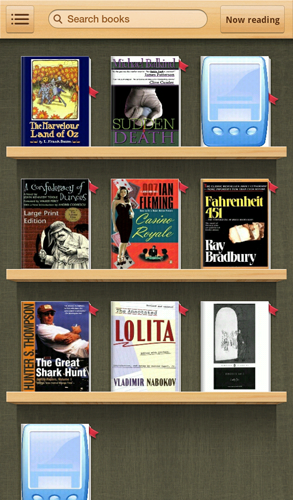 Look familiar? Samsung's iBooks e-book reader
The ePub-compatible e-book app looks strikingly similar to Apple's iBooks in oh, so many ways, though there's no on-line store attached directly. The Reader Hub, however, has a connection to on-line book store Kobo, as well as news and magazine subscription options, some, but not all of them, available for free. There's also a heap of free e-book readers available from the Android Market, including Kindle for Android with its Amazon connection, which worked just fine.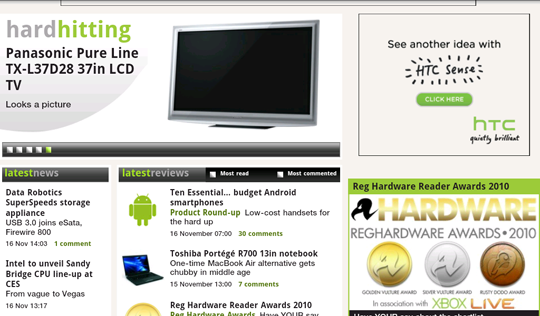 Unlike the Apple iPad, Android's Webkit Browser supports Adobe Flash content
Android's browser generally worked well too, and it supports Flash video, though there were a few stumbles and the odd stall. Nothing to get too hung up about, but it's not quite as smooth as the iPad's relatively seamless browsing experience that is, nonetheless, Flash-free.
While the accelerometer handles switching from landscape to portrait mode swiftly, when rotating the Tab it is all too easy to press the physical buttons on the edge and the touch panel ones at the base. Consequently, you find yourself exiting the window you were viewing or an application, which is something the iPad manages to avoid when handled, due in part to being a bigger device. No matter how careful you are with the Tab, it seems to catch you out one way or another when turning it.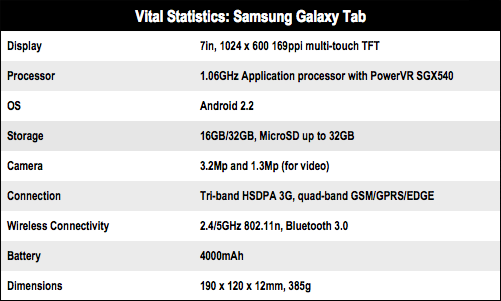 Image conscious
Watching videos isn't the very sharpest, and the stretch option to get films to fill the display is welcome, though in some cases it can flatten things out a little too much, despite the screen's 16:9 aspect ratio. You can also stream video or music using Wi-Fi over a DLNA network and it can handle MPEG4, WMV, H264 and DivX files. The onboard speaker, however, is disappointing, with a rather tinny, strained sound.
Sample Shots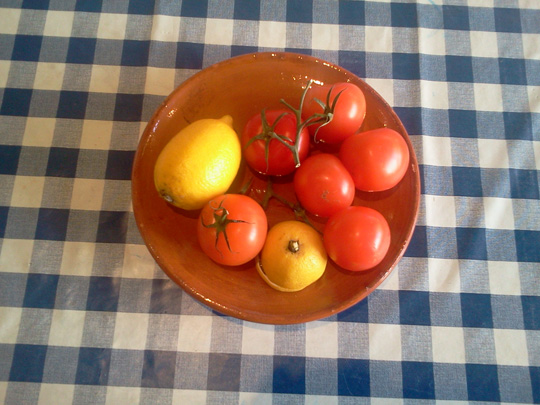 Click for a full-resolution image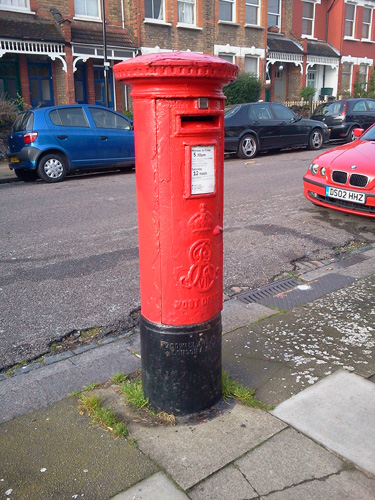 Click for a full-resolution image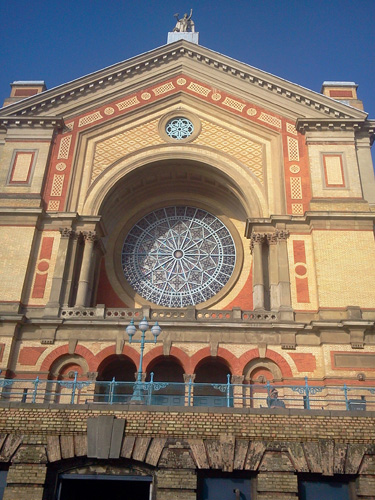 Click for a full-resolution image
The 3.2Mp camera isn't anything to write home about and not particularly practical to use, given the size of the device. Still, pic quality isn't bad and it offers LED flash, multi-shot, panorama and smile detection options, as well as adjustments for white balance and ISO.
Galaxy quest
The Galaxy Tab can record video at 30fps and 720 x 480 pixels, which isn't bad either, if not quite the full HD shilling. The main problem I had with it may just be an individual glitch, but the Tab occasionally seized up when using the camera, requiring a wait of a few seconds to get going again.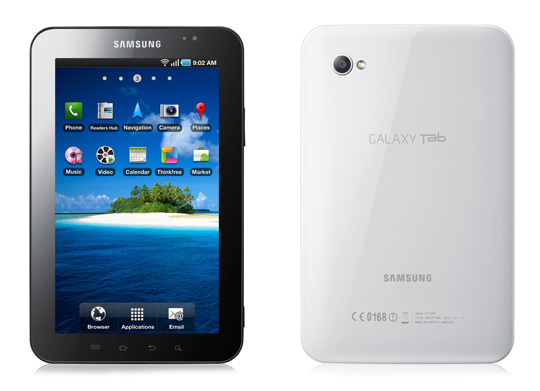 The plastic build isn't exactly a winning feature, given the price
There's also a 1.3Mp camera on the front for video calling, which works over 3G, and room enough on the screen to show pics of both caller and callee simultaneously. The Android Skype app doesn't seem to recognise the camera at the moment though, which if on-line user comments are anything to go by, also dogs other messenger apps on this device too.
The music player is standard Android, which is good enough, and it can play back a good range of formats including MP3, AAC, WMA, FLAC and WAV. Mac and Linux users can access the Tab as a mass storage device, but those with a Windows PC can also sync using Samsung's recent-ish Kies software, which does a good job of arranging your media and other files, or by simple drag and drop. The Music Hub app also offers access to online music from 7digital.
The Tab comes with 16GB of memory on board, which is enough to get going with, and you can add up to 32GB more with a micro SD card – an option that's certainly not available with the iPad. Battery life was surprisingly good, and with heavy use, I managed a rather long working day out of it. Given Samsung's proprietary interfacing, the lack of a micro USB slot is a bit distressing, however, supplied charging lead has a USB connector at the other end and can be used as an adaptor to link up peripheral keyboards and the like.
Verdict
The Tab may not quite match the iPad for luxurious ease of use or build quality, but shop around and you'll soon find it for £40 less than Apple's cheapest 3G version. However, it is more expensive than the entry level Wi-Fi-only iPad. Even so, the smaller Galaxy Tab has the capability to function as a phone and a camera, which will no doubt appeal to many. Flash on the browser will also have its fans, as will the add-on memory and the e-book reader functions that work just as well as its rival. Overall, the Galaxy Tab shows potential as an iPad challenger. With an eye on the forthcoming Gingerbread and Honeycomb upgrades, Android enthusiasts are likely to forgive its quirks, as this fondle slab ticks an awful lot of boxes. ®
More Tablet Reviews...

Archos 7
Home Tablet
Apple iPad
3G 32GB
Dell
Streak
Amazon
Kindle DX