Original URL: https://www.theregister.co.uk/2010/11/17/review_storage_nas_synology_ds411_plus/
Synology DiskStation DS411+ Nas box
Dual core storehouse
Posted in Personal Tech, 17th November 2010 07:00 GMT
Review From the outside, the Synology DiskStation DS411+ appears pretty much identical to the DS410n – a fairly heavy duty home and small business four-bay Nas box, reviewed recently. However, internally, the DS411+ is is quite a different beast, aimed at the small and medium business sector.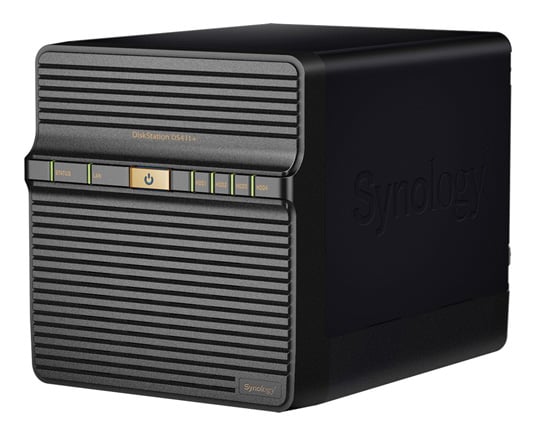 For business and demanding enthusiasts: Synology's DiskStation DS411+
This unpopulated four bay Nas box supports 2.5in or 3.5in Sata drives of SSDs up to a maximum 8TB capacity in total. Powered by a dual core Intel Atom D510 CPU clocked at 1.67GHz and 1GB of DDR800 RAM, the DS411+ is on a par, in terms of processing power, with the rest of Synology's top line products, including the DS1010+ and RS810+.
In terms of features, the DS411+ runs the same DiskStation Manager (DSM) software as all other Synology DS products and consequently sports the same exhaustive feature list I evaluated with the DS410, plus IP surveillance camera support – up to 20 cameras, 512 connections. With the arrival of DiskStation Manager 3.0, however, there are a number of new features along with a new interface.
The old DSM desktop interface was not exactly ideal for the novice user, but it did take away all the layers of obfuscation by presenting everything in a list form. With the new DSM desktop Synology has refashioned the Nas interface to something very reminiscent of the KDE *nix interface. This includes windowed applications and multitasking, making it much easier to perform complex tasks all within one browser window.
The new file browser is intuitive and is capable of handling compressed archives including creation and encryption across a range of formats. DSM 3.0 also brings EXT4 file system support and an upgrade to Linux Kernel 2.6.32.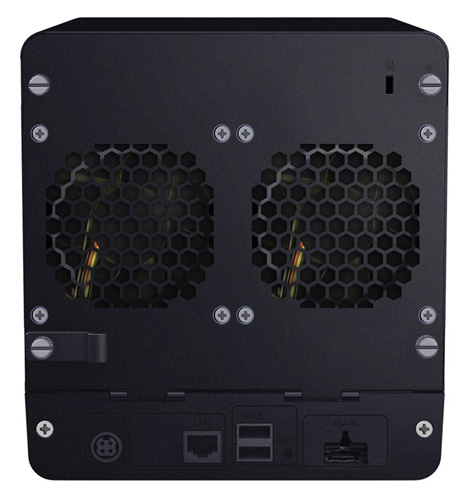 Features eSata and two USB ports for additional devices
Additional changes include updates to File Station to allow file uploads greater than 4GB in size, support for 253 more camera models in Surveillance Station 5, video integration for the DS Photo iPhone app, IPv6 support, and upgrades to PHP 5.3.2 and openSSL 1.0.0.
So it's the all-in-one business grade Swiss army knife of the Nas world with every possible feature imaginable. Bells and whistles aside, Synology makes claim of 112.99MB/s read and 106.91 MB/s write speeds to help justify the additional £100 price hike over the £400 DS410.
With DSM 3.0, the write speeds come much closer to what should be expected, however, the read performance seems to suffer in some configurations. That said, use different drives and your mileage may vary. Besides benchmarks with DSM 3.0 installed on the DS411+, for consistency, figures for this model and other Synology drives previously tested running DSM 2.3 are shown too.
Benchmark Tests
CrystalDiskMark 3.0 Results
JBOD Drive Throughput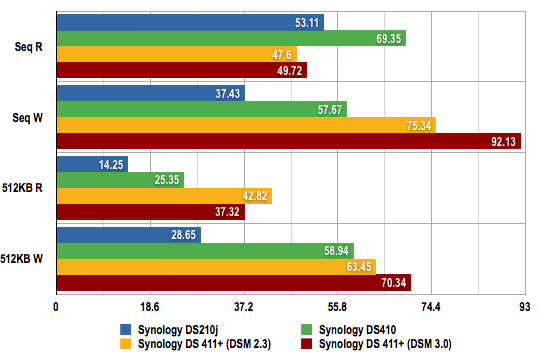 Throughput in Megabytes per Second (MB/s)
Longer bars are better
RAID 1 Drive Throughput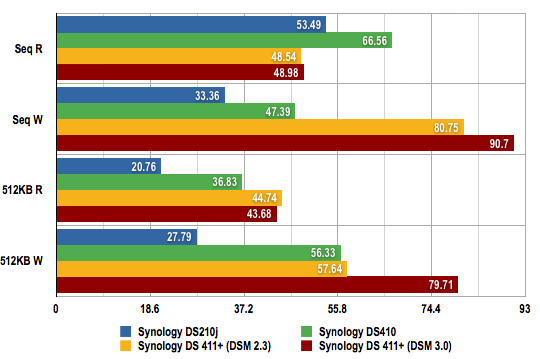 Throughput in Megabytes per Second (MB/s)
Longer bars are better
RAID 0 Drive Throughput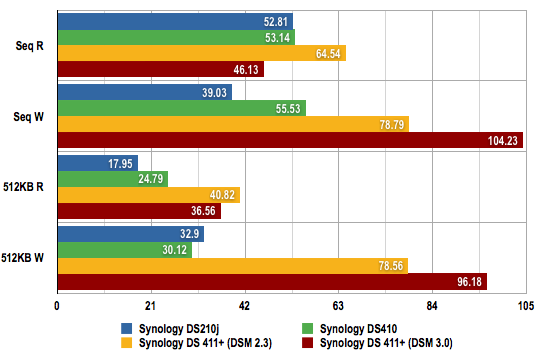 Throughput in Megabytes per Second (MB/s)
Longer bars are better
While Synology seems to be somewhat ambitious in its claims, you only have to read the company's disclaimer to see why: "The performance figures are achieved in Synology lab by using very powerful client computers with extremely optimised network settings, and could vary on different environments. A regular office desktop/notebook may not be able to achieve these high performance figures." So now you know.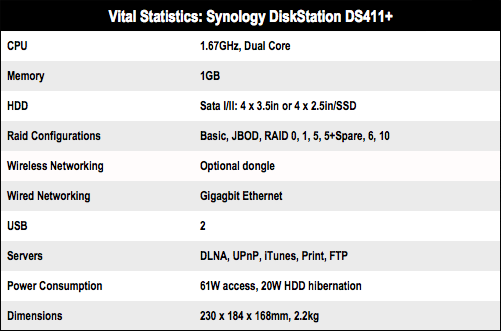 Maximum performance isn't the only important factor here though. In comparison with other Synology models, it's evident that – with the exception of the DS410's impressive JBOD and RAID1 sequential read ability – the DS411+ trumps everything else with huge performance benefits in all write operations.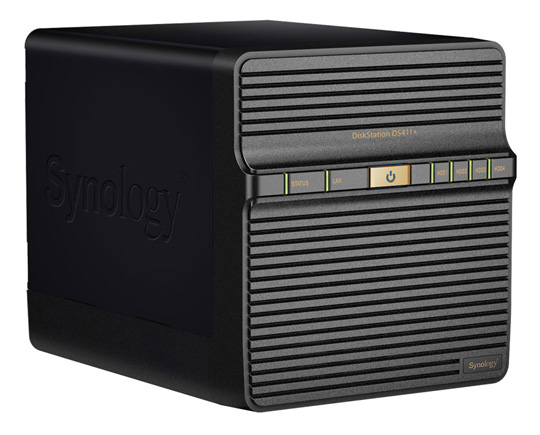 Perhaps not the fastest Nas, but certainly one that has plenty of configuration options
If you've got the hardware to unleash the DS411+'s immense read potential, then you'll most likely have the extra £100 to opt for it over the DS410. After all, this is most certainly a business oriented machine and not for the home user, although there will be many an enthusiast who would spend the extra as well.
Verdict
While there may be speedier Nas boxes out there, Synology's DiskStation product line is miles ahead of the curve thanks to the features of DiskStation Manager 3.0. It's just a pity the physical styling doesn't follow suit. Still, if you're looking for a four bay Nas box with a multitude of features and an impressive performance to boot, then the DS411+ is certainly worth considering. ®
More Network Storage Box Reviews

Cloud Engines
Pogoplug
Dane-Elec
myDitto
Verbatim
MediaShare
HP MediaSmart
Server EX490