Original URL: https://www.theregister.co.uk/2010/11/17/review_sme_server/
A Linux server OS that's had 11 years to improve
Is SME Server ready to roll?
Posted in Software, 17th November 2010 12:30 GMT
Review: SME Server is pretty much the original ready-rolled server distribution. Although it has changed hands – and names – a few times, it's been around since 1999, when it was known as e-Smith, a name you'll still see in a few places.
Name: SME Server 7.5.1
Supplier: Free download
Price: Free, no subscriptions or registration required
Minimum system requirements: 400MHz P5-class CPU, 256MB RAM, 4GB hard disk
In 2001, SME Server was bought by enterprise VOIP vendor Mitel, which for a while offered unified office servers based around e-Smith, which it renamed Managed Application Server. Mitel donated the product back to the community in 2004, where today it is developed cooperatively by a community based around the contribs.org website – originally a home for third-party extensions to the software.
Originally based on the old free version of Red Hat Linux, its developers have now moved SME Server over to CentOS, a de-branded Free version of Red Hat Enterprise Linux. (For additional big-corporate kudos, it's worth knowing that Oracle Unbreakable Linux is essentially CentOS, re-rebadged.) This puts SME Server on a solid base and also permits easier updates.
The current version of SME Server is 7.5.1, based on CentOS 4.8, SME Server 8 is in late beta and will be based on the current CentOS 5.5.
The installation is very straightforward and asks few questions apart from a password. This is the password both for the standard Linux "root" account and for the management interface's "admin" account, too. A media check of the installation CD is optional and there are no partitioning options – it always takes the entire hard disk of the PC being used, removing any and all existing data. Dual-booting is not an option, so don't even try – it's all or nothing. If you have a static IP for the machine, you can enter it, or it will happily pick one up from a DHCP server.
The sole option concerning disk utilisation becomes available if the server has multiple – ideally identical – hard disks, in which case SME Server will automatically create a software RAID1 pair, turning two or more drives into a mirrored array.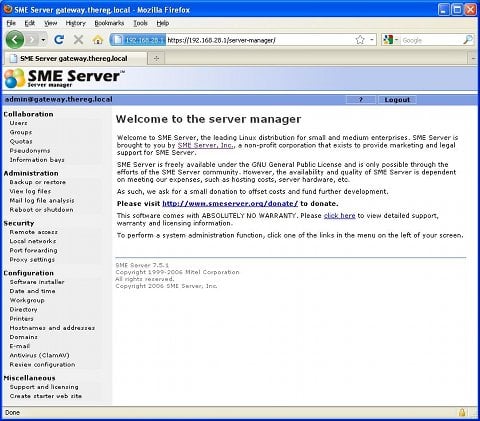 SME Server's Server Manager is not the jazziest dashboard you'll see, but it's simple and easy to use
Every install is a full install, with no option to disable any parts of the system that you might not want or need. It's all or nothing every time, and everything is always turned on. Even if you don't need a web server, say, Apache will be running in the background nonetheless. If you're willing to go in and edit some configuration files, it's possible to disable certain services, but it's much harder than it should be.
The only real installation option is the type of server, of which there are three: "server and gateway", "private server and gateway" or "server-only". Except in "server-only" mode, SME Server expects to be the Internet gateway for your LAN. It wants two Ethernet connections – one to the Internet and one for the internal network. In "server and gateway" mode, it expects one of its ports to be on the public-facing Internet, for which it will be the router and firewall. This allows it to serve web pages to the Internet, including its webmail service, and act as a VPN endpoint. In "private server and gateway" mode, the behaviour is much the same, but no services are available from outside the network – it even blocks Ping requests. "Server-only" mode works with a single Ethernet card, omits the firewall and routing functionality and must be protected behind a separate firewall – which is much simpler, but offers a lot less functionality. Services available to local users on the LAN are the same whatever role has been selected, so for example Web pages can be served internally for an intranet.
By the way, if you're still using something as Palæolithic as dial-up, SME Server still supports that: it can use a modem as the Internet interface and will demand-dial your ISP as required.
Installation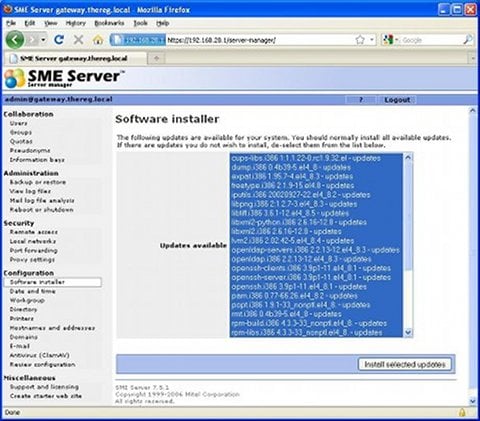 SME Server's CentOS base means regular updates and easy installation
Once the server is installed, there is no user interface to speak of on the machine itself – just a bare login prompt. If you want to, you can use the command line, but there's no need – all configuration and administration is done from a client machine using a web browser.
If you've configured the machine to be a gateway, it does all the standard stuff that most £50 firewall devices do these days: it acts as a DHCP server for the local network, does NAT masquerading of TCP/IP traffic, acts as the local DNS server and so on. It can out-do most routers, though. There's a caching Web proxy, helpful for slow Internet connections. In these days of dynamically-generated websites, caching proxies aren't as much help as they once were, but they can still help with repeated large-file Web traffic such as Windows updates.
As well as being a capable email server, accessible via POP3, IMAP and webmail, it can also do spam-filtering on inbound email. There's an LDAP directory, which could be used for a company-wide address book, but there's no shared calendar support.
Naturally, SME Server supports file-sharing. It uses a slightly idiosyncratic system called "information bays" or "i-bays". As many i-bays as you wish can be added, with per-user and per-group permissions and security. An i-bay can be used either as a file share, in which case users see an empty folder – actually a folder inside the i-bay called "files" – or also as a Web or FTP share, in which case the users can also see the "cgi-bin" and "html" folders used for holding website content.
A tick of one box in the web management GUI makes the machine a Windows domain controller, but unfortunately, the version of Samba used in SME 7.5 does not support domain logons from Windows 7 clients. (This is fixed the forthcoming SME Server 8.)
SME Server also supports Mac clients – i-bays are also automatically shared via Apple Filing Protocol, as well as Microsoft's SMB protocol for Windows clients. Although Mac OS X has no trouble accessing Windows shares, this can still be useful. SMB (also known as CIFS) doesn't accommodate Apple's dual-fork file format, still used by older Mac apps such as QuarkXpress. Save a document from such an app onto a drive connected via SMB and it will be irretrievably corrupted. This puts SME Server ahead not only of ClearOS and Zentyal, but also in front of all Windows Server 2008, which has dropped Mac support altogether.
SME Server is also a Web server straight out of the box: to host a site, little more is needed than to create an i-bay for it and upload some content. It even has a wizard to generate a simple single-page site. It supports multiple virtual domains, so you can host multiple different websites on a single machine with a single IP address. It also talks to an assortment of dynamic-DNS suppliers so that you can associate a name or names with your server and have them visible on the public Internet – although to do this, you'll have to be in "server and gateway" mode, using SME Server as your firewall, connected directly to the Internet.
Unfortunately, SME Server omits a few features that its rivals supply as standard. Many of these things can be added on via third-party packages called "contribs", such as web-content filtering using DansGuardian. However, this requires a little more effort from the administrator, which is what these distros are aiming to minimise. For instance, SME Server has little meaningful groupware support out of the box. Users can email each other, of course, and if their client supports workflow then this will work over POP3 or IMAP.
If you tried SME Server back in the Red Hat days, it's changed and is still improving. There are new and improved facilities for backing up to USB devices attached to the server as well as to workstation hard disks, as well as an integral system-updating mechanism built into the admin web-GUI. The optional loginless server control menu on the server console has disappeared, replaced by a bare login prompt, closing a potential security hole. (The admin menu is still available if you log in as "admin" - the same password covers root, admin and the web interface.) However, SME Server 7.5 is not all that current – for instance, it uses Linux kernel 2.6.9, which is pretty ancient by 2010 standards. This reflects the conservatism of CentOS and its underlying Red Hat Enterprise Linux, but the upside is a long lifespan in terms of security updates.
We also had a quick look at beta 6 of SME Server 8. Upgrading is very easy – boot from the new version's CD and install over the top. All settings and data are preserved and it works exactly as before. It uses a tiny bit more memory, but not to any significant amount, and is largely indistinguishable, although on our test machine, Apple file services stopped working after the upgrade.
Summary
SME Server is admirably simple and it does what it says on the metaphorical tin. It's superbly easy to install and maintain, client PCs or Macs can be connected in minutes, it's reliable and robust and needs very little maintenance. Getting it working requires less work or specialist knowledge than either ClearOS or Zentyal, let alone to Windows SBS.
The ability to mirror a pair of disks in your server for greater resilience is a nifty touch, too. For a simple small business, it's just the trick and is perfectly capable of supporting dozens of users with no real hassle at all – and the flexibility and low-resource-usage of Linux makes hundreds of users on a midrange server entirely feasible, should your organisation grow so much. It's also completely free, with no accounts or registration required, and the support forums on the contribs.org site are helpful.
It doesn't have many downsides. There's no modularity – you can't remove features you don't need. The domain-controller feature of the current version is not fully compatible with Windows 7, although SME 8 will fix that. It doesn't have as many traffic-management features as ClearOS, nor Zentyal's groupware support. Find our in-depth reviews of ClearOS here and Zentyal here. ®
Features: 3/5
Ease of use: 4/5
Expandability: 4/5
Overall: 4/5