Original URL: http://www.theregister.co.uk/2010/11/16/ten_essential_budget_android_smartphones/
Ten... budget Android smartphones
Low-cost handsets for the hard up
Posted in Personal Tech, 16th November 2010 07:00 GMT
Product Round-up In barely two years, Google's Android operating system has established itself as a serious contender in the smartphone biz. It's different from Apple's iOS not just in its open source nature, but also in its use for both high-end premium handsets like Samsung's Galaxy S and HTC's Desire HD, but also in a raft of budget devices, effectively make the smartphone a handset choice for just about everyone.
There's a feast of social networking, games and other goodies available from the ever-growing Android Market, all of which are compatible with all Android phones, high and low. And better budget versions even come with high-end aspirations, such as HSDPA 3G network connectivity, Wi-Fi and GPS.
If lower end Androids generally seem to be keeping their end up in terms of specs, the corner cutting tends to show in usability issues. Slower processors start to struggle with just a few apps running, casings can feel a bit too cheap in some cases, and screens aren't of the first water.
Considering that many of these can be half, or even down to a quarter of the price of the high spec Androids, they definitely tend to punch way above their weight. So here, in alphabetical order, are the budget Android smartphones most worthy of your attention.
Acer beTouch e130

Budget computer brand Acer's recent move into smartphones has been honourable if not exactly stellar, covering the basics without really nudging ahead of the pack. The Android 1.6-packing e130 bears a passing resemblance to a BlackBerry or Nokia's E-series with its Qwerty keyboard, though it feels a little clunkier and less classy than either. The 2.6in screen is touch-sensitive but resistive rather than capacitive, so it's not the most fingertip friendly, but it does offer an additional navigation tool, which comes in handy, particularly when browsing.
The keyboard is nicely tactile, made of rubberised plastic and the rounded keys are easy to find under the thumbs, though its budget shows in the use of a trackball rather than the optical trackpad featured on higher end Androids and recent BlackBerrys.
The processor is clocked at 416MHz which means it tends to be on the slow side, though its 3.2Mp camera is one of the better cheapie Android snappers.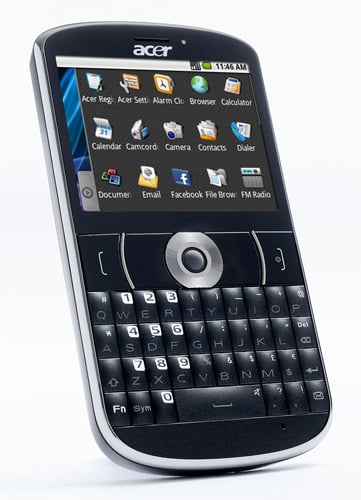 Reg Rating 65
Price £180
More Info Acer
Alcatel OT-980

It's a chunky handful weighing 160g but then it does have a slide-out Qwerty keyboard and bears a passing resemblance to the Blackberry Torch. Its 35 keys feel a wee bit cramped and could have done with a little more definition, but it's still preferable to using an on-screen keyboard.
The 2.8in touchscreen is resistive, rather than capacitive, which is never good, and it's a shame you don't seem to be able to use the navpad to navigate around menus or web pages, which seems like a trick missed.
It's not missing anything important, sporting Wi-Fi, HSDPA and even GPS. Its Android 2.1 installation is only a shade behind the cutting edge, and while the camera's only 2Mp with no flash, it's serviceable enough.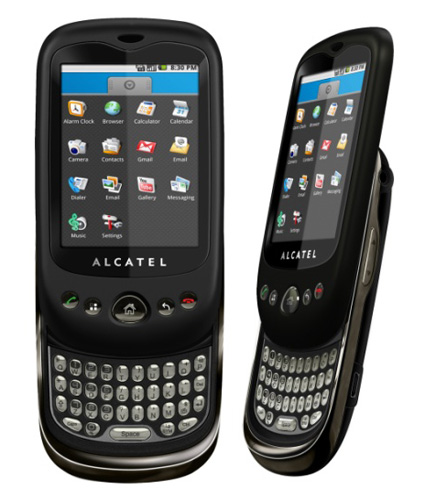 Reg Rating 70
Price £100
More Info Alcatel
HTC Wildfire

HTC has a terrific track record with Android phones, being pretty much at the head of the queue both in terms of the amount of models it has produced, and also in the quality, especially with its flagship Desire handset.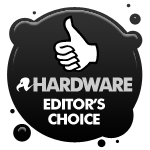 The Wildfire features many of the Desire's pluses, including an excellent 3.2in capacitive touchscreen, HTC's intuitive Sense user interface and the FriendStream widget, which pulls together all of your messages from social networks, emails and text. It cuts corners on the 528MHz processor however, which can be a little laggy on occasion, and the price is still relatively high compared with other budget Androids.
It runs on Android 2.1 and has a 5Mp camera, but this being HTC, it's not quite as good as the spec suggests, and is beaten for sharpness by the likes of LG's Optimus GT540.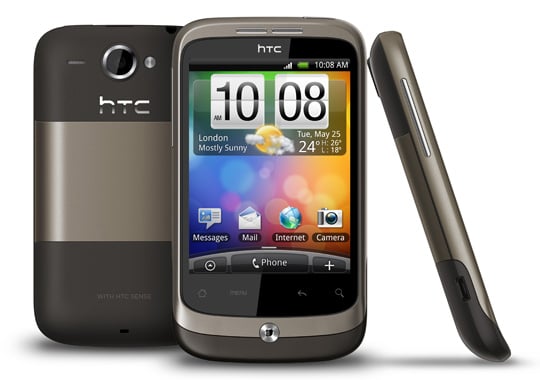 Reg Rating 90
Price £230
More Info HTC
Huawei Ideos

Best known for its Wi-Fi and network accessories, Chinese brand Huawei is nonetheless no stranger to handsets, churning out a fair hew of them for other companies to re-badge. The Ideos is its first own-brand Android smartphone for the UK. It's a neat little handful with no skin on the standard Android UI but at least it has the latest version, 2.2 Froyo, installed from the off. Since there's no additional skinning, in theory it should benefit directly from future updates from Google, without the need to wait for manufacturers to make their own tweaks.
Similar in style to HTC's Tattoo, the screen measures 2.8in and offers 320x240-pixel resolution, so it's not the sharpest, but it's okay. Perhaps more importantly, it's capacitive and decently sensitive, so using it is never a chore.
It's packing a 528MHz processor and 256MB of memmory, so it's not the fastest, in fact it's consistently slow, and the bog standard 3.2Mp camera only goes a little way to make up for it.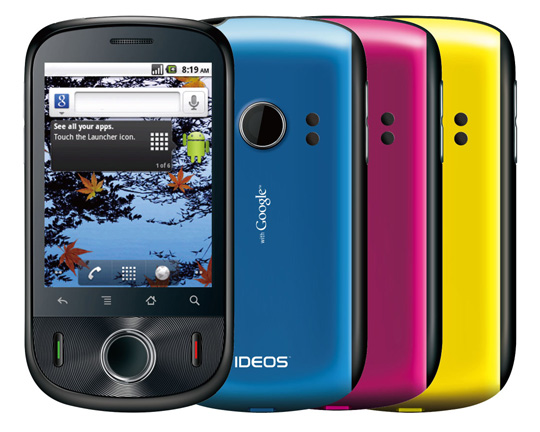 Reg Rating 80
Price £189
More Info Huawei
LG Optimus GT540

LG has been lagging behind the curve with its last few handsets, and the Optimus GT540 doesn't do much to move it forward. While all but the cheapest Android smartphones are employing capacitive touchscreens, the GT540 is stuck with a particularly insensitive resistive model that becomes increasingly frustrating to use as you once again have to double or triple press to bend it to your will. No multi-touch function either.
It comes with Android 1.6, almost a legacy version of the OS and there's a choice of the standard Android UI or a slightly augmented one from LG with the option of three, five or seven home screens. There's a 600MHz Qualcomm processor on board but that doesn't seem to help it run particularly quickly, though the 3Mp camera isn't bad and includes face detection. Unusually, it can play Xvid and DivX movies.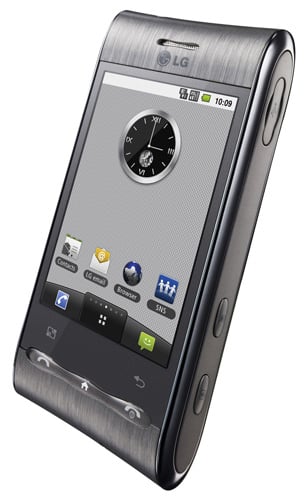 Reg Rating 60
Price £170
More Info LG
Orange San Francisco

It's Orange by name, but Chinese manufacturer ZTE is the build behind the brand. This is a significantly different device to the ZTE Racer available on Three. It's considerably longer and has a bigger, 3.5in capacitive OLED touchscreen. It's arguably classier looking too with its slimline design and minimalist button layout - sliver-like home, menu and back. The OLED screen looks beautifully sharp and crisp, has multi-touch capability and is nicely responsive too.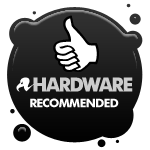 There's a choice of UIs with this Android 2.1 device: vanilla Android or Orange flavour, which features five home pages and a few extra nick-acks like Orange's App Shop - games and ringtones, mostly - contacts backup, Orange Music Store, Orange Maps, a photo slideshow widget and Orange Wednesdays, which gives you some special offers on cinema tickets. The camera is 3.2Mp with autofocus but no flash – decent enough quality though nothing special.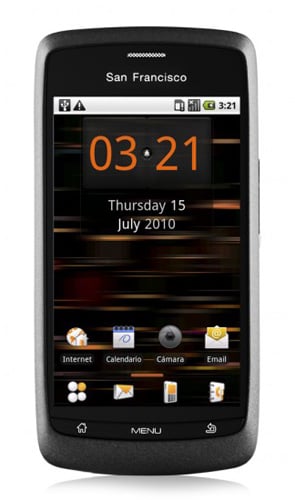 Reg Rating 85
Price £99
More Info Orange
Samsung Galaxy Europa

Samsung's customary gloss black livery gives the Europa a sheen of class as does the arrow-shaped sliver of chrome that surrounds the casing. The standard Android home, back, menu and search keys nestle beneath the 2.8in capacitive touchscreen on either side of a large five-way navpad. The screen only offers 240 x 320 resolution by the way, though it's at least nicely sensitive to the touch.
The Android 2.1 OS comes with seven home screens, and with its 600MHz processor and 512MB of Ram, the Europa is pretty nippy in use. As well as the Android Market there's also the manufacturer's own Samsung Apps store – nothing there for the Europa yet, though, and the 2Mp camera does nothing to excite either.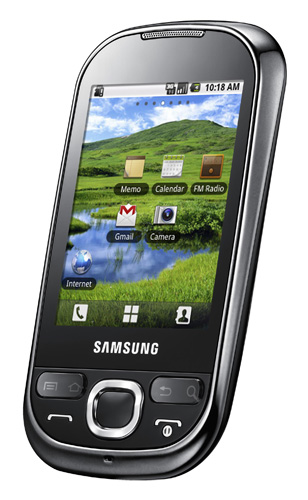 Reg Rating 75
Price £170
More Info Samsung
T-Mobile Pulse Mini

Made by Huawei, T-Mobile's own-brand Pulse Mini looks similar to the HTC Tattoo and replaces the older - and bigger - Pulse. T-Mobile has tweaked the Android 2.2 OS so you get 15 - count 'em! - home screens, a few sexed-up icons and 'Wildcard' widgets.
Android's home, back and menu buttons are touch-sensitive icons beneath the screen, and thankfully the new Pulse has dispensed with the awkward dual home/back and menu buttons of its predecessor. The navpad beneath those is useful for navigating too , especially if you get frustrated with the 2.8in resistive screen's lack of sensitivity.
The 528MHz - backed by 256MB of RAM - is on the slow side. The 3.2Mp camera has autofocus but no flash, and picture quality isn't quite as good as you'd be entitled to expect from the pixel count. The Pulse is, however, absurdly cheap.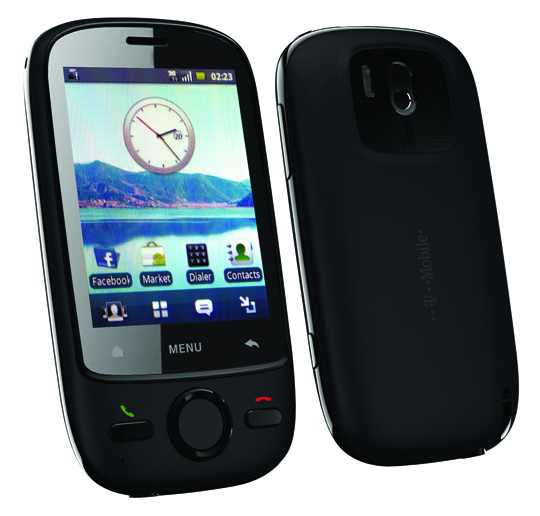 Reg Rating 80
Price £64
More Info T-Mobile
Vodafone 845

Another Huawei model, the 845 is small but fairly chunky - it's 14mm thick - and has an unusual button layout for an Android phone, with home and back incorporated into one key, which makes navigating direct to the first of the seven home screens a little tricky. There's no hard search button, though it's present in a tool bar on the screen.
The 845 has Android 2.1, but the processor is rather sluggish and it can be frustratingly slow at times. The touchscreen is resistive rather than capacitive which is always a little disappointing to use as the sensitivity just isn't there, particularly on a smallish 2.8in screen like this one.
Fortunately, the optical trackpad in the middle of the button array is very sensitive and makes getting around a lot easier. There's also a middling 3Mp camera with no flash. Better still, the 845 is a cheap as chips.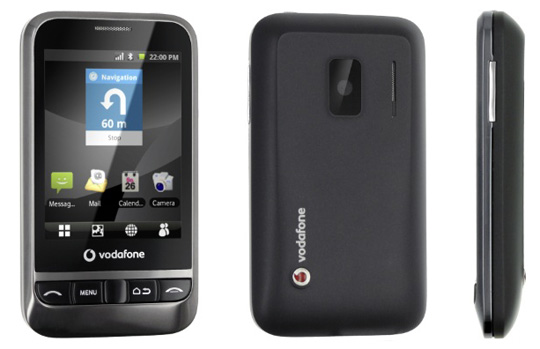 Reg Rating 65
Price Free with £15-30pm contract
More Info Vodafone
ZTE Racer

Chinese manufacturer ZTE chose Three as the Trojan Horse to smuggle its first Android phone into the UK - it's since been joined by the Orange San Francisco - and a decent first effort it is too. There are touch-sensitive home, return and menu buttons beneath the 2.8in touchscreen, which is resistive rather than capacitive. It runs on a near-vanilla Android 2.1 with very little input from Three and features - surprise - three home screens.
The 600MHz processor and 256MB Ram keeps things nipping along nicely but the tiny battery doesn't quite stand up to some of the others, and you'll be lucky to get a full day's use out of it. There's a 3.2Mp camera with no flash, and it's available in black or white.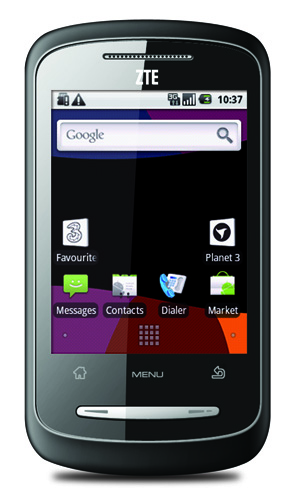 Reg Rating 70
Price £100
More Info Three