Original URL: https://www.theregister.co.uk/2010/11/15/review_peripherals_buffalo_usb3_expresscard_34/
Buffalo USB 3.0 ExpressCard 34
SuperSpeed interfacing for your laptop
Posted in Personal Tech, 15th November 2010 08:00 GMT
Review With USB 3 storage now gathering momentum, fitting a SuperSpeed interface to your computer seems like an option worth investing in now. Even laptop users aren't left out of this buss ride, if there's an ExpressCard 34 slot available. Such cards are still quite a rarity, with Buffalo's IFC-EC2U3UC dual-port adapter being among the few on offer.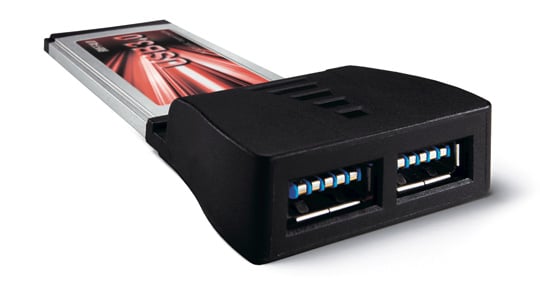 SuperSpeed slot loader: Buffalo Technology's IFC-EC2U3UC
As I noted previously in my review of Buffalo's IFC-PCIE2U3 USB 3.0 PCI-Express card, the controller currently dominating the SuperSpeed USB market is NEC's D720200F1. Buffalo's ExpressCard 34 implementation is no exception from this apparent norm. Although it's an NEC derived interface card, whether it keep pace with the PCIe card equivalents remains to be seen.
This Buffalo adapter is for Windows PC, although Mac compatible models are appearing despite no official support from Apple. For those not so familiar with the USB 3.0 standard, each port must now be able to deliver 900mA of current to be considered a fully power port – almost double the 500mA maximum of USB 2.0.
Given the power requirements you'll find PCIe cards feature Molex adaptors and the first generation of single-port ExpressCards from Fresco Logic required a separate PSU. Thankfully, Buffalo has simply supplied a power adapter for its ExpressCard 34 which draws additional current from any available USB 2.0 port.
Even so, the additional USB 2.0 power feed wouldn't allow me to run two portable USB 3.0 drives simultaneously. The Iomega eGo happily purred away under bus power, but my LaCie Rugged 3.0 needed to use its own USB 2.0 power feed, as well to satisfy its hunger. Given both drives are portable, perhaps this test was a little unfair, as individually, each drive was able to run without need for any additional power supply.

For benchmarking, I've run HDTach to assess the performance of various USB 3.0 drives and interfaces in recent reviews. The results show the Iomega eGo Desktop drive took an acceptable performance hit of 3MB/s when performing read operations and a rather less than pleasing 19MB/s loss in its writing ability.
Hd Tach Benchmark Tests
Iomega eGo Desktop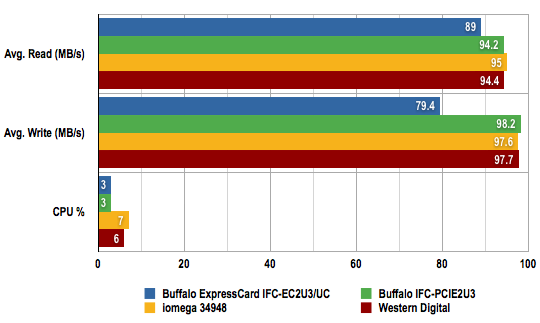 Iomega eGo Desktop drive test results from four different interface cards
MB/s: longer bars are better, CPU: shorter bars are better
LaCie Rugged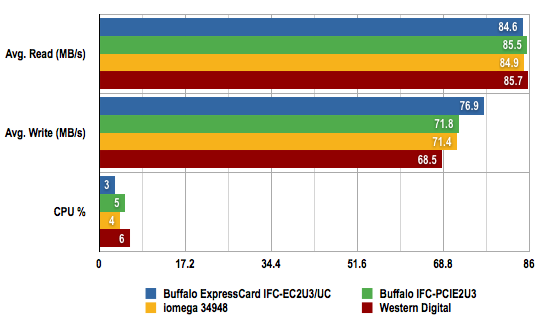 LaCie Rugged drive test results from four different interface cards
MB/s: longer bars are better, CPU: shorter bars are better
Iomega eGo Portable

Iomega eGo Portable drive test results from two different interface cards
MB/s: longer bars are better, CPU: shorter bars are better
The performance with the portable drives is rather more consistent when compared with Iomega's own 34948 PCI express card. Despite USB 3.0 connectivity, regardless of card interface, in tests Iomega eGo Portable simply couldn't exceed 66.3MB/s. Comparison's with LaCie's Rugged drive actually saw a 5MB/s boost in write speed over other adapters. However, even this speed increase on the Rugged drive couldn't match the figures achieved on the eGo Desktop test.
While the Buffalo ExpressCard 34 adapter does impact slightly on CPU performance, it seems unlikely it would be noticed by laptop users with 2.5in portable drives that are very likely to be 5400RPM units with smaller caches. Portable USB 3.0 drives inherently lack the performance characteristics to be detrimentally affected by any ExpressCard throughput shortcomings in comparison to PCI card alternatives.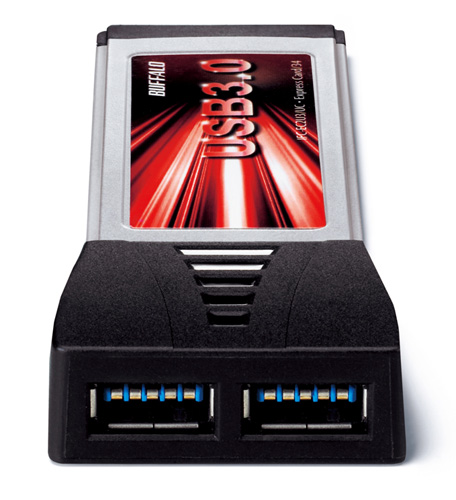 USB 3.0 compatible, but limited by the ExpressCard interface speed
After all, the ExpressCard interface has a maximum throughput of 2.5Gb/s, whereas the SuperSpeed USB specification is 5.0Gb/s. Until ExpressCard 2.0 becomes mainstream – with the inclusion of SuperSpeed USB and a 5.0Gb/s throughput – the limitations of the current ExpressCard specification will effectively cripple all USB 3.0 adapters to half speed.
Still, as the 2.5Gb/s of the current ExpressCard standard equates to a maximum transfer rate of 320MB/s, the desktop drive tests suggest that the shortfall here isn't due to the card interface protocol. Consequently, I wouldn't hesitate to recommend this as a product for those who use desktop-style external hard disks as both the NEC controller and the ExpressCard interface should be more than capable of delivering the full potential of your drives.
Verdict
Buffalo's IFC-EC2U3/UC is a sufficient offering for the SuperSpeed traveller who uses only bus-powered portable drives. Desktop drive users will have to accept a performance hit, but it's still fairly nifty. ®
More USB 3.0 Gear Reviews...

Kingston Technology
DataTraveler
Ultimate 3.0
Iomega
eGo
USB 3.0
LaCie
Rugged
USB 3.0
Buffalo
USB 3.0
PCI Express card