Original URL: http://www.theregister.co.uk/2010/11/13/review_media_streamer_sling_media_slingbox_pro_hd/
Sling Media Slingbox Pro-HD network TV tuner
Out of tune?
Posted in Hardware, 13th November 2010 09:00 GMT
Review It's really hard to recommend a product from a vendor who, having taken £250 for the hardware, then expects you to fork out a further £18 to get the best out of your purchase. At least you get all the cables you need...

Sling Media's Slingbox Pro-HD: streams HD - but not Freeview HD
Heck, even Sony gives its iDevice apps away for free - Apple ditto. is Slingbox creator Sling Media really so tight that it can't be as equally generous to its customers?
Its parsimony might not be so bad if said hardware - the latest in the Slingbox line - delivered a more consumer friendly experience than it does.
The model in question is the Slingbox Pro-HD. As a product already adjusted for the UK market - all tuner-packing British Slingboxes have supported Freeview - you'd expect the last two characters in the new one's name to indicate support for the latest in free-to-air digital TV: Freeview HD.
Not a bit of it, alas. 'HD' here means that, like the three-year-old Slingbox Pro, it can accept up to 1080i input from other set-top boxes, thanks to two sets of component-video inputs on the back. Four letters are missing from that last sentence: H, D, M and I, the connector rather a lot of folk use to hook up their entertainment kit to their tellies, these days.

No shortage of portage - well, except HDMI...
Like the older Pro, the Pro-HD supports composite-video input too, and s-video, and it has analogue and digital audio ports as well. Networking is handled through a 10/100Mb/s Ethernet port, and there's a pass-through co-ax pair to take the feed from your aerial to the on-board tuner and send it on to another device.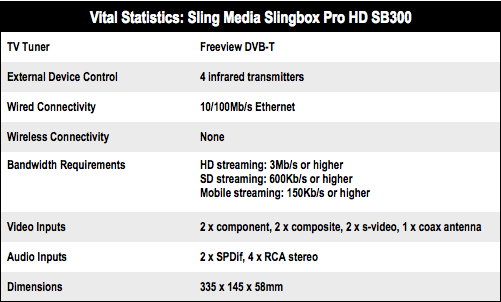 Truly HD? Really, truly HD?
Ports being equal then, and just as equally devoid of Freeview HD, what does the Pro-HD do that the Pro didn't? Stream in HD.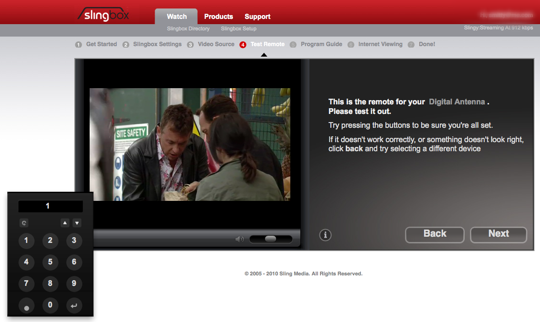 The virtual TV remote is basic, uninformative and very laggy
Well, if you can all it that. Component-video output from my first-gen Apple TV, set to 720p, streamed through a 200Mb/s powerline Ethernet to my router then out to a laptop connected by 802.11n, but the browser-based viewer only registered a video rate of 8Mb/s.
Sling's own spec sheets says "3Mb/s and up" but either way it's not what you'd expect for an HD stream. Maybe 18Mb/s - which both HomePlug AV and 802.11n can support - but not 8Mb/s. That suggests so much compression that while the picture resolution may be 1280 x 720 or 1920 x 1080, a lot of the detail has been compressed out of it.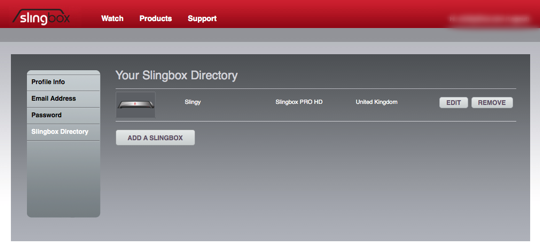 Set-up is performed over the net, not locally
Indeed, while the picture in the browser was entirely watchable, it didn't look particularly HD.
Whatever the quality, the picture has to be viewed in a browser - and in a 32-bit browser, at that, at least on a Mac. That's not so bad, but Sling forces you to create an account with the company before you can use the box.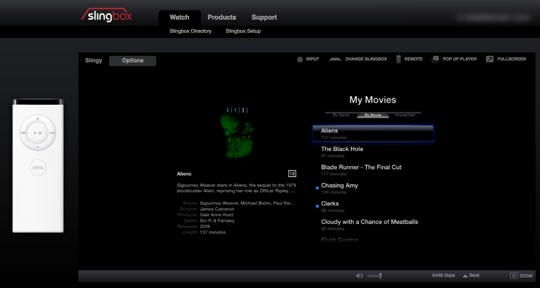 Some other remotes don't work as well as they should
Presumably that's to save the user from having to enter an IP address, which can be tricky for non-techies, especially if it's a dynamic one. But, really, why should I have to set up an account and then set up a separate password just to access the box I've paid 250 notes for? And why not supply a simple Java IP address look-up utility like Nas makers do? Or do admin through an on-device web server? I'd trade all these happily if I got free mobile access in return, but no, I still have to cough up 18 quid for the iOS, Windows Phone 7 or Android viewer.
Own the box, not the service
It's the sense that I can do nothing with my purchase without the online intervention of the supplier that irks me - especially when the box doesn't involve the provision of online content. It's a bridge between my network and my set-top boxes. All this should work straight out of the box.

Still a TV streamer at heart
Worse, it doesn't work well. The browser viewer pops up a rudimentary channel changing remote, but it's well laggy. Click a button and the remote's virtual display doesn't update until the channel actually changes. So you don't know whether it's accepted your input or not. And there's no EPG, or any programme infor - or even a channel ident beyond its Freeview number.
As I say, among the set-tops I tested the Slingbox with was the original Apple TV. The virtual remote changes to match the look of Apple's real one, but clicking on many of the buttons had no effect. Sling supplies four infra red transmitters so the Slingbox can control your devices. I tried the lot, but no joy. That doesn't inspire confidence in the Pro HD's ability to handle other, less well-known boxes.
Verdict
The original Slingbox was created to allow its inventor to watch has favourite TV shows while he was travelling. The Pro-HD still lets you do that, but without Freeview HD the new box is no better to use than the £50 cheaper Pro, though at least all the ports are built in. Yes, you can feed it from HD boxes, and that's handy - so long as no one at home wants to use one while you're away, so long as you lack an HD download service or a stack of files on your Nas box, and so long as you don't mind viewing sub-HD pictures. Sling, this box could have been so much better. ®
More Network Tuner Reviews

Digital Stream
DHR8203U
IPVision
FetchTV
SmartBox 8000
Elgato
Netstream DTT
Sling Media
Slingbox
Pro