Original URL: https://www.theregister.co.uk/2010/11/12/rhel_6_review/
RHEL 6: serious Linux built for growth
Excitement? We've heard of it
Posted in The Channel, 12th November 2010 23:49 GMT
Review Red Hat has released Red Hat Enterprise Linux 6, the first major update for RHEL in over three years.
RHEL 5 debuted in March 2007 and used the Linux 2.6.18 kernel. Although incremental updates have added a number of kernel updates and new features, RHEL5 is starting to look aged. Of course much of the appeal of an enterprise distro is precisely that it ages well - ten years in RHEL's case.
This means that, for all the appeal of what's new in RHEL6, 5.x will still be supported for another seven years.
That longevity also helps to explain some of the new features you'll find in RHEL 6. For example, the staggering hardware capabilities - on 64-bit platforms, RHEL can scale to 128 cores and 2TB of main memory.
Some might find it strange to support systems that don't exist at the moment, but when you consider that Red Hat will still be supporting RHEL 6 in 2020, it starts to make more sense.
RHEL takes the long view and that means starting from a rock solid foundation and supporting systems that don't yet exist.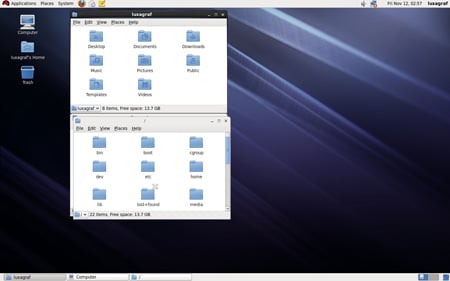 The latest and greatest GNOME not featured here
One of the main goals for RHEL 6 was to make managing virtual servers as easy as managing physical machines, which means the bulk of the new software features in this release are found in KVM. It also means that Xen is gone, though that's hardly surprising since Red Hat purchased Qumranet - creators of KVM - back in 2008.
RHEL 6 builds on the KVM-based virtualization found in RHEL 5.5 and earlier releases, adding a number of performance and hardware support upgrades. Upgrading from old Xen-based disk files is also simple, just boot KVM and point to your Xen loopback disk files and reboot your virtual machines.
Also new for virtual guests is the SELinux sandbox feature, which allows guest machines to run in isolated environments. The new sandbox features can be applied to just about any untrusted code you'd like to execute but is particularly handy with virtual machines.
Big disk options
Another big change in RHEL 6 is the wide selection of disk formatting options, including ext4. You know a Linux feature has arrived when it makes its way to the conservative enterprise releases like RHEL and such is the case with ext4 file system, which is now the default filesystem format in RHEL 6.
In addition to ext4, the XFS filesystem is now supported.
As with previous versions of RHEL, the Anaconda installer offers a variety of pre-configured sets of software packages depending on your needs. For the workstation release that I tested, there were options for the Gnome desktop, a "minimal" desktop, a web development workstation and a software development workstation as well as the bare essentials available in the "minimal" option.
There is also an option to customize your installation further, selecting individual packages. For testing purposes we started with the basic GNOME desktop package, adding the server platform, along with common tools like MySQL, PostGRES, FTP server and e-mail server, as well as the new virtualization tools.
While the RHEL desktop is perfectly usable, if you're a casual desktop user looking for the latest and greatest new toys in Gnome or KDE, RHEL isn't the distro for you - you're better off with one of the many free Linux distros available.
Desktop to server
For example, while GNOME 2.30 was released earlier this year, it's not part of the default RHEL 6 installation. RHEL 6 is based around Gnome 2.28. While RHEL isn't technically based on any single version of its free cousin Fedora, its desktop installation most closely resembles Fedora 12)
Likewise, common Gnome applications lag somewhat behind the current shipping versions - Firefox is stuck at 3.5, OpenOffice is at 3.1 and Evolution is at 2.28.
Red Hat has also gone the conservative route with a number of other GNOME packages, for example, opting for Pidgin over the less mature, but more feature-rich Empathy, which has largely replaced Pidgin in Fedora, Ubuntu and other desktop distros. You also won't find extras like the Shotwell photo manager or "broadcast" clients like Gwibber.
While many common software packages haven't been updated to the latest releases that's to be expected from a conservative distro like RHEL, which has always erred on the side of stability rather than newest features.
RHEL 6 does include the same Nvidia hardware drivers found in recent Fedora releases, so while the package system may lag a little, the range of supported video cards is on par with any other distro.
Performance on the desktop matched what we've seen in recent releases of Fedora and Ubuntu - snappy even on somewhat dated hardware.
RHEL typically ends up on servers and there's good news to be found in the standard LAMP server stack. Just about everything is close to the latest stable version -- Perl 5.10, PHP 5.3, Apache 2.2 and MySQL 5. There's also built-int support for the latest Ruby on Rails 3.0.
Python remains at version 2.6 - it would be nice to have a parallel installable Python 3.x, which Fedora has included in the last two release - but otherwise, the server software stack is much more up-to-date than the RHEL desktop.
Red Hat is also touting some impressive power saving features in this release. Some of these come from kernel improvements others are more specific to RHEL optimizations. Several of the major improvements in energy efficiency are also part of the recent RHEL 5.4 and 5.5 that enjoy a 25 per cent energy savings over earlier releases in the 5.x line. Impressively, the new RHEL 6 gains yet another 25 per cent improvement in energy efficiency.
While that's nice for small server setups and even home users, the energy savings can be huge for larger data centers, which is one of Red Hat's major target markets.
System Admins get some new tools in RHEL 6, most notably the new service System Security Services Daemon (SSSD), which provides central management of identities. SSSD also has the ability to cache credentials for offline use, handy if you're managing a large number of laptops that often leave the local network.
CentOS option
RHEL is not for everyone. It isn't free, nor does it have much to offer the desktop user that can't be found elsewhere for free. However, if you're looking for a stable, no frills desktop RHEL 6 does fit the bill.
For those who don't want the level of support you're paying for with RHEL, CentOS is essentially the same thing, save the support option. However, CentOS typically lags a couple of months behind RHEL releases, which means CentOS 6 probably won't be out until early next year.
For Red Hat's corporate and enterprise customers the upgrade to 6.0 will be an important one, particularly for those that need the virtualization and hardware support improvements, and while RHEL 5.5 still has plenty of life left in it, RHEL 6 is already paving the way to 2020. ®