Original URL: http://www.theregister.co.uk/2010/11/12/review_ipod_dock_pioneer_xw_nav1/
Pioneer XW-NAV1 iPod dock and AV centre
Media frenzy
Posted in Personal Tech, 12th November 2010 08:00 GMT
Review Pioneer's XW-NAV1 iPod dock-cum-entertainment system is an unusual box of tricks. As well as an iPhone compliant dock, it's also a CD/DVD player with 1080p upscale output, a CD ripper, FM radio and a USB media player. There may be other devices out there that do all those things, but I've never come across this exact combination in one unit before.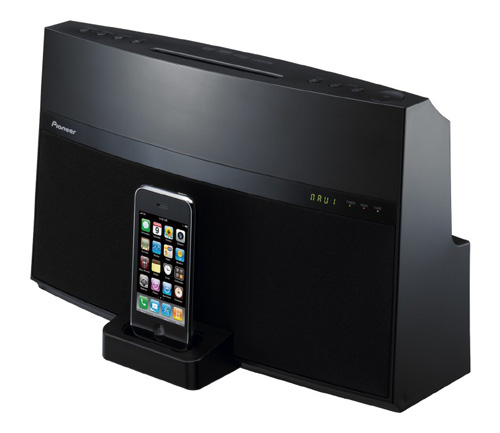 A good deal more than just an iPod dock: Pioneer's XW-NAV1
In appearance, the XW-NAV1 is typical modern Japanese domestic tech – smart and clean, but rather uninspired. It's not too big or heavy though, which is a point worth making, as I suspect most XW-NAV1s will spend their time hooked up to an older or cheaper telly in a bedroom, kitchen or office, where space is at a premium.
Its solitary display is a small and simple five numeral green LED affair on the right hand side of the unit. It's actually too small really, except to let you know which function you have selected or what the volume is. Certainly, making out FM radio frequencies and menu settings proves rather too much of a squint.
Connectivity on the XW-NAV1 is well catered for. Besides the iPod dock up front, at the rear there's an HDMI port, phono audio and composite video jacks (cables for the latter two included) and a 3.5mm auxiliary audio input. Look along the top of the device and to the right, there's a circular cover that hides the USB interface, which, in use, reveals that this arrangement is hardly a classic bit of manufacturing design.
Firstly, any plumbed in thumb drives or cables are in clear view, which plays havoc with the aesthetics and secondly, the USB port's cover isn't tethered, so it's likely to get lost or eaten by large dogs or small children in short order. Far better to have had the USB functionality tucked away around the back – out of sight and out of mind.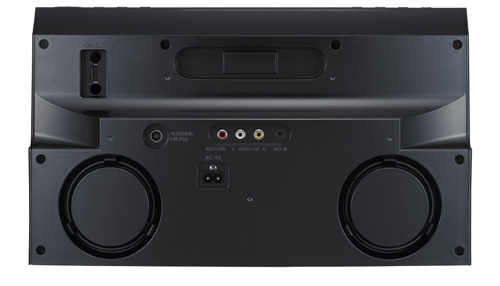 Interfacing includes HDMI, composite video with inputs and outputs for audio
A slightly cheap feeling array of major controls also live on the top along with the disc slot but you won't spend much time using them as Pioneer supply a very nice remote control that also lets you operate your iPod's basic playback functions. When you play back audio content from a USB device the media library information is shown on the screen of your telly, which is handy given the XW-NAV1's small LED screen.
File management
The USB port will let you to play MP3, WMA, JPEG and more importantly standard definition DivX files from a flash drive or an external HDD. Actually it proved capable of playing any AVI file I tried, be it DivX or XviD. Consequently, the cheapo 21in LCD in my bedroom, which lacks a USB port, took on a whole new lease of life when hooked up to the NAV1.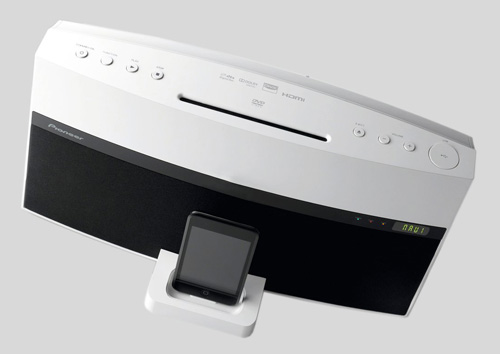 The USB interfacing lurks under the circular cover on the right
If you have video stored on your iPod you can watch that on a connected telly too, but only from the composite connection, not the HDMI output. The USB video playback menu is pretty basic, but I was pleasantly surprised to find that most popular subtitle file types are supported.
As well as playing back video media, the NAV1 can also stand in as a single unit home cinema system, thanks to its aux input. Clearly it's no replacement for a good 2.1 or 5.1 sound system, but it will be a huge improvement on the sound produced by a cheap or old telly.
In fact, the XW-NAV1 is a pretty decent audio performer, no matter what the source, as music played back from an iPod, USB or CD was both clear and punchy. Tests with the DVD of Titanic sounded very impressive, with ample power and ambience and a fine balance between the score, sound effects and dialogue in the sinking scenes. The disc player is commendably quiet too.
With only 20W RMS available, the XW-NAV1 won't fill a large room with music, but it's more than adequate for use in the average kitchen or bedroom. Moreover, the sound doesn't fall apart when the volume is pushed towards the maximum. Indeed, its performance is very much akin to the Pioneer XW-NAC3 I looked at in the premium iPod dock roundup.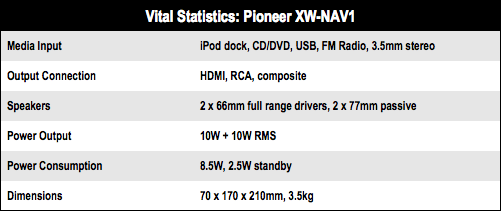 Visual feast
Picture quality from DVD was also well up to snuff. Using the XW-NAV1 to the watch the DVD of The Return of the King on a 50in LG plasma, the end results were highly impressive. Clearly it wasn't a native 1080p source, but everything was still commendably crisp with no judder and no visible image artifacts. Performance was equally good with the various standard definition AVI files I tried.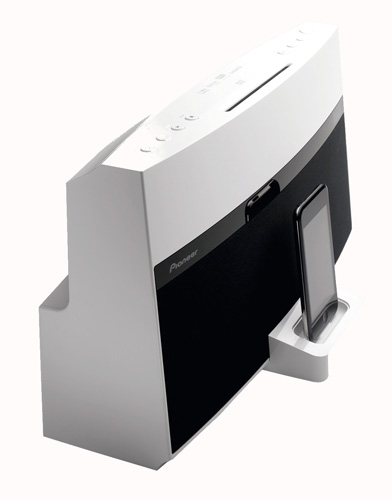 The DVD drive at the top can also be configured to rip audio CDs
I'm not entirely sure if the CD ripper function will get much use since, unsurprisingly, you can't use it to copy music directly to your iPod/Phone, but only to an attached USB drive. For those still interested, tracks can be ripped as either 128, 192 or 320kbps MP3 files. One final word of warning for anyone wanting to play variable bit rate music files through the XW-NAV1's USB socket. You can't, it's fixed bit rate or nothing.
Verdict
If you have an HDMI telly in your bedroom or kitchen and want a device that acts as a one box DVD home cinema system – while at the same time working as an iPod/iPhone dock and FM radio – the Pioneer XW-NAV1 is just the job. At £250, it's no more expensive than a half decent dock, DVD player and cheap 2.1 speaker system bought separately, but it's a darned sight more convenient. ®
More Audio Gear Reviews…

Ten Essential...
Bedside iPod docks
Ixos
Divo
Ten Essential
Premium
iPod Speakers
Arcam
Solo Mini