Original URL: http://www.theregister.co.uk/2010/11/12/google_accuses_oracle_of_code_doctoring_in_android_case/
Google: Oracle doctored that 'copied Java code'
'And, by the by, Android wasn't built by Google'
Posted in Software, 12th November 2010 07:03 GMT
Google has accused Oracle of doctoring the code samples that allegedly prove Mountain View pilfered Oracle's copyrighted Java code in building its Android mobile operating system.
Late last month, as part of its ongoing lawsuit over the use of Java in Android, Oracle waved six pages of Android code at a federal court (see below), claiming they were "directly copied" from copyrighted Oracle code. But, on Wednesday, Google responded with a court filing of its own, and among so many other things, Mountain View said that in submitting the code, Oracle "redacted or deleted...both expressive material and copyright headers." Google called these omissions "significant elements and features."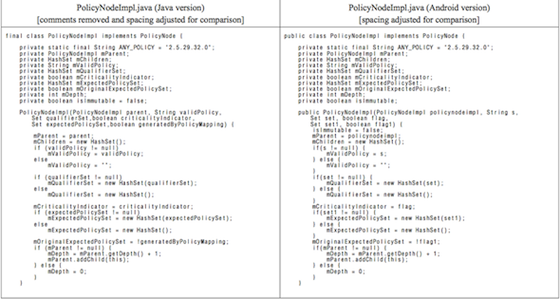 Oracle accuses Google of code lifting (click to enlarge)
In suing Google, Oracle claims both copyright and patent infringement. The six pages of code are meant to buttress the copyright infringement claim. Oracle says Android's class libraries and documentation infringe on its copyrights, and that approximately one-third of Android's API packages are "derivative" of Oracle's copyrighted Java API packages.
In building Android's Dalvik virtual machine, Google used a subset of the Apache Foundation's Project Harmony, an open source project that attempts to duplicate Java SE. When Oracle first waved those six pages of allegedly-copied code, many assumed that they came from Harmony, but according to Apache, this is not the case.
As Groklaw points out, Google's claim that Oracle doctored the code is reminiscent of the infamous SCO v IBM case, when Big Blue told a judge SCO had "edited and rearranged and juxtaposed [two large swathes of code] to give the appearance of similarity when, in fact, no similarity exists".
But even as it claims that Oracle edited the code, Google says that if it did copy Oracle materials, this isn't a problem. Mountain View claims fair use, minimal copying, and independent creation. "The Android Platform...was created independently and without reference to any works protected by the Asserted Copyrights," its filing reads.
'Android? Google didn't build that'
With its Wednesday filing, Google also took aim at Oracle's claims of patent infringement. Mountain View now says Oracle's patents are invalid because "one or more claims are directed to abstract ideas or other non-statutory subject matter." The Supreme Court has said that one way to test the validity of patent is to ask if it's tied to a specific machine, and Google says that in this case, at least one Oracle patent is not. Oracle is asserting seven patents in the case.
What's more, Google accuses Oracle – and Sun before it – of "misusing" its patents. "Oracle and its predecessor Sun have attempted to impermissibly expand the scope of the Patents-in-Suit by requiring licensees to license items not covered by Oracle's alleged intellectual property in order to receive a license to Oracle's alleged intellectual property," Google's filing reads.
Rather than license Java from Oracle, Google built its own VM, Dalvik. And this too is part of the Google defence. "Dalvik bytecode is distinct and different from Java bytecode," Google says. "The Dalvik VM is not a Java VM."
This is true. Oracle acknowledges that Dalvik is not Java and, in fact, uses this as part of its PR attack on Mountain View. "In developing Android, Google chose to use Java code without obtaining a licence," Oracle said in a statement sent to the press last month. "Additionally, it modified the technology so it is not compliant with Java's central design principle to 'write once and run anywhere'. Google's infringement and fragmentation of Java code not only damages Oracle, it clearly harms consumers, developers and device manufacturers."
This too is true. Both sides have valid points to argue, which is part of what makes the case so intriguing.
But Mountain View is also playing the Android's-not-ours card. Google says that if Android does infringe on Oracle's copyrights, Google isn't liable. If Android infringes on Oracle's code, Mountain View says, the liability lies with the third parties who use Android. "Any use in the Android Platform of any protected elements of the works that are the subject of the Asserted Copyrights was made by third parties without the knowledge of Google, and Google is not liable for such use," Google's filing reads.
Google also claims that Android isn't developed by Google. It's developed by the Open Handset Alliance. "Android was released in 2007 by a group of seventy-eight technology and mobile companies known as the Open Handset Alliance ('OHA') who have come together to accelerate innovation in mobile devices and offer consumers a richer, less expensive, and better mobile experience," the filing reads. "Other than the Harmony libraries, the Android platform – including, without limitation, the Dalvik VM – was independently developed by the OHA."
Which is another reason this case is so intriguing. It has comedic value. ®