Original URL: https://www.theregister.co.uk/2010/11/11/review_portable_dab_radio_pure_one_mi/
Pure One Mi portable DAB/FM radio
Move with the music
Posted in Personal Tech, 11th November 2010 08:00 GMT
Review The traditional battery powered transistor FM radio still takes some beating when it comes to listening in places like the bathroom or garden shed, if that's where you choose to spend any length of time. Indeed, Pure had a big success with its £45 palm-sized One Mini so it has sliced a few millimetres from that model, shrunk the name to Mi and knocked £10 off the price.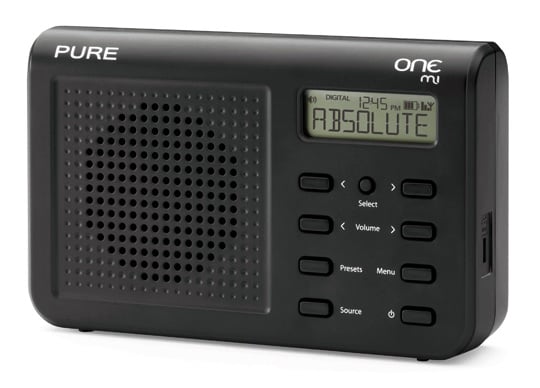 Back to basics: Pure's One Mi
This compact radio is available in black or white and includes an FM tuner as well as DAB, DAB+ and DMB. Like a mobile phone, the mains adapter cable plugs into the radio's mini USB port although I found that a USB lead running directly from a computer would also power it.
For battery use it only takes the optional A1 ChargePAK. This is the smallest and, at £17.49, the cheapest of Pure's add-on rechargeable batteries, but it adds 50 per cent to the price of the radio just to unleash it from a wall socket.
Obviously such a tiny radio can't support a huge antenna, and DAB reception occasionally drops into digital burbling compared to bigger radios in the same location. Even so, the Pure One Mi's reception performance didn't turn out to be too much of a problem.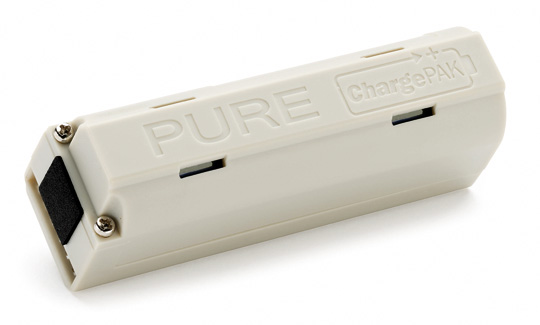 Optional battery provides portability but costs half as much as the radio
You can store eight presets for both DAB and FM. The LCD display shows extra text information for analogue or digital stations, where used. It is bijou, though, so it's a choice between station name or supplementary data. Also, the One Mi lacks a handy button to toggle between these modes, so you have to delve into the menu to change it.
Unplugged
Unlike Pure's other portables, there's no headphone socket, which is frankly quite baffling given it's not so big that you would never take it out of the house. As with the Mini, it doesn't have an alarm timer, even though, beyond the boudoir, a kitchen timer would prove useful. Pure's sub-£40 bedside DAB, the Siesta Mi is equipped with such if you're keen to be sonically stirred from your slumbers.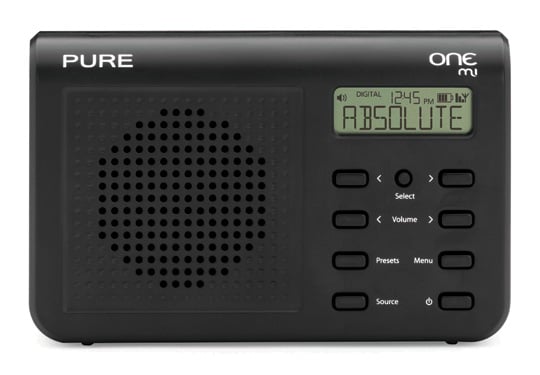 A smattering of plain buttons and scaled down LCD display
The One Mi's publicity boasts of "punchy audio" which "rivals that of much larger sets". While that's overstating it a bit, for its size the sound quality is quite reasonable, although when played up against weightier and less portable tabletop radios it does come across as rather weedy by comparison.
It is best suited for speech, so if you want BBC Radio 4, 5 or 7 to follow you from room to room then it's clear enough. With no more than 1W output, it's hardly going to shake the floorboards, but it is not as horrendous as you might think for pop and indie tunes. For instance, The Manic Street Preachers and Vampire Weekend on BBC 6 Music were enjoyable enough.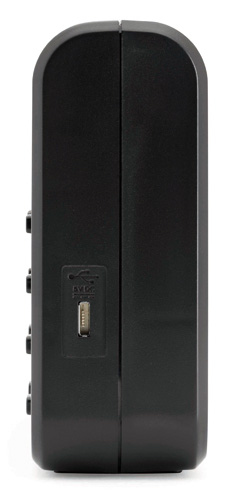 Just one socket, a mini USB for powering the radio or charging the battery
However, if your preference veers towards the Planet Rock or Kerrang end of the spectrum, then they'll sound tinny on its small speaker. Similarly, Classic FM seems hemmed in, requiring something more expansive unless you only intend to tune in to harpsichord recitals.

Sound judgement
This is a convenient portable rather than a gutsy boombox, so DAB and FM are equal performers at this scale; and if your favourite stations are digital-only, then you'll at least get to hear them in more diverse locations.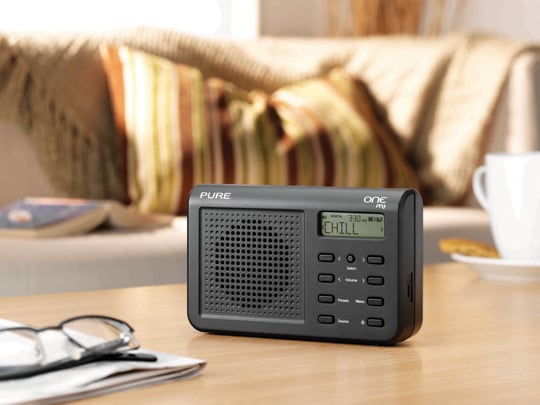 One of the cheapest DAB radios around, but there are inevitable compromises
The specs claim an 18-hour battery life. In my run-down test from full charge to its last breath, I managed to squeeze a respectable 19 hours of DAB operation. Clearly, Pure is endeavouring to disprove suggestions that all digital radios are prohibitively expensive and power hungry. However, considering the additional cost of the battery pack, the company still has some way to go.
Verdict
The One Mi's build quality is pretty insubstantial and the user interface is bare-bones but you can't expect a lot of refinement on a digital radio at this price. As it stands, it's a likeable little radio that fills in a DAB-gap in case you have a windowsill that's crying out for digital companionship. ®
More DAB Gear Reviews...

Ten Essential...
Bedside iPod docks
Pure
Oasis Flow
Teac
R-4iDNT
Revo
Heritage