Original URL: http://www.theregister.co.uk/2010/11/10/review_gaming_microsoft_xbox_360_kinect/
Microsoft Xbox 360 Kinect
Motion carried
Posted in Personal Tech, 10th November 2010 07:10 GMT
Review Every Christmas it seems a must-have toy or gadget splits people into the haves and have-nots.
Only this year things are slightly different. Little Johnny might be overjoyed to find Santa has left a shiny new Xbox 360 Kinect under the tree, but imagine his heartache when he realises his living room isn't large enough for his parents to play along.

Microsoft's Xbox 360 Kinect: game changer
That's Kinect in a nutshell. You either have enough space to play Microsoft's motion controller or you don't. Not such a problem in the grand sitting rooms of America, but a distinct one in more modestly sized European or Japanese households.
 More Kinect on
 Reg Hardware
Take my humble abode, for example. An average Victorian terrace, the living room is roughly 4m by 4m. With a sofa and - admittedly clunky - TV stand reducing available floor length, I managed just 2m between the Kinect sensor and the front of my sofa. Despite an advertised minimum distance of 1.8m, however, several times during testing my calves were firmly pressed up against the bottom of the settee, as games forced me into Kinect's optimum play space, which for adults is between 2.4 and 3m.
For all you Pythagoreans out there, you'll be pleased to know that placing the sensor on top of my 37in TV rather than level with its stand brought the optimal play space forward by around 23cm, improving Kinect's overall responsiveness. But a claustrophobic feeling remained, as my arms and legs flailed worryingly close to the sofa. Of course, that same theorem also means that taller adults need to step back even farther into that optimal zone.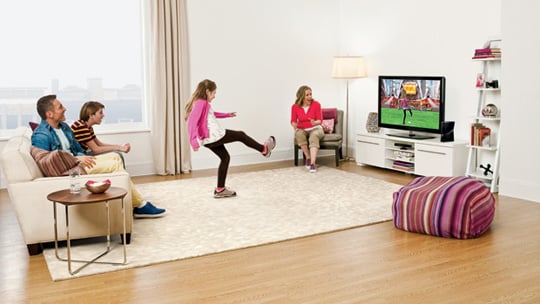 Santa, can I have a bigger house, please? I have been a very good boy...
Width also comes into question, but only when playing two-player games. Players standing side-by-side are going to need at least 61cm of clear lateral space on either side – approximately 2.4m of floor width. And while I personally didn't experience any issues with width, it's a measurement to be considered in other households.
Space, the final frontier
Sorry to labour the point so much, but it's a critical one that excludes so many from Kinect's party. And while it's not fair to downgrade an appraisal by a limitation which is - strictly speaking - outside of Kinect's technological remit, it is worth pointing out that Microsoft has done little to raise awareness of the issue.
Look at the TV ads, for example, and you'll see kids and grown-ups leaping around in unfeasibly - for Blightly - large living rooms, each with much-larger-than-minimum spaces between telly and furniture.
Caveat complete, for those who are invited to the party, Kinect is a surprising success. Paradigm shifts in technology rarely see hyperbole translated into end product, especially where Microsoft is concerned. But, despite some minor software niggles, and wider questions on motion-controlled gaming, Kinect proves not only a technological advancement over the Nintendo Wii and Sony's PlayStation 3 Move, but a new threshold in motion-controlled interactivity.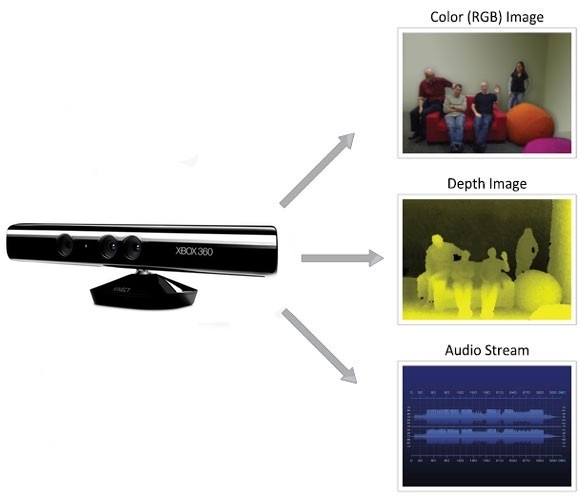 PrimeSense's tech detects players, their movements and their faces
First impressions do little to dispel long-held scepticism over Microsoft's bold claims. To look at, Kinect is the proverbial wolf in sheep's clothing, encased in the same cheap glossy plastic as is the new-design Xbox 360. But a few minutes into the surprisingly simple set up, Kinect begins to bare its teeth.
Gaming evolved
Displaying your body in a green-tinged video feed, and with a colourful wireframe overlay, your first look at Kinect's motion capture is revelatory. The wireframe mirrors your every move. Ankles, feet, wrists and elbows are all tracked independently in real-time and with no noticeable lag.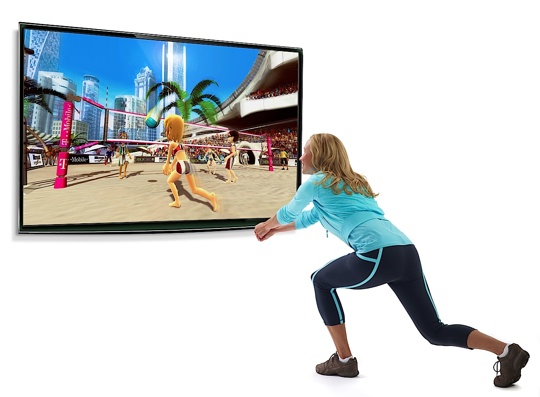 Good for the glutes?
It's like touching one of 2001: A Space Odyssey's obelisks, as your brain races ahead with future possibilities. OK, so that's a bit of a stretch. But it is - for those old enough to remember - like the first time your parents brought home a video recorder, or the first time you used a personal computer.
Unlike those technologies, however, Kinect requires no explanation. It's not instruction guiding your first tentative steps in this new world, but intuition. Kinect talks your language. It makes you feel you've spent years subservient to technology and the unnatural interfaces and command lists it has imposed upon you.
Kinect feels liberating, as it places you firmly back in control with natural gestures and voice commands.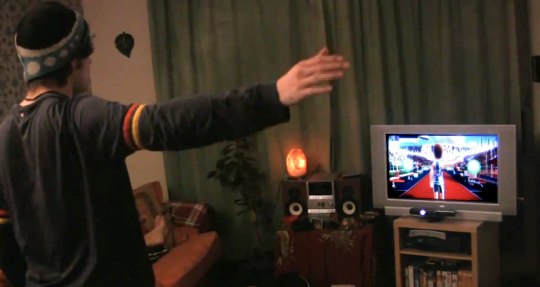 What it really looks like
Impressive enough on your own, the technology really shines with others in the room. Kinect can recognise and track up to six players at a time – two in the active play space and four additional persons outside it. And with facial recognition software that puts my Alienware PC to shame - working in almost every light condition and at almost every conceivable angle - players only need to step into a prominent position to be recognised.
The personal touch
It doesn't always get it right first time, though, as players stepping quickly through the play area can cause momentary confusion. But Kinect does a fine job in remembering who was where, and confusion rarely lasts long enough to affect gameplay.

Small gadget, massive impact?
 More Kinect on
 Reg Hardware
With such a profound ergonomic shift, it's no surprise Kinect arrives with other minor teething problems. In its present iteration, the Kinect Hub interface is a much scaled back version of the regular 360 Dashboard, and players will still need to reach for the gamepad to access most regular Live features, such as Game Marketplace and Friends List. And there are also numerous inconsistencies between the menus, where some are fully controlled by voice or gesture alone, while others require a mix of voice, gesture and gamepad to navigate.
But these inconsistencies - and some noticeable lag in a couple of the launch titles - all seem to be related to software rather than hardware. Given that launch titles for any gaming hardware release are historically weak in comparison to second-generation offerings, and since Kinect represents a whole new language for developers to master, these minor teething problems are easily dismissed in the face of Kinect's achievements.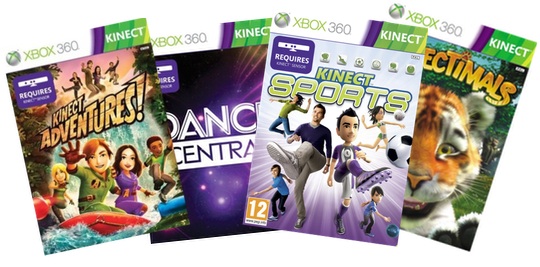 Second-gen games will surely be better
Verdict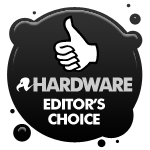 Kinect might not be the Minority Report technology we've long dreamt of, but it is the first palpable, mass-market step towards realising that science fiction. And, as a first step, it's a surprisingly assured and considered technological leap, and one that's worthy of every accolade
But there's no ignoring Kinect's severe limitation. So when little Jonny asks Santa for Kinect this Christmas, you'd better ask the jolly bearded giant if he wouldn't mind popping over first to measure up. ®