Original URL: http://www.theregister.co.uk/2010/11/10/replacing_the_iphone/
Rethinking the iPhone
The Swiss Army knife of telephony
Posted in Personal Tech, 10th November 2010 17:30 GMT
When I asked my friend Quentin recently how he liked his new iPhone, he said it was great, except as a telephone. He was right, and as a devoted iPhoner since its introduction, this made me think.
My carrier's coverage (AT&T) is lousy, the 3G connection is slow/patchy and AT&T is expensive, on average $82 a month. I love the iPhone's design, its Apps and look, and of course the "always-on" access to emails and internet it provides, but I recognized myself an over-user - constantly looking things up, checking/replying to emails in real time, and generally being a nerd!
So I decided to rethink the experience, especially as, on analysis, my 300 minutes average monthly phone usage was costing me a whooping 27¢ per minute - OK so this included manic email internet usage. This meant spending $2,168 over my two-year contract, if I include the $200 upgrade fee.
Recently, AT&T obligingly told me I had to wait several months before I could get a $200 upgrade to iPhone 4, which would trigger yet another two-year contract cycle. How I hate being in the hands of a telephone company!
So this is what I did: it retains all of the iPhone functionality, markedly improved my phone and internet experience, saved money and ended the two-year contract habit. And I can live with the minor compromise, which make me less manic.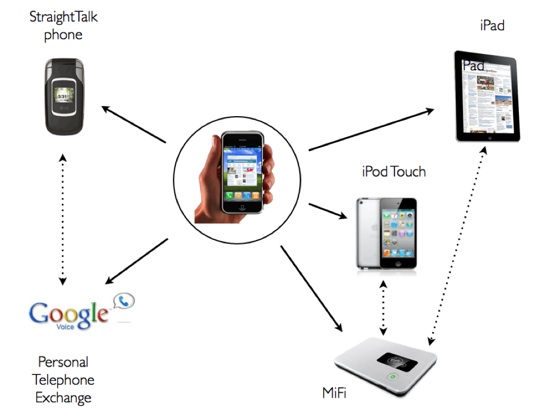 Better telephone experience, better value for money
Replacing the iPhone mobile telephone capability cost $39. Walmart sells a small mobile telephone that fits the little sub-pocket in my jeans, and works really, really well. It was part of a package called StraightTalk which costs $30 monthly for 1,000 minutes, and 1,000 text messages, delivering a three hundred per cent increase in my minutes and a much better telephone experience. The service runs over the excellent Verizon network.
Getting StraightTalk was easy - first you select a phone in a Walmart store (I chose a simple small flip-phone with bluetooth). You then take it home and set up the service - I chose to have StraightTalk bill my debit card monthly, and I transferred my AT&T number (in under two hours).
Google Goodies
Google Voice (GV) is a game-changing telephone service that provides a free telephone number, free text messages, free USA telephone calls and dirt-cheap international calls. I use my GV number as my office number, and found it worked really well with Straight Talk.
GV provides a host of advanced features that blew AT&T/Apple away. I especially like including emailed voice messages sent as audio or voice transcribed (or both). Google Voice and StraightTalk are a highly potent combination, that is simple to use:
• Outgoing GV calls made from my iPad or computer (via GV Mobile + App or browser), mean I call my contacts directly - my Apple Address Book & Google Contacts automatically synchronize. Such calls ring my new mobile, which when answered, automatically ring the the contact.
• Incoming calls to GV ring my mobile phone and/or any other phone(s) I nominate. An incoming GV text is automatically forwarded to my mobile, as is a notification of voice mail, I pick up with a pin code from my GV number. I also have my Google calendar (which automatically synchronizes with my Apple calendar) text notify of events 60 minutes before the scheduled time.
When I substituted GV's voice for the standard Verizon voice mail - it took three clicks!
iPad
I already extensively use an iPad, with the Apps. from my iPhone and more - Apple allow an installed App to appear on all of your IOS device (iPhone, iPad, iPod Touch). The iPad of course has email, internet browser etc. - mine only connects through Wi-Fi because I just could not bring myself to pay for another lousy and expensive AT&T 3G service.
Like most people I have Wi-Fi connectivity through my home, and is usually available in most of the places I regularly visit, be they offices, hotels or other folks homes. In addition Starbucks and McDonald's have free Wi-Fi, as do an increasing number of other places including local libraries. I rejected the idea of buying an iPod Touch for its portability - I tried it and it worked well, but I really prefer my iPad.
Virgin Mobile Mi-Fi
Not convinced that I could cope with gaps in access to the internet, I purchased a portable Mi-Fi device from Virgin Mobile. This works on Sprint's 3G network and connects up to five devices to the internet via Wi-Fi. My wife and I have used the Mi-Fi on a journey in my car, in a hotel where the hotel Wi-Fi was slow and all around the house, and yard - I've been very impressed.
The internet service is unlimited and costs $40 a month, again on a monthly contract. The Mi-Fi has a battery that last between 3-5 hours when not connected to an electric outlet or car socket, which means I can put it in my shirt pocket, and use it unconnected.
Early experience suggests that I don't need to fill the internet gaps thought I could not cope with - in fact I'm enjoying not being such a big nerd, and use the break to read my Kindle books on my iPad when I get the chance instead of manic email and Internet.
But I so like my Mi-Fi that I'm keeping it for those trips and as a home backup, maybe even to be our home Internet. Two local friends were so impressed with the Virgin Mobile Mi-Fi and the associated service, that they ditched their current Internet providers (AT&T and Verizon) and are financially and experientially delighted.
As an experiment, for more than a week I used the Virgin Mobile as the home router, and found it worked very well in this role. I speed test it at between 1038 and 1113 Kbits/s download, and 246 Kbits/s upload, which I'm told is equivalent to a DSL connection.
It certainly works well using Internet and email - clearly downloading software updates, and publishing big websites was noticeably slower that my $62 per month Verizon FIOS. Having said that, we streamed Netflix movies, and happily worked our computers, iPads and iPhones (my wife), barely noticing the difference. The O'Reilly home jury is still considering ditching Verizon FIOS!
Lessons learned
What's not so "smart" about Apple's iPhone is its operational cost, carrier and compromises. Like a Swiss army knife, the iPhone is good at a lot of things, but not really great at any:
iPhone - $82 per month/2 year contract/upgrade contract treadmill
Google Voice - free phone number/free US & cheap international calls
iPad - $499 for the more than adequate Wi-Fi only model (already owned)
Virgin Mi-Fi - $149 for the device; $40 pm for the service
Potentially displace home Internet service - $62 per month
Contracts entrapment - no contracts & not tied up for two years with early exit penalty
Being less of a Nerd and reading more - Priceless