Original URL: https://www.theregister.co.uk/2010/11/10/nasa_jumping_emerald/
STINKY GREEN DWARF FROM SPACE - sensation at NASA
'It jumped at me like a big fat emerald' sobs bowled-over boffin
Posted in Science, 10th November 2010 17:02 GMT
NASA boffins have left followers of the space news reeling today, saying they have discovered an intriguing extra-solar object described as being both "big, fat" and "a dwarf". The big dwarf - again varyingly described as "brown" or alternatively "green" - also "stinks pretty badly".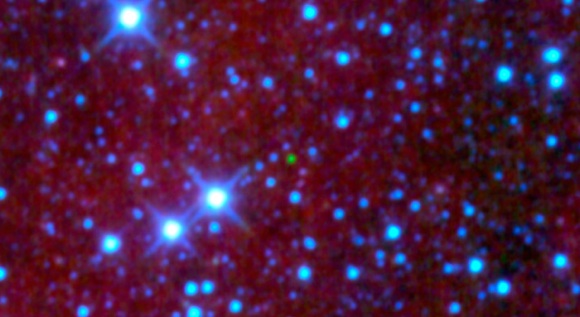 Rare jumping emerald FOUND IN SPACE
We learn all this courtesy of Amy Mainzer, deputy project scientist for NASA's Wide-field Infrared Survey Explorer (WISE) orbiting space scanner satellite. Mainzer and her fellow WISE boffins excitedly issued a statement yesterday describing their discovery of an object they have dubbed WISEPC J045853.90+643451.9, lying 18 to 30 lightyears away from our solar system. WISEPC J045853.90+643451.9 is one of a class of objects generally known as a brown dwarf - that is a small nascent star which never managed to actually light up.
Mainzer, who apparently makes jewellery as a hobby when not poring over satellite sky-maps, has the traditional NASA troubled relationship with the English language.
"The brown dwarfs jump out at you like big, fat, green emeralds," she is quoted as saying, excellently.
To be fair to Mainzer, a brown dwarf does in fact appear green on a WISE scan (see picture). And obviously it is only dwarfish when compared to stars - it is apparently a huge gaseous ball on the same general lines as Jupiter, biggest and fattest planet of the solar system. And a homemade jewellery enthusiast no doubt knows more about the menace of jumping emeralds than any layman.
It seems that the big fat green/brown dwarf is also extremely smelly.
"If you could bottle up a gallon of this object's atmosphere and bring it back to Earth, smelling it wouldn't kill you, but it would stink pretty badly - like rotten eggs with a hint of ammonia," says Mainzer.
Despite being stinky, NASA describes WISEPC J045853.90+643451.9 as "one of the coolest brown dwarfs known" - meaning that its temperature is a merely-hotter-than-an-oven 327°C - positively freezing as stars go.
Such failed stars are thought likely to be thickly scattered through space - there may be lots of them near our solar system. Mainzer and her colleagues expect to discover "many, many more".
There's more from NASA here. ®