Original URL: http://www.theregister.co.uk/2010/11/10/kinect_games_reviews/
Microsoft Xbox 360 Kinect Launch Games
We rate the first six titles
Posted in Personal Tech, 10th November 2010 13:41 GMT
Review
Kinect Adventures

Bundled with the hardware, Kinect Adventures is a compilation of minigames intended to introduce players to Kinect's distinct brand of motion-controlled gaming.
It's a title developed with the whole family in mind, where children and parents can compete against each other on a level playing field. But, like all other bundled motion-controlled games, Kinect Adventures' novelty soon wears thin.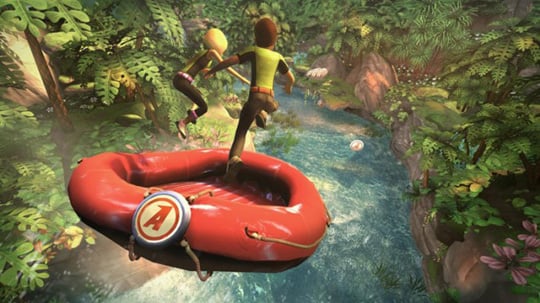 A rush?
That's not to say the game isn't enjoyable, or a decent demo of the tech, just that it's a particularly lightweight introduction to the world of Kinect.
All five minigames have their merits, but the stand-out games are 20,000 Leaks and River Rush, especially when played by two players. In the first game, players are placed in a glass box at the bottom of the ocean. The objective is to plug cracks in the glass made by cute-but-malevolent fish and sharks. It's a great show off of Kinect's 3D space mapping, as you use the whole play space, moving left, right, forwards and backwards to plug the leaks with both hands and feet.
River Rush is instantly familiar as the game shown in many Kinect pre-release tech demos, where you steer a raft down white water rapids by side-stepping left and right and jumping to leap over obstacles and ramps. It's a great looking minigame - with especially impressive water effects - and a lot of fun when two players are steering the raft. But even with collectible Adventure Pins increasing the challenge, players will soon tire of its limited courses.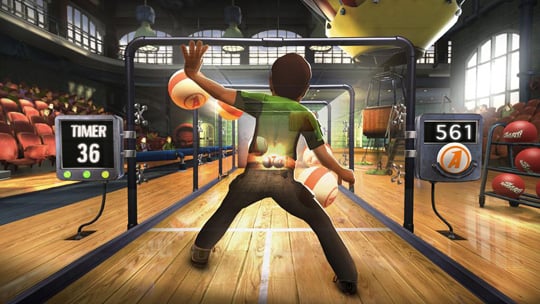 Rally round the family
The remaining three games, Rallyball, Space Pop and River Ridge all entertain in their own way, and all hint at the future potential of Kinect. But, despite an adventure mode, which mixes up the game types and includes an element of progression, and despite timed play and Xbox Live play, Kinect Adventures is just too meagre an offering to sustain interest for more than a few hours.

Reg Rating 60%
Price
Free with Kinect
More Info
Microsoft's Official Kinect Adventures website
 More Kinect on Reg Hardware
Dance Central

Of all Kinect's first-party launch titles, Dance Central is the most complete videogame.
Given developer Harmonix's pedigree in the rhythm-music genre that should come as no surprise. As creator of the Guitar Hero and Rock Band franchises, Harmonix has proved master of measuring controller inputs against chords and beats, all wrapped up in highly polished gameplay. And Dance Central is no different, marking a logical progression afforded by Kinect to measure a whole new instrument: you.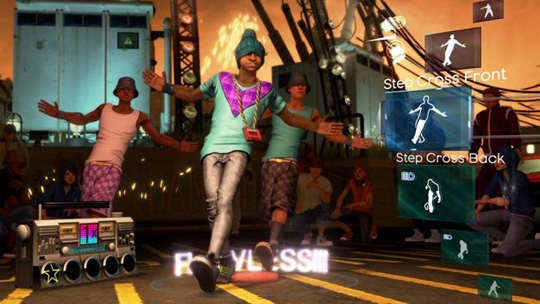 I like to move it, move it
Of course, just like those wannabe-rockstar games, not everyone is comfortable dancing around their living room. But for those who are, Dance Central's 30 songs and 650 individual moves, covering hip hop, dance, disco, pop and Latin disciplines, will keep players bopping away for months to come.
With easily the most impressive responsiveness of the launch games – not to mention the most impressive menu system - Dance Central has no problem tracking individual limbs at the speed of some seriously fast dance moves. And it provides instant feedback in the form of red outlines if you're not quite nailing a move. Impressive enough in single-player mode, with two players battling out together, the game proves the Kinect technology by dispelling any fears over latency.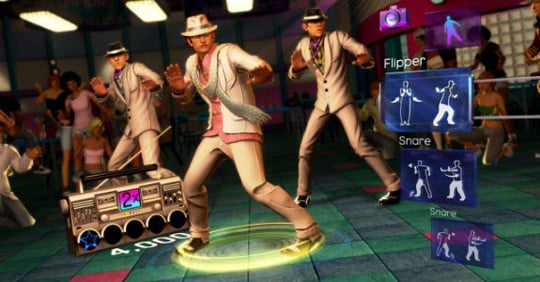 Schmove criminal
Even though players will likely first experience Dance Central as a party game, Harmonix's trademark progression and Break it Down systems provide the enticement to keep playing and the tools to keep improving. All but the most two-left-footed of dancers will be able to attain a decent level of performance, as they build upon basic steps to master some dazzling moves.
Dance Central is easily the best Kinect launch title, if not one of the best motion-controlled games on any platform. With its high degree of polish, tough, progressive challenge, and all-round fun factor, it's the one Kinect launch title you'll be playing for months to come.

Reg Rating 85%
Price
£40
More Info
Harmonix Games' official Dance Central website
 More Kinect on Reg Hardware
Kinectimals

By far the cutest of the launch games, Kinectimals' target demographic is obvious.
Essential a sandbox experience for children between 3 and 7 years old, it's the type of adventure you always dreamed of as a young child. Set in Lemuria, a magical island populated by the most adorable little man-eaters ever depicted in a videogame, gameplay revolves around you adopting one of 30 available wild kitty cats.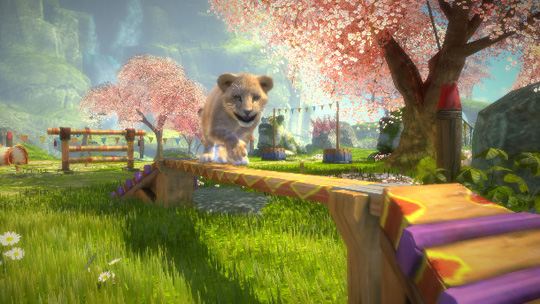 A room with a zoo
All the famous wild cats are present, from lions and cheetahs to tigers and panthers. And each has its own personality and facial expressions. Once adopted, you can teach the little furball tricks and accompany him on adventures around the island.
An open-world game, Kinectimals has plenty to keep your own little critter entertained, with loads of challenges and minigames, and an overarching story about lost pirate treasure. The game makes excellent use of voice and gesticular commands, especially when teaching your cat tricks. Commands such as lie down, play dead and spin around can be spoken or acted out physically, with the cat replicating your every move.
Earn your stripes
It's a system that really draws children into the game, eliciting genuine empathy. But as a game, Kinectimals has too many mechanical flaws. For a while they might go unnoticed by children, who are generally more forgiving than us oldies, but unwieldy, repetitious menus and suspect motion controls in some of Kinectimal's minigames eventually break the magic.

Reg Rating 65%
Price
£40
More Info
Microsoft's official Kinectimals website
 More Kinect on Reg Hardware
Kinect Sports

Despite their ubiquity as launch titles, sports compendiums are something of a double-edged sword: enticing casual gamers with their accessibility while at the same time alienating hardcore gamers with their lack of depth.
But while Kinect Sports is ultimately as unsuccessful as Wii Sports and the PlayStation 3 Move's Sports Champions in proving otherwise, it does a least hint at some major advantages in the Kinect technology.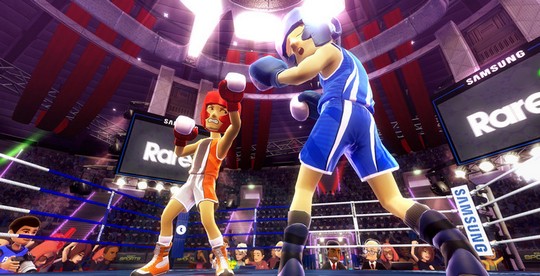 In the swing of things
By independently tracking limbs, Kinect Sports shows off the 3D skeletal and space mapping that differentiates Kinect from its rivals. For, example, unless you're going to tie a Move or Wiimote controller to your feet, you can forget about kicking a football. And without buttons, you can forget about differentiating between a serve, spike, set, smash or block in volleyball. But Kinect Sports allows your body to do what it does naturally: to control these actions effortlessly.
OK, so the truth is that both the football and volleyball minigames suggest we're a few years off controlling something as complex as Fifa or Pro Evo with this technology, but their approximations impress all the same.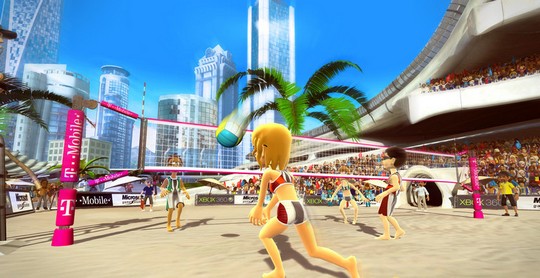 Son of a beach
Equally impressive is Kinect Sports' overall presentation. Developed by Rare, the game uses Xbox Avatars and avatar-inspired cartoon-esque visuals to immerse players in its colourful experience. With six events in total - bowling, football, volleyball, boxing, table tennis, and track and field - and with the track and field competition itself comprising five mini-events - 100m sprint, hurdles, long jump, javelin and discus - there's plenty to keep a party entertained for an evening.
As proof of technology, Kinect Sports delivers the immediate wow factor, showing off exactly what Kinect can do. But despite increased difficulty levels and a range of minigames, its underlying lack of depth ultimately undermines longevity.

Reg Rating 65%
Price
£40
More Info
Microsoft's Official Kinect Sports website
 More Kinect on Reg Hardware
Your Shape: Fitness Evolved

OK, I admit I'm one of those gym bores who thinks health and fitness games are useless psychological palliatives for overweight housewives who want to get fit without breaking into a sweat. A few hours of Your Shape: Fitness Evolved might not have completely convinced me otherwise, but it has at least opened my eyes to their potential.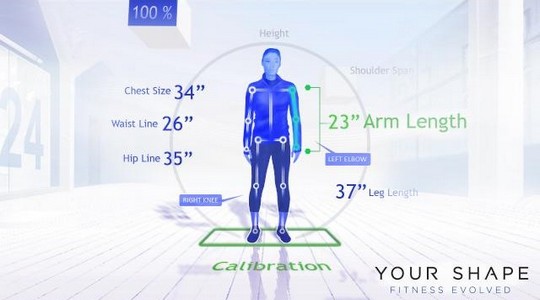 Size of relief
My incredulity was softened somewhat by Fitness Evolved's aesthetics. Clean and mature, they offer a welcome break from the cartoon-esque visuals of most other Kinect launch titles. Anyone who trains hard appreciates how much environment affects mood, especially in these dark winter months, and so by transforming my living room into a pleasurable, bright, workout area, Fitness Evolved really pulled me into the experience.
With three broad categories: personal training, gym games and fitness, Fitness Evolved has plenty of variety to maintain interest. And its online element, Your Shape Centre, allows you to test your improved fitness against friends with specific calorie burning goals.
The routines and exercises are geared towards absolute beginners, but the progression system works for even regular exercisers. But I'd recommended anyone interested in improving fitness with Fitness Evolved first invests in some dumbbells, as practically all of the exercises benefit from resistance. And I personally feel the exercises still favour the fairer sex, as some of the more impactful men's exercises, such as push-ups and sit-ups are absent owing to Kinect's limitations.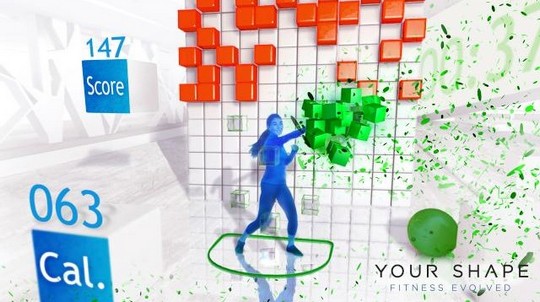 Kill a calorie
Overall, Fitness Evolved feels more like a good first attempt at a Kinect fitness game. Player feedback isn't always as instant and accurate as Ubisoft claims, which is especially off-putting when trying to improve posture during moves. And despite a wide range of exercises, even after just a couple of hours play, exercises felt a little on the repetitive side.

Reg Rating 70%
Price
£40
More Info
Ubisoft's official Your Shape Fitness Evolved website
 More Kinect on Reg Hardware
Kinect Joy Ride

The first-party launch title I was least looking forward to playing, Kinect Joy Ride surprised me with its fun play and unexpected depth. But loose, often unresponsive controls, ultimately let down the experience, and it was the only Kinect game that made me yearn for a traditional gamepad.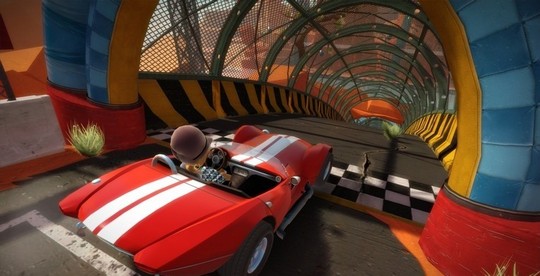 Steep at launch
With colourful, vibrant, cartoon visuals, Joy Ride offers a wealth of driving modes, including straight race championships, the Mario Kart-inspired Battle Race, and the excellent Stunt Mode. Coupled with these, Joy Ride's holistic system of progression and collectible cars and trophies provide the game with a level of depth more often associated with Triple-A racers.
All Joy Ride's modes are well thought out, and as a package I can't fault it. But underlying mechanical issues are impossible to ignore, and of all the first-party games tested, it's the weakest display of the Kinect technology.
Driving is let down by no acceleration or braking, drastically limiting user input. You simply have to steer left or right, and pull back and push forward for a temporary boost. It removes much of the challenge and satisfaction of driving. Worse still, steering is loose and subject to occasional lag, and there is always momentary confusion when ending tricks and beginning to steer again.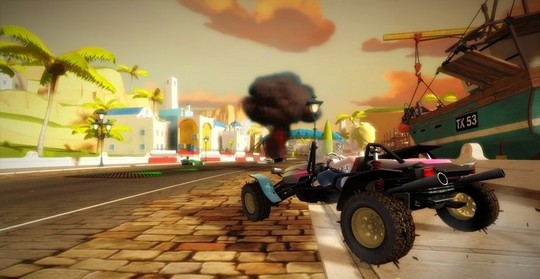 Steer clear
These mechanical weaknesses undermine an otherwise enjoyable game. And, while it hints at a bright future for Kinect driving games, and is itself by no means unplayable, Joy Ride will soon be overtaken by far better racers.

Reg Rating 60%
Price
£40
More Info
Microsoft's official Kinect Joy Ride website
 More Kinect on Reg Hardware