Original URL: https://www.theregister.co.uk/2010/11/09/review_games_call_of_duty_black_ops/
Call of Duty: Black Ops
Go nuts in 'Nam
Posted in Personal Tech, 9th November 2010 12:08 GMT
Review The 1960s: the decade of peace, love and rock'n'roll. The decade of LSD and flower power, colour television and manned space exploration.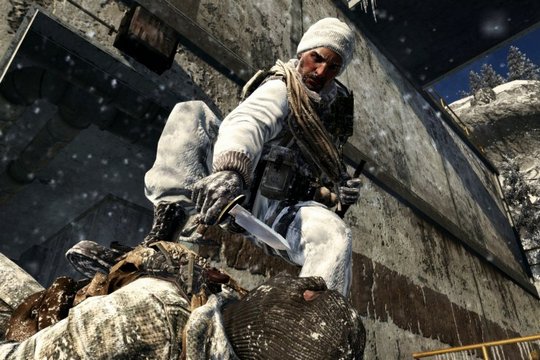 'Knife to meet you; to meet you, knife'
Only that's not how Captain Alex Mason remembers them. Under interrogation and drugged up to his eyeballs with sodium pentathol, he's recalling an entirely different decade. He's remembering the Bay of Pigs in '61, and the attempt to assassinate Castro. He's remembering the Cuban Missile Crisis of '62. He's remembering that fateful grassy knoll on 22 November '63. And he's remembering the decade-long quagmire that was Vietnam.
Welcome to Captain Mason's 1960s. Welcome to Call of Duty: Black Ops.
The theme is an inspired choice on the part of developer Treyarch. By setting its latest Call of Duty at the height of the Cold War, Treyarch not only liberates itself from the WWII theme that saw World at War unfairly dismissed by the masses, but also avoids competing in the contemporary battlespace pwned by Infinity Ward.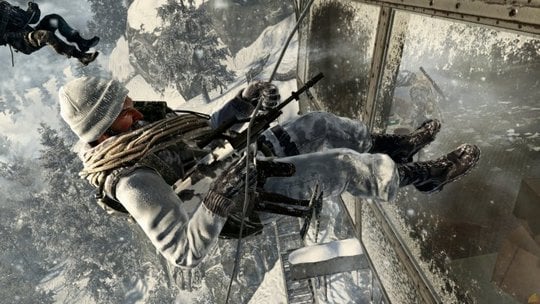 Pane in the leg
The setting also provides for the best Call of Duty narrative to date. Loosely based on The Manchurian Candidate, the plot might at times bewilder, but it's a perfect fit for the politico-military paranoia that permeated the decade. It's an historical context with a contemporary resonance, one which shows the unsavoury face of democracy – interventionism - as America struggled to contain the spread of Communism under the shadow of the bomb.
Shoot to thrill
Black Ops is not just a sweeping history of America's 1960s military engagements, it's also a personal story. Those conflicts merely provide the backdrop for the narrative's main thread, the race by American and Russian deniable operations teams to procure Nova 6, a Nazi-developed biological weapon. With comradeship and personal vendettas as galvanising as overarching national interests, it's a thread that compels throughout, especially in its thrilling denouement.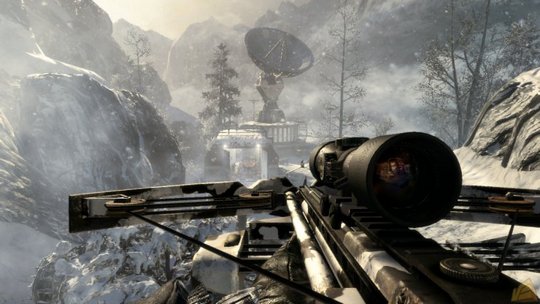 Make a bolt for it
Compelling narratives are nothing without solid gameplay, of course. So, it's fortunate that Black Ops' gameplay isn't just solid, it's nothing short of spectacular. Treyarch has used the two years since World at War to push the engine to its limits, elevating Call of Duty's hallmark visceral approximation of war to a new tumultuous high.
Whether in its smallest details - water dripping from the icicles of a frozen Siberian gas pipe - or whether in its grandest set-pieces - you rain rockets down upon military complexes from a gunboat along the Mekong Delta - Black Ops constantly impresses. Core shooting mechanics are as dependable as ever, as is the challenging and unpredictable enemy AI. And level design, pacing and variety maintain the intensity throughout the eight- to ten-hour campaign.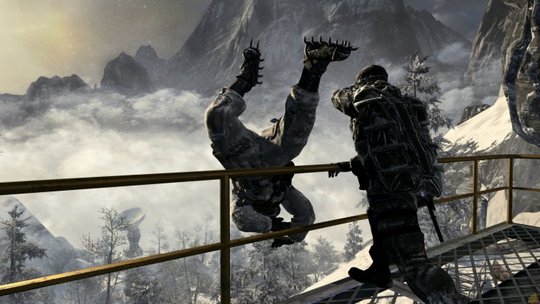 What a pushover
Black Ops isn't perfect, though. As per World at War, a couple of levels tread overly familiar ground. Escape from Vorkuta Gulag reminds too much of Call of Duty 2's Stalingrad levels, with its cast of thousands eagerly sacrificing themselves for Mother Russia. The battle of Khe Sahn reduces enemy AI to the kamikaze blandness of Medal of Honor Pacific Assault. And Treyarch just couldn't resist one last pop at history's go-to bad guy, as the only non-1960s level sees you flashback to the Arctic Circle in 1945 to take on the Nazis.
The walking dead
But these momentary retreads are the only minor flaws in an otherwise exhilarating campaign, the highlight of which is the latter part of the Vietnam War. Although only a few hours long, these levels provide the 'Nam videogame experience that Shellshock, Vietcong and Conflict Vietnam all failed to deliver in their time.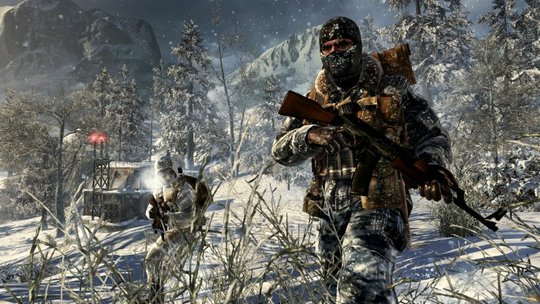 There's snow way forward
With fox holes, rat tunnels, monsoon rains, low-flying Hueys and The Stones' Sympathy for the Devil booming over the radio, it's as clichéd as you can imagine. But for anyone who ever wanted to go nuts in 'Nam, Black Ops serves up everything but the smell of napalm in the morning.
Black Ops' isn't just about the campaign mode, of course. There's a wealth of online and offline multiplayer modes, but late review code and a heavy press embargo make it impossible to draw thorough conclusions at this early stage.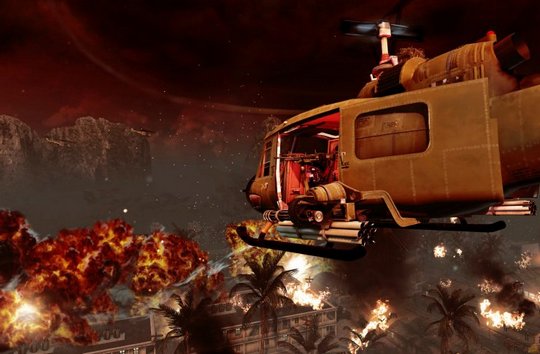 I love the smell of napalm in the evening
The little I can share is that multiplayer has 14 maps at launch, similar in size and scope to MW2, with tight corridors, alleyways and – at their highest – two-storey buildings. One or two are slightly larger than the largest MW2 maps, but they're sill a lot smaller than Battlefield's. Eight standard multiplayer modes can be played by competing teams assuming the roles of US Special Ops, Spetznaz, North Vietnamese Army or Cuban Tropas depending on the chosen map. And there are five regular classes based around main weapon loadouts and classes custom classes.
Explosive action
There's also a new currency system, intended to limit progression imbalances, but which is of doubtful efficacy, as weapons are still only available after reaching certain levels, but money seems readily amassed. And there are also new killstreaks, such as the hilarious RC-XD, a remote controlled car strapped with explosives, which join a mix of MW2 and World at War killstreaks - including those damned attack dogs.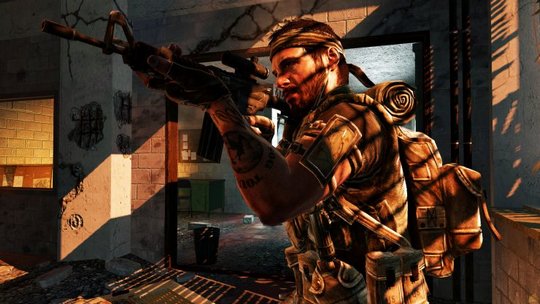 Magazines kill zombies. Hello?
Lastly, World at War's Zombies make a welcome return. The simple, addictive formula and fiendish difficulty level return untouched. But the maps are larger than ever, and gameplay is objective based.
I've only managed a few hours on two of the three available maps. The first, Kino der Toten, is unlocked from the start. Set in a crumbling theatre, you take on hordes of Nazi undead as you attempt to reach and switch on a generator in order to escape. And the second - unlocked after completing Black Ops' single-player campaign – has to be seen to be believed, as JFK, Nixon and Castro hold out against zombie civil servants in the Pentagon.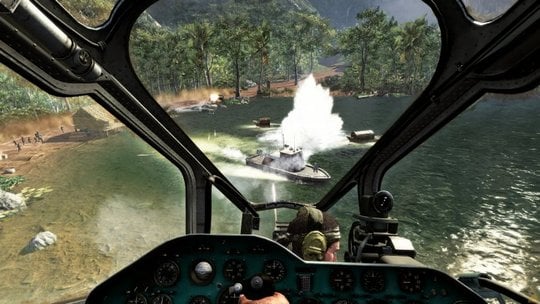 Wave goodbye
Verdict
For me, Black Ops' Zombies mode single-handedly justifies the steep retail price - which some retailers are discounting - let alone its campaign mode. But if you're seeking more bang for your buck, don't fear, Black Ops' not only ranks as this year's most comprehensive game, but also one of its greatest. ®
More Games Reviews

007
Blood Stone
Star Wars:
The Force Unleashed 2
Saw II:
Flesh and Blood
Fable III