Original URL: https://www.theregister.co.uk/2010/11/09/london_to_brighton/
Reg hacks crawl from London to Brighton
Cantankerous 1904 jalopy no match for PARIS team
Posted in Bootnotes, 9th November 2010 15:42 GMT
You might imagine that the Paper Aircraft Released Into Space team would be taking a well-deserved Caribbean beach break following their recent high-altitude triumph, but no sooner had the dust settled on PARIS than we were ready to face a new, and perhaps even more daunting challenge: the London to Brighton Veteran Car Run.
It just so happens that our own John Oates owns a 1904 Crestmobile, in which his dad Jeremy had himself done a few London-to-Brightons before deciding to symbolically pass the starting handle to his son:
As John explained, and as anyone who's ever driven a 1904 Crestmobile will know, this act didn't exactly represent the tearful transfer of a beloved heirloom, but rather the bequest of a family curse guaranteed to bring rain, hypothermia and starting-handle elbow to the male heir.
Still, despite the fact he and his jalopy have finished just five of ten starts in the last decade, and obviously having forgotten the severe pasting he took from the weather last year, John looked rather chipper at 7am in Hyde Park on Sunday: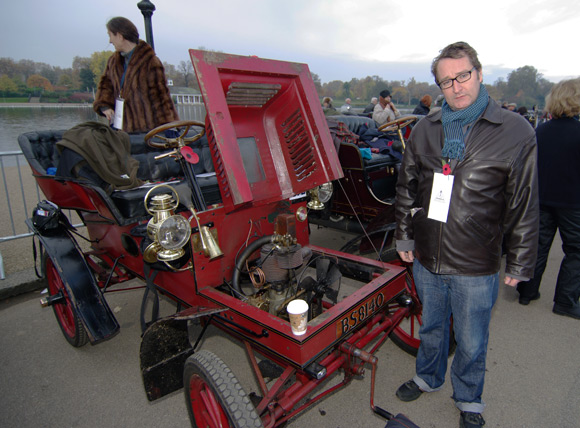 Petrolhead aficionados of old school vehicles will doubtless appreciate our neighbours in the paddock, including a couple of 1904 Cadillacs...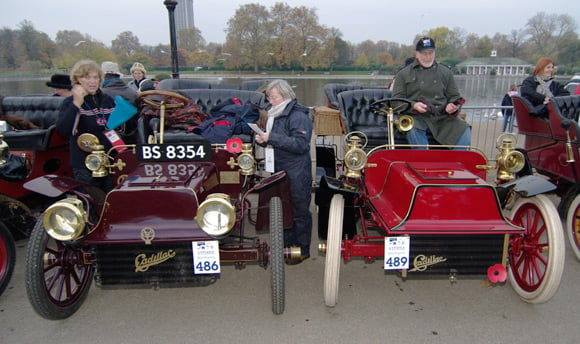 ...and a Vulcan from the same year: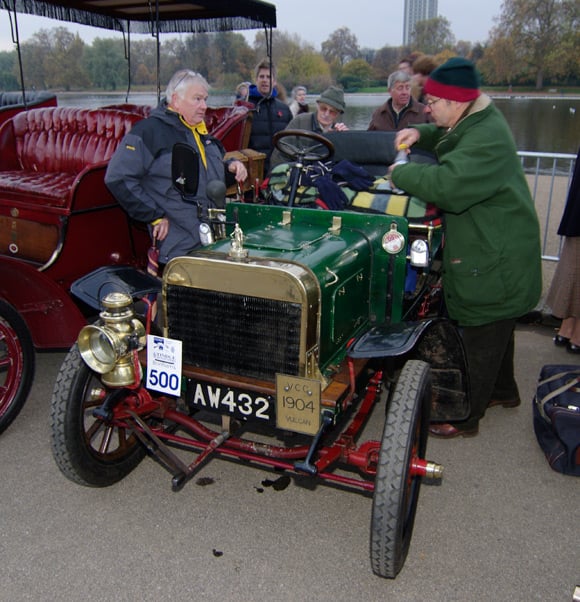 We were joined on our odyssey by back-seat passengers Yasmin Appleby and Travis Hibbert, seen here awaiting starter's orders: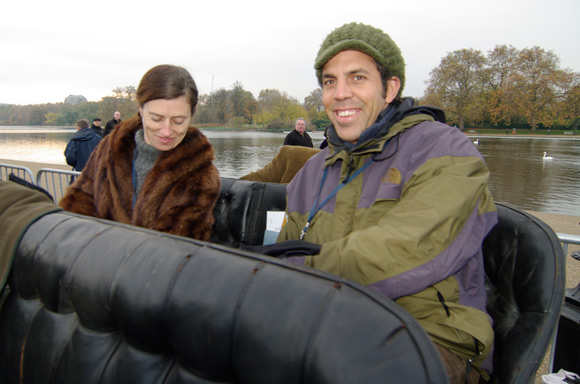 Any misgivings they may have had about exposure to inclement weather were tempered by the sight of a 1904 Humber trundling past. It's fair to say that you don't really want to be caught in the front seat of this when the heavens open up: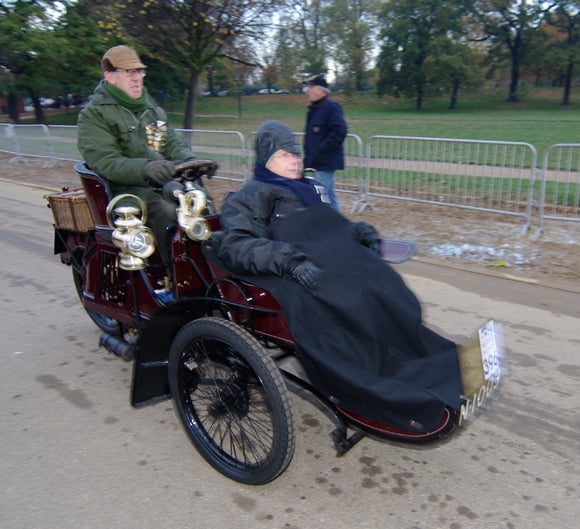 As front-seat passenger, my job was to pump the oil reservoir to feed our engine's voracious appetite for lubricant, while grabbing what photos I could.
Here's my first effort on the move, as we thundered dramatically out of Hyde Park...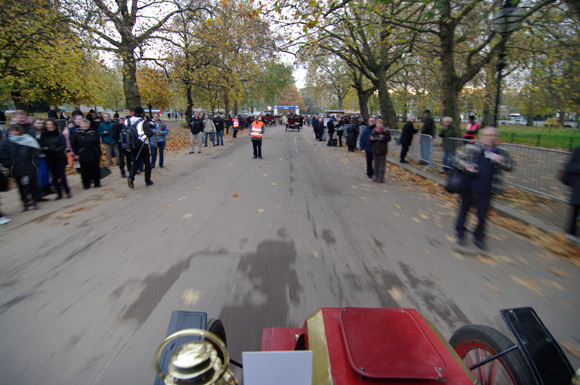 ...using the full potential of the Crestmobile's seven-horsepower-ish powerplant to take no prisoners...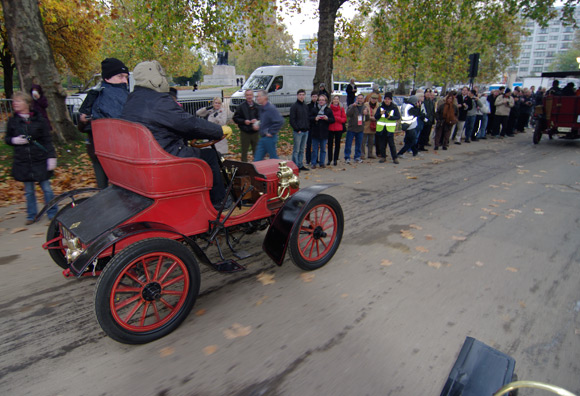 ...and move towards the open road: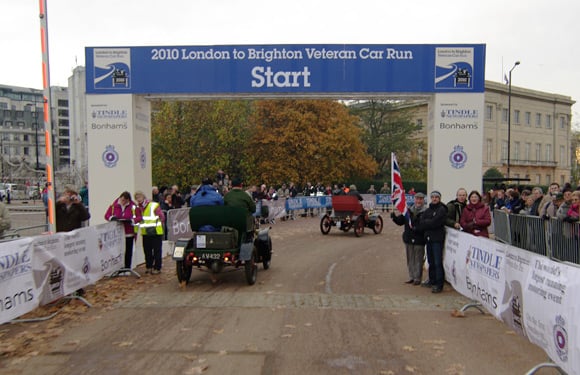 It's fair to say that by this point I'd began to pray I'd remembered to pay my life insurance policy, as I watched John attempting to simultaneously manage the throttle, advance/retard and gear change levers, while leaving enough hands free to steer clear of Buck House: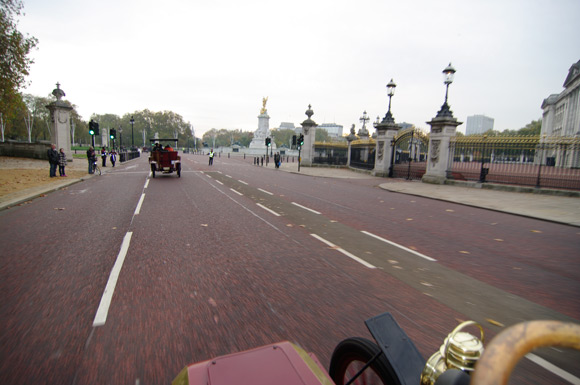 In the future, the power of science will certainly make possible a human with the five arms necessary to safely drive the Crestmobile, but if you can get the thing revving nicely and in the right gear, and as long as you're travelling in a straight line, it is actually possible to race past lesser vehicles: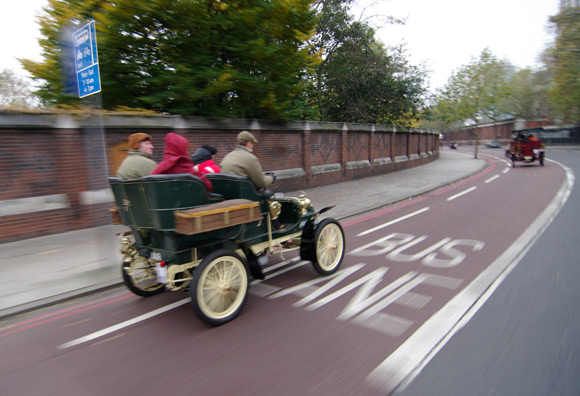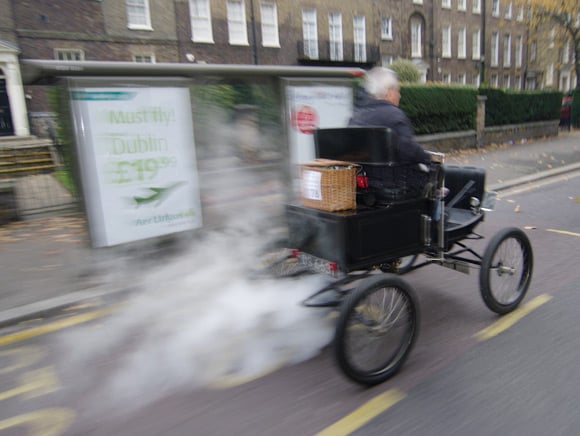 This last contraption is a 1900 steam-driven vehicle very appropriately called a "Locomobile", and, accordingly, driven by an Italian.
Sadly, our initial burst of speed lasted only until Brixton, where we took our first unscheduled pitstop: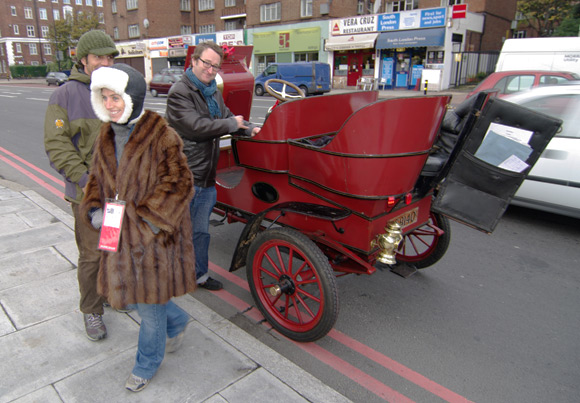 Cue a couple of RAC chaps, who kindly bodged our snapped oil line: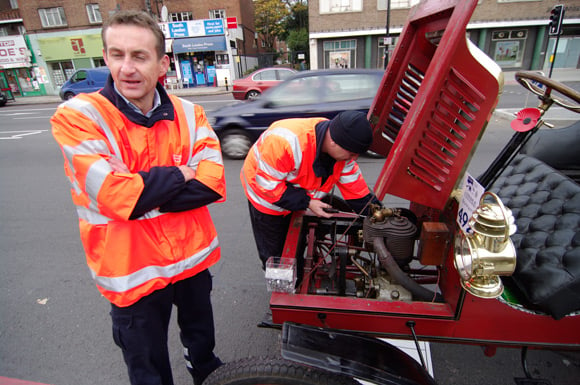 When I previously said we "thundered" out of Hyde Park, I meant it. The guy above is asking John: "So, you're the lot who wheelied it in the Park?"
Once we were back on track, nothing much happened until Crawley, apart from the loss of 66 per cent of our gear capability. The Crestmobile has two gears and neutral, and the latter and first gave up the ghost in Streatham.
This meant we had to slug it out in second, and use the brake to stop while cranking down the revs without stalling. Even if John managed that, the engine didn't then have enough grunt to pull without a helping hand, and as the traffic started to pile up around Croydon...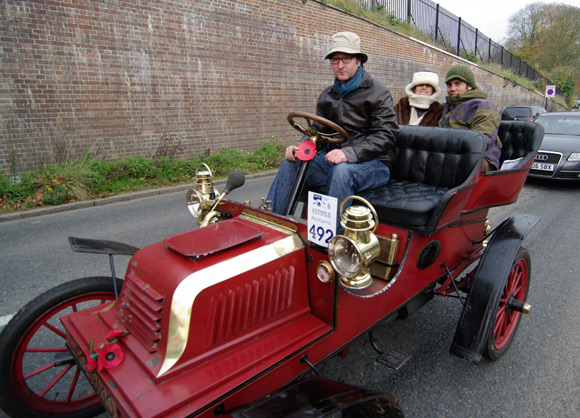 ...the stall-per-mile figure began to rise...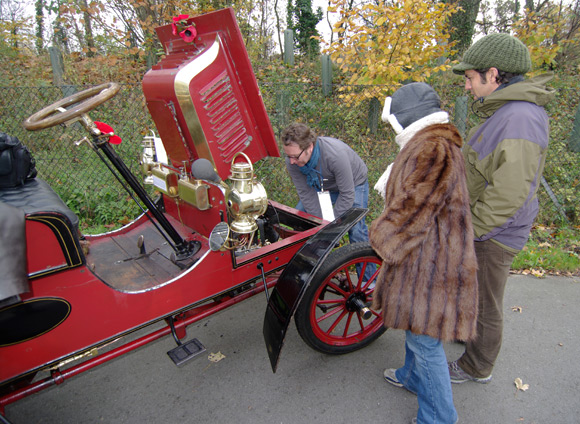 ...peaking in Crawley: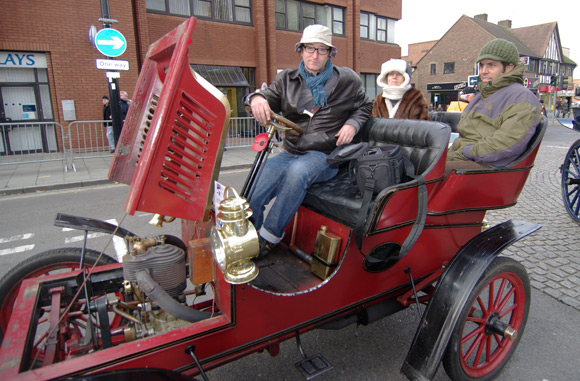 We nearly made it out of Crawley intact, but there's always time for another quick stall: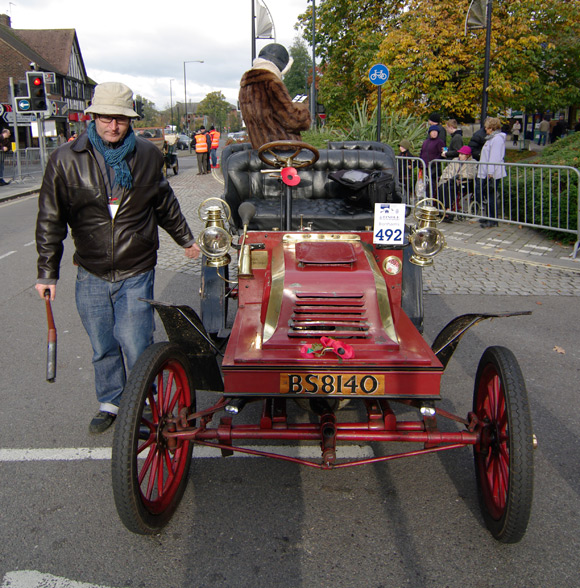 Our lack of first gear meant hills were a no-go, and as we prepared to grab a tow up an uninviting incline, John was able to take a minute to advise TV viewers...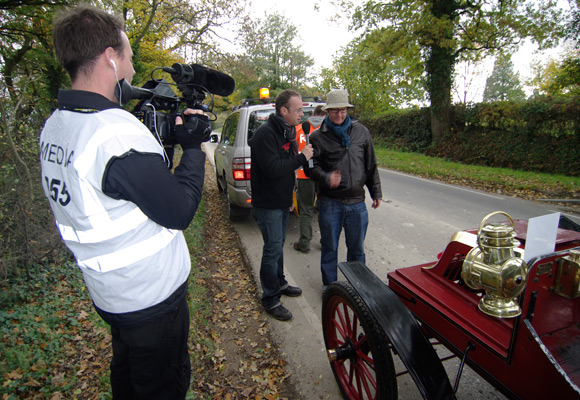 ...to avoid their local Crestmobile dealer and buy a Land Cruiser: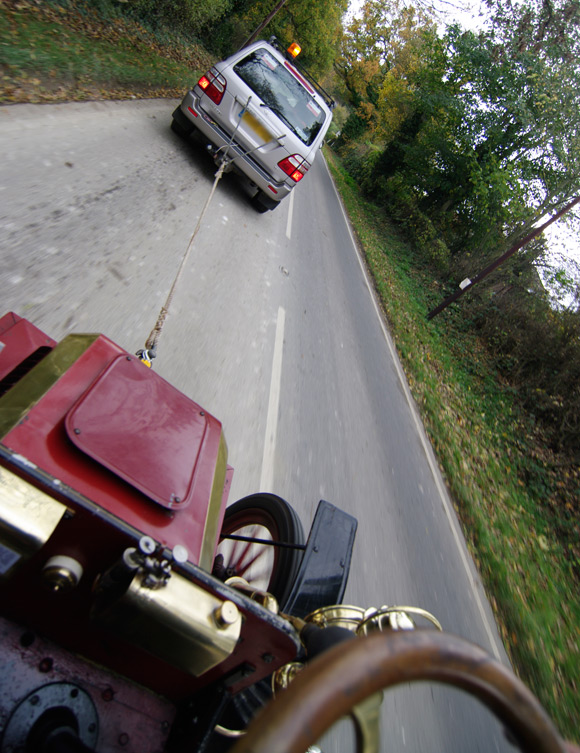 Suffice it to say, the rest of the run into Brighton was a mixture of uphill tows and stalls, punctuated by visits from the support team. Here's John's brother-in-law William Medcalf of VintageBentley preparing to have a look at our ailing transport...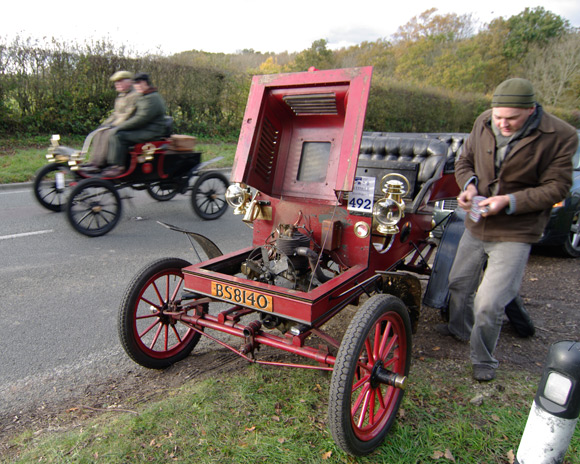 ...as John gratefully accepts a very strong coffee: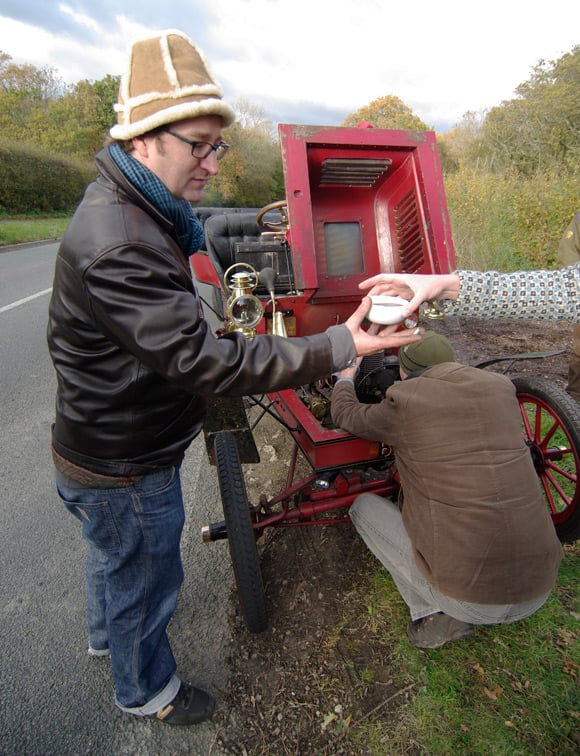 In the end, we did make it to Brighton's Preston Park, which is the official finish line, even if Yasmin and John's sis Victoria Medcalf had to push the last couple of hundred yards after the poor old Crestmobile clapped out completely: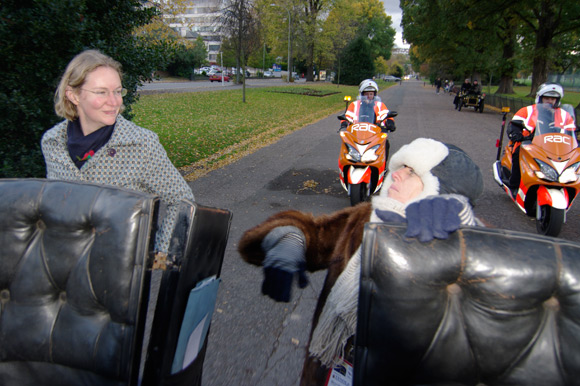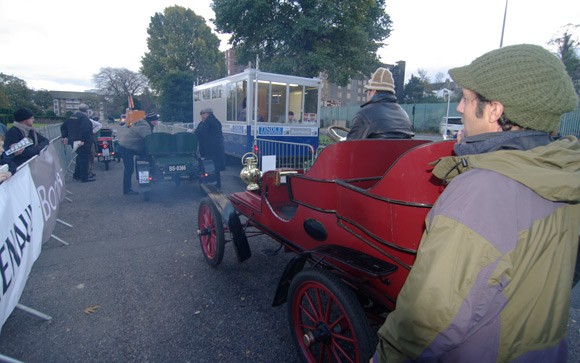 Victoria and hubby William recently drove a 1925 Bentley 10,000 miles from Beijing to Paris, which puts a 60 mile jaunt down the A23 into perspective.
It's fair to say that would be a drive too far for the Crestmobile, which had suffered a terminal failure of the spline linking the drive shaft to the engine.
Lesser men would have been tempted to call the recovery vehicle and scrub the last mile down to the seafront for the ceremonial end to the London to Brighton, but not William, who said with a glint in his eye: "So, we'll just take off the drive shaft and tow it. It's only a couple of bolts."
No sooner said than done...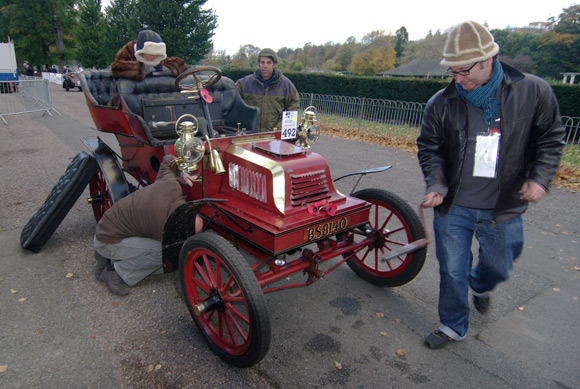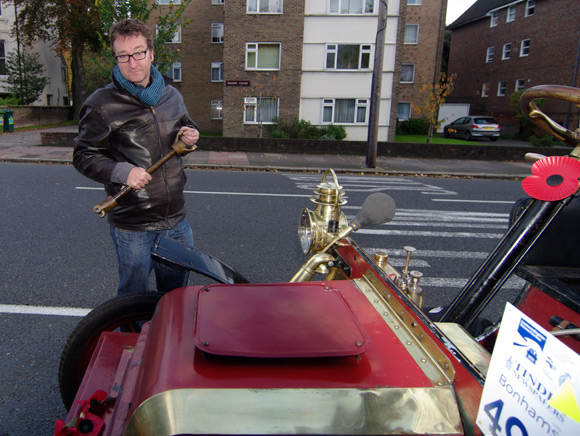 ...and we wearily crawled towards the champagne finale: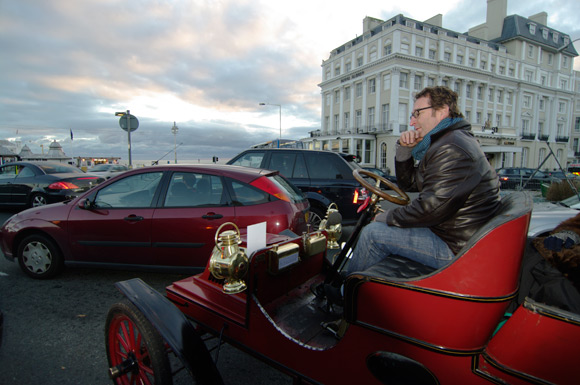 Finally, this was a happy sight indeed: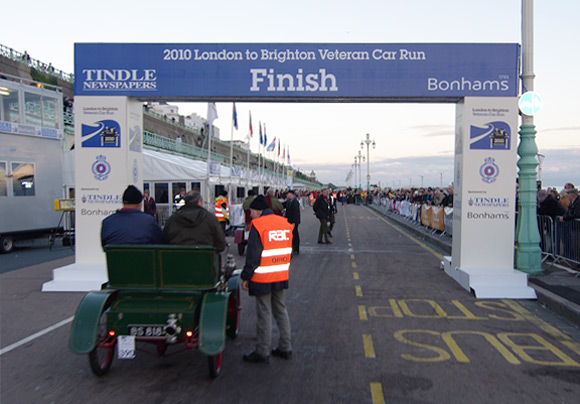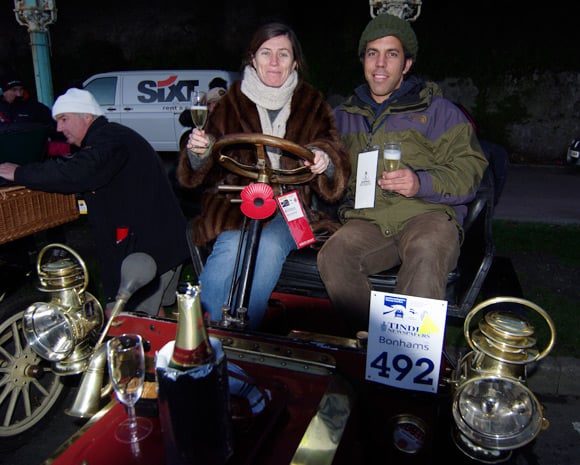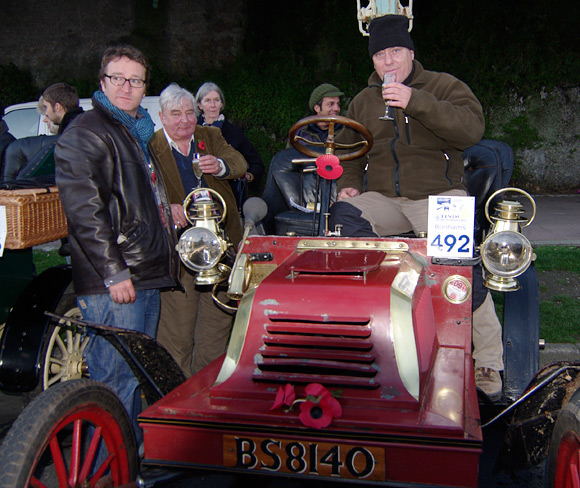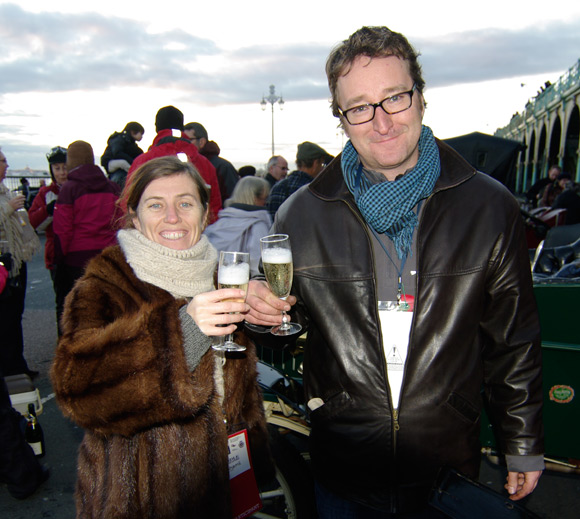 Well, it was quite an experience, and never has a glass of bubbly - and the subsequent pintage in a nearby hostelry - ever tasted so good. See you next year, when I'll be once again taking photos, albeit from the window of a Land Cruiser. ®
Bootnote
John has asked me to thank his dad (seen in penultimate photo, standing behind his son), Ross and all at ClassicCarStorage.co.uk for prepping the car, and William for running repairs en route and not laughing at our efforts.
Here's one of William's snaps of us gunning it. John's face says it all: