Original URL: https://www.theregister.co.uk/2010/11/09/bell_goes_on_musk_rocket_nasa_battle/
Elon Musk vs NASA and the US rocket industry - ding ding!
Seconds out for the space fight of the century
Posted in Science, 9th November 2010 13:48 GMT
The bell has gone for Round One in the epic bare-knuckle battle over the future of US manned space exploration, which is set to run for years and to devolve into a dirty fight indeed.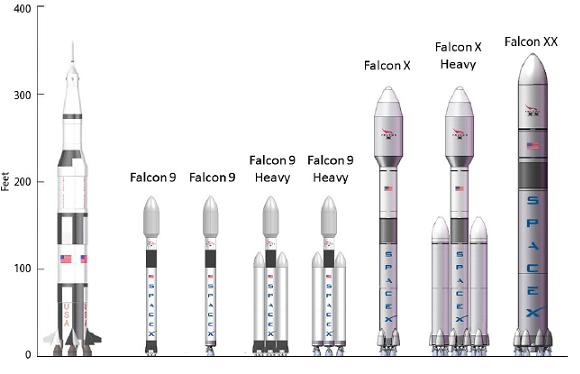 Recycled Apollo ... or something new? Could be more than a NASA job's worth.
Yesterday, NASA selected 13 companies for "potential contract awards ... evaluating heavy-lift launch vehicle system concepts, propulsion technologies and affordability". It is these 13 companies who will contend over the next five years to design and then (for some of them) build the new NASA heavy-lift rocket which is to carry US astronauts on missions beyond low Earth orbit for the first time since the 1970s.
In the blue corner we have famous PayPal nerdwealth hecamillionaire Elon Musk and his upstart startup rocket company SpaceX, pretty much the only serious contender among the so-called "new space" wave of firms often founded with internet money. Other ink-drenched but largely insubstantial ventures - Armadillo Aerospace, Blue Origin, Virgin Galactic et al - are typically aiming for suborbital performance at best: but SpaceX has already achieved full-fat orbital delivery capability.
In the many red corners of this metaphorical polygonal boxing ring, we have the established US space heavyweights, the companies which built the current launchers used by NASA, and the US military (including the Shuttle) – who had expected to build the next generation under the previous President's ambitious "Constellation" plan for a manned return to the Moon followed up in time by boots on Mars.
Constellation, which would have used Ares I man-launcher and Ares V heavy-lift rockets based on tech from the Shuttle and Apollo and delivered by the established players, would have been very expensive. Congress eventually declined its funding. Thus the incoming Obama administration was compelled to think of a new plan.
In outline, this plan has seen most of Constellation binned - in particular the new Ares launch rockets. Plans for near-term Moon return have also been nixed. Instead, Obama has said that NASA will now choose a new heavy lift rocket design for deep space missions in 2015. He has also supplied more funds for commercial schemes under which cargoes - and, in time, crews - can be flown to low orbit (to the International Space Station for the foreseeable future) on privately built and operated rockets. The normal NASA model as seen in the Apollo and Shuttle eras meant that huge contractor firms would build the spacecraft and then other, also huge, partly-NASA workforces would operate them.
Elon Musk has always argued that the established model results in wildly excessive costs, which in effect is why the US space programme - the big end so far of humanity's efforts in space - has struggled to achieve much of note since the end of the Apollo era and its lavish funding. He says this is specifically why he founded SpaceX.
Musk considers that if it weren't for NASA and its many copiously-staffed campuses and facilities across the USA (as well as other bloated, inefficient workforces providing decades-old Shuttle and Apollo-derived rockets which are naturally expensive to use), access to space could be a lot, lot cheaper. His SpaceX firm uses new tech developed specifically to be cheap and reliable, and has only recently passed the 1,000-employees mark.
What carries more political clout - boots on Mars or jobs on Earth?
SpaceX already has a slice of the commercial-cargo deal, and is preparing its "Dragon" capsule to try for more business lifting astronauts to the ISS - and unrelated work for other global customers. After some initial hiccups with the small Falcon 1 rocket, the subsequent and bigger Falcon 9 (which uses the same proprietary "Merlin" engine and could carry the Dragon) flew successfully to orbit on the first try.
Setting aside arguments over whether SpaceX's rockets are genuinely reliable and safe enough to lift people, there can't be much doubt that they could do so far more cheaply than ones made using older tech by the much bigger (and so more expensive) workforces of Boeing, Lockheed, their joint ventures United Launch Alliance and United Space Alliance etc.
Had Obama pressed ahead with a new heavy-lift NASA rocket straight away, SpaceX could never have been a contender. But five years down the road, with experience flying the Falcon 9, the Dragon and perhaps the bigger Falcon 9 Heavy under its belt, NASA might be forced to accept SpaceX as a genuine rival to its established providers.
In April, Obama said:
In developing this new vehicle [in 2015] we will not only look at revising or modifying older models; we want to look at new designs, new materials, new technologies.
At the time, there were no known hundred-tonne-plus heavy designs based on new technology, though we on the Reg rocket desk did note that Obama had lately been spending time chatting to Elon Musk - much to the chagrin of Boeing, to name just one of Musk's rivals. Subsequently it turned out that SpaceX actually has more than just the 30-tonne Falcon 9 Heavy on its drawing board: the upstart firm is working on a new "Raptor" engine - still using economical rocketgrade kerosene rather than Shuttle style cryogenic hydrogen - to power mighty Saturn V-sized "Falcon X" rockets.
For now, such grandiose plans are effectively dreams. But in 2015, with SpaceX potentially able to point to a successful few years lifting stuff and people to the ISS - plus a Raptor engine good to go - the Falcon X or XX might well look better to the US taxpayers and the new President than comparatively pricey offerings from the established players. It might, if Musk and his team can deliver on their gutsy promises, mean that politically realistic levels of funding could indeed send Americans to the asteroids and then on to Mars.
But the Falcon X or XX - designed from the outset to be operated by smaller numbers of people - might not look quite so good to NASA employees: the more so after a few years of "commercial crew" operations, which would cut a lot of NASA job slots out of the launching process. Falcon X/XX wouldn't look good to the massive US rocket industry of today, either. The extra reach into space would effectively be paid for by job losses at NASA and the rocket titans.
That in turn would mean heavy opposition on Capitol Hill as well as at NASA headquarters. President Obama has shown some willingness to face such opposition down, though he will no doubt have found the prospect of postponing serious spending attractive also.
But there's no guarantee that Obama will even be in the White House in 2015. Whether it's him or someone else, that future President would surely have a massive fight on his hands should he or she choose to gut the existing NASA launch infrastructure and rocket industry in favour of a 1,000-employee Californian company deploying almost brand-new technology.
So it would seem that even if Musk can build his rockets, he may have trouble getting NASA to buy them. SpaceX's battle against NASA, Boeing, Lockheed and the rest over the next few years looks set to be a fight worth watching. ®