Original URL: https://www.theregister.co.uk/2010/11/08/google_chrome_os_is_not_android/
Google Chrome OS: unlike Android, it's open source
The code's already there. If anyone wants it
Posted in The Channel, 8th November 2010 07:13 GMT
Unlike Android, Google Chrome OS is open source.
Whereas Android is coded behind closed doors — one big-name developer says it's no more open than Apple's iOS — Google's imminent browser-based operating system is built — in large part — where everyone can see it. A portion of the project remains closed — Google's boot-time-boosting firmware work — but like the browser it's based on, Chrome OS is a platform that can serve Google's ad-centric purposes even if its code is set completely free.
According to the man who's closer to the project than anyone outside of Google and its various hardware partners, Chrome OS will offer few surprises when it is officially released, likely before the end of the month. When we spoke to Liam McLoughlin this summer, he assumed the company was crafting certain tools outside the public Chromium OS code tree — Android-style — but in recent weeks, the man known as "Hexxeh" has come to see things a bit differently.
"I'm less sure about Google keeping features out of view now," he tells The Reg. "After having talked to a few people working on it, it seems that the parallels I drew to Android, where things are developed out of the public view, are incorrect. There may be some, but I don't think it's intentional if we haven't seen them yet."
McLoughlin — a college student in the UK — has been the main source for Chromium OS build releases ever since Google first unveiled its public code tree in November of last year. There's always the chance his assessment of Google's plans is off the mark, but it's clear he has developed a reasonably close relationship with the Google development team, and there's no denying Chrome OS was set up quite differently from Android — not to mention the new Google TV platform. Android code wasn't open-sourced until the first Android phones were released, and although Google TVs are now on in stores, the company says it won't open source the code until sometime next year.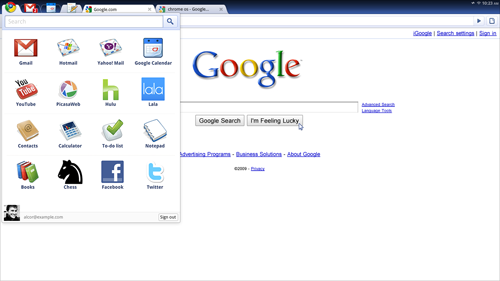 Chrome OS (click to enlarge)
Where open source is concerned, Chrome OS is analogous to, well, Chrome. Google's Chrome desktop browser is developed in plain view — Mozilla-style — through the open source Chromium project. And though we questioned Google's intentions when it launched the, yes, Chromium OS project last fall, this open source effort appears to follow the same model. Over the past year, Google's development team has regularly updated the project with new code, and though some Chromium OS watchers have wondered whether there's a shadow code tree somewhere deep into the Mountain View Chocolate Factory, many more with whom we've spoken are confident that what you see with the Chromium OS project is what you'll get with the official Chrome OS release.
Things are different with Android and Google TV. In both cases, Google is looking to extend its dominance beyond today's web. On phones and televisions, the web isn't the focal point it is on the desktop or the network. With Android and Google TV, Mountain View is compelled to control the platform outside the browser. That's the only way it can ensure that its online services win the day. But with Chrome OS, there is no platform beyond the browser. Chrome OS only runs apps on the web, and on the web, Google is already dominant.
Google can (truly) open source Chrome OS because it in no way harms the company to do so — and it may help. If someone is using a machine that runs nothing but web apps, Google is undoubtedly pleased — whether it has a hand in building that machine or not.
The question is how many people really want a machine that runs nothing but web apps.
Code freeze imminent. If you want it
Judging from Hexxeh's conversations with Google developers, Chrome OS code will be frozen this week. He predicts that the first machines will be unveiled later in the month, as separate rumors have indicated. Google merely says — as it has always said — that machines will arrive by the end of the year.
These will be netbooks — and maybe tablets as well. And they'll be priced not unlike "what computer buyers expect today." But, according to Google's pitch, they'll be easier to use than the average notebook — and more secure.
Google's isn't just building a new OS. It's rebuilding the netbook itself. "We are working on the Chrome OS image — the software — but in addition to that, we are actually going and working with partners to specify components at the hardware level," Google VP of product management Sundar Pichai said last fall. "We really want software to understand the underlying hardware so we can make it much faster and more secure. It's an important part of what we're trying to do."
Most notably, Chrome OS doesn't run on hard drives. It runs on solid state devices, part of Google's effort to improve boot times. In the fall, Google showed off a Chrome OS netbook that booted in seven seconds, and by way of system firmware, it's working to reduce that time even more. As we said, the firmware is the one major part of the project that isn't "open." And considering what a large role it plays, you could argue that, in fact, Chrome OS is closed to unofficial partners. But this work may eventually be released as well.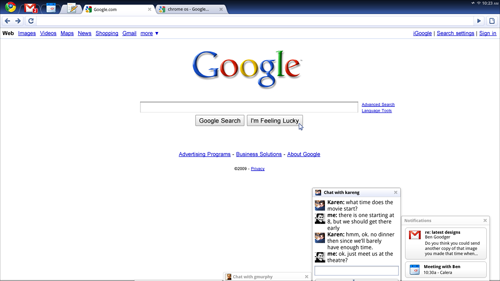 More Chrome OS (click to enlarge)
In limiting all apps to the web and confining each app to its own sandbox, Google also claims the Chrome netbook is more secure than today's machines. And the ultimate goal is to build an OS that can verify its own integrity and reload itself if necessary. But whatever Chrome OS gains in the areas of boot time and security, it loses a few points when you consider that it can't, well, run local applications.
If you don't have a net connection, a Chrome OS machine is bit tongue tied — though Google is offering tools that let applications operate offline (up to a point). And there are still certain advantages to running local applications. "There are applications today that are not available on the web," Pichai said. "There will be some things this will not be able to do."
In an effort to shrink the gap between local apps and web apps, Google is building Native Client, a Chrome plug-in that runs native code inside the browser. But it seems that Native Client — another open source project — won't quite be ready in time for the release of Chrome OS.
In May, Pichai unveiled a working prototype of the Chrome Web Store, which will offer up web apps for Chrome and Chrome OS, and among the apps "on sale" was a version of Lego Star Wars built to run on Native Client. Earlier this fall, when we spoke to David Helgason, the CEO and co-founder of Unity, the outfit that's working with Google on the app, he indicated Native Client wasn't as far along as it needed to be. Last week, we asked him again about the progress of the plug-in, and he declined to comment.
Some would say this is no great loss. Native Client undermines Google's ostensible commitment to web standards. But the point is that Chrome OS will face an uphill battle to win converts in a world that includes so many other devices that don't artificially limit themselves to the web. Pichai says that the Chrome OS netbook will be a "second machine" for most buyers. But so is the iPad.
Unlike iOS, Chrome OS is open source. But that sells only so many machines. ®