Original URL: http://www.theregister.co.uk/2010/11/05/review_cinema_speakers_teufel_system_8/
Teufel System 8 THX Ultra 2 home cinema speakers
Now, where to put that 500W sub..?
Posted in Personal Tech, 5th November 2010 08:00 GMT
Review German speaker folk Teufel are promoting the System 8 as the world's smallest system to have received THX Ultra2 certification. But don't get the idea that this is a discreet system. It's a monolithic stack of boxes that will demand attention in any room that's much smaller than an auditorium, including a subwoofer that looks as though it could house a family of four… and their pets.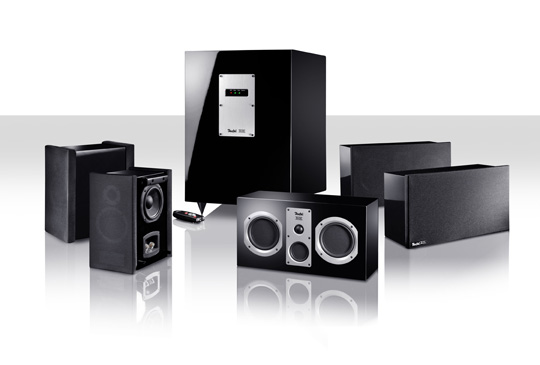 Teufel's System 8 THX Ultra 2: a big sound needs big rooms
Shy and retiring it ain't, but for those who value sound quality and sheer sonic power above all else when it comes to home cinema, the System 8's lack of compromise could be very appealing. Like Teufel's other home cinema systems – including the System 5 which Reg Hardware auditioned recently – the aesthetic is bold and black. The solid, squared-off boxes look and feel both heavy and impressively sturdy.
The array's S 800 FCR left, right and centre speakers weigh in at a hefty 8.5kg and measure 46 x 25 x 19cm. The S 800 D bipolar satellites aren't a whole lot smaller at 17 x 31 x 24cm and 6kg, but it's the S 8000 SW subwoofer that's (almost literally) the elephant in the room at a mammoth 36 x 70 x 55cm and 42kg. It's a monster, but one that justifies its bulk by the quality and power of the sound it can produce.
On the whole it's a muscle system that's not afraid to let you know where it's coming from, it's only (very slight) concession to delicacy being its glossy piano black finish which is rather lovely, though something of a fingerprint magnet.
The identical left, right and centre speakers each contain three flat diaphragm drivers – an 80mm midrange model surrounded by a brace of 130mm woofers. Also in the middle is a 25mm silk dome tweeter specially designed to cope with high frequencies at high volume, as demanded by the THX Ultra2 certification. The flat diaphragms are designed to be able to radiate midrange frequencies across the entire diaphragm, so reducing the possibility of phase shifts.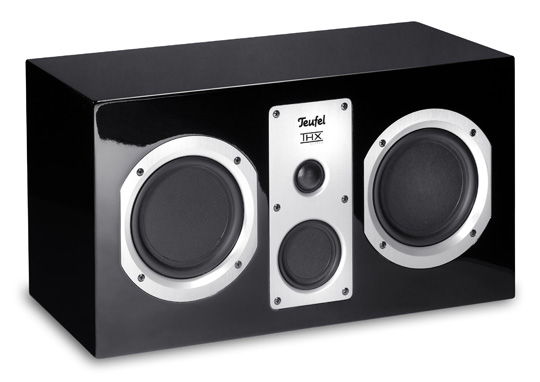 Separate S800 FCR speakers handle duties of left, centre, right sound output
Skirting the trend for magnetised covers, the Teufel's fabric dust screens are slightly oversized and fit around the edges of the speaker cabinet like a shoebox lid. While hardly sophisticated, it is simple and effective. Around the back, there's a pair of gold-plated binding posts along with options for wall or stand mounting with specialist holes provided for each fixing.
The surround speakers are of the dipole variety, offering two sets of drivers firing in opposite directions to give a more diffuse basis to the sound. The twin 100mm midrange driver and 25mm tweeter combos are backed by a 130mm woofer, which faces the wall and brings a significant amount of low-end heft to the sound.
The dipole arrangement is designed to maximise sound dispersal for the surround channels
The 500W subwoofer may be a giant, but it's a very rare example of a consumer model that can generate the levels required for THX Ultra2 using a single 300mm downward-firing driver (others often only manage it with two subs).
On the back is a hefty panel of heatsink fins, a knob for setting the frequency crossover (anywhere between 40-240Hz) and a variety of connection options, including four sets of speaker terminals and phono in/out connections. The front features a stylishly minimalist aluminium panel surrounding a series of LEDs, which can be controlled with the accompanying remote to switch the phase and activate the THX.
Given the high spec and certification of the System 8 it's no surprise at all that it delivers an impressive audio performance. Like sitting behind the wheel of a sports car on a motorway, it's not so much the speed that impresses, it's the potential, and this Teufel's subwoofer has that in spades.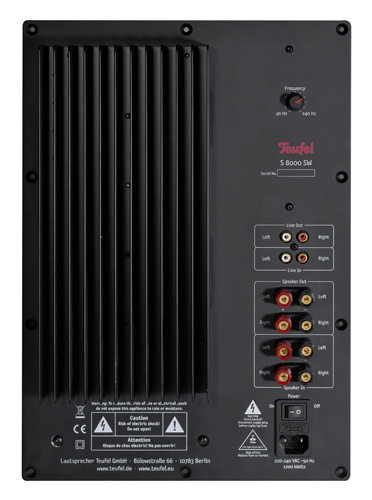 The sub has its own amplifier, the other speakers need to be plumbed into your own AV amplifier
There's plenty of grunt on offer but after a bit of adjustment, there's never any need for it to dominate the overall sound, and the low-end delivery is always tightly controlled. I wouldn't go so far as to say tasteful, since there's more than enough cheap low-end thrills on offer when required, but you're never in doubt about its ability to cope with anything blast-master Jerry Bruckheimer can thrown at it.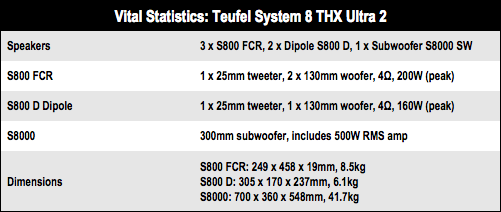 What is a little surprising is the delicacy and attention to detail on offer. Areas that I'd found murky in the past seemed to have an additional audio spotlight thrown on them by the System 8, as it teased out the details and eased the effort of my ears. Speech is infallibly clear for instance, even throughout Mickey Rourke's performance in The Wrestler. A budget system would have its work cut out to make sense of mumbling Miceky, yet the System 8 never seemed to have any issues.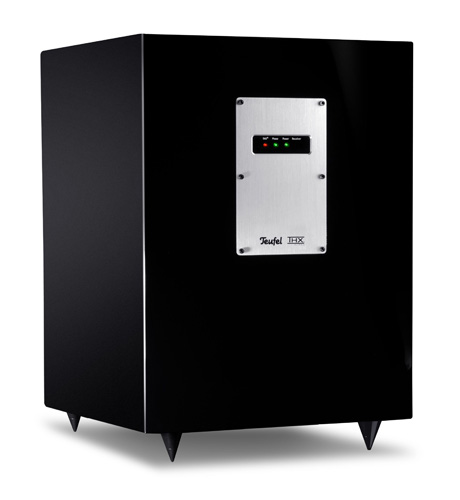 The sub cabinet is some kind of monster
The dipole surrounds work hard to ensure a diffuse ambience that works in the soundtrack's favour, helping you to feel immersed in the action rather than distracted by individual sounds from a specific point. Here too though there's plenty of punch, thanks largely to the wall-facing woofer, which helps to ensure you always feel immersed in the action.
As with other Teufel products, there's an eight-week test listening period, which gives you the chance to live with them for a little while. And if you don't like them, you can send them back without penalty – very useful since you can only buy them from the company's website, and won't have the chance to audition them in a showroom.
Verdict
A system with a spec like this is unlikely to disappoint sonically, the question is more about whether or not you need it. For the average UK living room (15.8m according to a recent CABE survey), the answer would probably be 'no'. THX Ultra2 is intended for rooms of around 100m3 and it's probably fair to say you wont' need them unless your room's at least half that.
With such a room though, big enough for the System 8's blocky aesthetics to be less of an issue, this powerhouse system can deliver oodles of oomph, balanced with a deftness of touch on details and quiet passages that fully justifies its not inconsiderable price. And if you find that it's just too much after that two-month test period, you could always swap it for the System 5. ®
More AV Gear Reviews...

Samsung
HT-C6930
Teufel
System 5
Panasonic
SC-BT735
Sony
BDV-E370