Original URL: https://www.theregister.co.uk/2010/11/05/discovery_gucp_delay/
Shuttle Discovery further delayed by leaky boil-off umbilical
Veteran ship wreathed in explosive gas
Posted in Science, 5th November 2010 16:21 GMT
NASA's several-times-delayed bid to launch space shuttle Discovery on its final planned mission - a trip delivering supplies and parts to the International Space Station - has been scrubbed again following a "significant" leak in a hydrogen boil-off safety flare stack pipe.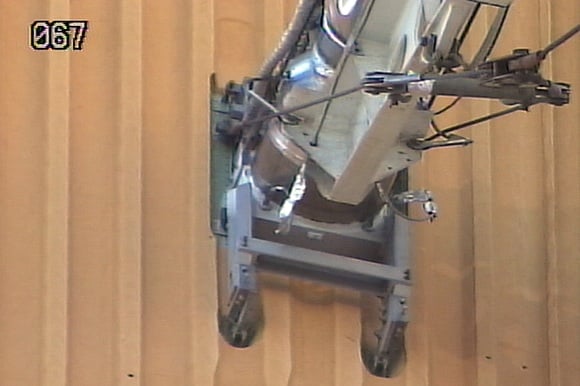 The factory which made this was shutting down with massive job losses.
According to a NASA statement issued earlier this afternoon, the earliest that Discovery can now launch following repairs to the leaky Ground Umbilical Carrier Plate (GUCP) is Monday. That would be the last chance remaining in the present orbital launch window: should no launch occur on Monday, the next window runs from the 30 November to 5 December.
The faulty GUCP is an assembly which connects the shuttle's large orange external fuel drop-tank to a massive 17-inch pipe that carries away gaseous hydrogen which has boiled off from the cryogenic liquid in the tank. If the hydrogen were allowed to escape and mix with air, it would become a major explosion risk: hence it is piped away safely and burned off in a flare stack clear of the pad. The GUCP is a bit more complicated than an ordinary plug for a deadly explosive rocketfuel gas pipe, however, as it needs to release the umbilical easily, reliably and without human assistance at launch time.
Shuttle launch director Mike Leinbach said that the "significant" hydrogen GUCP leak was similar to previous snags occurring on other shuttle launches, though he admitted that today's was "higher in magnitude and occurred earlier in the fuelling process".
NASA reports that the colossal tank is now being drained of fuels and will then need to be "inerted" - flushed through with helium - for 20 hours before technicians can get started on fixing the GUCP at the weekend. Depending on what they can achieve, a go or no-go decision will be made regarding a Monday launch attempt on Saturday.
As and when Discovery finally flies, it will be the veteran ship's 39th and final planned mission. The shuttle is loaded with various supplies, parts and experiments for the ISS, including a new pressurised hab module, a humanoid robotic torso intended for maintenance work and a complement of experimental mice participating in studies of bizarre space plague effects. ®