Original URL: https://www.theregister.co.uk/2010/11/05/android_users_will_never_go_back/
US smartphones – Once you've had Android there's no going back
Looking to the future on the verge of 4G
Posted in Networks, 5th November 2010 13:00 GMT
Opinion Most people that we meet who are not in technology, wonder at how we keep up with the speed at which technology changes. But technology – and technology markets in particular – are sometimes glacial in the speed of change.
Back in around 2002, when we first talked about 3G licences, and ooh-ed and ahh-ed at how much money they cost to buy, we thought the world was about to begin a ramp up in smartphones. It didn't.
But now almost eight years later, we begin to see what all the rhetoric was about back when the licences were issued, just as we are on the verge of 4G investment. It's strange that the US, which was light years behind Europe, which itself was light years behind Japan, is now the hotbed of change where this innovation originates.
Partly this is due to the fact that in the US, like in Japan, handset control is more firmly in the hands of operators rather than consumers. In Europe, operators tend to take a wider variety of handsets, and let the consumer decide.
There are plentiful retail operations which are independent and which are not owned or controlled in any way by the operators, and they sell a huge chunk of all contracts. In the US, the operator-owned stores and the rivalry between operators, means that fewer phones have large chunks of advertising money pumped specifically into them, and they are "hyped" on an unsuspecting public.
But another reason for US dominance is the passion with which US individuals take up Social Networks. This is what is driving data usage and the need to have these experiences integrated onto handsets, so they can be engaged in continually.
A report this week from Nielsen shows just how much acceleration towards smartphones the US has generated. Already it is now 28 per cent of the US cellphone market, defining smart phones as cellphones with operating systems resembling those of computers.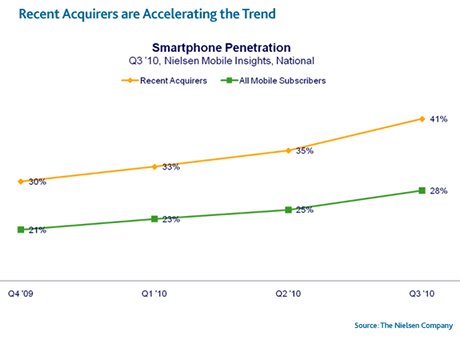 Image from Nielson Mobile Insights
But what is really interesting is the rate at which new contracts or phones are being acquired which use a smartphone. Over the past six months this has risen to 41 per cent of all people getting a new phone.
The US was the country where the mobile phone was invented, but Europe created the first widely accepted standards and dramatically overtook the US in handset penetration and usage during the 1990s. This jump in smartphones already puts the US back on track with the UK, says Nielsen, but it points out that in Spain, smartphones' penetration is already as high as 37 per cent and in Italy it is 33 per cent. The difference is that Symbian is still driving these experiences.
Brand loyalty
What that means in turn is that brand loyalty, in particular to Nokia and probably Sony Ericsson as well, is holding up – for now. This is most likely a simple case of the UK having had longer contracts for longer, and there not being enough new handset contracts being signed to overturn feature phones and focus on smartphones. The operators in the UK are stingy and have always tempered attracting new customers with deals that tie them in for longer.
The complexion of the US market is also exceptionally revealing and the graph below shows that the only OS in the US which is dramatically changing its position is Android. The Apple iPhone OS is in the act of catching RIM Blackberry OS, with 28 per cent and 30 poer cent market share respectively and Nielsen puts Google's Android OS on 19 per cent. At its current rate of growth, one or two quarters will be needed before it is out-and-out the leading OS there.
Among those who chose a device in the last six months, Android took the lead in Q3, while RIM Blackberry and Apple iPhone are practically tied for second place.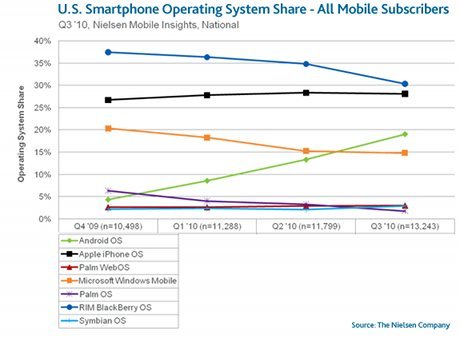 There are some ethnic and age differences in which parts of the US community is picking which handsets, and the owners of Android smartphones tend to be younger than those attracted by the other operating systems. But if those graphs continue, and we cannot see anything much getting in their way, then Android will rule for many prosperous years. What happens then to Apple and RIM are anyone's guess.
We can perhaps draw two or three thoughts from this for the future. While it has taken about eight years for 3G technology to mature and come down in price enough to be properly harnesses by a wide range of consumers, that doesn't mean that it will take that long again for 4G.
This generation wanted better, more sophisticated UI and a wider range of application availability, before devices had enough of an advantage over feature phones.
Prior to these smartphones, all the development was vested in a wide variety of handset vendors and operators, and now it is shared with the OS owners. So we reckon that 4G will happen faster, but there will still be a substantial transition period.
Also, at the beginning of 3G, there were very sparse Wi-Fi networks in place for data offload, and they are far more prevalent now and more handsets have WiFi than ever before.
But it is also worth understanding, that in the same way that there was no going back once everyone had a PC with Word, Powerpoint and Excel on it, there have been substantive lifestyle changes among consumers. So using the internet, and accessing Facebook or Twitter on your phone and having entertainment at your fingertips all the time, is now a brand in its own right. Youngsters do, oldsters don't – it identifies who you are and a handset choice of today is like buying a car or deciding on what side of town you want to live. It says quite a lot about you.
And all that means is that consumers are ready for 4G data rates because many networks are creaking and they want more and more data on their phones.
Copyright © 2010, Faultline
Faultline is published by Rethink Research, a London-based publishing and consulting firm. This weekly newsletter is an assessment of the impact of the week's events in the world of digital media. Faultline is where media meets technology. Subscription details here.