Original URL: https://www.theregister.co.uk/2010/11/04/review_weatherproof_radio_pure_oasis_flow/
Pure Oasis Flow weatherproof DAB and Internet radio
Waterproof streams, anyone?
Posted in Personal Tech, 4th November 2010 08:00 GMT
Review Pure's range of digital radios has typically included portable DAB models and several Wi-Fi equipped versions for streaming audio from your computer and access to Internet stations. Many are designed with portability in mind if you're inclined to splash out on the optional rechargeable battery packs. While the Oasis Flow might sound like some new kind of soft drink, it goes further than its predecessors by including a rechargeable battery as standard and cladding everything in a weatherproof casing.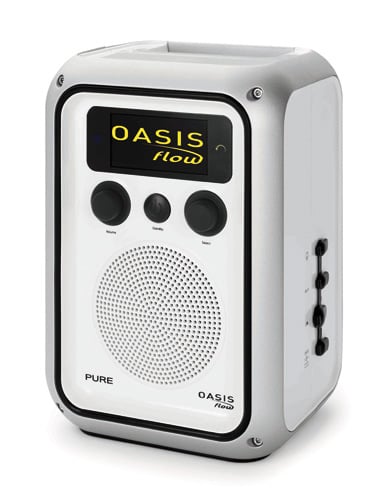 Batteries included: Pure's Oasis Flow
The modern looking, curvy cast-aluminium frame has rubber seals to withstand splashes or sprays. And, yes, I tested this with a handy watering can and it survived safe and sound. Weighing a fairly hefty 2.2kg it's not quite a go-anywhere radio but it makes a good sonic companion for the bathroom, garden, beach, etc. Sockets are sealable and include a headphone output and 3.5mm input for any audio gadget. There's no Ethernet port as it's made to be mobile.
Costing around £170, it's not cheap, though it's slightly less than Pure's non-weatherproof but otherwise similar Evoke Flow when you add the extra price of the Evoke's battery. Compared to Pure's older Oasis portable, this new incarnation adds network connectivity, an FM tuner and OLED display with vivid yellow-on-black text.
Parts of the display are touch sensitive, while responsive rotary controls handle volume and menu navigation. It's a good no-nonsense combination, though some aspects feel counter intuitive and I sometimes found myself jumping all the way back to the main menu instead of the list of albums or stations.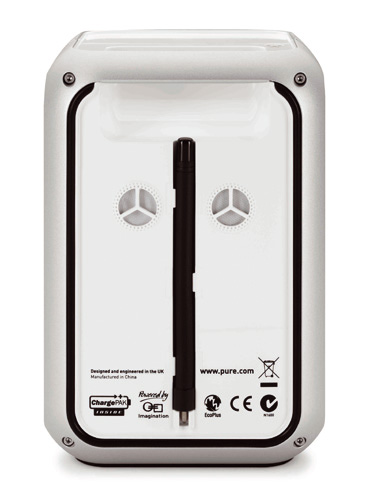 The detachable antenna tucks away neatly into the body
In line with most Pure radios the DAB reception is above average, helped by the generous 76cm telescopic antenna. For overseas use it adds DAB+ and DMB compatibility. There are 30 digital presets, 10 for FM and a roster of 16,000 Internet radio stations to choose from. To get the most out of the streaming capabilities, you need to register at the Pure Lounge online portal.
Once registered, you can also download a free copy of the Twonky Media Server, if you need UPnP software. Its media player mode streams the common codecs (MP3, AAC, WMA and Real Audio) but if you use uncompressed or lossless formats they'll need down-converting.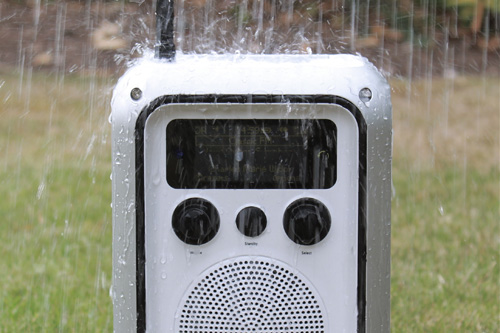 Designed to withstand a good dousing
From The Lounge you can catch-up with hundreds of recent BBC radio programmes or choose from about 5,000 podcasts. It is also compatible with Pure's new FlowSongs service, which, while still in beta, enables you to identify tracks on the radio and buy them there and then. It's a good concept but, currently, the catalogue of available songs needs expanding. What's still sorely missing is access to something like Spotify or Last.fm.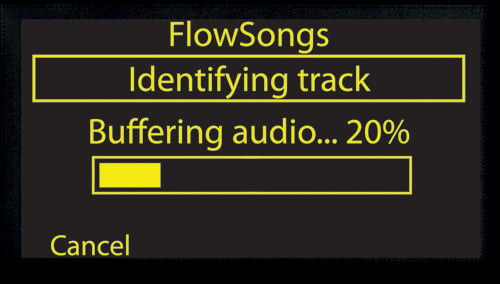 Tunes can be identified as the play and purchased using FlowSongs
You can get about 10 hours of Wi-Fi streaming from one full battery charge, slightly more with DAB and much more with FM. While headphones can be plumbed in for stereo playback, overall, the audio performance is respectable for a fairly compact mono device.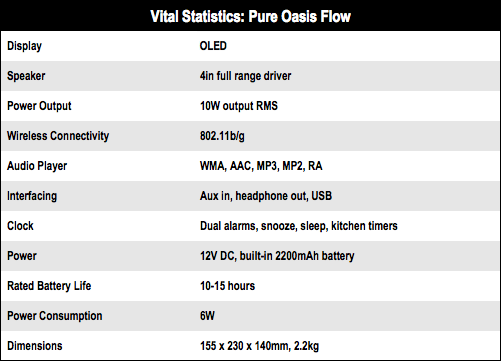 Speech based stations such as BBC Radio 7 sound rich and weighty and it handles the most energetic aspects of 6 Music, the most popular DAB destination, at decent volume without distortion. The higher frequencies could do with more clarity, though. For instance, I Saw You Blink by Stornoway had a rather fuzzy quality, while the female vocals in Albatross by The Besnard Lakes should have been sharper. However, the smooth vocals and bassy backing of Science of Fear by The Temper Trap did come over much better.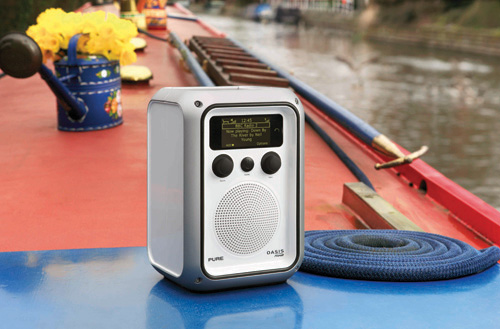 Pricey, but robust and versatile
Verdict
The Oasis Flow might not ooze quite enough quality to make it a supersonic performer but its mix of flexible features and durability makes it a welcome addition to the growing assortment of net-connected digital radios. However, you'll get identical features plus clearer sound from a battery-powered Evoke Flow, providing you don't get it wet. ®
More Wireless Music Player Reviews...

Ten Essential...
Bedside iPod docks
Nokia
Home Music HD-1
Revo
Heritage
Logitech
Squeezebox Radio