Original URL: https://www.theregister.co.uk/2010/11/04/review_laptop_apple_macbook_pro_17in/
Apple MacBook Pro 17in Core i7 BTO notebook
The anti-glare alternative
Posted in Personal Tech, 4th November 2010 14:10 GMT
Review Apple refreshed the MacBook Pro line earlier this year with Intel's Core i CPUs. While the glossy screens and unibody construction are now a familiar sight, Apple does offer several build-to-order tweaks that aren't likely to appear on the shop floor. Ram and SSDs upgrades aside, MacBook Pro 15in and 17in users can opt for an anti-glare screen and another option exclusive to these models is to move up from a Core i5 chip and choose between a 2.66GHz or 2.8GHz Core i7 CPU. That's what I did.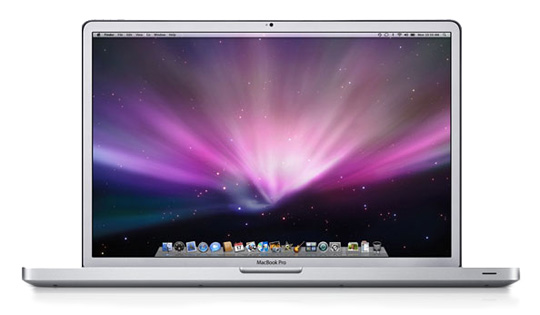 Tell tale signs: the metal framing on the display indicates an anti-glare screen on Apple's MacBook Pro 17in
On review is a MacBook Pro 17in with both the anti-glare screen and its entry-level Core i7 BTO option. This display and the 2.66GHz Core i7-620M push the price up to around £2100. Into that bargain you also get a 512MB Nvidia GeForce GT330M discrete GPU, 4GB of 1067MHz DDR 3 memory - it'll take 8GB - and a lowly 5400rpm Hitachi Travelstar HTS545050 hard drive with a capacity of 500GB.
Externally, there's no obvious difference between the Core i-series MacBook Pro 17in and its Core 2 Duo predecessor. As per usual, there's no Blu-ray drive, just DVD±R/RW and it retains the ExpressCard 34 card interface, which the revised 15in models dumped in favour of an SD card slot.
For many, the expansion options offered by an ExpressCard slot will be a deciding factor given, among other things, Apple's current lack of support for USB 3.0 and the appearance of Mac-compatible USB 3.0 ExpressCards. Also featured are Gigabit Ethernet, mini DisplayPort, one Firewire 800 port and three USB 2.0 ports. There is a headphone output and line input on 3.5mm minijacks featuring both analogue and digital interfacing. The wireless connectivity is 802.11n and Bluetooth 2.1 + EDR.
Weighing in at around 3kg, the aluminium unibody design keeps the MBP less than an inch thick and helps to dissipate heat incredibly well by distributing hot-spots making for a much more comfortable couch-surfing experience. Although the dazzlingly bright screen could be cause for discomfort at times when overriding the display's ambient light sensing and using it at full blast.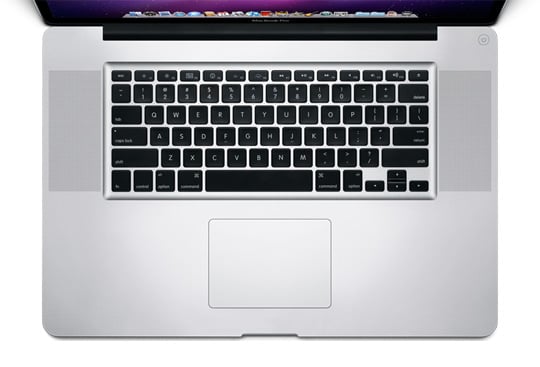 The multi-gesture features of the large trackpad aid navigation significantly
The precision engineering of the body allows for the pleasantly tactile backlit keyboard keys to protrude through the tightest of openings preventing the introduction of foreign objects under the keys, a blessing for those who are prone to depositing crumbs on every typing surface they encounter. The enormous glass touch pad permits touch gestures using up to four fingers to perform a variety of tasks. If only it were pressure sensitive, it would be like having a built-in Wacom tablet.
Performance Tests
Having been a Windows user for the best part of two decades, I've spent the last couple of years on a Hackintosh built around a 3GHz Core 2 Duo. Yet, what began as an experiment out of curiosity, soon ended up as a preference to booting in Windows. Unsurprisingly, this Core i7 MacBook Pro at once felt like a considerable leap forward in all-round performance. The machine is certainly snappy and responsive, an impression that is backed by quite respectable PCMark Vantage scores for this configuration.
Benchmark Tests
PCMark Vantage Results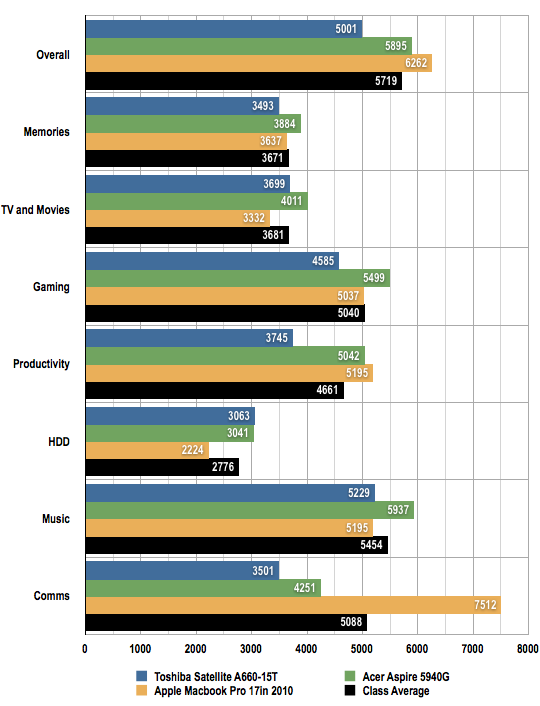 Longer bars are better
PCMark Vantage Battery Life Results

Battery life in minutes
Longer bars are better
Yet the most impressive feature of the 17in MacBook Pro is its battery life. For the past two weeks, the machine was been subjected to six to eight hours of non-mains use nearly every day and it has delivered without fail. Given the various power saving tricks that can be applied - including switching to the on-CPU Intel graphics core - I'd say Apple's claim of an 8-9 hour battery life is about right. That said, the deliberately heavy-draining battery tests using PCMark Vantage on a Windows 7 Boot Camp partition suggest that having the screen at full brightness is the real killer here.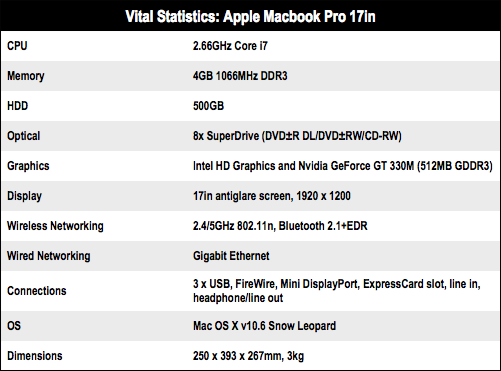 Win some, lose some
Indeed, the only real issue I encountered came when I needed to instal Windows 7 under Boot Camp to run a couple of applications which are not yet Mac native. I ran the Boot Camp assistant and gave Windows a 32GB partition – you'd think that was enough but it turns out I was wrong. After installing Windows along with DeadRising 2 - I may as well play some games if I absolutely have to run Windows - and Solidworks, Windows kindly informed me that the partition was full as I prepared to instal PCMark Vantage.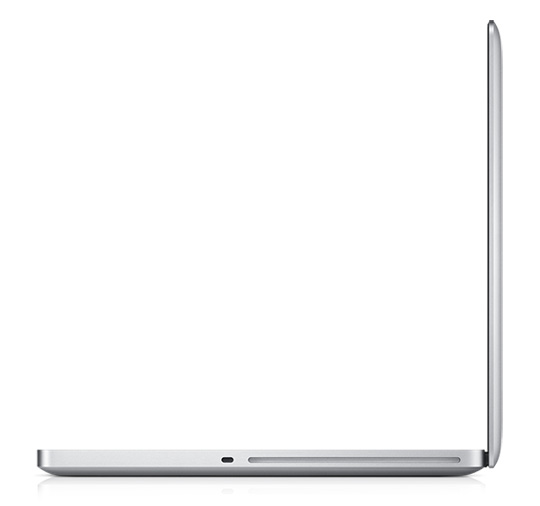 No Blu-ray drive as usual
So I decided to attempt a partition re-size using Paragon CampTune. However, this resulted in Windows being unable to boot and OS X constantly reporting disk errors. Despite numerous attempts to restore my Windows partition, death seemed preferable and I wiped the disk entirely. Fortunately, my Mac OS Snow Leopard instal was safe thanks to the wonders of Apple's Time Machine backup, and only Windows needed to be born anew.
Sonically, for a laptop there's little to complain about. There's no sub-woofer gimmickry, but a fairly even sound albeit a little bass light, with a respectable volume output. The only recurring gripe was the spacing of the three USB ports, which can involve repositioning connectors to accommodate odd-shaped flash drives and dongles.

USB port spacing can seem rather cramped at times
The anti-glare screen, however, given the size of the panel, avoids distracting reflections and has excellent definition. For some though, the 1920 x 1200 resolution of the MacBook Pro 17in results in system menus appearing in type that is rather too small. Indeed it can take a bit of getting used to but is worth it for all that screen real estate, which this laptop can even output at 2560 x 1600 on an external display.
Verdict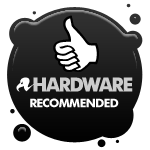 Certainly, at this end of the range, Apple hardware appears expensive, but if you're after a high-end laptop, use the MacBook Pro 17in for any length of time and it will constantly remind you that there's a reason why it commands such a price. ®
More Notebooks Reviews

Acer
Aspire 5940G
Apple
MacBook Pro
15in
Samsung
R780
Toshiba
Satellite
A660