Original URL: https://www.theregister.co.uk/2010/11/03/review_media_player_philips_streamium_mci900/
Philips Streamium MCi900 DVD and Wi-Fi Hi-Fi
Entertaining concept
Posted in Personal Tech, 3rd November 2010 08:00 GMT
Review If you're after rather more up-market multifunction home entertainment rig, then the Streamium MCi900 from Philips is aimed at you. For £999 you get combination of upscaling DVD player with a 160GB HDD along with an 802.11n wireless media streamer, RDS FM radio, 2 x 50W RMS amplifier, a 3.5in LCD screen and a couple of the funkiest bookshelf speakers you are ever likely to see.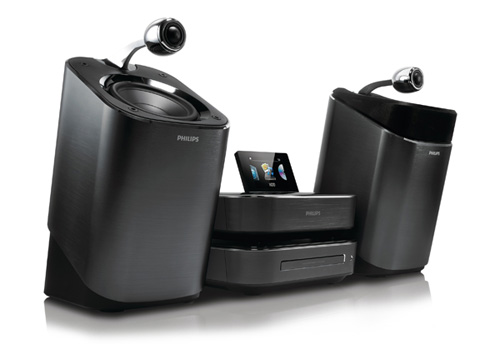 Sound device: Philips Streamium MCi900
Expensive the MCi900 may be, but at least it looks like it cost a bob or two. The two main units and the speakers are all finished in brushed aluminum and high quality gloss plastics, which makes everything cool to the eye and solid to the touch. Yet it's the speakers that really grab the attention though, with their forward canted stance and floating tweeters.
Rather than build the hard drive into the system Philips supply it as a stand alone unit that you can easily disconnect and then attach to your PC using USB to transfer files. I, for one, have got external hard drives coming out of my kazoo and so would much rather Philips hadn't bothered with supplying a drive and bundled an iPod dock instead.
Control is achieved by a combination of a decent remote and a 3.5in colour LCD screen situated in the top of the upper of the two system units. The display sticks up in a manner similar to that of the Sony Gigajuke but without the fold down option.
If the remote is not to hand all the major navigation controls are duplicated on the deck in front of the LCD. The crisp and colourful 320 x 240 display does a good job of letting you know what's going on at any given moment and displays album art and Internet/FM radio information as appropriate.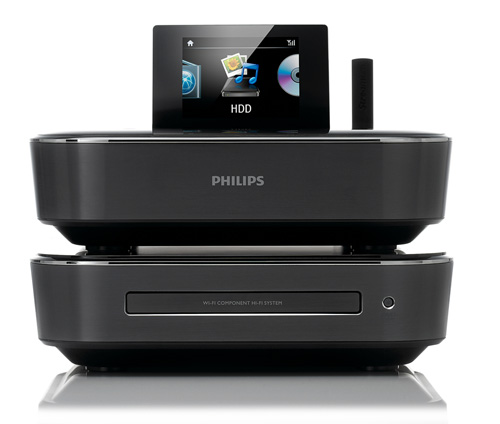 160GB HD included, but no iPod dock
Digital file support extends to JPEG image files, MP3, Ogg Vorbis, WMA, AAC/AAC+ and Flac audio – all DRM free naturally – and DivX video. Sadly though, that last option means DivX encoded discs, not digital files held on external storage. In my book this is a major failing. After all, if you are building a system that can play video from disc, why not include the capacity to play video from file?
Performance from the DVD player was very impressive with near faultless upscalling to 1080p but, again, given the price of the system, surely it should also be capable of playing Blu-ray discs?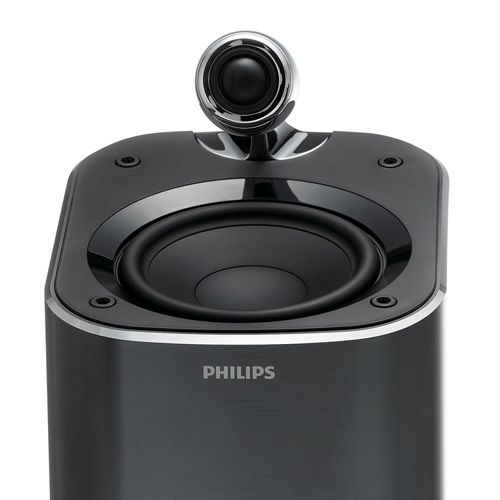 Aluminium speaker enclosures bolster the sonic delivery
My recent experiences with the DS9000 suggested that the folks at the Philips sound quality department have been eating three Shredded Wheat for breakfast recently and, true to form, the MCI900 produces a highly impressive noise. Some of this is down to the 24-bit DAC but most of the impact comes courtesy of the SoundSphere speakers.
Each speaker enclosure is made from a single piece of 18mm thick extruded aluminum, while the 25mm tweeter sits atop a sonically inert arm, thus hovering above the angled 127mm woofer. The net result is an extremely open and broad sound with very impressive definition, especially in the upper ranges.
This not only infuses your music with plenty of detail and space but also pays real dividends when listening to movie soundtracks, which are projected with a startling amount of atmosphere and clarity. It's loud too, far louder than the rated output would suggest and things never get ragged even when turned all the way up to 11.
With RCA audio inputs as well as outputs the MCi900 can be used as the day-to-day sound system for your telly, making it an interesting alternative to the usual 5.1 systems most lounges are cluttered up with these days.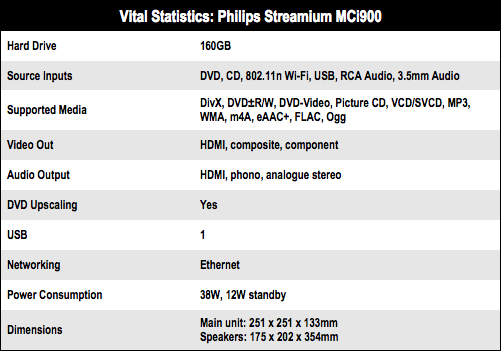 My test system spent most of its time hooked up to a Sony Bravia in place of the usual LG 5.1 disc player. I quickly came to the conclusion that the Philips was producing an altogether more natural sound than the 5.1 rig even if it did lack the trick surround sound effects and rumbling bass.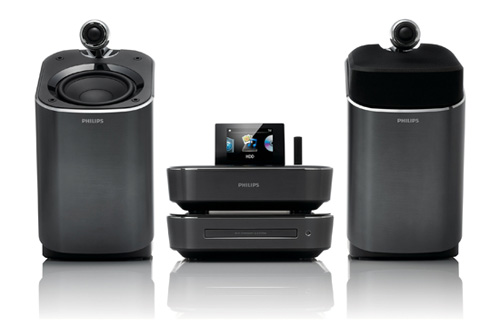 Looks good, sounds great, pity there's no Blu-ray drive though
The system proved commendable as a reliable music streamer too, finding all available UPnP sources quickly and never dropping a connection once found. Philips include a copy of Twonky Media Server with an unlock code should you need it or you can access your media library as a Samba file share.
As you would expect in this day and age you can also use the MCi900 to directly access vast numbers of Internet radio stations which rather compensates for the lack of DAB radio. Sadly, you don't get access to any Internet music services such as Napster or Last.fm though.
Verdict
As a music system, the MCi900 ticks all the right boxes and if your video collection is DVD-based it makes a fine home theatre system too. Sound quality is excellent, as is the upscaled video output. My only concern is that for the price it doesn't support Blu-ray discs, lacks an iPod dock and won't play DivX video files (just discs), all features I'd like to see before I parted with a thousand notes. ®
More Audio Gear Reviews…

Ixos
Divo
Ten Essential
Premium
iPod Speakers
Arcam
Solo Mini
Sonos
ZonePlayer S5