Original URL: https://www.theregister.co.uk/2010/11/03/paris_photos/
PARIS laid bare in intimate snaps
Our space plane mission's bumper photo album
Posted in Science, 3rd November 2010 15:29 GMT
We thought those of you who've been loyally following our "appallingly successful" Paper Aircraft Released Into Space project might enjoy a few behind-the-scenes views of our crack team and local Spanish support operatives as the historic attempt unfolded. For those of you seeking hires copies on Flickr, or video from YouTube, skip to the last page of this article and scroll down to the bottom for copious resources.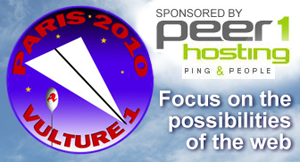 Before PARIS opens the family album, though, it's only right and proper that we offer a round of applause for all those people without who we'd never have got off the ground.
So, please step forward (in no particular order): telescope man Alejandro Díaz; José María Pita, who offered wine and Spanish press releases; my son Rui (aka Rui Uno), who agreed to put on a dress in honour of Paris Hilton; Rui Luz (aka Rui Dos), provider of victuals to hungry donkeys when their owner was away staring into a hypobaric chamber; Tim D'Oyly and Chas Taylor, operators of said chamber down at QinetiQ, whose enthusiasm and support was vital; Tito and Yolanda of Bar Tito, Navatejares, suppliers of essential beery goodness; expert balloon handler Jose Manuel Gomez Paris; Federico Buenadicha, who not only agreed to tackle the Vulture 1 CAD, but proved a vital member of the pursuit team; Heikki Hannikainen of aprs.fi, and Bluetree Services, who both allowed our backroom boys to slurp their data feeds; and our Reg colleagues Cade Metz, Phil "Phillipe" Mitchell and Lewis Page, the remote support team, in various capacities.
And, of course, we salute our illustrious sponsors, Peer 1 Hosting.
So, let's have a look at some snaps. We'll kick off with Steve Daniels, me, Tito and John Oates posing outside our man's bar in the command central village of Navatejares: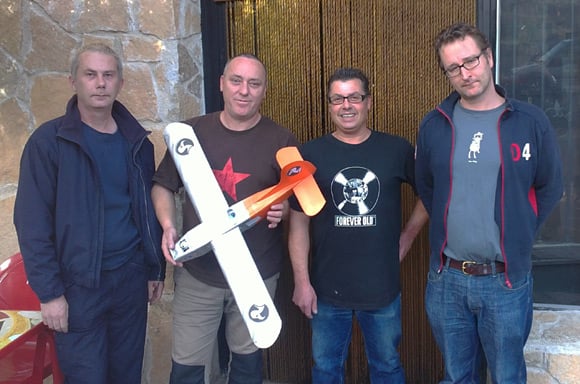 Tito was a bit taken with the Vulture 1, as was local old boy Guillermo, who never misses a chance to sidle into the frame: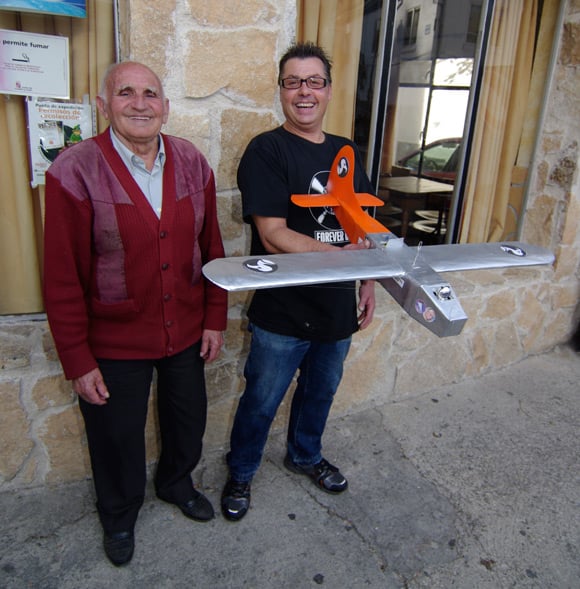 The bar regulars, too, were only too happy to pose for the family album: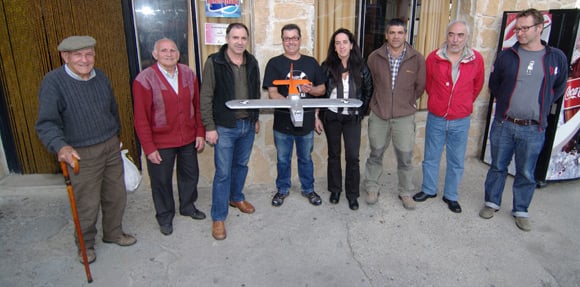 Our nerve centre was within easy staggering distance of Bar Tito, in La Quinta del Chocolatero, where Steve Daniels and John Oates took the opportunity to pose with vital mission components: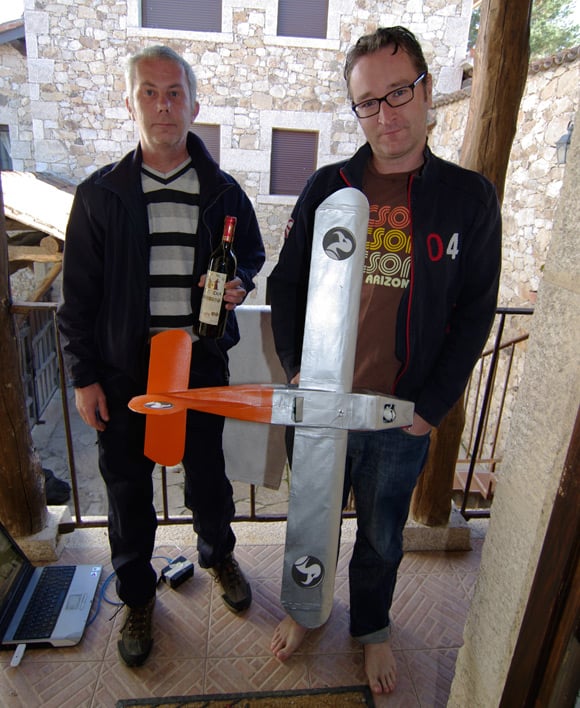 As the following two pics show, inside was a well-ordered, highly-disciplined set-up, in which any available horizontal surface was commandeered for the greater good: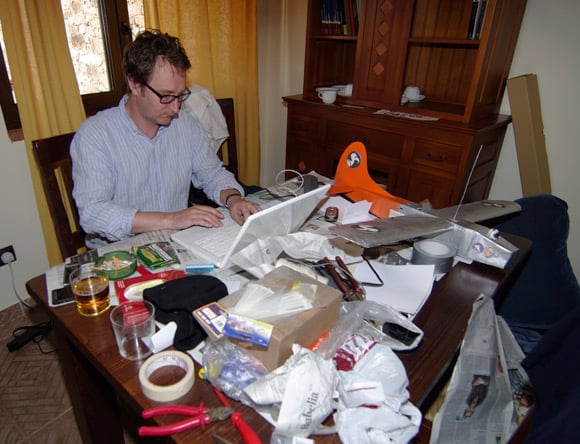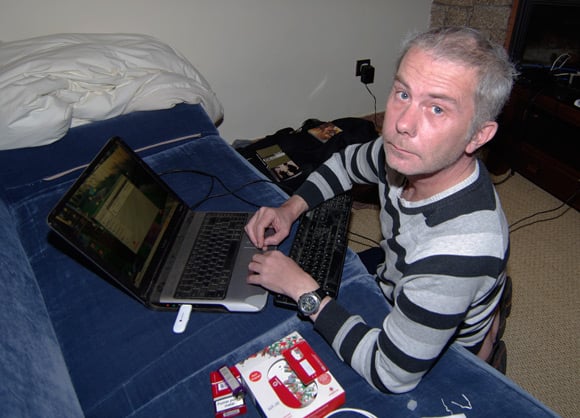 Yes, you've guessed it: our radio man has temporarily mislaid the bottle opener, as his expression shows.
Additional PARIS resources
Our dedicated PARIS section, with all previous updates, is right here.
New to PARIS? We have a basic mission summary here (pdf).
Our Flickr page, for your viewing pleasure.
Check out our lovely YouTube channel.

Outside, we had plenty of sheltered space to set up the Vulture 1 and main payload: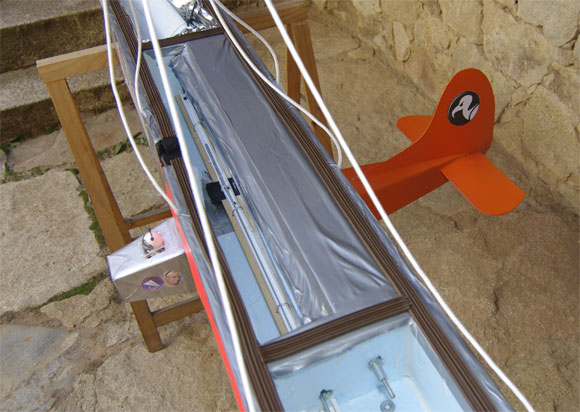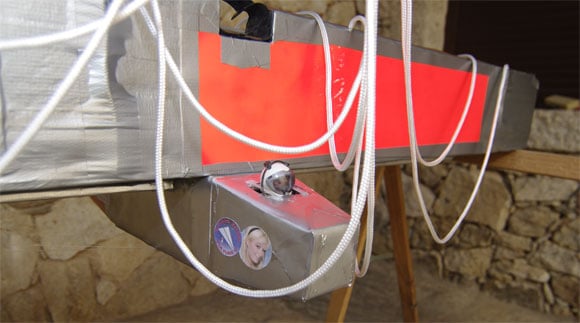 Here's John tackling the main payload lines...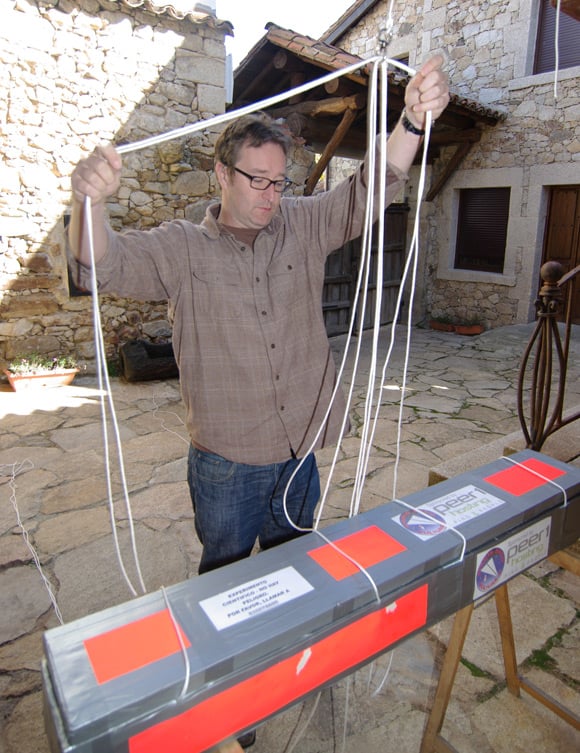 ...and Steve with them just about tamed: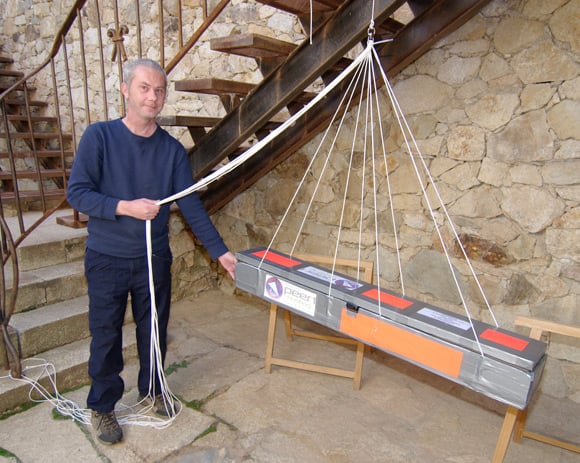 By the time we even got close to a launch, the main payload box had earned itself an airing in local paper El Diario de Avila, with my son doing the honours on the hoisting: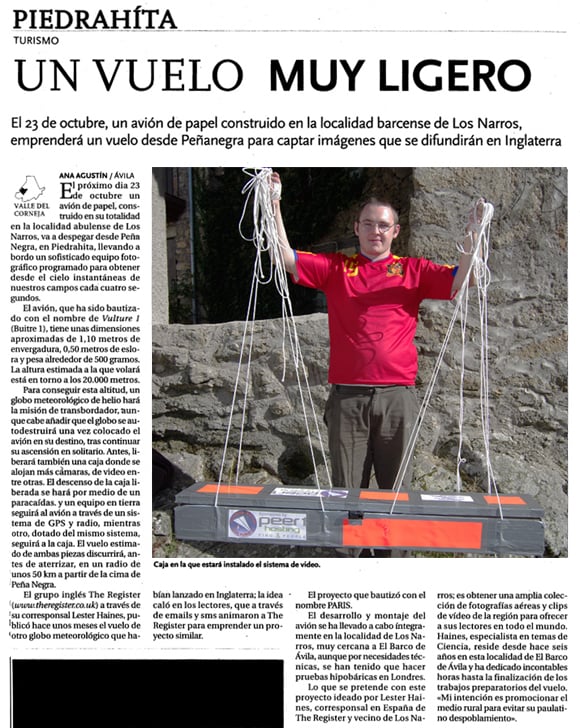 When we did finally haul the box and Vulture 1 up to the launch site, we had to scrub due to high winds, although (from left to right) Alejandro Díaz, José María Pita, Steve Daniels, John Oates and Jose Manuel Gomez Paris took the opportunity to officially christen the aircraft...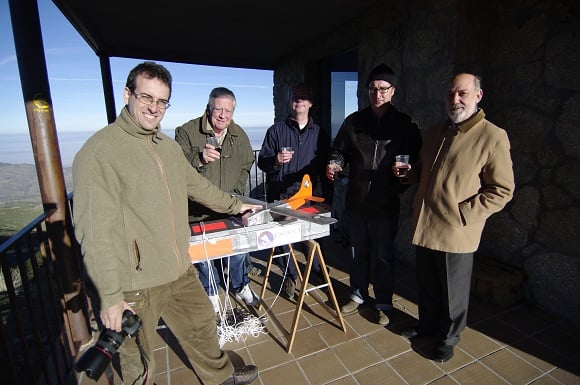 ...an event which soon appeared in El Diario de Avila: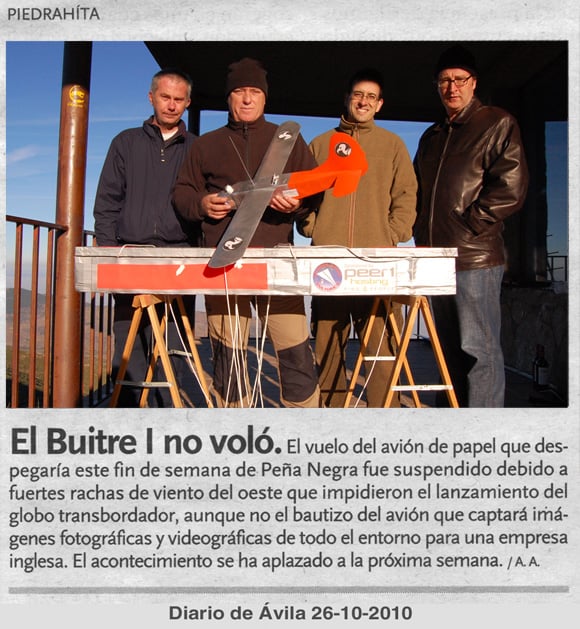 By 28 October, it was all or nothing, so we schlepped back up to the launch site for an early-morning start.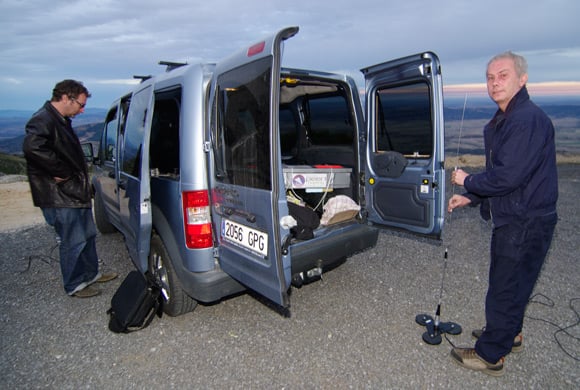 José María and Jose Manuel were on hand to tackle the helium bottle...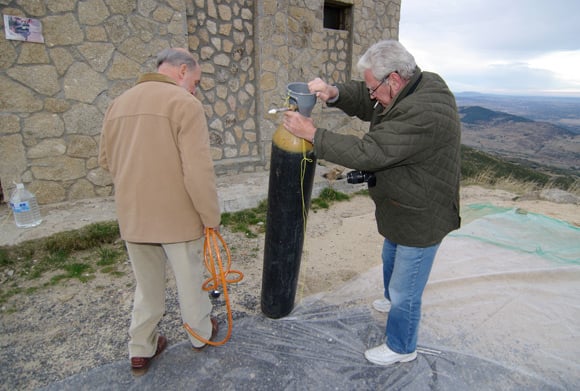 ...which had already had some tasty coverage on the interwebs in this fetching image: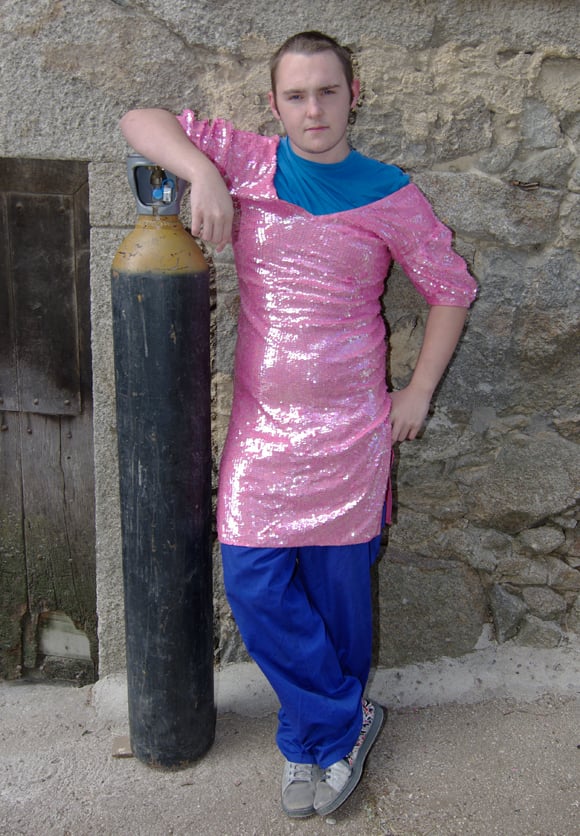 I'm sure the parents out there will agree that if you ever get your teenage son in a sequin dress, you've got to make the most of it.
Returning swiftly to the job in hand, here's John Oates attaching the main payload to the parachute: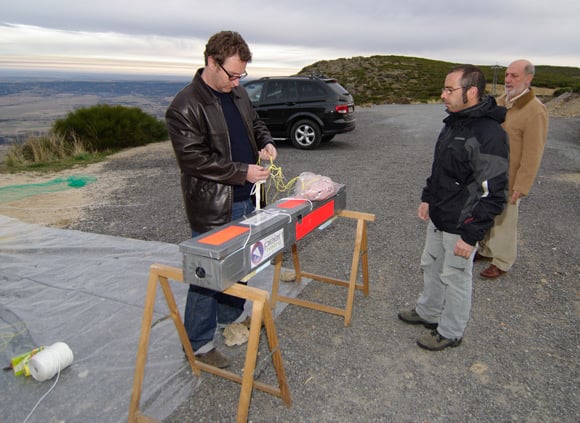 He then turned his attention to the balloon, with the help of Federico Buenadicha and Jose Manuel: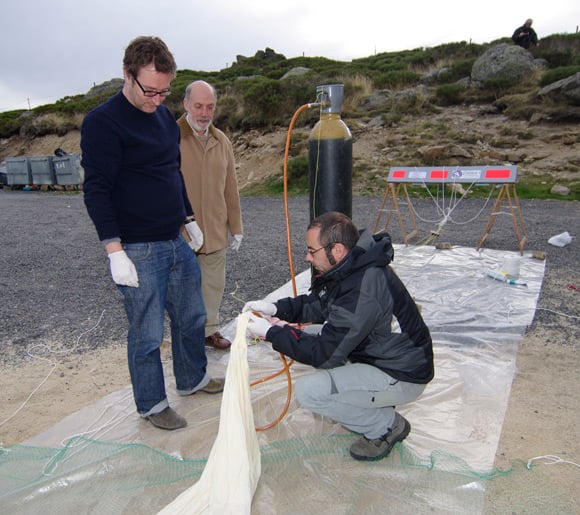 Securing the filling hose to the balloon proved a mite troublesome...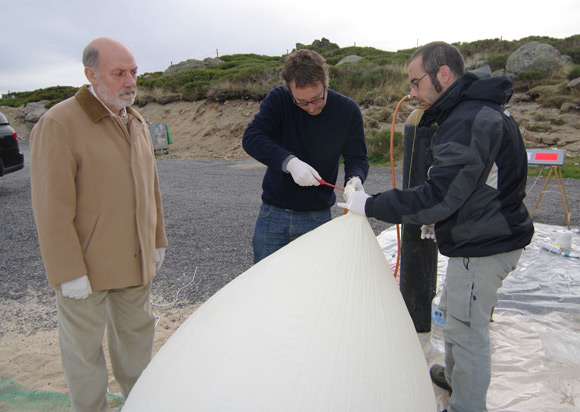 ...but these boys are top professionals, and soon had it under control: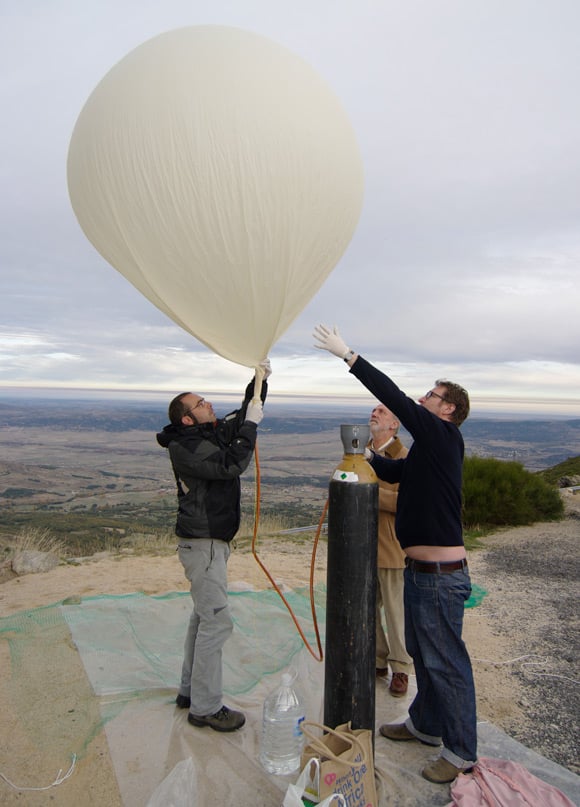 Note the bottle of water, tied to the balloon neck. When this 7.5kg lump began to lift off the ground, we knew we were good to go.
After about 20 minutes, we could happily leave John and Jose Manuel to continue with their lightweight task: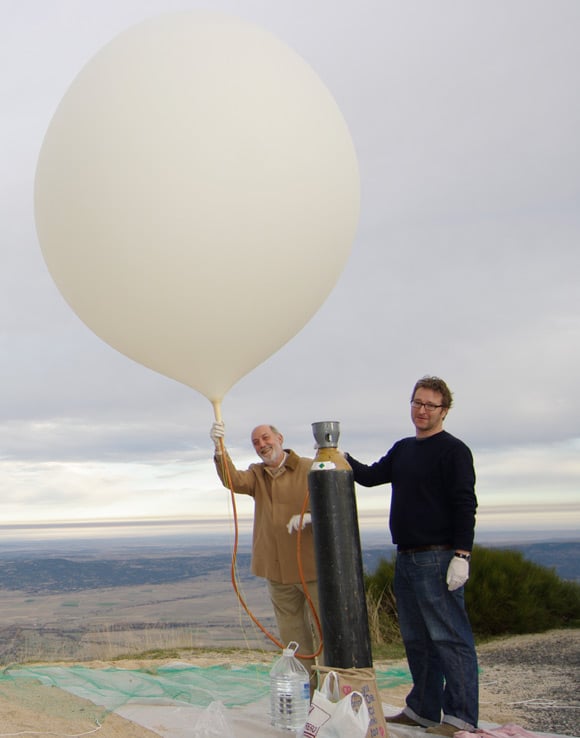 Here's a view of the entire scene...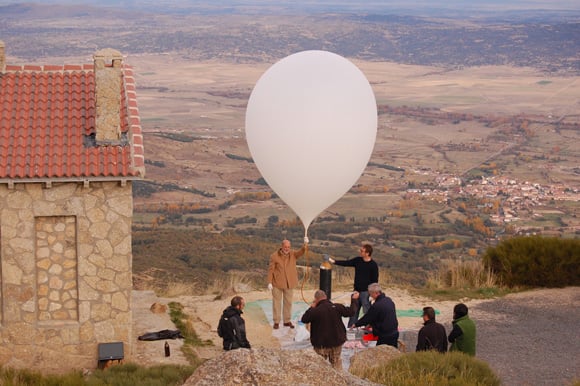 ...as me and Steve tape down the main payload electronics: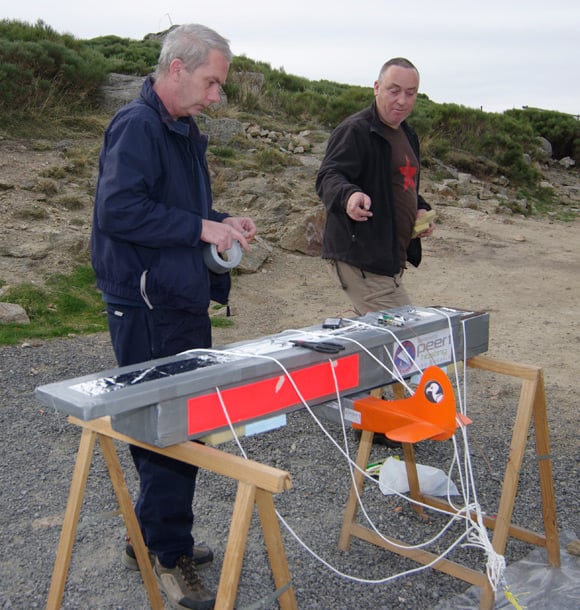 Having fired up the cameras and trackers, and thrown some chemical handwarmers into the main payload camera compartment, we sealed the lid: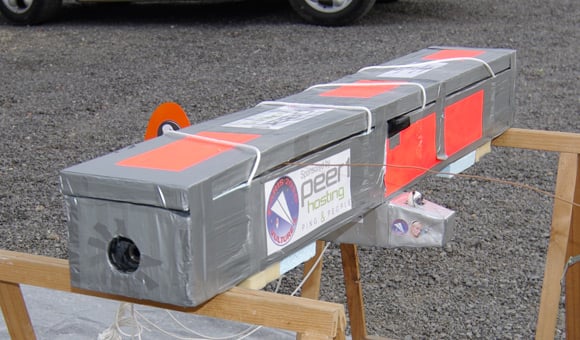 In case you're wondering what our Playmonaut was thinking at this point, he seemed happy enough: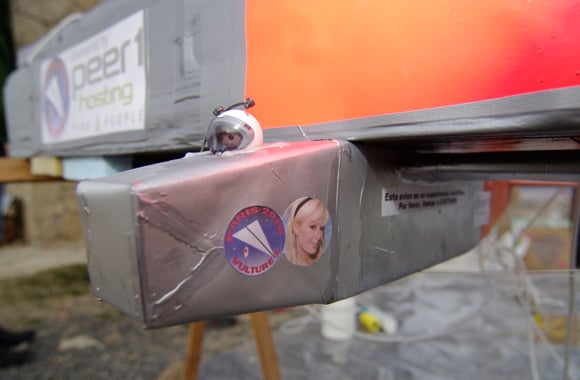 It took about 40 minutes to fill the balloon...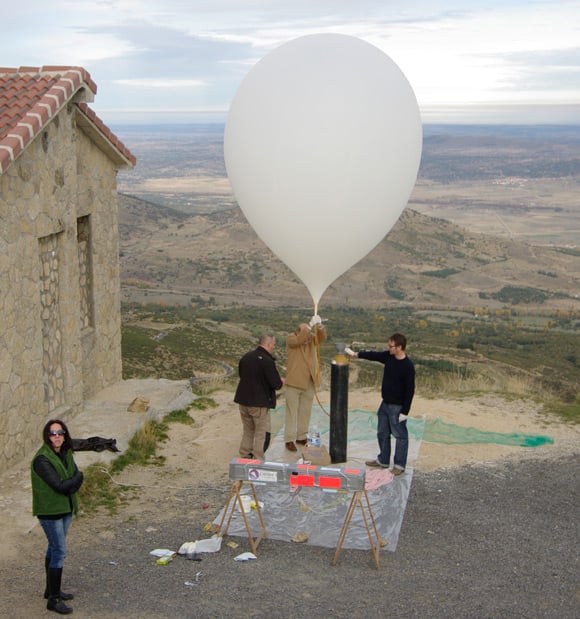 ...at which point we could tie of the nozzle and attach the balloon to the 'chute and payload: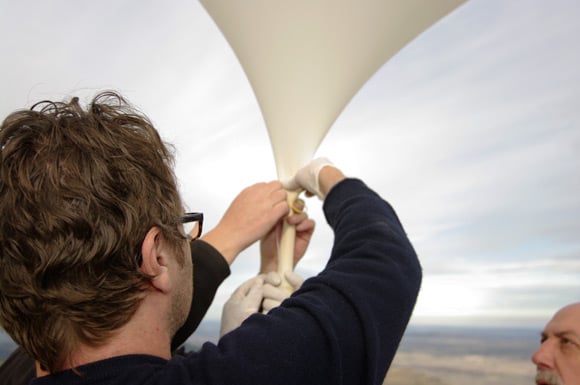 Then, we very carefully began to let the balloon rise while holding the main payload...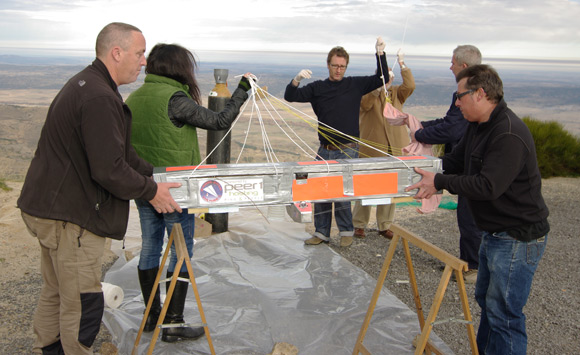 ...until the whole show was ready to roll: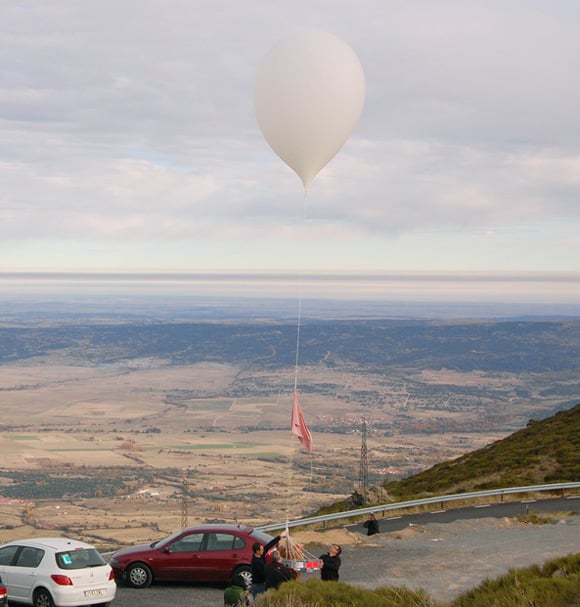 And here it is rolling, caught on camera by Federico...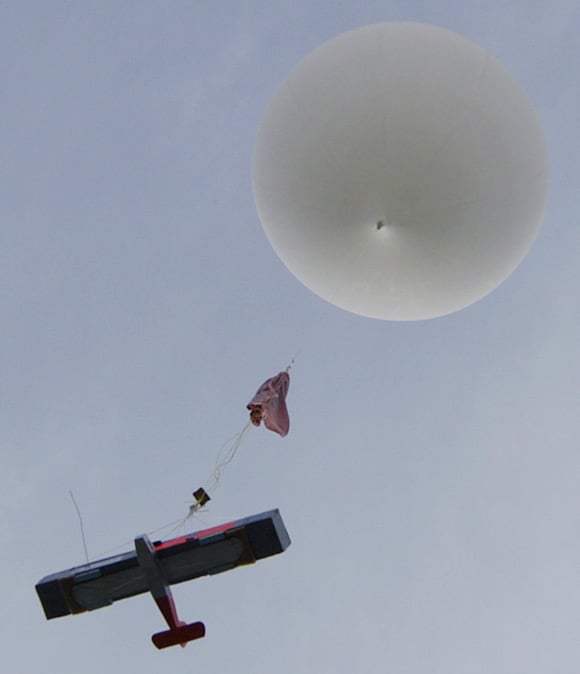 ...at the very moment the main payload video camera caught him in a ground-to-air-to-ground surveillance feedback loop: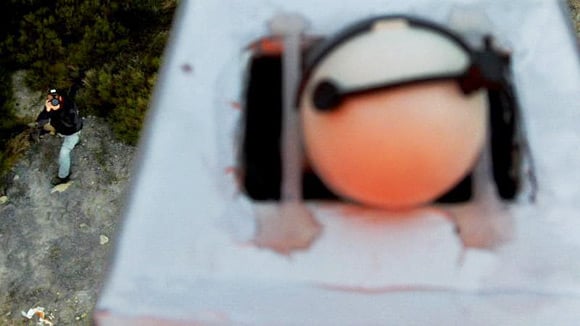 You've probably seen it already, but the launch vid is worth another look:
The video camera also captured the team on the ground, as the Vulture soared skywards: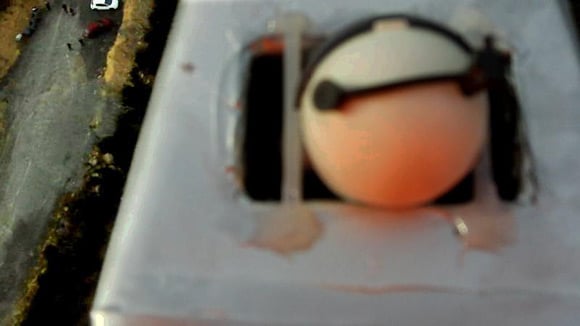 About two hours later, and some considerable distance east, the pursuit team of myself, John, Steve and Federico stopped off for vital sandwich-based nourishment: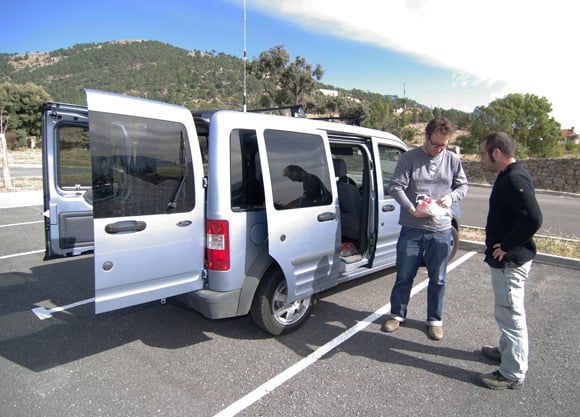 No sarnies for Steve, though, since he was busy fondling his antenna: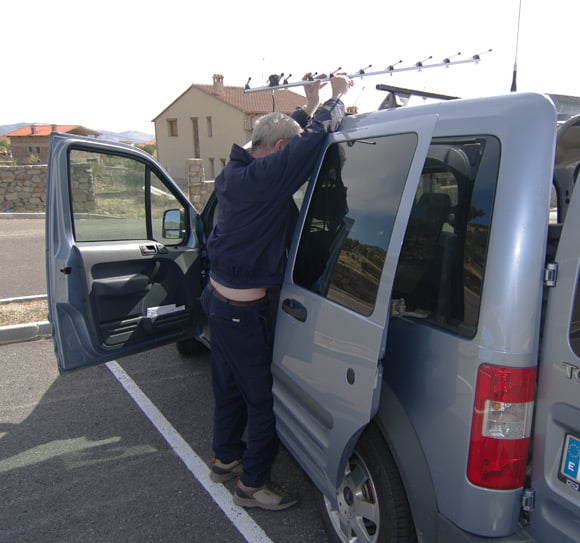 We were getting a good signal from the main payload transmitter, but nothing from the Vulture 1, so we moved in on the former. This was as close as we could get in the pursuit vehicle: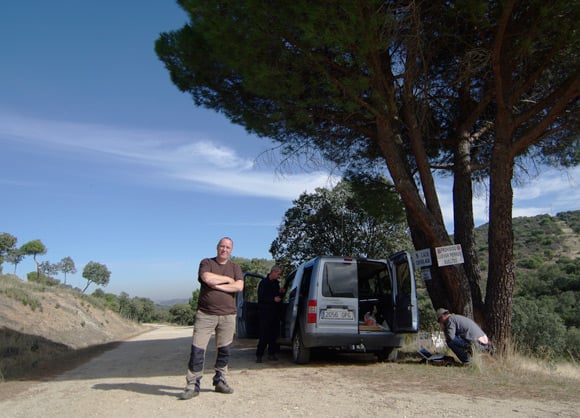 John took the chance to throw out a few tweets...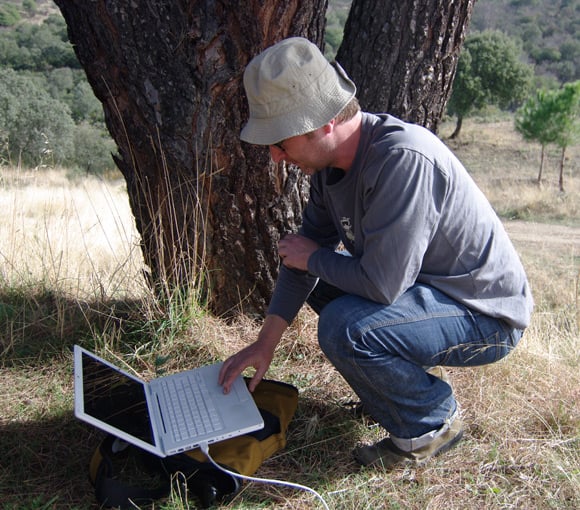 ...before we hit the woods in search of PARIS's box: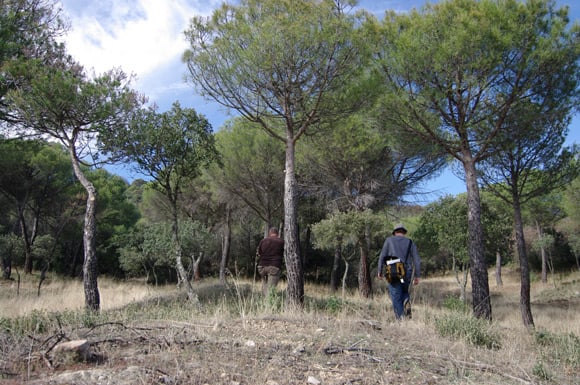 Our first glimpse proved the value of the fluorescent panels...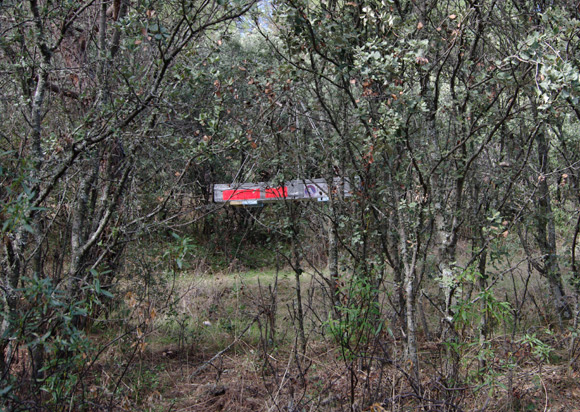 ...and within 15 minutes of leaving the van, we were triumphant: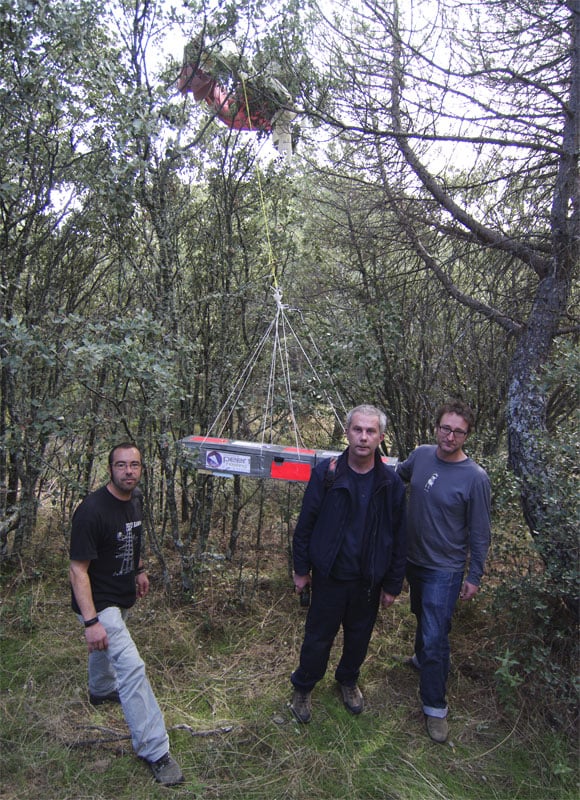 Now we just had the small matter of recovering the Vulture 1. Steve thought he'd heard a couple of blips from its onboard transmitter, which mean it was close and, according to John "in this direction":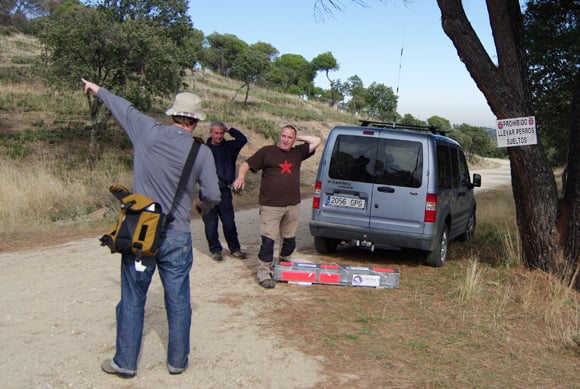 He was right, too, because within an hour we had the aircraft GPS locked and were once again on foot in hot pursuit: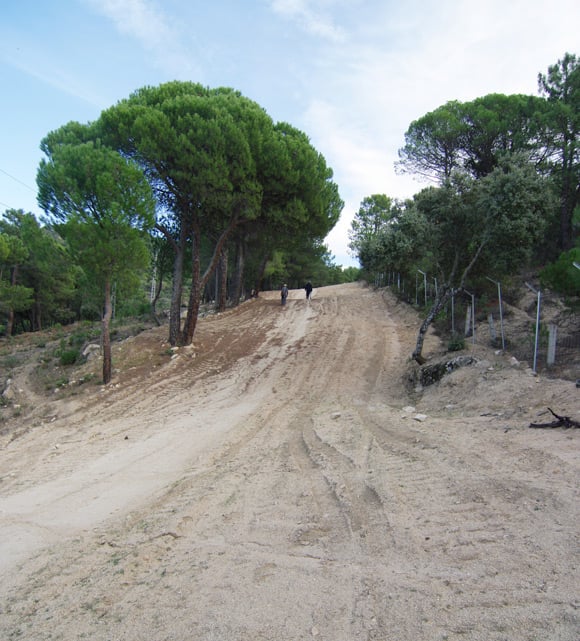 Every project should have its defining moment. This was ours:
We couldn't really believe the Vulture 1 had suffered so little damage...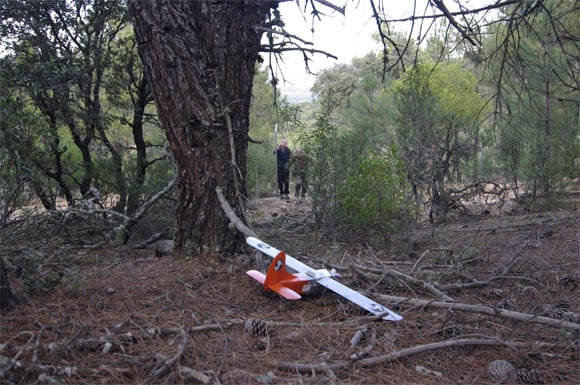 ...and as you can imagine, as the bloke who made the thing, I was pretty chuffed: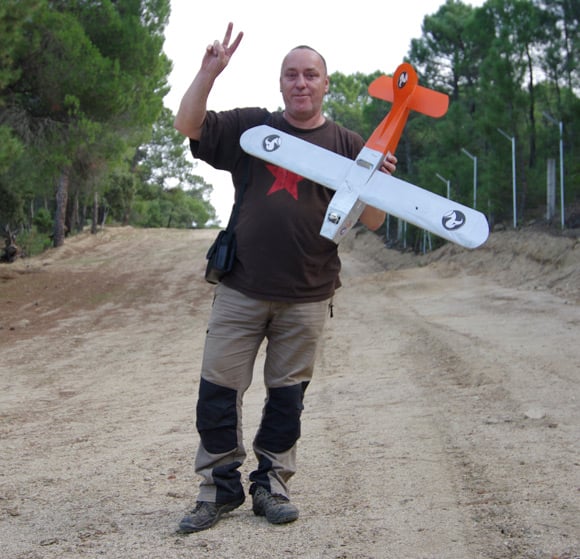 We'll wrap this piece with the photo we'd already dreamed about but didn't really think possible: the PARIS team with the Vulture 1 following its epic flight...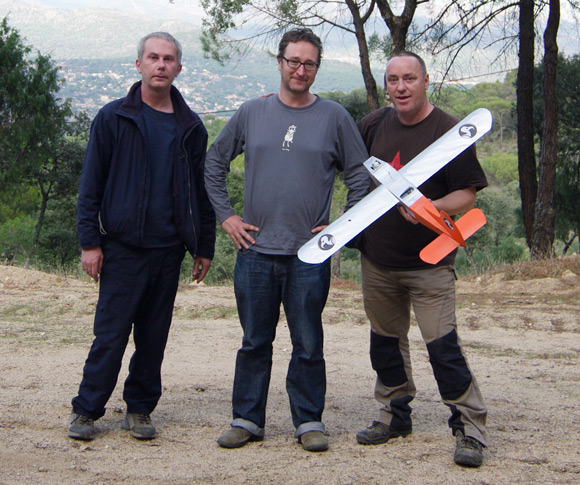 On Friday, we'll have a meaty aerial image round-up for your viewing pleasure. In the meantime, here's the vista enjoyed by our heroic Playmonaut: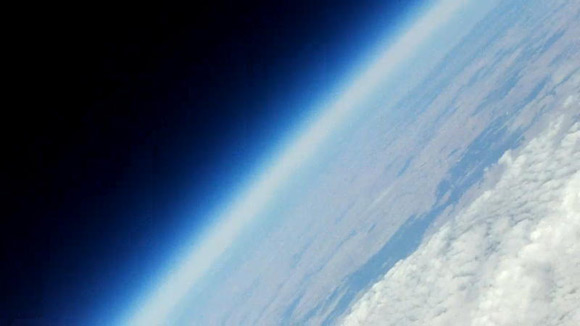 Bootnote
The Diario de Avila did one last piece on PARIS, but went to press before we could get them some recovery pics. Headline reads: "And it finally flew...". Click on the pic for a bigger version.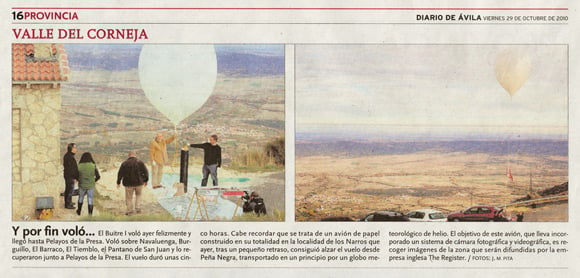 Additional PARIS resources
Our dedicated PARIS section, with all previous updates, is right here.
New to PARIS? We have a basic mission summary here (pdf).
Our Flickr page, for your viewing pleasure.
Check out our lovely YouTube channel.