Original URL: http://www.theregister.co.uk/2010/11/02/star_wars_force_unleashed_2/
Star Wars: The Force Unleashed II
Bantha poodoo?
Posted in Personal Tech, 2nd November 2010 11:50 GMT
Review There's something magical about Star Wars, but it's not what you might think. It's not the simple yarn of good versus evil spun against a backdrop of galactic war. Nor is it the juxtaposition of blasters and hyperspace with, to quote Han Solo, "hokey religions and ancient weapons".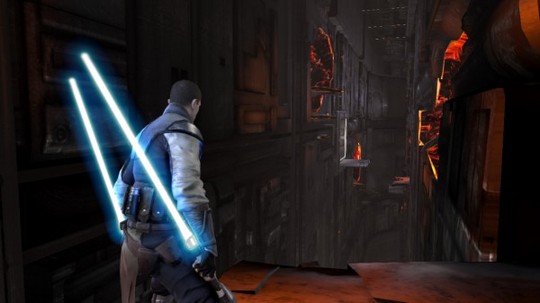 Careful not to strike back
For me, the real magic of Star Wars is that my love for it is undiminished despite so many heartbreaks. From the moment where Luke, Leia, R2-D2 and C-3PO stared out of the medical cruiser at the end of The Empire Strikes Back, that love has survived four lacklustre sequels, spin-off cartoons and enough cash-in tat to fill a Death Star garbage crusher twice over.
Videogame translations have been something of a mixed bag. For every Tie Fighter, Dark Forces or Knights of the Old Republic, there has been a Masters of Teras Kasi, Obi-Wan or Super Bombad Racing.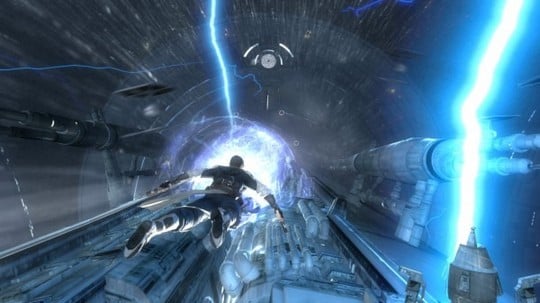 Jedi flight, bright lights making me soar
Since 2004's KOTR II it has been a particularly lean period for great Star Wars games. And while the original Force Unleashed repaired the damage of the prequel movies' tie-in games, it also fell a long way short of greatness. It's testament to Star Wars' magic something, then, that despite the original's many failings, my expectations for the sequel were high.
Lightsabre duels with dual lightsabres
Force Unleashed II starts off promisingly enough. But, of course, Star Wars games always do. The explosion of the LSO's brass section and the trapezoidal prologue rolling off into the field of stars maintains its magical ability to blow away cynicism and replace it with childlike wonderment.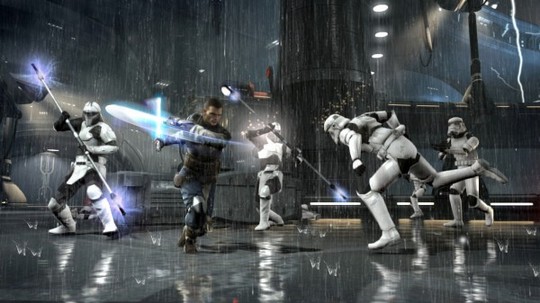 A slice of the action
This impetus is sustained through Force Unleashed II's opening hour. Despite glaring paradoxes in continuity – the severity of which depends upon your choice at the end of the original – the narrative initially engrosses through impressive cut-scenes. Graphics and physics are palpably improved over the original. And the new dismemberment system, twin lightsabres and refinement to Force Power controls make opening encounters feel fresh and entertaining.
But it's not long before you begin to feel a great disturbance in the Force, as if a couple of hundred developers' imaginations suddenly cried out in terror and were suddenly silenced. All too quickly, Force Unleashed II reveals itself as genre by numbers, with combat proving particularly shallow compared with the best brawlers, such as God of War and Castlevania: Lord of Shadows.
Where those games struck a fine balance between player abilities and enemy attack patterns, Force Unleashed II debases its combat. Stereotyping enemies with one-dimensional attack patterns and vulnerabilities, combat feels patently formulaic as you weaken enemy type 4 with Force Power B, before killing them with attack pattern X.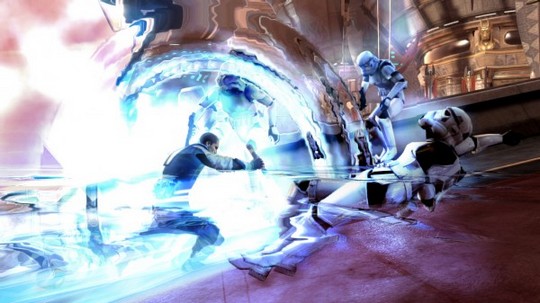 Roundhouse flick
Combat is easy enough wielding lightsabres alone, but Force Powers are all too powerfully reductive. With the vast majority of levels based around vertiginous walkways, the predominant Stormtrooper classes can simply be picked up and tossed over the side with Force Grip. And heavier, resistant enemies need only a few blasts of Force Lightning before taking them down with a couple of button presses in woefully perfunctory QTEs.
Wielding a nuke in a knife fight
A diminishing gauge should curtail the use of Force Powers. But their almost ever-present availability is guaranteed by its quick refill and expansive areas that provide frequent respite from combat. Worse still, the inclusion of Force Fury - temporary invulnerability and limitless Force Power - further simplifies, and is best ignored in order to retain a modicum of challenge.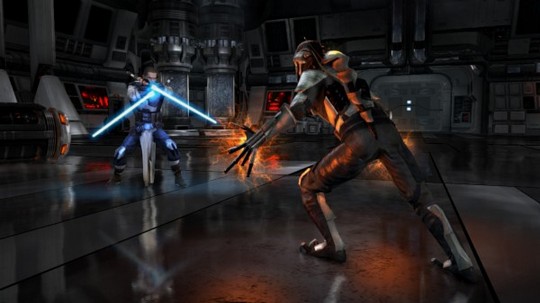 Caught red handed
In fact, to ensure any real challenge, it's best to ignore Force Unleashed II's levelling system as well. Your character, Starkiller, retains most of his powers from the original, and upgrading his abilities reduces difficulty to the point where it feels like you're wielding a nuke in a knife fight.
Force Unleashed II rarely bothers to break up the monotony of combat during its six-hour-long campaign. Short, perfunctory platforming sections do little to liven things up, as does remedial puzzling, which, although disguised somewhat by Force Powers, never deviates from simple 'find switch, open door' mechanics.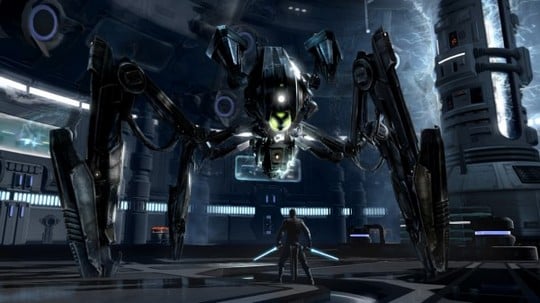 This hardware is buggy
The only real compulsion to plod through Force Unleashed II's drudgery comes through its often impressive graphics and mildly entertaining storyline. But, no matter how beautiful the grand tour of Star Wars sets - which bridge the Flash Gordon grandeur of episodes I to III and the darker palette of episodes IV to VI - and no matter how much you want to conclude Starkiller's story, both the levels and narrative are too sparsely populated. Force Unleashed II always feels like a galactic show home, one beautifully presented and perfectly pristine, but ultimately sterile and lifeless.
Verdict
Like so many other Star Wars games before it, Force Unleashed II can only be recommended as a weekend rental for the most avid of fans. The improvements to graphics and controls give it the edge over the original, and the story just about retains interest. But for anyone else, Force Unleashed II's tired and simple gameplay is best avoided altogether. ®
More Games Reviews

Saw II:
Flesh and Blood
Fable III
Vanquish
Fallout:
New Vegas