Original URL: https://www.theregister.co.uk/2010/11/02/review_speaker_dock_iluv_imm747/
iLuv iMM747 iPad speaker dock
Desktop audio
Posted in Personal Tech, 2nd November 2010 08:00 GMT
Review There are more speaker systems available for the iPod and iPhone than I can count, but the iPad has missed out on all the fun so far because, of course, it's far too big to fit into a docking system designed for its smaller brethren.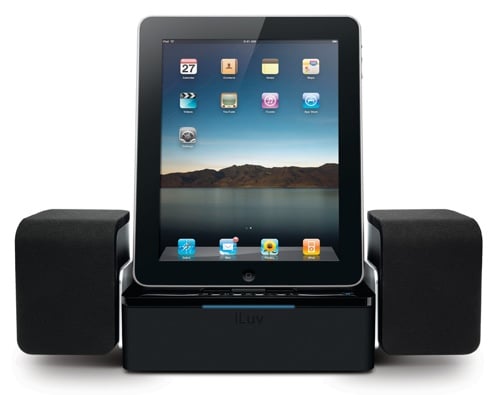 iLuv's iMM747: jumbo dock?
I've heard rumours of a couple of iPad speaker systems that are due around Christmas, but iLuv has got there first with its iMM747. Priced at around £100, the iMM747 will be available in November, primarily from HMV, suggesting that iLuv is hoping to pick up some impulse buyers during the Christmas shopping frenzy.
The iMM747 is just over a foot wide, although most of that space is taken up by the large central docking unit, leaving two relatively small satellite speakers bolted onto the sides of the unit. The plastic casing feels a bit lightweight, but the speakers aren't meant to be portable so they don't need to be particularly rugged.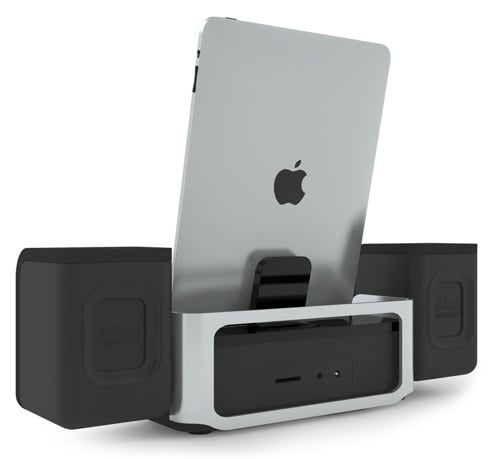 Dock head
It's also a little light on features. iLuv refers to the iMM747 as a "desktop or bedside speaker dock". The reason for this is that there's no remote control included with it, which means that you have to place it close at hand. You couldn't really listen to your music while slouched on the sofa in the front room as you'd have to get up and walk over to the unit every time you wanted to adjust the volume or skip to the next track.
Ace at bass
There are few other features either, such as an equaliser or radio and alarm functions. The iPad also has to be docked in its upright position, which means that you can't flip it into landscape mode to play videos.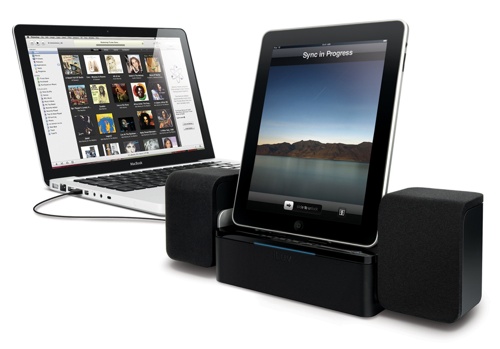 That syncing feeling
One useful feature, though, is the inclusion of a USB port which will allow you to sync the iPad with your computer. I did find this rather handy, as I tend to swop music and video around quite a bit on my 16GB iPad. However, it's irritating that the iPad switches to its own internal speaker while syncing.
The iMM747's saving grace is its audio quality, which is better than I'd expected given the modest size of the speakers. The bass, in particular, is quite emphatic, and the speakers kick out a pretty decent volume too. The higher frequencies do get a bit frayed as you approach maximum volume but if you're just using the iMM747 as a desktop or bedroom speaker then you probably won't need to have it at full blast very often.
Verdict
To be honest, the iMM747 is a respectable but fairly modest pair of speakers, distinguished primarily by the fact that it doesn't have any real competition at the moment. The omission of a remote control is something of an own-goal too. If you just want a simple set of speakers for your desk or bedside table then the iMM747 will do the trick, but it's a shame that iLuv didn't take the opportunity to try and come up with something a bit more ambitious. ®
More iPad Reviews

Ten Essential...
iPad accessories
Ten Essential...
iPad Games
Apple iPad
3G 32GB
Apple Camera
Connection Kit