Original URL: https://www.theregister.co.uk/2010/10/29/games_review_saw_ii_flesh_and_blood/
Saw II: Flesh & Blood
Cut to the chase
Posted in Personal Tech, 29th October 2010 12:55 GMT
Review Halloween is round the corner and with the Saw 3D movie, the seventh instalment of the bloody franchise set for release, Konami has published its second video game tie-in Saw II: Flesh and Blood.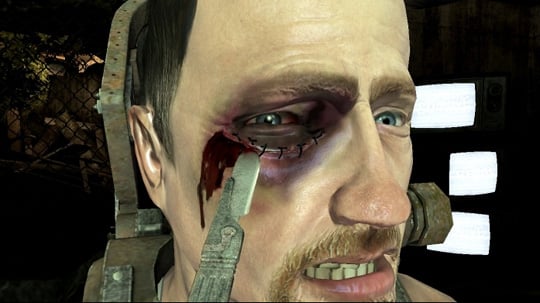 Socket to me
This game is grimace from go. The first task – to jab a scalpel in your character's eye and remove a key to his freedom – had me wincing in disgust, but this is Saw, so it's no less than you should expect. Several stomach churns later and this short introduction culminates in a cliché decision to either sacrifice my own life or that of a child. Sorry kiddo, there's only one real outcome here. Or is there?
Throughout most of the game we control Michael Tapp, son of Danny Glover's character in the first Saw film and protagonist of the original game. Newspaper reporter Michael wants to know about his father's demise and Jigsaw, being the kind guy he is, sneaks up, sedates our helpless character and puts him through a series of life threatening puzzles. Careful what you wish for boy.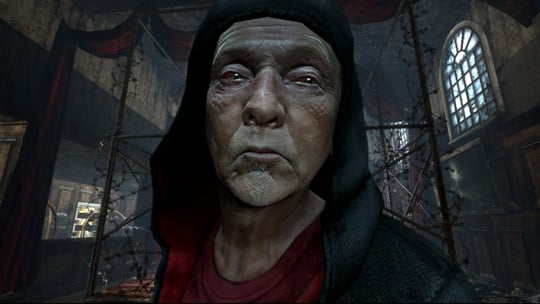 Goldenballs meets Atmosphere
Jasper Carrott lookalike Tobin Bell reprises his role as the voice of Jigsaw, aka the terminally-ill psychopath Jon Kramer. With numerous references to the films and a predictably cheesy story of its own, Flesh & Blood's somewhat unoriginal script does have its moments. So, while a Saw fan may take comfort in the film references, the rest of us are left to soak up the anaemic plotline, which is mostly torture.
No peace to the puzzles
Compared to the first Saw game, released just a year ago, there have only been minor tweaks graphically. Saw II: Flesh & Blood sticks with the Unreal 3 engine, but there are improved lighting effects, thanks to Unreal's Lightmass technology, which makes for a slighter spooky environment.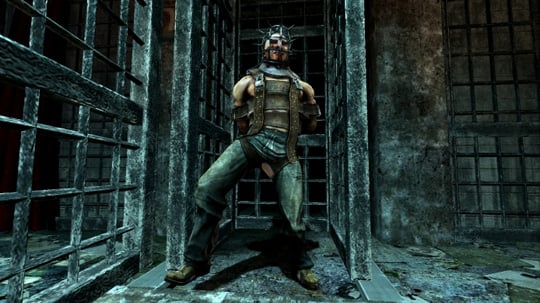 Keep your trap shut
While the initial gloomy, torch-lit rooms are scary at first, it's all smoke and mirrors really, as I wondered when the adrenalin would kick in. Yet, as soon as I realised nothing was going to happen without a prompt, the tension subsided. Unlike thrill-packed classics like Bioshock, nothing jumps out or surprises. So when faint cries or whispers are heard, there are no goosepimples.
Not to say you shouldn't let your guard down. Frequent button prompts tend to appear randomly; miss the window of opportunity and death is likely. Repetitive failure is sometimes the only way to learn. The sparsity of save points means you'll have to regularly redo something you've already cracked, just to get to your previous point of failure, only to fail again.
Such frustrations wouldn't be so bad if each puzzle didn't feel like a complete waste of time. Most of them aren't enjoyable and those that do trigger some problem solving don't inspire. This game is like that big book of puzzles you buy for a train journey and the Quick Time Events that glue them together are as fun as turning the page.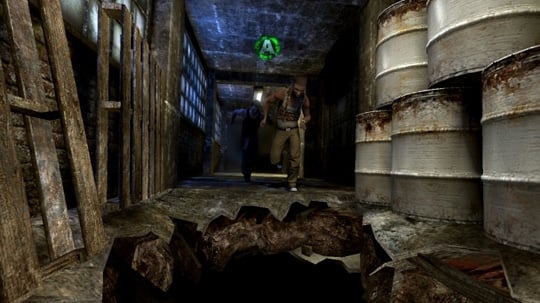 Pressing times
In between such paper cuts, I found myself groaning, "Not another fuse box" as I encountered another tiresome door with a circuit board to rearrange. It's not hard because you know what to do, it's just painstakingly time consuming. Light switch combination puzzles or variations of such make up the rest, while the answers to any remaining locks and traps are usually written on a wall somewhere.
Help me...
There are other things though; mainly the collection of Billy puppets and puzzle pieces, but that just involves more of the same quandaries and becomes very tedious after an hour or so. The linearity to each level means you'll never need to use the map and getting lost in the dark doesn't last long. The game continues for what feels an eternity though, repeating the same tasks followed by the same cut-scene's each time you snag a QTE trap. Help me.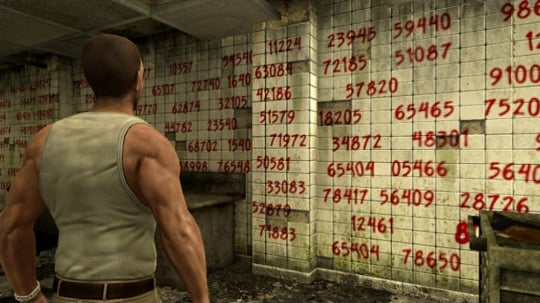 The writing's on the wall. That's numberwang!
When you move through Jigsaw's workshop (How bloody big is this place?) and piece together more of the story's background through scattered audio tapes and characters freed from traps, you soon realise none of it was worth it. All the people you encounter are either ungrateful you've saved them or will try to kill you.
Unpopular in the original Saw game, combat had to be altered, but now seems worse. Quick Time Events may work on occasion but seriously bore after repeated application, and there are more of them in Saw II than there are bloodstained walls. It would make sense if it was a kids' title, but given the nature of the game, surely Konami can't be aiming for such a generation?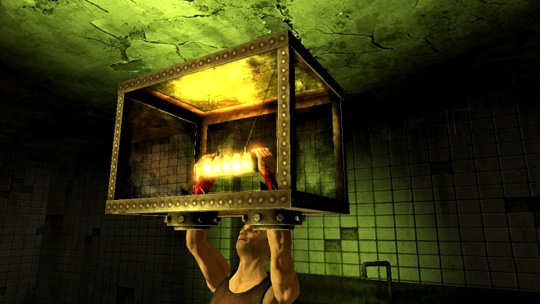 Hands up! Oh, you have no choice
Verdict
Saw II: Flesh & Blood is definitely one to avoid. The gameplay is tedious, the puzzles irritate, the atmosphere isn't particularly chilling and the plot has more holes than a Polo factory. There are alternate endings, two in fact, but I'll be damned if I'm starting the game again in order to find out what they are. Why can't you just replay the final 5 minutes? With Saw 3D rumoured to be the last in the series, hopefully we wont see another cash-in version of the game as Saw II: Flesh & Blood certainly doesn't cut it. ®
More Games Reviews

Fable III
Vanquish
Fallout:
New Vegas
Medal of Honour