Original URL: http://www.theregister.co.uk/2010/10/28/games_review_fable_3/
Fable III
Myths the point?
Posted in Personal Tech, 28th October 2010 12:00 GMT
Fable III is every bit the logical conclusion to the series, and the culmination of creative director Peter Molyneux's quest to bring simplicity to the RPG genre.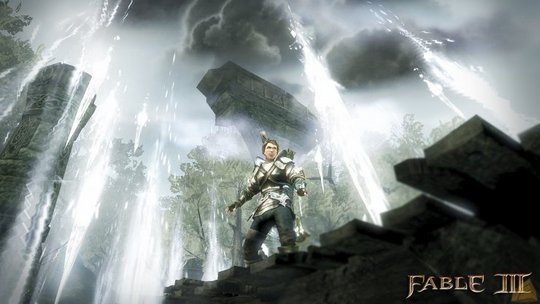 A light shower
Successive Fable games have pared back the genre's defining traits to the point where Fable III's RPG credentials are tenuous at best. Where Fable II was more appropriately labelled an action-RPG, Fable III completes the transition to action adventure. Here, complex character classes, inventories, skill trees and stat modifiers are eschewed in favour of simple and accessible adventuring.
Nowhere is this more apparent than in Fable III's Guild Seals, which unifies the strength, skill, will and general attribute levelling of previous Fables into a single, overarching XP system. Marrying mechanic with narrative, Guild Seals are both reward and currency for progression through the main quest; to usurp your brother King Logan and end his tyrannical reign over the oppressed people of Albion.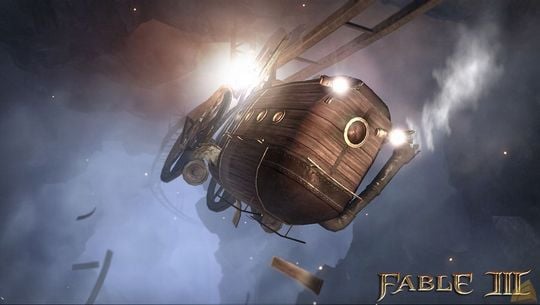 Health and safety were concerned about the new Alton Towers ride
Earned on your quest to unite the people behind your cause – through combat, task completion and endearing yourself to the general public – Guild Seals are redeemed along Fable III's Road to Rule. This is an ethereal path, littered with chests containing combat upgrades, increased social interactions and minigame rewards, and even colours to dye clothes with.
Guild your combats
It's a novel system offering a simpler levelling approach. But in unifying attribute points under one currency, and by supplying a superabundance of that currency through acts as simple as running errands or amusing citizens, Fable III quickly devalues character progression through a surfeit of choice.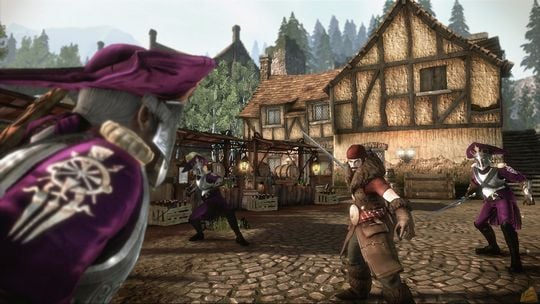 Learn the surroundings
This wouldn't be such a problem but for the ease of combat. Retaining the series' one-button principles, mêlée, ranged weapons and magic are always at your disposal, their efficacy equivalent regardless of enemy or situation. And infinite stamina, ammo and mana further reduces combat to button-bashing attrition, in which the only real skill involves not falling asleep at the pad.
Health also needs little consideration. Dispensing with a meter, Fable III adopts the warning system of numerous FPSs, where respite is required after suffering too many hits. But unlike those FPSs, food and potions instantly restore. Even when felled, the penalty is insignificant. Knocked out for a second or two, you are restored in situ, with full health, and with only your progress towards the next Guild Seal affected.
It's not just combat, levelling and inventories that are scaled back in Fable III. Despite being in the middle of an industrial revolution, Albion itself feels simplified, with much less emphasis placed on ancillary gameplay of relationships, commerce and general exploration.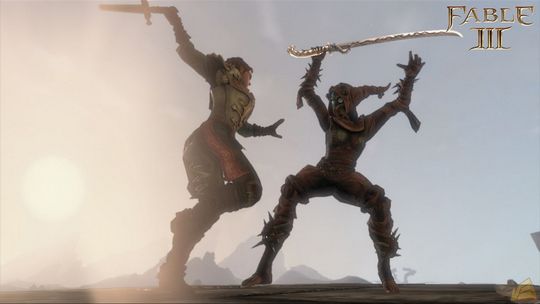 Never give a sword to a man who can't dance
The expression system is also simplified, replacing Fable II's radial menu with contextual prompts, and limiting interaction to one person at a time. Whistling, dancing and farting your way to approbation now feels tired, the extraction of Guild Seals consequently prescribed and laboriously mercantile.
Gloomy Finale
For all Fable III's simplification, the Sanctuary is ironically the most unnecessary and unwieldy introduction in videogame history. Regular RPG menus and inventories are replaced with a series of walk-in rooms, where you can change clothes, upgrade weapons, check achievements and access multiplayer features. Intended as a less daunting system, the Sanctuary remains cumbersome and time consuming long after a traditional menu system would have been mastered.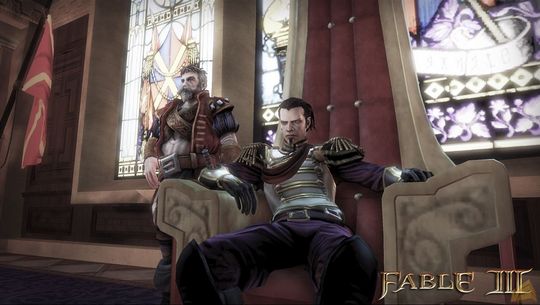 Throne in for good measure
With so many other divisive alterations, Fable III's game-changing two-hour denouement arrives with little surprise. In asking what happens after the hero has deposed the despot and acceded to the throne, Lionhead Studios attempts to reveal the sobering weight of responsibility that comes with authority. A mature theme poses complex political questions – ones especially pertinent to our present times of economic austerity. Yet, like so much of Fable III, its execution is overly simplistic. Alas, the gameplay devolves into repetitive, facile choices between the short-term needs of the few, and the long-term good of the many.
Despite the unexpectedly gloomy finale, Fable III sustains the entertaining characteristics of its predecessors throughout. The ensemble of British acting luminaries imbue the narrative with a vitality and gravitas that elevates a disjointed and often puerile script, even managing to enliven its dated, stereotypical Python-esque comedy with their dead-pan delivery.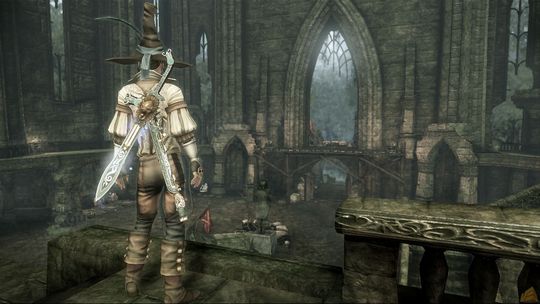 Need to alter a few things
Verdict
In trying to make itself as accessible as possible, Fable III is a gamble that doesn't pay off. Stripped of the compulsive mechanics of collecting and levelling that define the RPG experience, Fable III is left to rely on adventuring alone. While there's no denying that adventure occasionally entertains – helped immeasurably by some excellent voice acting – a lack of variety and shallow gameplay ultimately spoil the fun. ®
More Games Reviews

Vanquish
Fallout:
New Vegas
Medal of Honour
Fifa 11 vs
PES 2011