Original URL: http://www.theregister.co.uk/2010/10/27/ten_essential_bedside_ipod_docks/
Ten... bedside iPod docks
Wakey, wakey!
Posted in Personal Tech, 27th October 2010 07:00 GMT
Product Round-up When Reg Hardware last looked at iPod docks, we focused on premium offerings intended to take pride of place in your living room. This time we turn our attentions to some of the best speaker docks for more intimate surroundings.
All the docks included can sit on your bedside table and many have an alarm clock to wake you from your slumbers. If you don't want to get up to your favourite tunes - Judas Priest might, for some, be a tad aggressive for the start of the day - a fair few have DAB and/or FM radios built in too. Some are large, some are small; some cheap, others a bit more pricey. But one, I'm sure, will be right for you. In alphabetical order, we have...
Edifier iF350 On the Go

As its name suggests, the iF350 is primarily pitched on its portability - there's a built-in rechargeable battery - but with an FM tuner, an alarm clock and a compact size, it has all the makings of a good bedroom dock. The two forward facing 3in speakers don't make for a widely separated sound, but this boy can play it loud. The mini remote latches safely within a slot in the iF350, as does the spring-loaded but beautifully damped pop out dock and stand. A nicely designed, good sounding option.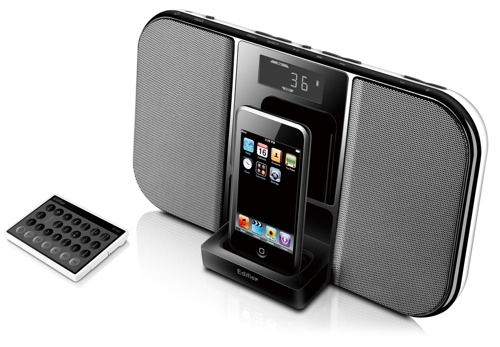 Reg Rating 75%
Price £113
More Info Edifier
JBL On Time Micro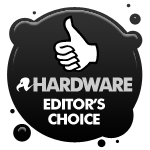 For a bedside sound system, the JBL punches out one heck of a sound. Whether sourced from the iPod dock on top - universal and accompanied by a range of inserts - the FM/AM tuner or the 3.5mm aux, this hemispherical unit gives a clear, loud and surprisingly well-separated sound that's not short on bass, either. And it doesn't distort if you need it to go to eleven to wake you up. Seven alarm slots are provided, each of which can be set for specific days, weekdays, weekends or all of them.
A mini remote means you can keep it up on a shelf rather than next to the bed, and you can power it with three AAAs if you want to take it down to breakfast with you.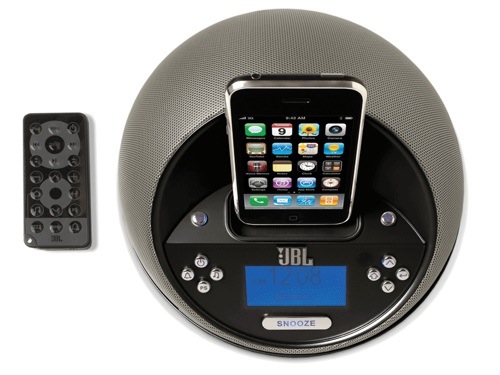 Reg Rating 85%
Price £180
More Info JBL
iLuv iMM289

A nice little dock, this iLuv. It's circular and design to be flipped through 90° when your iPod or iPhone is in place to enable video viewing a Cover Flow. There's a pad behind the iDevice to keep snug, and an adjustable flip-out support to ensure it doesn't drop from the dock connector when rotated. There's no alarm facility per se, but the app iLuv created for its iMM190 dock can be download and used here - but it'll only play pre-loaded alarm sounds, not tracks from your iTunes library. The sound's a tad boxy up close, but expands somewhat when you step away. And it's not half bad for a forty-quid speaker.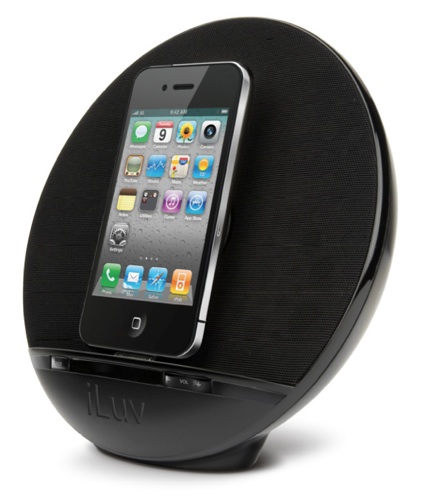 Reg Rating 75%
Price £40
More Info iLuv
Memorex Mini Alarm Clock Radio

This is the classic alarm clock FM radio update with iPod support. The Memorex's side-facing speakers won't fill a room - too much distortion at high volumes - but they'll do for a quick blast of tunes or the Today programme to get you up in the morning. Simplicity is the name of the game here, with a straightforward, upward-facing control layout - the iPod sits almost flat, supported by a twist-up pad - and just one alarm. The device can sync its clock with the iPod's, but you'll have to set the alarm directly. Not at all bad if you want something basic and cheap.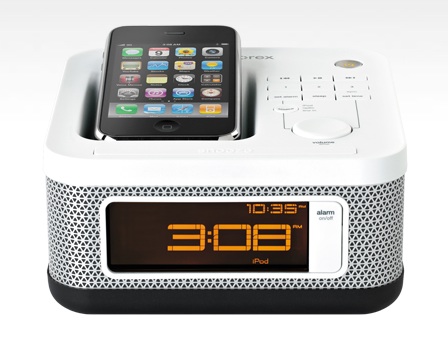 Reg Rating 65%
Price £50
More Info Memorex
Philips Fidelio DS3000/05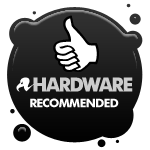 One of the smaller units in Philips' Fidelio range of iPod speaker docks, this model seems oddly devoid of features when you take it out of the box. But plug in your iPod or iPhone and you'll be invited to download a free app that can be used to set the unit up, check the level of its batteries - four AAs, able to provide up to eight hours' untethered playback - and set any number of alarms, including a set of pre-loaded "nature sounds" if you want to wake up to the call of birds or church bells.
I like the DS3000/05's spring-loaded dock connector which keeps the player tightly tucked up against a pad at the back, and the mini USB port for hooking up your computer for syncing, but I like the unit's warm, bassy yet clear sound more.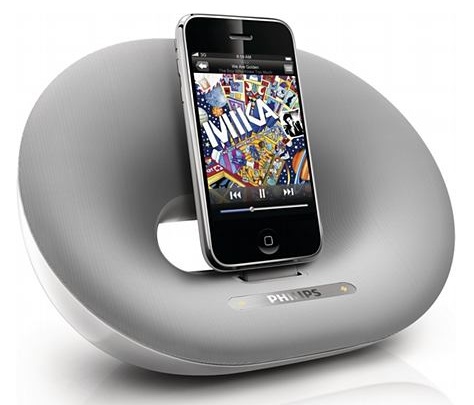 Reg Rating 80%
Price £80
More Info Philips
Pure Chronos iDock series II

This DAB/DAB+ and RDS FM radio from Pure packs in the features, and it's one of the most button-laden gadgets I've rounded up here. Quite apart from the eight buttons and dial on the front of the unit, there's a mini remote control if you want to move it from your bedside up onto a shelf. You might want to shift it because the Chronos iDock is a large, triangular-footprint device that seems bigger than it is when it's on your beside table. Worse, it has a very boxy sound that remains unrelieved by the unit's treble and bass settings. Talk radio sounds fine, but iPod- or aux-sourced music doesn't. A tune to wake you up - Chronos II has four alarms - is bearable but this is not a gadget you'll also want to use for general music listening.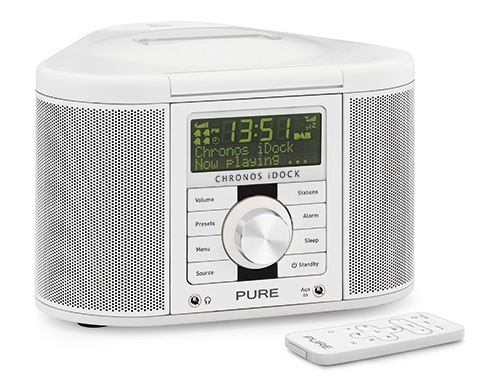 Reg Rating 60%
Price £100
More Info Pure
Revo Axis

The Axis is is pricey - £200 - but you do get a lot for your money: DAB and RDS FM radio, Wi-Fi connectivity for internet radio, to grab content from UPnP media shares on your network and to stream from Last.fm, and, of course, iPod playback. It's unusual but attractive asymetrical angles-and-curves casing incorporates a 3.5in colour touchscreen, a telescopic aerial and RCA ports for composite-video output. The rear-facing bass reflex port helps give the Axis a warm sound, but the Axis' audio is limited by its mono speaker. Do you need stereo from a device placed near your head to wake you up? No, but it's nice to have, and as the JBL shows it is possible to do well in a compact unit. And if the touchscreen's not as easy to use as it might be, the Axis' overall performance won me over.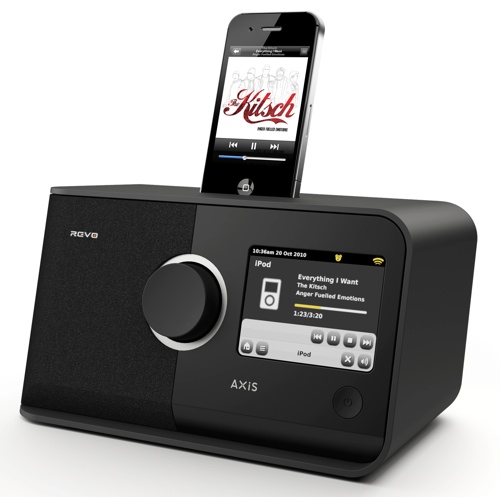 Reg Rating 80%
Price £200
More Info Revo
Roberts Sound 66

Roberts' low-profile speaker dock radio will sit nicely in hotel rooms but has a slightly retro look that will appeal to the sort of people who enjoy listening to "the wireless". No Wi-Fi here for us more modern types, just DAB and RDS FM and a universal iPod dock on top of which Roberts includes a very wide selection of inserts. Next to the dock are the Sound 66's many controls, all replicated on the mini remote. A more elderly audience may have trouble with the large but hard-to-read characters on the display - they're much taller than they are wide - and an unforgiving alarm set-up system that takes you right back to the start if you hesitate. The sound is a tad flat, but not bad for quiet, pillow-side playback.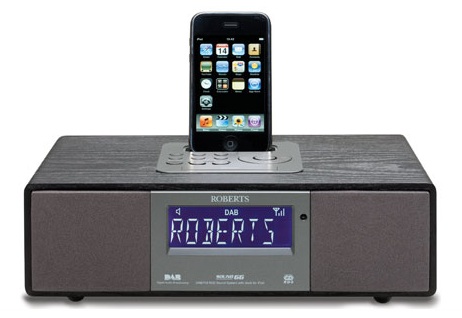 Reg Rating 70%
Price £150
More Info Roberts
Sony ICF-CL75iP

Sony's alarm clock radio adds iPod support as if by after-thought - the dock is retractable and slides out of the right side of the unit. It also has a USB port which, unlike those on the other products featured here, can be used to present photos and video on the ICF-CL75iP, as can a docked iPod and memory cards tucked into the SD and Memory Stick slots in the back. Yes, that big, 7in colour screen is put to full use here, though it's mostly a clock face. Sony packs in the features - there's an FM/AM radio on board, and two alarms, each with their own controls and linked to a big Snooze button on top. All these sources can be used for alarm sounds, and you can even record your own or play the built-in "nature sounds" - sea, bird song, rain and so on. Features aplenty, then - if only the sound was a little less basic and boxy.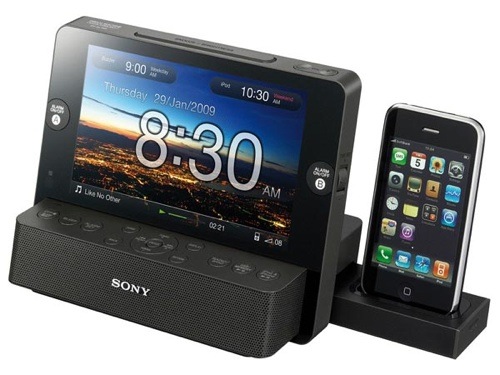 Reg Rating 70%
Price £150
More Info Sony
VitaAudio R2i

VitaAudio describes the R2i as a "tabletop stereo" and if you plan to put in the bedroom you'll certainly need a large bedside table for this boy - and probably not too close to the bed. Its imposing size, spring-loaded shuttle-style volume control, and posh stereo looks - it's wrapped in walnut veneer - suggest a higher class of hi-fi, but I found the sound to be over-resonant. Switching off the R2i's "3D sound" and "loudness" options helped, but it still felt as if it were straining to hold back distortion. In addition to the iPod dock, the R2i has FM and DAB pick-ups, plus RCA input - and output - ports. And, yes, you can set alarms just as you would with any bedside unit. But this is a box that would be happier in the living room.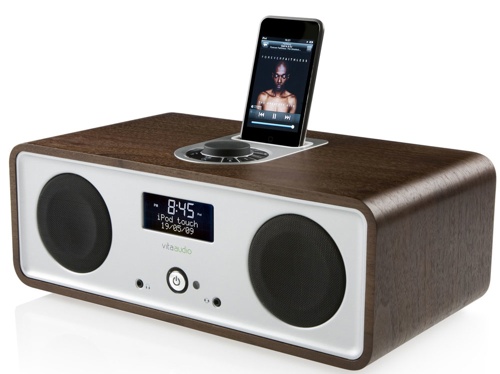 Reg Rating 70%
Price £280
More Info VitaAudio