Original URL: https://www.theregister.co.uk/2010/10/27/bus_spotter_case/
Bus spotter admits £11k database fees fraud
The wheels of justice go round and round...
Posted in Security, 27th October 2010 10:24 GMT
A Suffolk man has admitted to defrauding his employer of £11,000 to indulge his pastime of bus-spotting.
Steven Curl, 45, ran up a bill of £10,983 in credit check fees over two years while working at insurance giant AXA, Ipswich Crown Court was told.
The East Anglian Daily Times reports that the charabanc fanatic exploited his position in the firm's claims-handling department to check DVLA ownership details for vehicles he had spotted via the Experian credit checking database.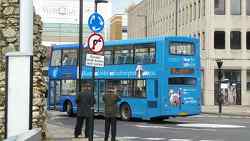 Southampton bus-spotters. Image from Wikipedia
The coach fan noted down his spots' registration numbers then used his access to Experian to confirm their ownership.
The unauthorised searches were rumbled when the DVLA queried one of his searches with his employer.
Curl admitted running up the bills and is due to be sentenced next month. A probation report is being prepared in the meantime.
Curl also faces a proceeds of crime hearing in January, at which authorities are expected to claw back the fraudulent fees. Curl has reportedly lost his job following the unauthorised searches.
The Daily Mail reports that Curl is a big wheel in the world of bus and coach spotting, editing a bus fan newsletter. He is also a trainspotter, the paper adds. In Hong Kong, bus spotters are known as "bus fans", while in the US they are known as "bus nuts". ®