Original URL: https://www.theregister.co.uk/2010/10/26/google_instant_revenue_growth/
Google streaming search in 'Instant revenue boost'
Dollars grow 2% in two weeks, says study
Posted in Policy, 26th October 2010 21:31 GMT
Google's search revenues increased almost 2 per cent in the two weeks following the introduction of its Instant search engine, according to an independent study.
Marin Software — an outfit that manages $1.3 billion a year on behalf of search engine advertisers — has released a study based on the recent Google experience of "a broad range" of clients, and it shows that as Google Instant juiced ad impressions and, yes, paid clicks, advertiser spending climbed 1.96 per cent in the two weeks after the service was launched.
Google Instant serves up search-results pages as you type, trying to predict what you're looking for. Basically, it's an extension of Google Suggest. Whereas Suggest suggested possible searches, Instant suggests entire results pages. In certain countries, Google Instant is now the default search engine if you're signed into a Google account — though you do have the power to turn it off.
According to Marin's report, Google ad impressions increased 9.31 per cent in the two weeks following Instant's September 8 launch. Marin senior product marketing manager Gagan Kanwar tells The Register that Marin's data came directly from Google AdWords, so these are impressions as Google now defines them. Because Instant refreshes results so quickly — a new page may appear with each letter you type — Google says that a results page is only considered an impression if stays there for three seconds or if the user hits the search button or actually clicks on a search suggestion or a link.
As impressions rose, according to the Marin report, paid clicks also increased — which only stands to reason. "As impressions go up, it's not entirely unnatural for clicks to go up," Kanwar says. With impressions up 9.31 per cent, Marin saw a 5.63 per cent jump in the number of times users actually clicked on an ad. So, clicks didn't grow as much as impressions, but they grew nonetheless.
This also shows that Google's revenue didn't grow as much as clicks. The average cost-per-click rate, according to Marin, dropped by 3.47 per cent.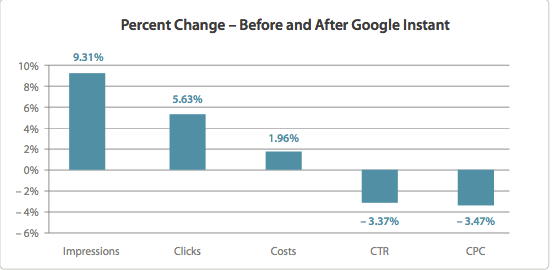 Marin argues that "advertisers are now getting more value for their money as a result of Google Instant." But this is somewhat misleading. Google advertisers pay for each click, but a click may not actually lead to anything worthwhile. "We don't know how conversions changed during this time," says Kanwar. And the drop in cost-per-click is likely temporary.
Kanwar argues that because of the increase in clicks, daily advertiser budgets reach their limits sooner, reducing the amount of competition on many keyword auctions. This, in turn, would lead to a price drop. "One hypothesis is that most advertisers in this period...did not increase their daily budget even though click volumes were going up," he says. "This created a scenario in the auction where advertisers depleted their budgets faster than normal. So subsequent auctions had a lower degree of competition leading to low [cost per click]."
Kanwar also says that according to Marin's data, Google Instant has lead to an increase in the impressions for ads that require an "exact" or "phrase" match, and this may have driven down cost per click as well.
With an exact match, an ad won't appear unless you provide a keyword character-for-character — and nothing else. Phrase match also requires character-for-character entry, but the ad will still appear if you tack on a few extra words. Exact and phrases matches may have risen, Kanwar speculates, because Google Instant seems to increase the number of impressions based on short keywords and phrases. This, in turn, may have driven down the cost per click because exact and phrase match ads are traditionally cheaper.
But the daily-budget hypothesis seems the more likely of the two. And this effect will likely disappear over time. "As advertsers adjust and increase daily budgets, cost per click will reach pre-Instant levels and ad costs will rise higher," Kanwar says.
All about the Benjamins?
Speaking with The Reg, Shashi Seth, Yahoo!'s senior vice president of search and a former search product leader at Google, has argued that his former employer opted for the Instant method in an effort to generate more revenue. "Do I really need new search results for each character I key in?" he asked.
But Google is adamant that Instant is solely an effort to improve user experience. "Many of you guys speculated that we launched Instant to make more money. Well, let me tell you that's simply not the case," Google senior VP Jonathan Rosenberg told reporters and analysts during the company's latest earnings call. "We launched Instant because it's so much better for the user."
He went on to say that its impact on revenue has been "very minimal" and that "from a resource standpoint, it's actually pretty expensive" — meaning Google spends more serving up all those extra pages. It's likely true that there's an added cost, but it's unclear how high this actually is. Google has also said that it has introduced new technologies that reduce the strain the service might put on its back end. Servers now keep track of what data the browser already has and what data is already being gathered on some other server, the company says, and it has somehow improved its caching system.
Marin's Gagan Kanwar takes Google at face value. "A two per cent revenue increase isn't world-changing for a company that's growing revenues 20 per cent a year," he says. But that 2 per cent growth merely applies to the service's first two weeks in action. And Kanwar acknowledges that it could potentially increase revenues far more in the long run.
From Google's perspective, if you increase speed, you increase user happiness. "We believe from a user standpoint, Instant is outstanding and the data that we are seeing actually bears this out," Rosenberg continued. "We took something that no one thought was a problem and we created something that once you use it, you can't recall how you lived without it before. It saves about two to five seconds per search and users absolutely love it. The percentage of people who select Instant results before they finish their query is steadily rising. So in other words, that means the more they use it, the more they like it."
Except it doesn't mean that. The sad truth is that most people simply use what's put in front of them. And the worry has to be that — on some level — Google is narrowing what users end up searching for, pushing them towards the lowest common search denominator.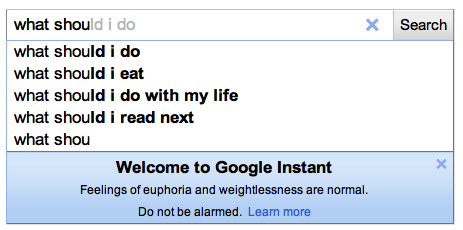 Rosenberg continued to protest. But he did finally acknowledge that Google cares about more than just the user. "So let me be clear that Instant wasn't based on a narrow financial calculation. We launched it because we could and because it's great for our users, as we have always said," he said. "Of course, I know it's an earnings call, so let me be clear on another point. We do in fact care about money." ®
Bootnote
You can find the Marin study here.