Original URL: http://www.theregister.co.uk/2010/10/25/games_review_vanquish/
Vanquish
Programmed to kill
Posted in Personal Tech, 25th October 2010 12:00 GMT
Review If Vanquish had been made around 150 years ago, Shinji Mikami would have had to commit seppuku, the Japanese ritual of suicide by disembowelment.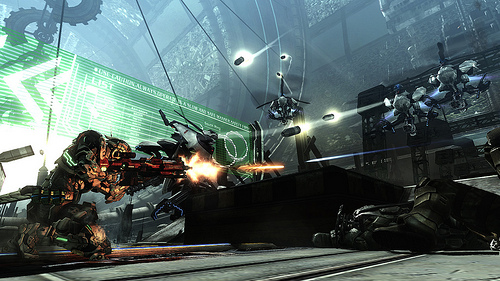 All right, Mr. big shot
Like many artists and scholars during Japan's Bakamatsu period, the legendary producer of Resident Evil, God Hand and Bayonetta would have sliced open his stomach with a samurai sword for contravening bansha no goku, the prohibition of studying Western 'barbarian' arts and sciences. Fortunately for Mikami-san - and for videogame players the world over – those times are long past. But an element of truth supports the allegory.
The Western videogame market long since overtook Japan's domestic market, forcing Japanese developers to abandon their own sakoku, or isolationist policy, to make games that appeal to Western tastes. Mikami-san has been at the forefront of this shift, increasingly influenced by Western themes and mechanics. And Vanquish, the last title in Platinum Games' four-game deal with Sega, marks his most occidental game to date.
That's not to say Vanquish entirely disowns its heritage. Far from it. As much a riposte to Western shooters as it is love letter, Vanquish might seem the love child of Halo and Gears of War, but its blistering pace and esoteric sensibilities owe as much to Treasure and Konami as they do Bungie or Epic.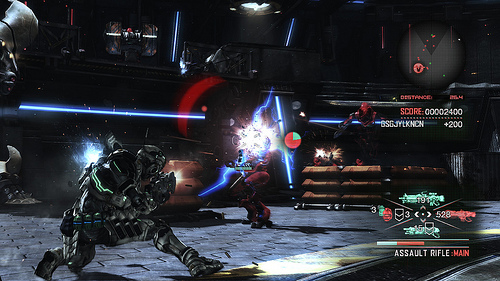 The thin blue line
Just like Bayonetta, Mikami-san paints Vanquish with broad strokes from an eclectic gaming palette. Scratch its canvas and you'll uncover inspirations as diverse as Metal Gear Solid, Bangai-O, Zone of the Enders and R-Type. Even Splinter Cell gets a look in, with a plot ripped from the pages of Clancy and warped to the near-future.
Suit and cable ties
With an army of robots, Victor Zaitsev, an ultra-nationalist Russian megalomaniac, has hijacked a city-sized space station which the American's use to harness the power of the sun. Turning the microwave energy towards Earth, Victor obliterates San Francisco and holds the US to ransom, threatening New York as his next target.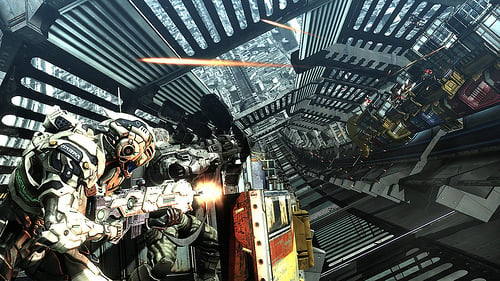 This hallway has many grate features
Your character, Sam Gideon, is a government agent sent alongside an elite team of Marines to recapture the station. Kitted out with futuristic weapons and an experimental battle suit known as the Augmented Reaction Suit – ARS - Sam is America's latest and most powerful weapon. The ARS can boost around the battlefield at phenomenal speeds and slow time to a crawl. But for all your seeming omnipotence, the mechanic at the heart of Vanquish's gameplay is vulnerability.
You see, the ARS overheats with overuse. Use of either ability drains an on-screen gauge, increasing exponentially when both are combined. And a powerful melee strike, which can destroy enemies instantaneously, also drains the gauge instantaneously. Once overheated, the ARS is rendered powerless during a ten-second cool-down period.
For a couple of hours, familiar cover points and run-and-gun mechanics fool you into considering Vanquish an underwhelming Gears of War clone. The suit's abilities feel extraneous, the boost mechanic feeling particularly cumbersome as you bump around tight battle spaces through a cacophony of lasers, rockets and gun turrets, often finding yourself in dangerously advanced positions.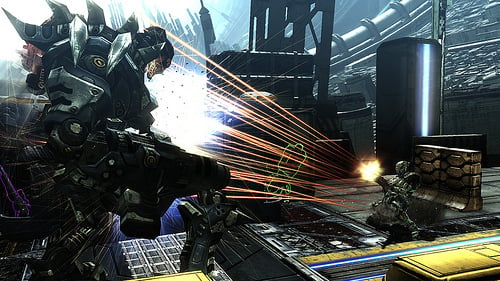 Multiple shot wounds
But all the time you're learning by osmosis. As you begin to master the ARS, you begin to understand Vanquish itself. One eye on the relentless action, the other remains firmly upon the gauge. Use cover to patiently pick off distant enemies, or slow-mo-boost-flank to take them by surprise? Take out the toughest enemy with a melee strike, and overheat the ARS, or hang back and chip away at them and your ammo?
Combat evolved?
Vanquish constantly poses such questions through richly diverse gameplay. Set pieces other developers would repeat over and over, Platinum Games uses just once. Fighting aboard a giant train-cum-rollercoaster as it rolls and loops through the space station; dashing along a listing bridge as toppling skyscrapers rain huge clumps of reinforced concrete everywhere; boosting away from the deadly strike of a shape-shifting robot as it rears up like a Tarantula; or trying to pick off a swarm of enemies as they brush through tall grass.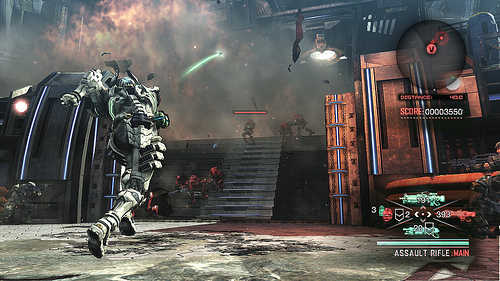 Dive into the melee or attack from a distance - the choice is yours
Vanquish throws so much at you that you're almost surprised not to see the proverbial kitchen sink fly past. And it hurls everything at a rock-solid 60fps, shaming so many other developers with its ludicrously high enemy count and vast draw distances.
It's a shame, then, that the visuals start off so unimpressively. A dreary grey palette dominates the first couple of hours, when the game most needs to entice the player through its exacting learning curve. But the visuals improve throughout, as neon lights and rich vegetation begin to break the monotony of the sterile futuristic world.
Vanquish's narrative is equally dreary, and best ignored. But it can be excused as pastiche of an already hackneyed genre. And it contains some amusing and memorable dialogue, especially the gruff, profane bon mots of the Marine's platoon commander, Sgt. Robert Burns, who cuts a swathe through the Russian robots with such quips as, "These red bastards'll never know the beauty of a Kentucky Bourbon," and - my personal favourite - "Yo, Robofuck."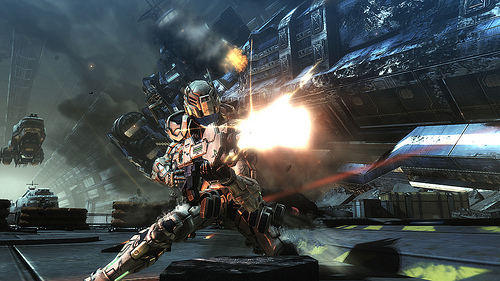 Judge Dredd cross bred with a Stormtrooper
Verdict
Like so many of Mikami-san's games, Vanquish is far too esoteric for the taste of casual gameplayers. Superficially a poor Japanese imitation of a Western shooter, only through perseverance and open-mindedness are Vanquish's true depths revealed. But once revealed, gamers are rewarded with unconventional, ground-breaking mechanics that prefabricated Western shooters will be plagiarising for years to come. ®
More Games Reviews

Fallout:
New Vegas
Medal of Honour
Fifa 11 vs
PES 2011
Castlevania:
Lord of Shadows