Original URL: http://www.theregister.co.uk/2010/10/22/review_dvr_tvonics_dtr_hd500/
TVonics DTR-HD500 Freeview HD DVR
Designer digital video recording
Posted in Personal Tech, 22nd October 2010 07:00 GMT
Review The design is bonkers, of course. TVonics has never favoured the box-like looks preferred by its rivals, of course, but the DTR-HD500, with its oval, upward sloping front-meets-top, owes more to the likes of the Sony PlayStation 3 than other DVRs.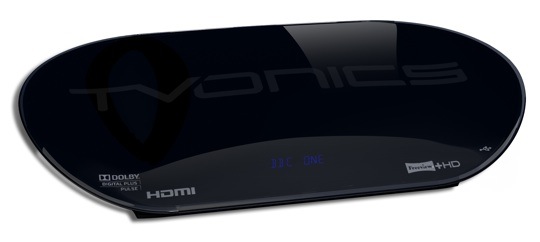 TVonics' DTR-HD500: has to go on top
That said, even the PS3 can be placed on its side. Not so the HD500, which therefore has to be placed on a large, flat surface, whether on a table alongside your telly or on top of your stack of AV kit, if there's room. It's hardly discreet.
Inside, however, you'll find a standard Freeview HD-capable DVR. The HD500's one novelty is the presence of a pair of extra HDMI ports on the back, both inputs. If you don't have enough HDMI ports on your TV, you can use the TVonics box as a switch. Each input has its own key on the remote.
Older tellies are catered for with a Scart port, and however old your TV is, the HD500 passes through its antenna input to your set's on-board tuner.

HDMI inputs included in case your TV has too few
The HD500 has the inevitable Ethernet port, but this is reserved for future firmware updates that may introduce support for online services such as YouView. Or may not. A USB port on the back, and another on the right side - mounted upside down - can be used to slideshow digital photos.
Well-designed UI
Connected and powered up, the HD500 presents a clear, straightforward user interface that's easy to navigate, though the remote's overly stiff directional keys make the process slower than it could be.

A nicely designed remote despite the overly stiff direction keys
The HD500 presents the standard Freeview programme guide - no ads, either - and allows you to customise the list, but only to prune deadwood channels like home shopping and smut.
The HD500 maintains a series of what it calls 'Timers' - essentially entries on its recording schedule. As a modern DVR should, it spots shows that aren't one-offs and allows you to record entire series. Even movies that break for the news are sensed as such, so you need only record the first half to get the second.
You can set a given Timer to start early, finish late or both, but there's no universal setting that automatically applies such padding to all recordings. A problem, I thought at first, since it means that you may miss the beginning or end of shows that don't start on time. But the HD500 taped perfectly all the many recordings I made over a two-week period, so it's clearly savvy enough to adapt its Timers to the actual broadcast time rather than the times provided by the EPG.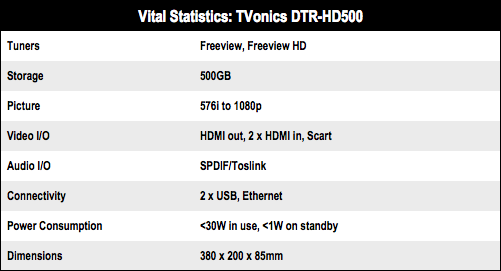 Timer primer
The HD500 will also cleverly sense programme trailers and ask if you want to record the shows when they are broadcast. This certainly adds an appropriate Timer to the list, but my only attempt to record a programme this way was confounded by an apparent system crash that downed the box for week. It also ensured none of the Timers triggered during that period. And all the HD channels vanished from the list. Oops.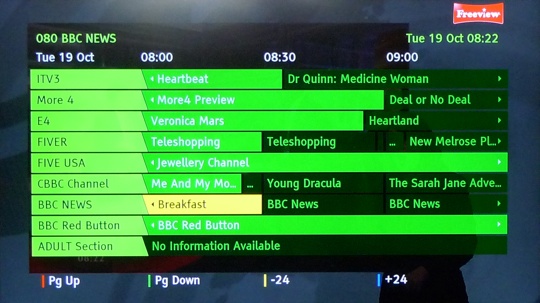 The EPG is clearly laid out
I'd purposely left the HD500 untouched, so I didn't know about the crash for seven days. This time, leaving it alone was intentional, but what if I'd been on holiday? I'd have come back home and had no shows to watch.
To be fair, I may have an iffy box. Either that or there's work to be done on the firmware. Some early issues, cured with a system reset, don't suggest one or the other. I have to say, I've yet to try a DVR or set-top box that didn't crash as some point, though that doesn't let TVonics off the hook.
The HD500's picture quality isn't bad, and you can use the box to upscale content to match your TV's native screen resolution, or let your telly do the heavy lifting. It's worth trying both, to see which one does the better job. The TVonics box will, by default, output to match your TV.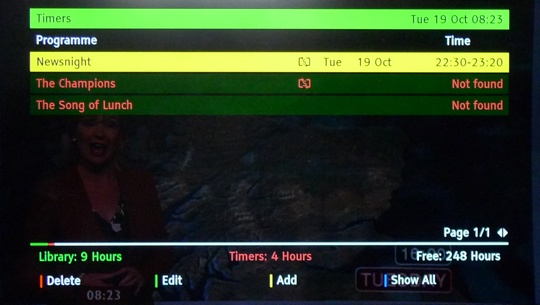 Timers tracks series - until they disappear from the EPG
I found the HD500's output of standard-definition content to be slightly inferior to that of the Sony Bravia TV I used it with. Compression artefacts were a little more obvious, but if you sit back they shouldn't trouble anyone who isn't looking for them.
TVonics DTR-HD500 UI Gallery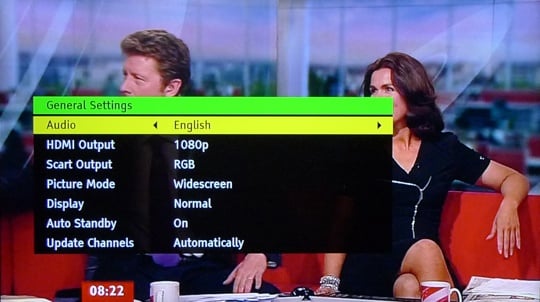 The Settings menu: with some entries its not clear if you move from one value to the next with the arrow keys, or the OK button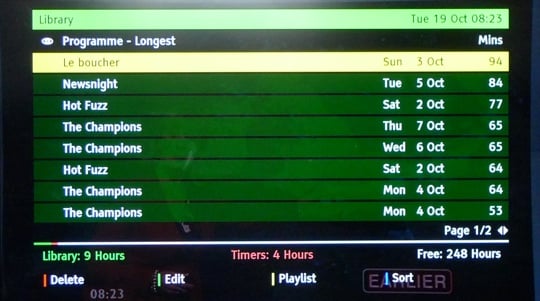 Recordings appear in the "Library". You can sort them by duration, date or alphabetically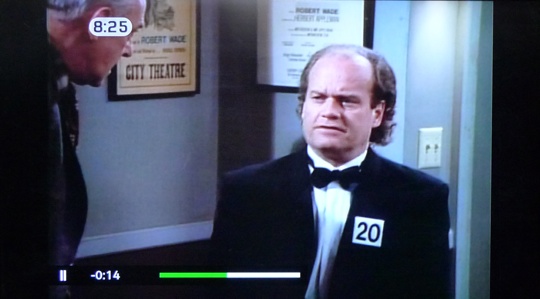 Pausing a live broadcast tells you how far from 'now' you are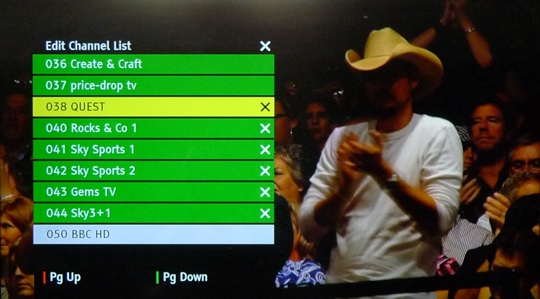 You can hide channels from the EPG list and the channel hop buttons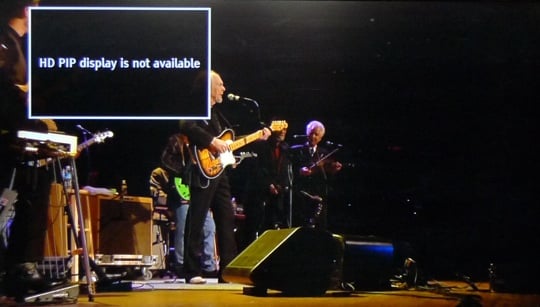 Picture-in-picture works with SD channels but not HD
Quirks
Likewise, feeds from devices connected through the HD500's HDMI inputs weren't as crisp as they are when directly connected to the set, even when input and output resolutions were matched.

Designed for shop display stands, not living rooms?
Picture-in-picture works, though not with HD content. And the HD500 has a momentary wobble when you pause and then resume HD broadcasts. This is more noticeable on BBC HD, suggesting it's higher bitrates that the HD500 isn't so happy with. Another such oddity: engaging or disengaging the box's Audio Description support - the on-screen action is read out to those with poor or no vision - momentarily speeds up what's on screen, presumably as the various data streams synchronise. For the target audience, this probably doesn't matter, but it seems unnecessary even so.
A final note: the HD500's 500GB hard drive can be easily accessed through a hatch in the base, so upgrades - while not sanctioned by TVonics; it says such work will bust the warranty - are straightforward. The DVR avoids all reference to drive capacity, using available recording time instead.
Verdict
At £280, the HD500 is cheaper than Humax's rather nice and equally capacious HDR-Fox T2, but also packs in fewer features beyond the DVR basics. TVonics sells direct and is discounting its DVR to £250 and bundling an extra, second year of warranty, which makes up for this. If you need Audio Description, this is an obvious box for you. For the rest of us, the clear lines of its UI and 500GB capacity will win it friends. Only the questions raised by its - not unique; too many DVRs do this - crash stops me scoring it more highly. ®
More Freeview HD Set-top Reviews…

Digital
Stream
DHR8203U
Humax
HDR-Fox T2
Panasonic
DMR-BW880
Group Test
Freeview HD
Receivers