Original URL: https://www.theregister.co.uk/2010/10/22/preview_laptops_apple_macbook_air/
Hands on with the new Apple MacBook Air
Netbook plus?
Posted in Personal Tech, 22nd October 2010 10:18 GMT
Preview Let's get the hard part out of the way at the start. The new MacBook Air isn't a cheap computer, and was never going to be.
If you're the sort to throw a fit because you can by a 15in octo-core über machine for half the 850 quid Apple wants for the even most basic, smallest Air, stop reading now. Let me assure you, your prejudices will be reinforced.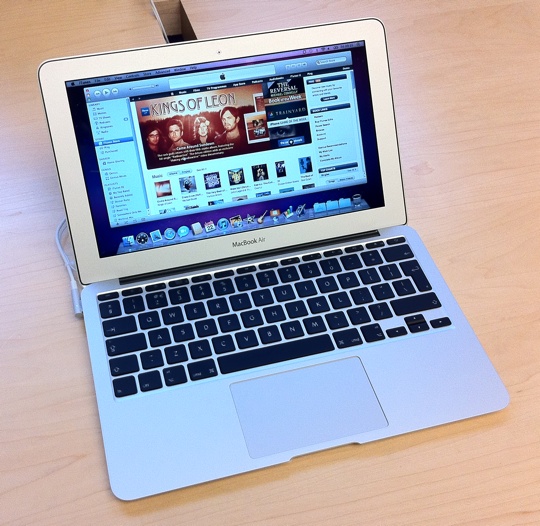 Tasty: Apple's 11.6in MacBook Air
Likewise, netbook fans who believe compact machines should cost no more than £300 aren't going to be interested either. Back to your Atoms, folks.
Apple fans will, of course, love the new Air no matter what, so they can probably quit reading at this point too.
The question is, then, does it have anything to offer to all the rest of us?
The answer is yes, if you're someone who values portability over performance. With a 1.4GHz Core 2 Duo in the 11.6in Air and a 1.86GHz chip in the 13.3in model, neither Air is a powerhouse. But neither was the original, 1.6GHz machine, and that was eminently suited nonetheless to word processing, basic photo editing, media playback and app development. I know, those are all tasks I put mine too. I even played Halo on it.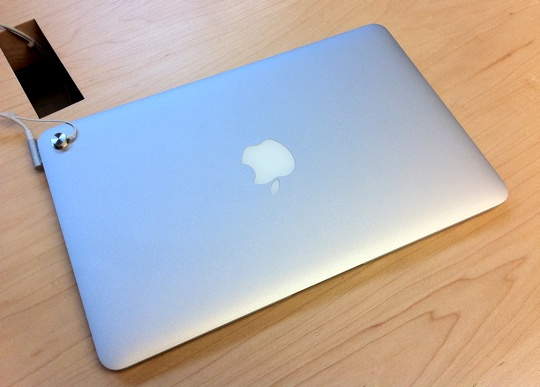 Iconic
And with the much superior graphical horsepower of the Nvidia GeForce 320M. It takes up to 256MB of the 2GB of 1066MHz DDR 3 memory soldered to the Air's motherboard - 4GB is a build-to-order option - and is built into the chipset. A quick peek at Mac OS X's System Profiler shows the Air's SSD connects to an Nvidia controller.
Faster chippery, sort of
The Intel graphics was always the original Air's failing performance-wise, and so the Nvidia graphics, as they did with subsequent revisions of the first model, will go a long way to balancing the relatively slow CPU speed and the use of the old chip.
I should point out, though, that none of the other 11.6in notebooks on the market have a Core 2 Duo inside. Some have single-core Celerons, more modern ones have dual-core Pentium processors or AMD's dual-core Athlon II Neo.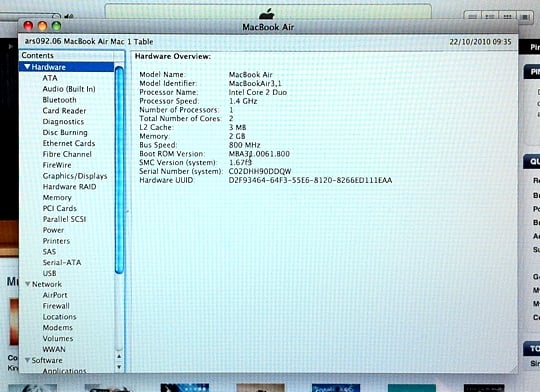 Not a top-of-the-line processor
But a detailed look at the specs will have to wait for benchmark testing results to compare them to. Watch this space for a full review. For now, I can say that the 11.6in Air had no trouble running 1080p video - not something you can say about even the newest of Atom-based netbooks with Intel graphics.
The 13.3in Air feels much the same as the previous Air when closed, and the 11.6in version is an inch or so smaller. Apple has included a full-size keyboard in both, and in the case of the smaller Air, that's the component that defines the laptop's size.
Like MacBook Pro keyboards, the Air's is solidly underpinned and good to type on, though both models lack a keyboard backlight, a feature no one really appreciates until they use it in low light.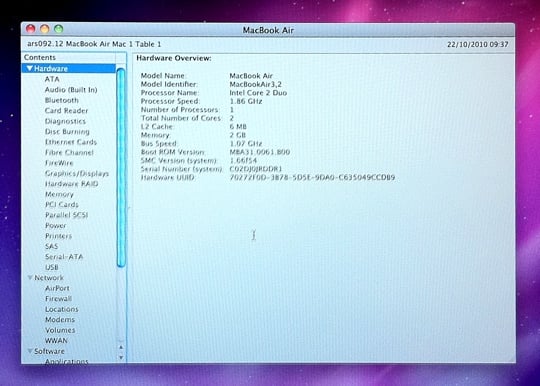 Slighty better specs in the 13.3in Air
Apple was right to add a second USB port to the new Air - having one was the original's key limitation - but there's no Ethernet, Apple not unreasonably supposing that the vast majority of users will connect over 2.4/5GHz 802.11n Wi-Fi. There's always a USB Ethernet adaptor if you need a wired connection, but that's extra, of course.
Usability improvements
The 11.6in Air lacks the 13.3in model's SD card slot, but with that second USB port, plugging an adaptor module in still leaves you with a port spare. And it'll be a darn sight easier now that Apple no longer builds the Air's ports into a drop down panel.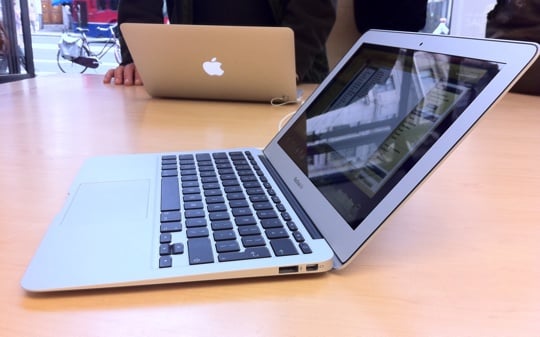 Way skinny, and very easy to carry around
These changes improve the Air's usability no end and remove almost all of the compromises made to get the original as thin as it was.
I liked the look of the previous Air, but at first I wasn't sure about the new one's styling. Fortunately, it's not as wedge-shaped as it looks in the official photos, thanks to the curvature at the edges of the lid and the base.
Closed, it's very convenient to carry - especially the 1kg 11.6in one - though you won't be opening it single-fingered as they do in the ads. In both models, the screen gets almost but not quite vertical before the base starts to tilt up.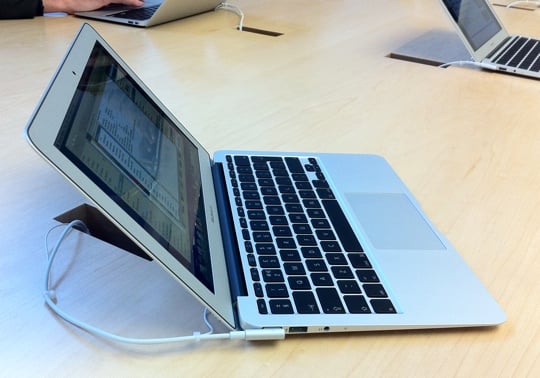 Extra USB portage, but still no Ethernet
As you'll have seen from the internal snaps, much of the Air's interior is battery, but the figures Apple quotes are not spectacular. The 11.6in is said to provide five hours' runtime on a charge, officially. I couldn't test that, but I can say that knocking back the backlight to a dark but still just viewable saw Mac OS X's menu bar battery readout report six hours and five minutes from a full battery. I couldn't turn off the Wi-Fi, but doing so should raise that figure a bit.
New design, same old performance?
When new, and with the wireless off and the backlight turned down, my first-gen Air gave me six-and-a-half hours or more usage before the battery died.
So no leap forward there, and no leap forward with boot times either, I'm afraid. The Air starts up from sleep quickly, but then no faster than any other MacBook does, especially when you disable Mac OS X's Safe Sleep feature, which writes the contents of memory to the hard drive. This is enabled by default on all mobile Macs, so there's a moment when the Air is showing the desktop but there's not yet a cursor to move.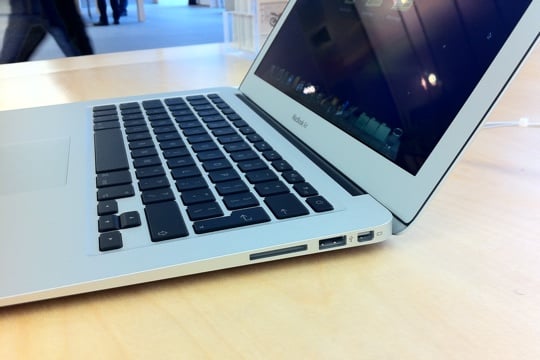 The 13.3in model has an SD card slot. The 11.6in Air doesn't
Starting the 11.6in Air afresh took 29s from the press of the power key - now part of the function-key row - and the appearance of a usable desktop. That's compares well with Windows 7, say, but it's not much faster than a fresh MacBook Pro.
Apps like iTunes didn't appear to load sufficiently faster than they do on other Macs, but it'll take head-to-head timings to show how much quicker the SSD is. Don't forget too that 64GB SSDs tend to be the slowest of the lot, the read and certainly the write speed rising as you pack in more capacity.
Verdict
So am I tempted to toss £849 on an 11.6in Air? As a lover of small, slim, lightweight computers, I sure am. The problem is that, since performance is inevitably limited by form-factor in this and all similar sized machines, it's not going to be radically better than my year-old Acer Aspire Timeline 1810TZ, which, incidentally, can deliver 50 per cent more battery life than the Air and has Gigabit Ethernet, a third USB port and a SD card slot.
But it's also heavier and considerably thicker. And it runs Windows 7. I could hackintosh it, but those who have report that not all the parts work under Mac OS X, in particular the Wi-Fi and sleep mode, two features I rely on.
Yes, there will always be a comparably sized machine that's cheaper and/or more featured than the 11.6in Air, but you'll be hard pushed to find one as good looking and a sheer bloody portable. And as anyone who, like me, has dropped an Air before, that aluminium casing can't half take some punishment. ®