Original URL: https://www.theregister.co.uk/2010/10/22/games_review_fallout_new_vegas/
Fallout: New Vegas
Has the King left the building?
Posted in Personal Tech, 22nd October 2010 12:00 GMT
Review Ever wanted to tangle with mutated creatures - and I'm not talking about the strippers - in a post-apocalyptic Las Vegas? The new Fallout installment now comes with added factions and pimped-out weapons, allowing you to wander the Mojave Desert in style before taking your rightful title as King of New Vegas.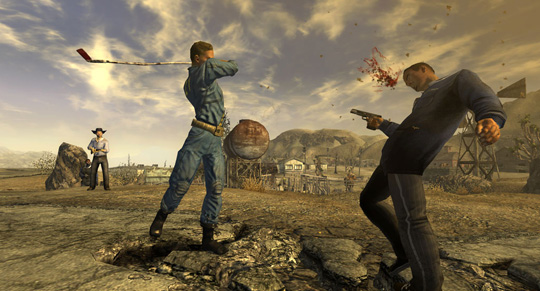 Got a gun? Join the club!
This isn't the kind of town in which to make enemies. It's obvious I've upset someone badly as the game starts, showing a view of the Las Vegas strip which pulls out to encompass the Mojave desert, right before I get shot, JMFL. But its OK, that's just the intro. I'm left already feeling like I have walked into a The Road/Book of Eli mash up. Welcome to 2281!
I wake up with Doc Mitchell tending to my wounds and, after a few minutes of character-customisation - I was tempted to be good natured, but of course ended up with 'wild wasteland' as my character trait - it's off out into surprisingly familiar territory.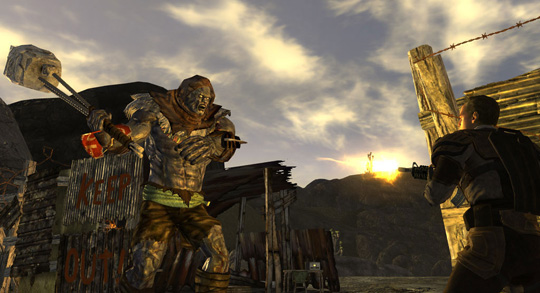 After Bill & Ted's Bogus Journey, Death found Hollywood could be a cruel place
Obsidian, the developer in charge of Fallout New Vegas has taken everything that made the Fallout 3 nuclear wasteland hot and kept it intact. New Vegas has the same technology and basic functions as Fallout 3: for example, you still wear a Pip-Boy on your arm with displays for your quest, inventory, map and stats. The same surreal 1950s cheeriness crossed with post-apocalyptical grunge is evident. The basic structure is still there but has been built and improved upon.
A man's best friend
Going for a more squad-like feel, Obsidian figure there's not enough fun to be had with one partner and have given you two: one humanoid and one non-humanoid - Rex the cyberdog = love - to keep you company. Just don't be worried if they have a tendency to disappear for hours at a time. The AI is still pretty limited - they can't jump fences and will spend ages going the long way round. I must say, I do miss Dogmeat, even if he did wander off and get himself killed all the time.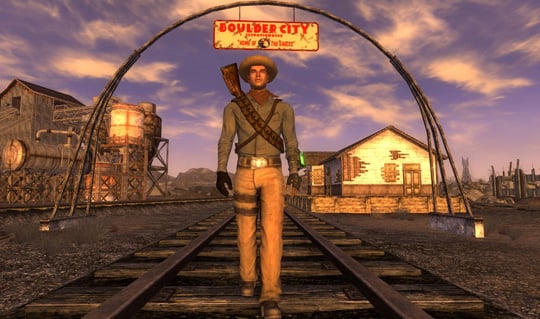 On track to leave on time
One of the training quests helps you get to grips with the pause-and-select VATS targeting system copied from Fallout 3. And, after a bit of lady-on-lady gun skills with Sunny Smiles, it's time for more wandering.
This game has sandbox written all over it. After the initial customisation section, you can wander all over the dusty unforgiving hills of the Nevada desert in a surprisingly enjoyable and non-linear way. This leaves you time to hook up with a side quest or shoot the shit with one of the more colorful characters you may come across while the sun goes down.
There do seem to be several paths to follow, depending on which faction you decide to buddy up with. Caesar's Legion or California Republic... choices, choices. I might just hang with Mr. House in the Lucky 38. If I can get past the Securitron Robots, that is.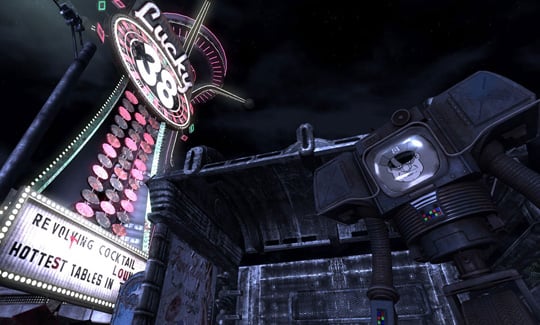 Feeling lucky? Well, do ya?
By this point, I am struck by the fact that this game is massive. You can spend at least 60 hours or more with a mixture of main quests, side quests, faction building and whatnot. I wandered around vast areas surrounding New Vegas and if I saw something on the horizon, I could take the time to wander over and check it out - or kick its arse. There are plenty of enemies to be on the watch for - running into Ghouls or Nightkin made me wish I could buddy up with Mad Max.
Spring a trap
Rolling into Good Springs on a revenge mission, those Ghouls did leave me for dead, I recall. I do my good deed for the day helping out the locals chase off some undesirables. In gratitude, the villagers helpfully spill the beans on the whereabouts of aforementioned assholes. Better trundle past those rabid Geckos along to Nipton where I try to avoid looking at those less lucky wanderers strung up on crucifixes.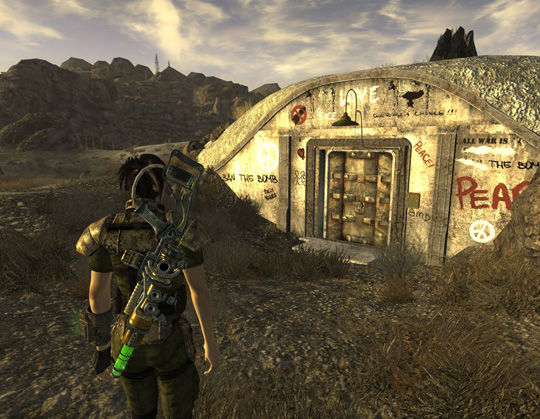 Going underground
I'm mad about graphics, and you now play in a colour scheme that's shades of yellow and orange as apposed to grey. That's better, but I still really wasn't stunned. The city of New Vegas stands out as vibrant and glitzy but only in comparison to the rest of the landscape. I know that scrub desert can be a bit limiting aesthetically but for this kind of money and from this kind of title, I demand stunning.
It's the same with the characters and animation. They were cutting edge when Fallout 3 came out in 2008, but the bar is constantly being raised, and Obsidian has fallen short. Let's just hope that by Fallout 4 they decide to make an effort. I did love the visual kitsch junk house of No Vacancies (NOVAC) though, especially the dino crumbling look-out tower.
Some of you will make the point that this game is all about hardcore mode - which is all about food, water and sleep. I admit I didn't play hardcore - I can imagine it being realistic but too long. It's a fine line between stimulating realism and a grind. I would like to know what it unlocks, though.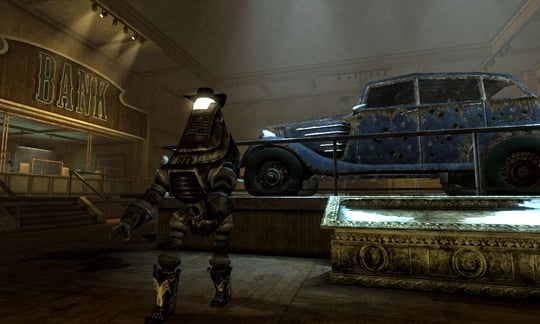 Only robots work in the bank
Verdict
Fallout New Vegas was lots of fun, but isn't really the major step up from Fallout 3 that I was expecting. I did like the fact that I couldn't predict where the game was leading me, and to all intents and purposes I was free to wander at will. Plenty of players have moaned that they liked various earlier installments of the game better than this one, for a variety of reasons, but I think their main disappointment was that this didn't seem like a standalone game. Has over-familiarity bred contempt?
I would also like to add that I am gutted that all the DLC has been snapped up by Microsoft, leaving this Sony fan hot and bothered. Ah well, must be time for some cactus juice... ®
More Games Reviews

Medal of Honour
Fifa 11 vs
PES 2011
Enslaved:
Odyssey to the West
Castlevania:
Lord of Shadows