Original URL: https://www.theregister.co.uk/2010/10/21/silverlight_5_at_pdc/
MS to unveil fresh Flash challenge next week?
Silverlight MIA - for now
Posted in Software, 21st October 2010 09:38 GMT
Microsoft may next week detail the next instalment in its Silverlight challenge to Adobe Systems' Flash.
It has finally published details of sessions for its Professional Developers' Conference (PDC), and of the 34 sessions two have place-holders instead of abstracts.
One of those sessions covers Silverlight, and comes with the message: "This will be a great Silverlight session, but we can't disclose any details until after PDC keynotes."
Delegates are encouraged to check back in after the keynote for additional details about the session.
That keynote will be delivered at the start of PDC on Thursday morning by the president of the business unit that's home to Silverlight - Bob Muglia, of server and tools. He'll be speaking during a two-hour session with Microsoft chief executive Steve Ballmer.
The second session missing an abstract is called "lessons learned from moving a major Microsoft application to the cloud", and says further details will be posted after the keynote.
None of this proves Silverlight 5 - the next version of Silverlight - will be detailed or code released, of course.
Circumstantially, though, the facts point to the possibility of news.
Microsoft could use PDC to make a Windows Phone 7 announcement, as there are sessions at PDC on Microsoft's latest mobile operating system. Windows Phone 7 has just launched but is based on Silverlight 3 and 4, and there's now discussion of Windows Phone 8. Details on Silverlight 5 or pre-release code is another option.
Microsoft has announced products during the keynotes of its past conferences, and used sessions to dive into the technical details for eager programmers.
The company has used its annual PDC as a platform to target developers with Silverlight before. Microsoft delivered the beta of Silverlight 4 at PDC 2009 in November last year, with final code released in April this year.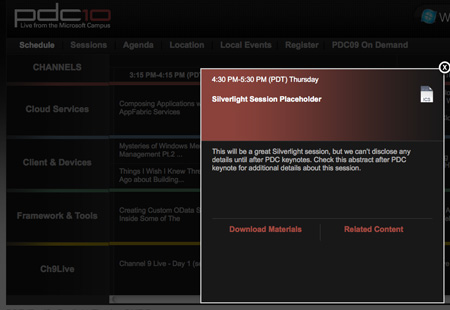 This is not a message, or is it - Silverlight 5 coming to PDC?
Further, Microsoft's event will take place during the same week as Adobe Systems' annual MAX conference in Los Angeles, California, where Adobe's expected to promote Flash among the same developer and partner crowd Microsoft is targeting with Silverlight.
Microsoft and Adobe have a habit of trying to eclipse each other's events. Microsoft began paying, shall we say, "homage" to Adobe's MAX four years ago by launching MIX - Microsoft's own event targeting the same audience of web and content creatives that Adobe aims for with Flash.
MIX 2006 first discussed Windows Presentation Foundation (WPF) a subset of which went on to become Silverlight, which became the focus of MIX 2007.
Microsoft would not comment on the possibility of Silverlight news at PDC. In a statement, it said: "PDC sessions are always a great place to hear more about Microsoft products, but we have no additional information about Silverlight to share at this time."
The PDC agenda itself was finally squeezed out by Microsoft just a week before the actual event, on Wednesday afternoon - insultingly late by any standard.
Typically, conference organizers give their delegates months of notice on their shows' content, so attendees can plan their trips and persuade bosses their conference is worth attending.
This time, Microsoft either had nothing to offer or wanted to keep the show under wraps for some hard-to-see super-secret reason. Badgered by The Reg for a detailed agenda, Microsoft's PDC team responded with vague promises of how they were targeting "end of this week". Then they just stopped responding.
The absence of an agenda has annoyed some and seen others decide simply not to go.
The latter might have been Microsoft's objective, of course. PDC 2010 is a vastly scaled down affair compared to past year's events. Normally, held in downtown LA with delegates bussed in from across the city, Microsoft's cut down by hosting on its campus and slimming down the attendee list. Most people will watch on the web.
As for content, it's difficult to see from the 2010 agenda where the really big news or vision is. Bill Gates detailed the ambitious Longhorn at PDC 2003, that became the Windows Vista albatross, while chief software architect Ray Ozzie unveiled Microsoft's Azure cloud in 2008.
Of the 32 sessions where Microsoft does detail the content, only one talks of new technology: the roadmap for C# .NET and Visual Basic .NET with Microsoft technical fellow Anders Hejlsberg, who helped create C# .NET. ®