Original URL: http://www.theregister.co.uk/2010/10/21/review_smartphone_htc_hd7_o2/
HTC HD7
WinPho 7 gets the big-screen treatment
Posted in Personal Tech, 21st October 2010 11:00 GMT
Review Once the anonymous creator of white-label handsets for the networks, HTC has moved firmly centre stage with its own-brand Android and Windows Mobile handsets. The HD7 is the first of a plethora - seven of them actually, hmm, coincidence? - of new Windows Phone 7 handsets, part of a major push to relaunch the not-much-loved OS with a new look, new abilities and, perhaps, new cool.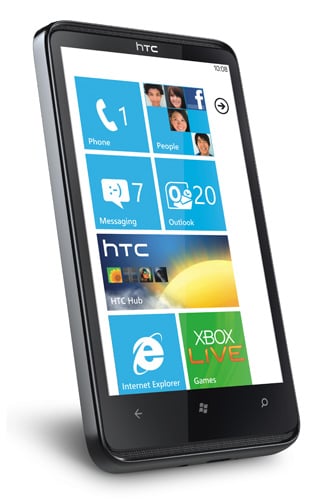 HTC's HD7: Windows Mobile reborn
If anyone was going to make Windows Phone 7 look good, it was going to be HTC, and it's done a fine job in the style department with the HD7's glossy black minimalist sheen.
The HD7 isn't small, measuring a hefty 122 x 68 x 11mm and weighing 162g, and from the front it looks solid and brick-like. Turn it on its side, though, and it reveals tapered edging towards the back which makes it seem like a little less of a handful. The 4.3in screen dominates the front of course, with a little room for three touch sensitive buttons beneath it: home, back and search.
On the sides are a volume rocker and camera shutter button, with micro USB power/sync port and 3.5mm headphone jack on the bottom - not so weird as it sounds, since it doesn't matter which way round the handset sits in your pocket, and it's certainly better than having it on the side.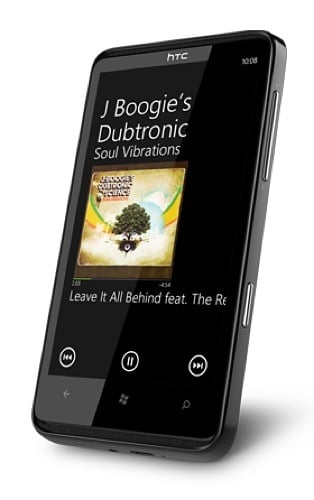 Designed with media in mind
The back casing is made of that tactile rubberised plastic that HTC is so fond of. The 5Mp camera and twin LED flashes are set within a hinged surround which flips out to act as a stand for hands-free video watching.
Big screen treatment
The 4.3in, 480 x 800 capacitive LCD touchscreen offers multi-touch capability, so it can pinch to zoom. It's not the very last word in sharpness perhaps, but neither is it significantly behind the AMOLED screens from Samsung and others.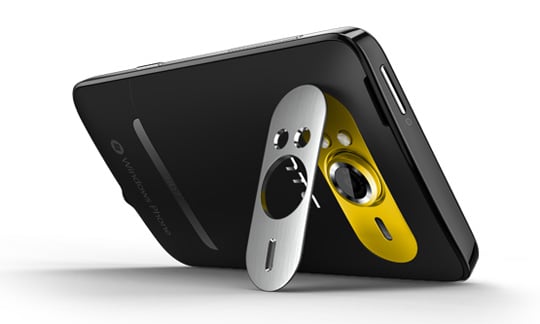 The camera surround folds out to form a stand for video viewing
Pre-recorded videos look great on the big screen, which didn't show any sign of sticking or judder, helped no doubt by the 1GHz Qualcomm Snapdragon processor, which also did a good job of maintaining smooth transition between apps and keeping the UI nicely fluid. The video player seemed to be very forgiving of formats and played videos I've been able to play on few other phones.
The Windows Phone 7 interface may not be leaps and bounds ahead of the competition but it's eye-catching, practical and many strides ahead of its predecessor. The main functions are laid out in neat little tiles, many of which change their appearance depending on what content they lead to and which can be arranged to your taste.
There are lots of nice little design touches too, such as the selection of your photos that appear behind the gallery of thumbnails in your photo library. Not that there's anything wrong with the icon-based likes of the iPhone and Android, but it's nice to see something that looks genuinely different for a change.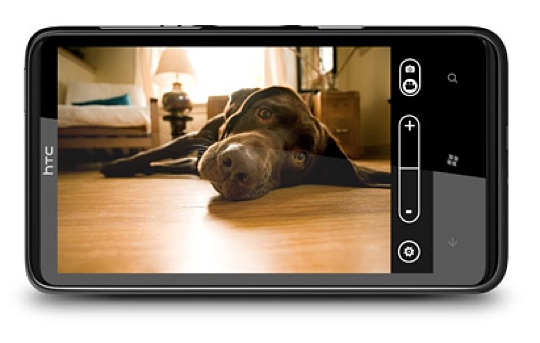 Record video at 720p HD
WinPho 7 will pull your Facebook contacts into your address book, and social network functions are generally built around Facebook and Windows Live, though you can add apps from Twitter and others by downloading them from the Windows Marketplace.
HTC adds apps
HTC's Sense UI isn't so strong a presence on this phone as it is with the firm's Android handsets - WinPho 7 has some very strict guidelines, in this regard - but there are still some pleasing elements, such as the HTC Hub, which you access from a button on the home page and offers HTC-specific apps, such as the weather, stock prices, a photo enhancer, a sound enhancer and so on.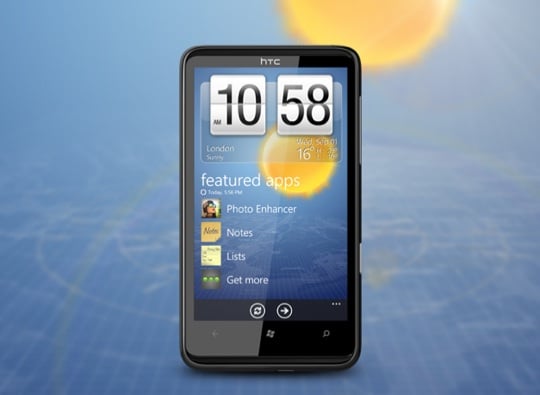 HTC's Sense UI is here relegated to one WinPho 7's 'hubs'
HTC has been fond of its weather app since the early days of the Sense UI and it's getting more elaborate with each update – this version has you flying through clouds each time you open it.
That said, the apps within the hub can be added to the main screen for quicker access. Unfortunately, though, they present a static face quite at odds with Microsoft's notion that the home page tiles should display useful information and update as the data change.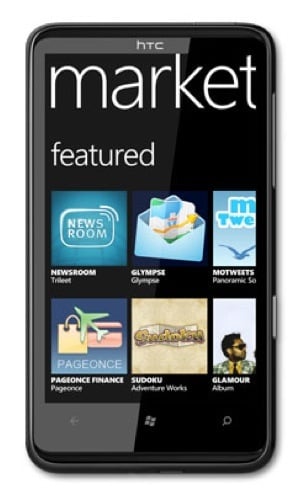 More apps are available from the inevitable Marketplace
Incidentally, the sound enhancer is an equalizer with different settings for music and movies, as well as processing modes such as Dolby Mobile and SRS Enhancement.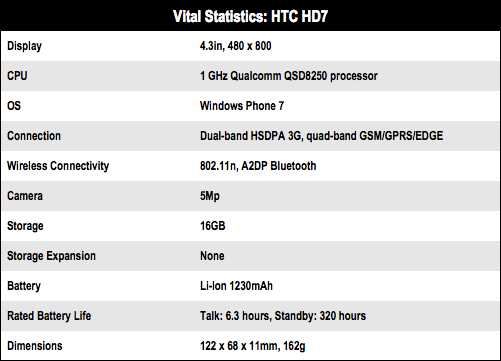 Windows Photo 7
The cameras HTC has built into past handsets have never had a good reputation, with the snapper often the weak link in a series of otherwise perfectly fine smartphones. For the HD7 the manufacturer has raised its game a little and delivered, if not quite a winner, then at least something that doesn't let the side down.
It's a 5Mp number with autofocus and a selection of shooting modes, including macro, though there's no smile or face detection. Picture quality is good, with reasonably sharp edges and a minimum of blur, though the colour balance can be a little bit off on occasion. It can record HD video in 720p resolution too, and the results are much sharper and viewable than what I've seen on previous HTC handsets.
Sample Shots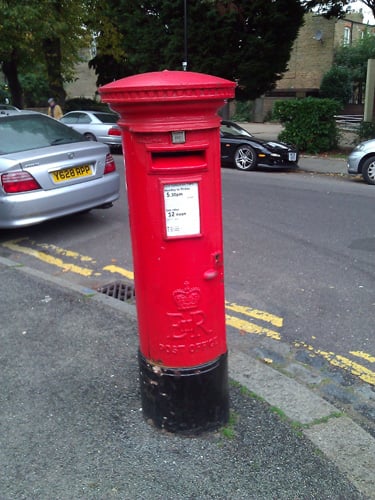 Click for a full resolution image
Good performance
Very unusually for a non-Apple smartphone at this level, there's no option to expand the 16GB storage using memory cards.
The browser is guaranteed a fast connection over 2.4GHz 802.11n Wi-Fi or HSDPA 3G, and rotates to landscape mode when you turn it on its side. Bizarrely though, navigation options only seemed to be available in portrait mode. You can display multiple pages and search for key words, but it lacks the scope of options you'll find on Android handsets.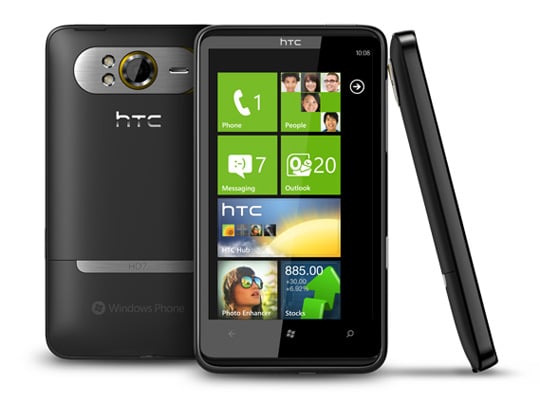 Stands up well against the competition
To sync the smartphone you use Microsoft's Zune software, which takes a bit of getting used to but integrates neatly with Windows, linking up automatically with your pictures and music folders as well as Outlook.
I could list a number of WinPho failings, but don't forget that this is version 1.0 and it's a platform that will evolve and grow. Microsoft has already promised an update early next year that will bring on board the absent cut'n'paste facility, and hopefully it's learned enough from Apple to know that punters want regular, free updates.
For a phone with so much connectivity, a fast CPU and a big screen, the HD7's battery life held up fairly well, delivering a little over a day of fairly intense use. I had no complaints about call quality and the HD7's ability to pick up and keep a signal
Verdict
The HTC HD7 with Windows Phone 7 - available in the UK exclusively on O2 - may not be the game changer that its creators would have hoped for, but it's a powerful, capable device with an OS that stands up well against the competition, and offers a strong range of multimedia capabilities. ®
More HTC Smartphone Reviews

Wildfire
Smart
HD Mini
Desire