Original URL: https://www.theregister.co.uk/2010/10/20/group_test_11in_notebooks/
11.6in sub-notebooks
Mini-laptops for the weight-averse
Posted in Personal Tech, 20th October 2010 07:00 GMT
Product Round-up If you're searching for a grab-and-go computer that's lighter and more portable than the average 13in machine, yet has has more welly and a higher-resolution display than a netbook with a 10in, 1024 x 600 screen can provide, you're essentially looking for an 11.6in notebook.
Like netbooks, these guys generally lack optical drives, dropped for size and weight reasons, but have the graphical horsepower for playing back full HD video. Being larger than netbooks, they generally pack roomier keyboards and bigger batteries too, though this time the power packs are generall well integrated into the chassis, rather than bulging out of the back or base as if added as an afterthought.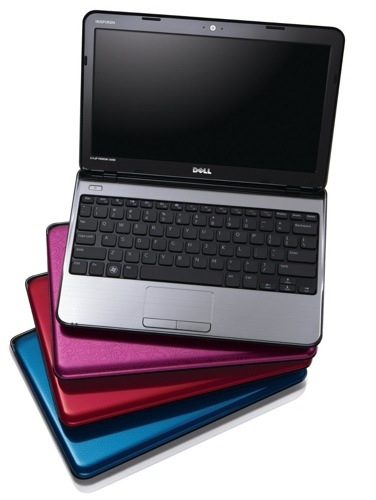 With full notebook CPUs, often dual-core, they can deliver a reasonable, responsive performance, but it's their standard 1366 x 768 screen resolution that really impresses. The display may be physically smaller, but it's the same number of pixels as almost all 13in and 15in notebooks available today.
Yet this comes in a package that's only slightly larger than a netbook, making the very portable and easy to carry around for long periods of time without straining your shoulders. Believe me, I've lugged around everything from 9in netbooks to 15in notebooks, often for hours at a time while walking round shows. And when it comes to performance:weight ratios, the 11.6-inchers are in the winning category.
You can see why Apple might want to re-release its MacBook Air as an 11.6in machine, if indeed it's planning to do so, as rumours have claimed.
So I've brought together eight sub-notebooks - seven 11.6in models and one 12-incher - to see how they match up, comparing the performance they deliver, the features they offer and their single-charge longevity.
You'll find the test results on the next couple of pages, followed by the machines themselves, in alphabetical order.
Benchmark Results
PCMark Vantage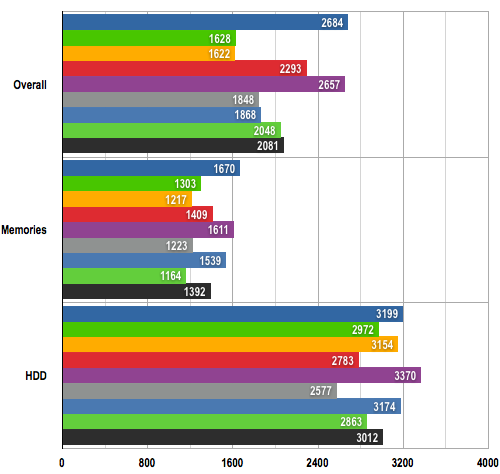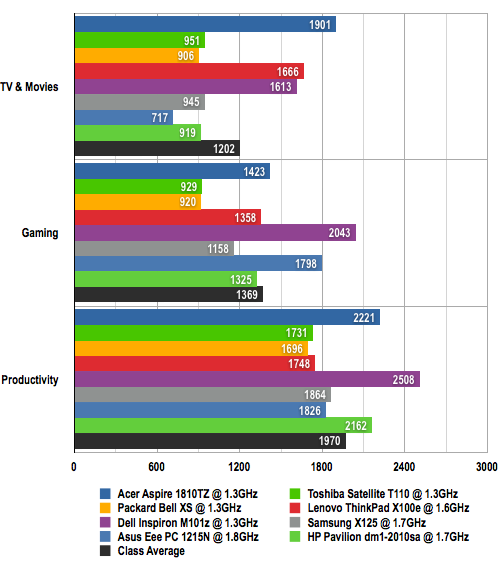 Longer bars are better
Benchmark Results
3DMark 06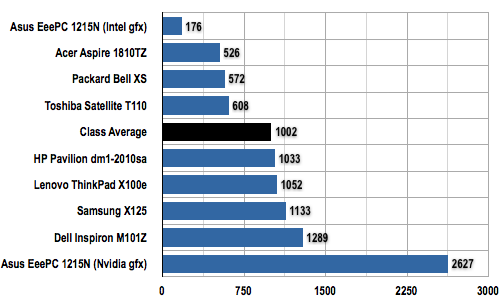 Longer bars are better
PCMark Vantage Loop Battery Life Test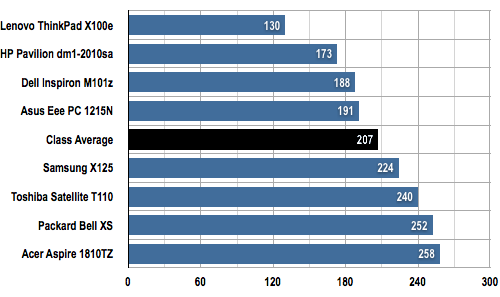 Battery Life in Minutes
Longer bars are better
Acer Aspire Timeline 1810TZ

The 1810TZ was, for a long while, Reg Hardware's choice of 11.6in notebook, offering a level of performance in excess of rival machines thanks to its dual-core Pentium SU4100 CPU and their single-core offerings. But it's long in the tooth now, and soon to be replaced - though it's widely available, especially in its pricey Special Edition form. I'd give it consideration, however, if you're after a long battery life. It managed well over four hours in the Reg Hardware test, which means more than eight hours in the real world - and when I've disabled Wi-Fi and dimmed the screen, I've seen Windows 7 report more than 11 hours' runtime available.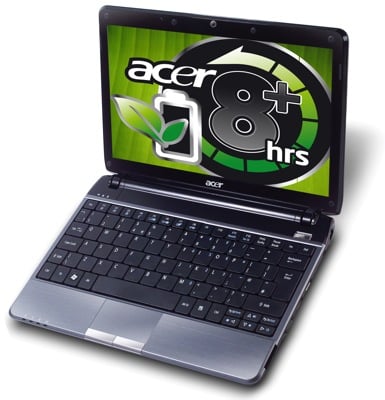 Reg Rating 70%
Price £429
More Info Acer
Asus Eee PC 1215N

Asus' sub-notebook is unique among those gathered here for a number of reasons. It has a 12.1in screen - only slightly larger than the average - and an Atom processor: the 1.8GHz D525. It also incorporates Nvidia's Ion 2 chipset, enabling it to support HDMI output and the customary 1366 x 768 display. It also has a pair of USB 3.0 ports, and Bluetooth 3.0.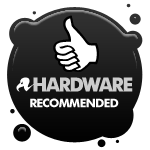 If the features list doesn't impress, its graphics performance will. It's well ahead of anything else here, graphically, though its dual-core CPU won't match AMD or Intel's notebook-class chips. And, in this class of machine, CPU is more important than GPU.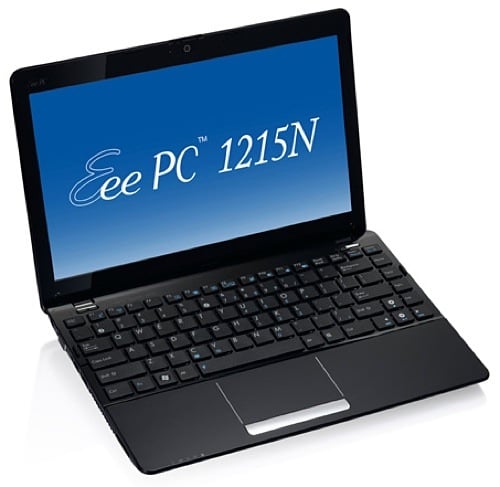 Reg Rating 80%
Price £429
More Info Asus
Dell Inspiron M101z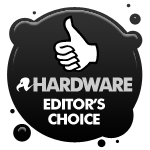 I have to hand it to Dell, it has come up with a very nice notebook. Thanks to a generous spec - 1.3GHz dual-core AMD Athlon II Neo K325 processor, ATI Radeon HD 4225 graphics and 4GB of 1333MHz DDR 3 memory, the M101z punches above its weight. With its glossy gun metal grey interior, it looks good, and if it seems a mite bulky, it's because of a 56Wh battery, which delivered more than three hours' runtime in tests. All the right ports are present, and the keyboard is solid. The M101z feels well built. It's pricey, mind, though you can shave a bit off by accepting only 2GB of memory - I'd avoid the single-core model.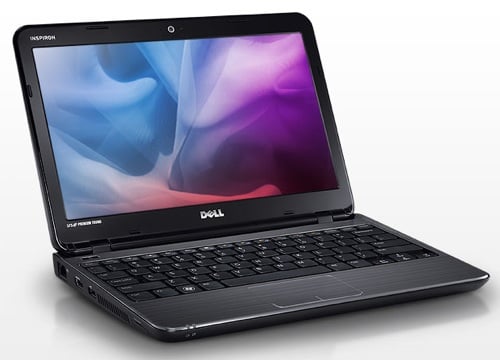 Reg Rating 85%
Price £499
More Info Dell
HP Pavilion dm1-2010sa

I asked HP to supply one its dm1 sub-notebooks for this round-up. While the company's website lists the dm1-1100, a dual-core 1.2GHz Celeron-based machine, it actually sent us the dm1-2010sa, a version based on AMD's single-core Athlon II Neo K125, the same as the one in the Samsung X125 (see below). Now this is odd: HP's website says the machine is now obsolete.
That said, it still appears readily available from a number of resellers, so I'll give it a go. It performed as well as other machines based on one-core CPUs, its PCMark score lifted by better graphics. And it's a nice notebook that augments Windows with DeviceVM's Splashtop fast-boot OS for quick access to email, the web and your media files. But there are faster machines for only a little more outlay.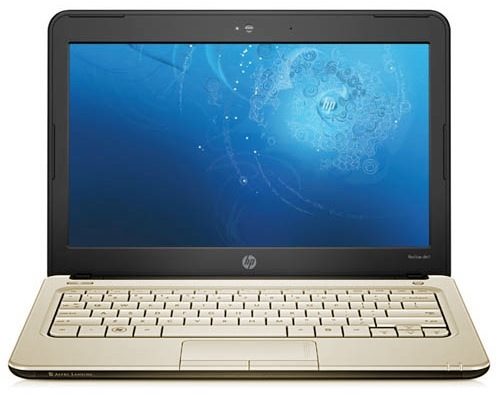 Reg Rating 60%
Price £399
More Info HP
Lenovo ThinkPad X100e Enhanced

Lenovo has equipped its 11.6in laptop with an AMD CPU, but unlike many AMD-based sub-notebooks, it's a dual-core part, the 1.6GHz Turion Neo X2 L625. The upshot is a more nippy response to your commands.
Unlike all the other notebooks here, the X100e is starkly utilitarian in its looks, but is appealing in an all flat faces, all straight lines, all matte kind of way. No frivolous curves here - or HDMI output, for that matter. But you get all the other important ports, mobile broadband and one of the best keyboard and trackpad combos around - plus the ThinkPad nipple too. And a matte screen. Points lost for including a 32-bit OS, though.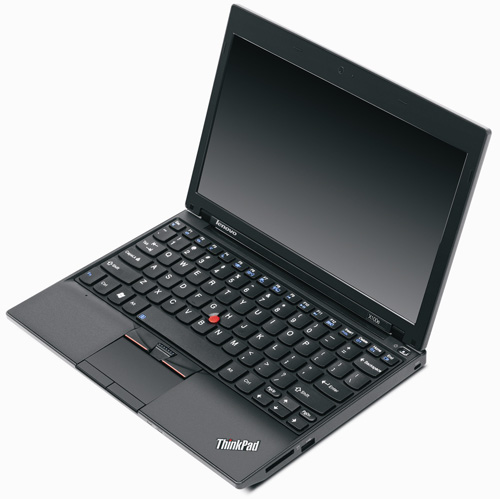 Reg Rating 75
Price £667 discounted to £429
More Info Lenovo
Packard Bell Butterfly XS

Packard Bell - now part of Acer - is the only vendor that equips its 11.6in notebook with an optical drive. The additional weight amounts to 100g or so - not much, essentially - and it doesn't really bulk up the machine any.
Being an Acer, it's well made, but the use of a single-core processor - a 1.3GHz Intel Celeron 743 - slows things down, especially for running multiple apps. Having only 2GB of memory doesn't help either. The screen looks good; the flat, broad keys are nice to type on; and it comes with a 64-bit OS. Even the trackpad isn't bad.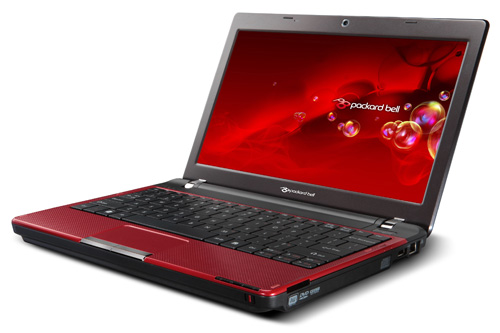 Samsung X125

The X125's rather nice exterior holds within it parts that ought to make for a decent notebook: reasonable software bundle, plenty of hard drive space, integrated graphics that are above the norm, and even Bluetooth 3.0. If the trackpad is a little on the small side, at least the calculator-style keyboard is good to use. The battery life isn't amazing, but it is above average. No, the problem here is that Samsung has chosen to fit a single-core processor, which means the machine puts in a sub-netbook performance that really nags when you start running more than one app at once. It only has a 32-bit OS, and doesn't come as cheap as other one-core laptops here.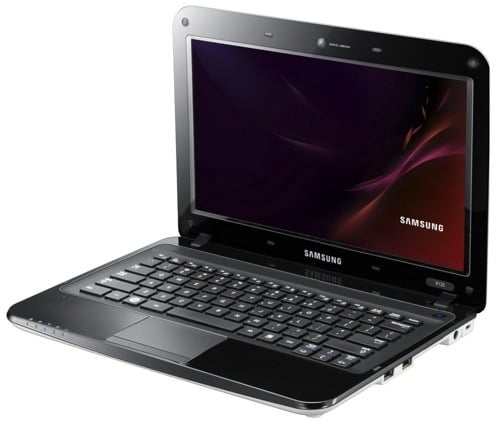 Reg Rating 70
Price £450
More Info Samsung
Toshiba Satellite T110

Toshiba's 11-incher is one of the glossiest, smartest looking and slimmest laptops here, but like a number of its rivals it comes equipped with a single-core processor. That, plus the Intel graphics, don't make for a performance machine, leaving it as little more than a netbook with a bigger, higher res display. The quid pro quo is a strong battery life, a 64-bit OS and Toshiba's extensive array of bundled utilities. But with a more advanced model, the T210, just launched - and yes, one was requested from Toshiba - it's hard to recommend the T110 unless you can pick it up at a discount.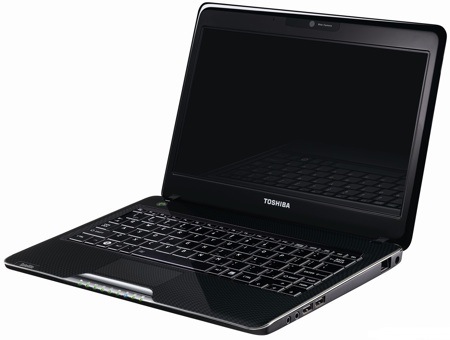 Reg Rating 60
Price £399
More Info Toshiba