Original URL: https://www.theregister.co.uk/2010/10/18/choruss_no_more/
Legal P2P venture fails
Singers wouldn't join the Choruss
Posted in Policy, 18th October 2010 14:16 GMT
Choruss, the ambitious attempt to bring legal music file-sharing to US colleges and into the home with the backing of the major labels, has stumbled. "I blew it," founder Jim Griffin now admits.
Choruss began as a skunkworks project within Warner Music to turn file sharing into a paid-for service. It was devised in response to universities' concerns about the waves of Recording Industry Association of America (RIAA) litigation targeting students. It came together in late 2007 as the RIAA's members were realising the litigation was counter-productive. Choruss had the tacit support of the biggest labels to go forth and experiment.
Griffin has long advocated a collective licensing approach to digital music - as he explained here in 2003 and at length in an interview with your reporter here in 2004. When technology makes copyright enforcement difficult and/or expensive, Griffin argued, it makes sense to license the works on a collective basis - as labels and publishers do with radio stations today, for example. A fee is negotiated with broadcasters, and then distributed on a per-play basis. Rights holders would still retain the right to walk away from negotiations.
The original Napster, shuttered by music industry lawsuits, had attempted to do something similar, as former Napster attorney Chris Castle explained here. The idea was to go legal, and offer file sharing as a subscription service. Griffin got the nod from the Warners at the end of 2007 to go forth and find partners for the venture. It certainly was ambitious: your reporter recalls how university alumni would eventually be offered the deal, too. The project acquired a name and a holding company - Choruss LLC. Then it all went quiet.
By last year, Choruss had been spun out from Warner Music, and had become an "umbrella" for what he described as on-campus experiments. Last June Griffin claimed that "thousands" of students were signed up for these experiments. "We can soon approach ISPs with metrics in hand, not speculation," he said.
Universities make the ideal testing ground for new music experiments - but bids to use students as guinea pigs have foundered on academia's privacy requirements.
In an interview with GigaOM, Griffin now admits the venture is over. Choruss had signed three of the four major labels and the moribund AudioGalaxy as client software. Griffin now blames the songwriters for failing to back Choruss. But songwriters and their publishers have collectively licensed for decades - since the death of sheet music, in fact - and unlike the labels are the keenest to embrace new music start-ups. Their reluctance to sign up to Choruss, we may conclude, was based on some deep reservations.
Why did it fail?
Collective licensing looks a quick, easy fix to the problem of file sharing. But the devil's in the detail, and the idea had plenty of critics. A blanket deal may set the price too low, so everybody loses. And while voluntary agreements create market incentives for both tech companies and rights-holders, it's hard to bring everyone to the table. Other critics denounced it as a music tax - as participation appeared to be compulsory.
More effective criticism came from inside the music business itself. Some were concerned that it undervalued the music, and it would fail to reflect the value music lovers place on the music. Others were concerned by lack of transparency. This reflected traditional suspicions between publishers and master recordings owners, with composers refusing a seat at the table.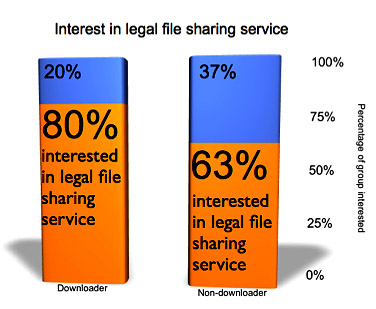 A 2008 survey of UK consumers found strong interest in paying for P2P file sharing

Ironically, Griffin is now pursuing the same path trodden by the original Napster founders, who also failed to get licences for the service, and instead moved into infrastructure. After Napster, Shawn Fanning started Snocap, which would provide a B2B infrastructure for other Napsters, in effect, providing such services as song identification and royalty distribution. Today Griffin says he's working on a global rights database - another useful piece of infrastructure.
And he thinks government intervention, possibly in the form of a collective licence imposed from above, is the only way to bring bickering parties to the table. ®