Original URL: https://www.theregister.co.uk/2010/10/15/review_soundbar_samsung_hw_c50/
Samsung HW-C450 2.1 soundbar
Sonic boon?
Posted in Personal Tech, 15th October 2010 07:00 GMT
Review Once you've tried upgrading the raw sound that comes from your TV, there's simply no way back. Virtually any dedicated sound system will be better than the speakers on even the most highfalutin of tellies. If you're looking for something less sprawling than a multispeaker surround set-up, the then Samsung's HW-C450 is aimed at you. This slim Jim soundbar doesn't take up much space, is easily mounted on a wall and delivers a 2.1 sound output for a decent price.

Channel strip: Samsung's HW-C450
The main soundbar has a slender, discreet look to it and measures 955 x 92 x 45mm while the subwoofer is a reasonable 175 x 35 x 295mm. There's no cover for the speakers, but that's not much of a problem when they're as appealing as these are. There are two pairs of 2in midrange drivers, each surrounding a 1in tweeter.
The HW-C450 comes with its own wall bracket and not being particularly heavy means it's easy to attach to a wall – a couple of screws into Rawlplugs ought to do it. A little panel of touch-sensitive LED symbols on top deal with power, volume up/down, soundfield (news, drama, sports, game, cinema, music and none) and input mode. There's also an LED display.
The subwoofer is the wireless type, which cuts down on cables and makes placement easier. It's not totally wireless, of course, you'll need to plug it into the mains, but it will connect to the main unit using a wireless link. It feels a little lightweight and cheap compared to the main unit, with little depth behind the 6in driver.
This soundbar bar is not exactly bursting with connection options either. There are two optical digital connections and one analogue. This is less than ideal if you want to take your sound directly from several different inputs such as TV, Blu-ray player, Sky/cable box and games console. The analogue input is a simple 3.5mm stereo jack socket, which is really intended for iPod or other MP3 players though it can also connect to your TV with a suitable RCA adaptor cable. There's also a USB port for receiving software updates.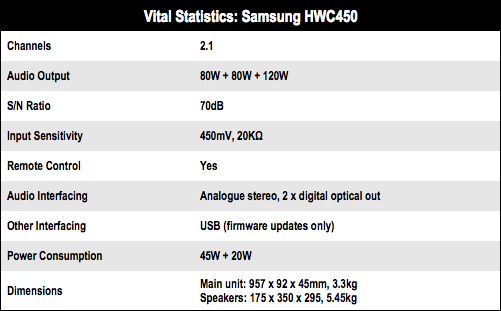 Clarity of purpose
It's easy to set up – effectively plug and play, with the sub finding the main unit in a few seconds and remaining connected ever after. As for the sound, the C450 delivers quality and clarity that belies its middling price. Speech clarity, in particular, was impressive, along with the overall soundstage proving convincingly broad. Bass from the slightly flimsy sub isn't of the first water and feels a little light, without the necessary grunt you'd expect from better systems. What there is though is respectably tight and focused, without resorting to needless boom.

The wireless sub minimises the set-up spaghetti
There's onboard decoding for Dolby Digital and DTS sound and it'll go fairly loud in a smallish to mid-sized room, with 45 watts on offer from the main unit and 20 watts from the sub. The various sound modes didn't seem to make a great deal of difference, besides reducing bass at various levels, so I ended up leaving the modes off, even when playing music, which it tended to deliver competently, but without any wow factor.
Verdict
The Samsung HW-C450 offers a pretty good sound upgrade from basic TV and delivers a clear, coherent soundstage that does a reasonable job of opening out film soundtracks. It's slim and reasonably discreet too, especially with that wireless subwoofer. At least one HDMI connection would have welcome however, or even a standard RCA analogue connection. There are cheaper soundbars, but the sound quality justifies the price, so long as you're not expecting to connect too many devices. ®
More AV Gear Reviews...

Teufel
System 5
Samsung
HT-C6930
Sony
BDV-E370
Panasonic
SC-BT735