Original URL: https://www.theregister.co.uk/2010/10/15/games_reviews_fifa_vs_pro_evo_2011/
Fifa 11 vs Pro Evolution Soccer 2011
It's all kicking off
Posted in Personal Tech, 15th October 2010 13:13 GMT
Review Loyalty in football is a strange thing. Through thick and thin, we stay behind our fave football teams. We remain very opinionated about which broadcaster is better. But we're all glory hunters when it comes to football games - we want the best. Loyalty only lasts so long. There's only ever been two footie games that bring such argument into heated dispute: Konami's Pro Evolution and EA's Fifa and it's been that way for quite some time.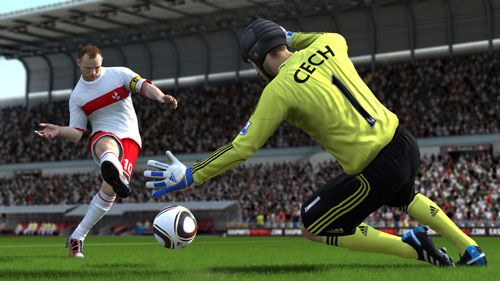 Keep Shrek in Cech
Although my first experience of football games was Italia 90 on the Sega Megadrive, I didn't get consciously interested until my SNES and International Superstar Soccer. I dabbled with EA after World Cup 98 on the N64, but when Konami's ISS Pro Evolution arrived on the PlayStation, the Fifa series was relegated to the subs bench. From then on, right through the PS2 era, Pro Evo never lost its appeal.
Until the next gen of consoles came along and EA had a competent platform to outclass, that is. Three or so years ago, I switched teams. With glances over my shoulder each year to constant disappointment, it appeared Fifa had pulled away. Last year's PES 10 was a far inferior game. Some of my friends disagreed, but I felt the realism of Fifa 10 outweighed the arcade-feel to PES that had struggled to evolve much from those PS2 days. There were improvements, but PES still needed the equivalent of a boot thrown across the players' dressing room.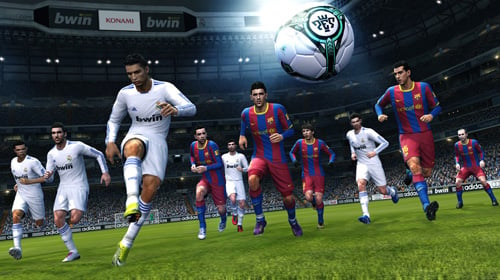 Ronaldo wasn't on any covers this year. Big-headed enough I guess.
Which is why, when I heard PES 2011 had seen an even bigger revamp and bridged the gap with its rival, I rubbed my hands in anticipation. My soft spot for PES is ever present and while I reserve no bias for either title, I definitely wanted a closer fight.
Painting the stadium
PES 2011 has certainly seen graphical improvements. The camera angle is naturally closer to the action and movements are fluid and more human. Enhanced facial animation and player movement makes for a realism that was lacking in previous versions. Cutscene animations are smooth, and the characters look very much like their real-life counterparts, especially posterboy Lionel Messi.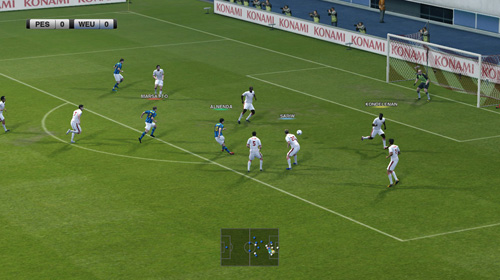 PES brings you closer to the action
However, as much as the in-game animations have improved, the arcade feel remains. Sluggish at times, the engine still frustrates and players appear somewhat detached from the surface they're playing on. It's difficult to place, but while PES 2011 is undoubtedly a huge improvement, it still feels like an entirely new engine that'll take a few seasons of development to polish. Foundations are set, though, and the future is positive.
Fifa 11 on the other hand doesn't suffer the same setbacks and continues with its already successful engine. Graphics are largely unchanged, but movement has been improved with the addition of player personalities. This brings greater realism and allows footballers to act more like their real-life equivalent - though there's no bedding £1000 hookers. The Drogbas are able to out-muscle defenders and hold the ball up better, the Ronaldos take to the field with arrogant swagger and while I haven't yet seen any Rob Green or Flappy-anski goalkeeping mistakes, I have found it impossible to score with Emile Heskey.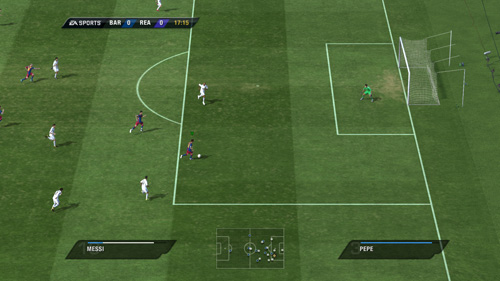 The field of view is wider in Fifa
Graphically, Fifa brings home the three points with ease. At first glance, PES is perhaps more impressive, but only due to the closer default camera angle. This position can't exactly be copied in Fifa, but when both views are a similar distance from the action, Fifa is in a league of its own.
Making the pitch
Pro Evolution 2011 has fantastic playability and the new "total control" certainly does the trick. Konami has enhanced the 360° passing ratio, offering extensive freedom to make the passes you want. Unfortunately, miscues of power can easily send a pass past your intended recipient and beyond, and players don't seem smart enough to understand what's happening in a game.
Tackles are harder, with more emphasis on manual control, but AI assistance is more responsive and doesn't bring players out of position as regularly as before. A choice of skills can be assigned to the right stick, but aren't limited by player ability. You can make Titus Bramble run up the pitch doing 360® turns and dummies, though it isn't exactly realistic.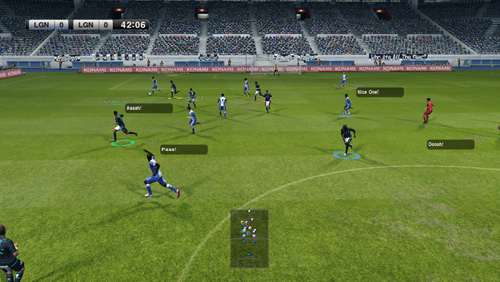 Life's a pitch and then you dive!
Referee decisions still frustrate, with red cards dished out too easily for sliding tackles. Yes, he may have been the last man back, but it was near the corner flag, not in the box! Players also tend to stray offside and stay there, not tracking back quickly, which can cause long passes forward to send the linesman's flag skyward.
While the new engine takes some getting used to, it's much easier than to get an exciting game going that it is with Fifa. With Fifa 11, most action takes place midfield and it's difficult to create space. The one-touch football that served so well in previous editions is now less effective, and scoring goals is ridiculously hard, especially from long range. Goalkeepers no longer come racing out one-on-one, so chip shots are fruitless. Not that that's a bad thing.
I've yet to score a free kick on Fifa 11 - it's so difficult. In contrast, I scored on my second attempt on Pro Evo. It's also less of a struggle in PES to find space, and you can take shots from distance, knowing there's a decent chance of scoring. In Fifa, I'm only usually successful with such shots in pro view which, while fun, has limitations and can't be used in regular multiplayer. Penalties are easier, mind.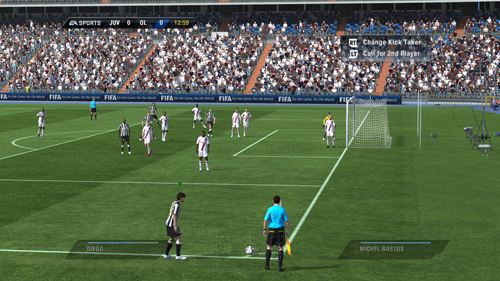 Gettin cross? Juv gotta be kickin..
When a mistake is made in Fifa, it feels like your own fault. In PES, more times than not, I'd scream at the computer for terrible response or referee blunder.
Aside from such, Pro Evo isn't as true to life, but you can't keep knocking a game for realism - at some stage you have to analyse its entertainment value. It's difficult to choose between the two titles in this aspect. PES is so fun to play but takes more concentration - switch off for a minute and you're punished for it. Fifa is more polished, you feel in complete control and, for me, remains the dominant force, albeit marginally.
The management
Many gamers spend as long tweaking teams as they do playing with them, hence the importance of managerial controls. While EA hasn't had the need to take major strides, Konami has had to sharpen up this side of the game, and it's made noticeable improvements.
Rather than the ineffective card-based profile nonsense of PES 2010, there's a drag-and-drop tactics board, similar to Football Manager. Every detail of a match can be planned, right down to 15-minute segments, which can be set by yourself, or a virtual manager. I'm not sure how effective all that is, but it's a nice addition. I prefer to hit play and get on with it, making a few subs along the way.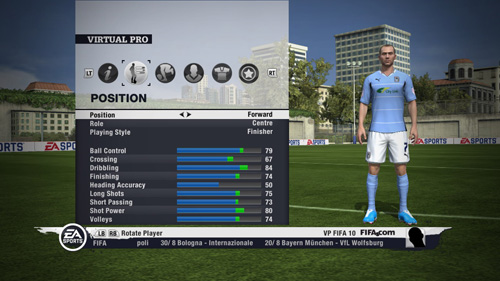 Stat's the way
While there seems more scope for tactical tweaks in Pro Evo, both games are more than enough and if you enjoy the management side to football that much, go buy Football Manager.
With a few name changes, Fifa 11 continues with the same features from last year, with the extra inclusion of a pro goalkeeper - though it's a boring addition. Running low on ideas, EA probably thought, 'may as well', and threw it in for good measure.
In an effort to keep up with Fifa's broad game modes, PES 2011 introduces a few of its own. In addition to licensed cup competitions such as Copa Libertadores and the UEFA Super Cup, there's now the option to play a Master league online. This gives the combined experience of managing a team against others and bidding for the world's greatest players. If you like the off-field management side of things, you'll love this feature and will be able to spend countless hours playing it and competing online. Me, I just want to play games, so didn't dive into it too much.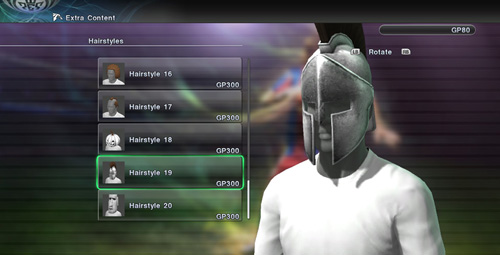 With enough coins, you can be Roman in PES and I don't mean Abramovich
When it comes to online play, PES 2011 doesn't compare. Fifa has it nailed down, and I can't see it beaten any time soon. It runs better, with smoother menu systems and ranking methods that show PES how it should be done.
The final score
Commentary is still poor in both titles and while Fifa makes a slightly better at it, the removal of Mark Lawrenson from Pro Evo is a huge improvement. However, mistakes and sheer stupidity are still present. The developers must enjoy Private Eye's Colemanballs commentary cock-ups column. When you miss a shot and get told "not a lot more he could have done with that one", you have to roll your eyes - O could have hit the target for starters...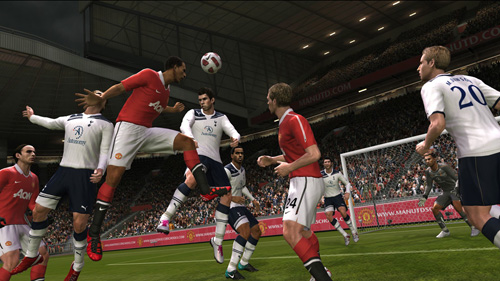 Ferdinand got Baled on
While Fifa has all the kit and team names intact, PES remains partially licensed - a serious downside. More teams are included this year but the only two from the EPL are Man U and Tottenham Hotspur, which is simply not good enough. Having correct kit and team names is part of the appeal and, although it boils down to finances and has no effect on gameplay, it does disappoint, especially when to play as my favourite team I have to settle for "North London", dressed in a kit that looks closer to Man Utd.
Verdict
The heated debate will rage on even more than ever this year, with PES fans given a decent leg to stand on. Pro Evo 2011 is a fantastic game in its own right but while it's fun to play and generates better action and goal chances, I can't help think Fifa is still a superior game overall.
It depends, though, on what you look for in a football game. If you prefer realism then Fifa easily takes the honours. It's smoother, more of a challenge and has the full licensing. The difficulty takes a while to get used to and goals are harder to score, but when they come, there's an added sense of satisfaction, especially when hammered in from a distance.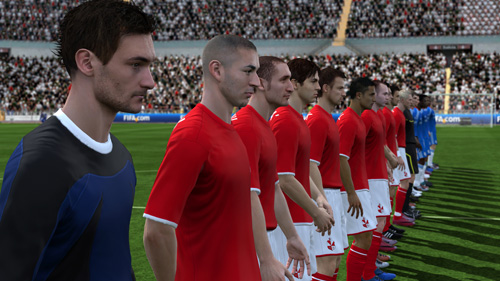 When they line up together, Fifa takes the trophy
If you prefer playability, with no care for official team names or realism, then Pro Evo is every ounce as good. It's an entirely different game to Fifa, but just as fun. Goals are regular and players are harder to tackle – which opens up more space for greater action.
If I had to choose one, though, I'd go with Fifa - it's the more professional and slicker of the two, and feels more of an overall challenge. However, I no longer need to squint back. PES has certainly bridged the gap and, who knows, next year I may switch teams again. ®
More Games Reviews

Enslaved:
Odyssey to the West
Castlevania:
Lord of Shadows
F1 2010
Dead Rising 2