Original URL: http://www.theregister.co.uk/2010/10/14/review_ipod_speakers_ixos_divo/
Ixos Divo 2.1 iPod dock and speakers
Sound reinforcement for your PC or TV
Posted in Personal Tech, 14th October 2010 12:00 GMT
Review While all-in-one computers can often knock out an intelligible noise, laptops and oft-mute desktops will always benefit from some sonic support. PC-friendly 2.1 sound gear has been around for some time now, with plenty to choose from. Yet what really makes the Ixos Divo stand out is its impressive appearance. Indeed, Ixos doesn't just want the Divo to nestle up to your PC monitor, the company suggests this audio eye candy could also live in the lounge tethered to your TV.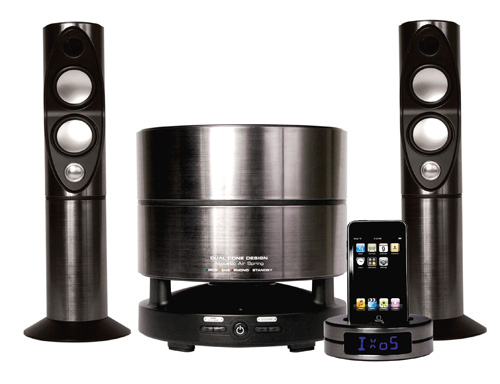 Full metal jacket? Ixos' Divo
Yet looks can be deceptive, the Ixos Divo appears to be clad in brushed metal, giving it a durable, industrial air, but closer inspection reveals that it's just a very neat synthetic finish atop a black plastic housing, about 3-4mm thick. This adorns the two mini tower satellite loudspeakers, the sub-woofer – that's reminiscent of a small rice cooker – and the puck-shaped iPod dock/charger that could easily be mistaken for a fashion victim's ashtray.
The black plastic remote control is about the size of a business card and deals with all the usual audio functions along with iPod control. Its membrane buttons might not suit everyone, but at least it'll be easy to keep clean and is likely to survive handling during deskbound slurping and scoffing sessions.
Rated at 45W RMS, the speaker array is comprised of two 50mm midrange drivers and a 15mm tweeter in each satellite – the enclosures are 300mm tall and 600g apiece. A 155mm bass driver sits the sub unit, which also houses all the amplification circuitry, but utilises an external PSU. At 185mm in height and 190mm in diameter, its quite a lump to have on the desk, but at 3kg is certainly sturdy enough to keep on the floor and features a screw-in mains cable, so it's not going to disconnect if kicked.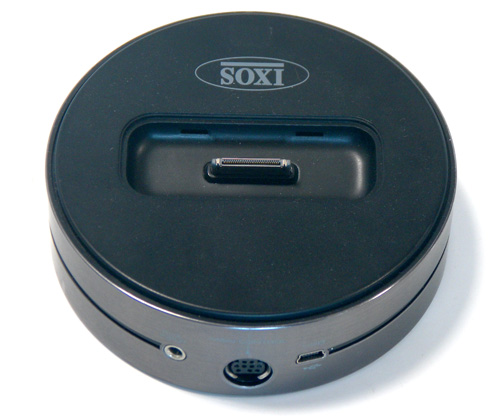 The dock includes six iPod mounts and also provides a 3.5mm jack aux input
Alas, the same can't be said of the iPod dock. Perhaps fitting for an Apple-orientated accessory, this device is hooked up to the sub unit using an 8-pin mini DIN cable, the sort that harks back to the days of LocalTalk. It's not a latching type either and, given the abuse use this review sample has had, this interfacing has worn very loose.
The cable guys
Admittedly, most users will plumb it all in and leave alone and the connection will be firm and secure from new. Even so, this choice of connector has revealed its shortcomings, as the slightest repositioning of the dock would traumatise the connection.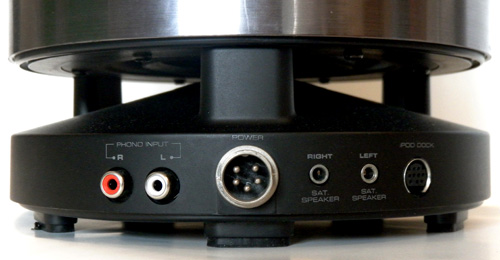 Vintage connectivity revisited: a mini DIN8 connection (right) is used to link with the dock
Talking of connections, besides the mini-DIN, the dock also has a 3.5mm jack input, for other portable audio sources, and a mini USB input to tether it to your computer, so your mounted iPod can be linked and sync'd to iTunes. The dock responds to the remote control, handy if the sub is on the floor, and features a status display with bright, segmented lettering revealing input source and the toggling to volume or bass and treble levels when tweaked from the remote.
Ixos somewhat redeems the Divo from its dock cabling issues, by including speaker cables of two different lengths: 0.5m and 4.5m. At both ends, gold-plated 3.5mm mono jacks are used to connect to satellites to the sub and having cable length alternatives keeps the desktop option tidy and gives room for manœvre when floor positioning the sub unit. However, this idea does seem rather inconsistent given that just one long dock lead is supplied.
The sub features additional connectivity having stereo phono line inputs for use with your PC's output or AV separates. It also has a main power button that will toggle through the inputs modes with repeated presses, with its status LED changing colour for iPod (green), Aux (orange) and Phono (red). Bass output and overall volume can also be controlled from its front panel buttons.
In use, the Ixos Divo proved itself to be fairly loud but certainly not deafening. The iPod dock option was left wanting though, being a fair bit quieter than the aux and phono options. Moreover, it soon became obvious that having the sub on the desk was not only a bit of an imposition in terms of space, but it didn't sound that great there either. Ixos describes the sub as an 'Acoustic Air Spring passive radiator subwoofer'. Whatever the science behind that, sonically it seemed mismatched, and testing the positioning on the floor proved to be a great improvement. Presumably it projects and disperses the low frequencies better there, than when heard on a tabletop.
The remote accesses all the Divo's functions and controls iPods too
While some might opt for maximum effect, it's really worth experimenting with the sub levels and bass and treble controls. I prefer to listen to music flat, so the mix isn't flattered artificially, but with this sort of set-up, the sub is integral and tweaking is necessary so it sits nicely with the satellite speaker playback.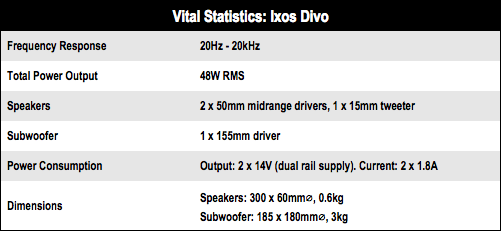 Location, location, location
Testing with an AAC file using the line input from iTunes, the solid bass on Donald Fagen's Security Joan had the sub grumbling, bordering on the flatulent when set to 31, around its max. Dropping to 22 was a nice balance, with warmth and clarity. Down to 18 and the overall bass sound was well defined, but no longer felt. Treble goes up to +14, which might be OK for dogs but is way too crispy. At +6 there was plenty of sizzle without the earache, but if the sub is set around the early twenties, then treble boosts probably won't be necessary except when listening at quieter volume levels.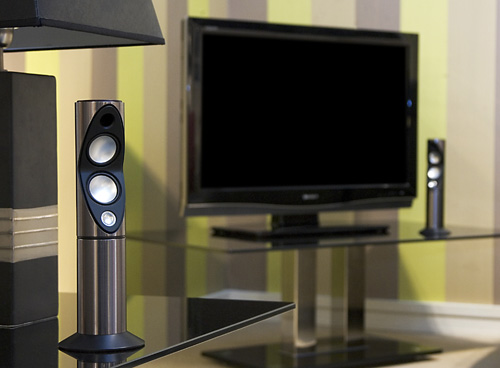 No surround decoding or spatial enhancements, but still adds a boost to a telly
The sub isn't all about grunt and grumble though, tests with Bach's Well-Tempered Clavier from an iPod revealed the capacity of the Divo's sub to bring out the more muted resonances of an instrument. Likewise, when using the line input to listen to the The Clash's Rock the Casbah from CD, the rubbery twang of the bassline was more evident, rather than it simply becoming a pronounced booming.
While desk real estate can limit speaker positioning, spacing the satellites farther apart is worth experimenting with. Moving from either side of a monitor to four foot apart significantly enhanced the soundscape, which had seemed a tad lacklustre. In tests, John Martyn's Solid Air really got some air, receiving pleasant lift and improved detail.
Movies also benefit, with Repo Men grumbling away quite nicely, with just a slight notch up on the top end to keep the dialogue clear. In fact, as Ixos readily suggest, the Divo could do the audio honours for a TV, and it certainly has sufficient volume to deliver in a small to medium sized sitting room, and wouldn't look out of place either.
Verdict
While purists would want additional aux inputs (they always do), the Ixos Divo does offer a level of convenience that covers most undemanding sound system scenarios, including cabling and iPod remote control. Be prepared to experiment with the positioning and the various sound balance settings and you'll get more out of it than you might have imagined. ®
More Audio Gear Reviews…

Ten Essential
Premium
iPod Speakers
Arcam
Solo Mini
Altec Lansing
inMotion
Compact
Sonos
ZonePlayer S5