Original URL: https://www.theregister.co.uk/2010/10/14/review_dvr_digital_stream_dhr8203u/
Digital Stream DHR8203U Freeview HD DVR
Going with the flow?
Posted in Personal Tech, 14th October 2010 07:00 GMT
Review Digital Stream is not a name that many people will be familiar with when it comes to PVRs – but that's not necessarily a bad thing; few had heard of Topfield or Humax before their very successful Freeview models appeared in the UK.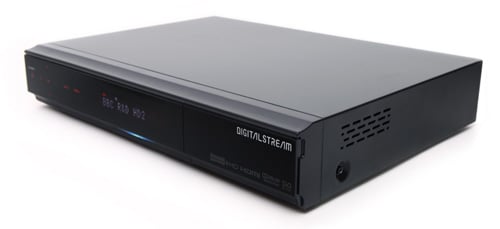 Fluid design? Digital Stream's DHR8203U
The Digital Stream DHR8203U is about the same size as Topfield's TF5800, with a sleek front panel that has a matrix display and touch sensitive controls, which light up when the unit's turned on. A flap at the right hand side covers two CI bays, and a USB port A.
The rear panel sports twin Scarts, HDMI, composite and analogue audio outputs, together with optical audio out, Ethernet and a further two USB A connectors, for external hard drives. There's also a fan outlet – which is fairly quiet in operation. As you'd expect in a decent sized box, the power supply is built in. The DHR8203U has a 320GB hard drive, while the 8205U is identical, except for a 500GB drive and a £20 price bump.
Personally, I found the buttons on the remote a bit on the small side, especially the Media button, which gives access to the recorded programmes, and the remote doesn't exactly exude quality either, alas. It's also worth mentioning that, frankly, operating the unit using the front panel controls is a chore, especially as there doesn't seem to be a 'repeat' when buttons are held down.
In use, the interface is ok; it's not as slick as, say, the i-Can EasyHD receiver, but at least it looks like it's been designed in the last couple of years, with clear colours and a consistency to the dialogue boxes. There are some minor annoyances, though – find a programme in the EPG and press the record button on the remote, and you'll just set a single recording. If you want to set up a series recording, you press the OK button instead, then choose between single and series.

USB interfacing supports external drives and the unit will replay other media
And, to access quite a few functions you have to press the white function button on the remote, then pick from a menu – which may itself have submenus before you get to the option you want. For example, the direct jump function allows you to go to a specific time in a recording, but requires several key presses before you can even enter the time.
Get with the programme
The programme guide is OK, but nothing special – surely Digital Stream could have managed more than just seven channels at a time? You can search by programme name, which is good – but not as good as being able to set up persistent searches that run automatically.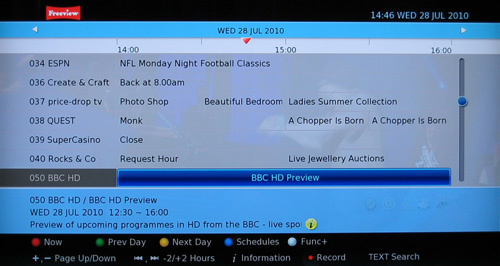 The EPG is nothing special, but adequate
Recordings are named with the date and time, which does make it simple to keep track of which recording has which episode in it at a glance, even if you've not listed recordings by date. Incidentally, recordings from BBC HD are typically around 3.2GB per hour.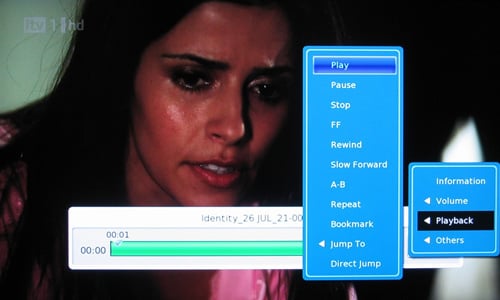 To access some functions, you have to work through a few levels
You can move programmes to folders, and even copy them to an external hard disk – but it must have been formatted from the Digital Stream device, can't be read on a PC, and furthermore, you can't copy HD material. You can, however, access JPG and MP3 files from USB media, including FAT-formatted drives; the Ethernet port remains, for the time being at least, merely ornamental.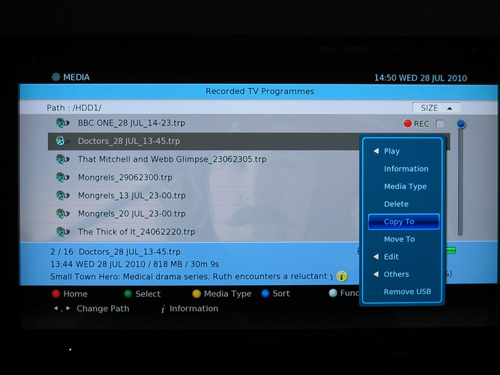 Recorded files are named with the date, which can look a bit techie
Generally, the Digital Stream proved pretty reliable, and I didn't miss any recordings, though some from ITV missed a couple of seconds at the start. There were some other niggles, though. One being when chase-playing a recording, if you fast forward through the ads and catch up with the broadcast, you'll be dropped back to live TV, rather than chase play.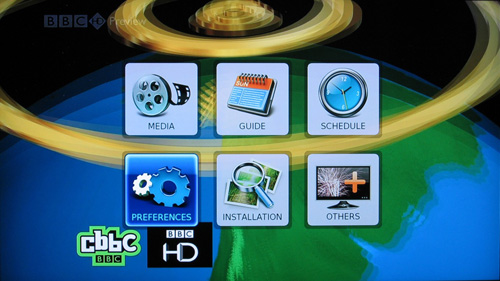 The main menu is a simple grid of icons
That's fine if you were watching the channel you're recording, but if you were watching something else before chase playing (say BBC2, then chase-playing a recording on ITV1) you'll be taken back to that channel instead of the one that's being recorded. Instant recordings last for two hours – you can change the time with another press of the record button, but there's no easy way to say 'until the end of this programme'.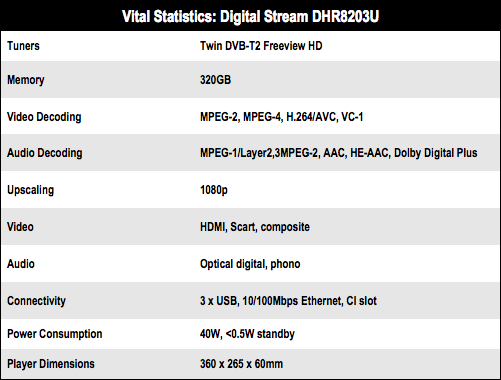 Glitch to scratch
Sound during fast forward seems a little hit and miss, too, but hopefully an update will fix this audio glitch, and there have already been some issued, including one that enabled transcoding of AAC to Dolby Digital on the optical audio output – though there's no Dolby Digital from the HDMI source.

A notable arrival on the Freeview HD recording scene
Besides the welcome Dolby transcoding, there are bookmark functions, as well as the direct jump, and skip buttons that can be configured to help you avoid adverts easily. The overall impression is of a solidly built unit, that's perhaps a little compromised by the remote control and a few interface quirks.
Verdict
In spite of that, though, it's one of the more competent of the Freeview HD DVRs I've seen so far, and if you don't want the extra media playback features and network connectivity promised by the Humax, it's well worth a look. ®
More Freeview HD Gear Reviews…

Humax
HDR-Fox T2
Sagemcom
RTI90-320
Panasonic
DMR-BW880
Group Test:
Freeview HD
Receivers