Original URL: http://www.theregister.co.uk/2010/10/13/review_e_book_reader_sony_reader_pocket_edition_prs_350/
Sony Reader PRS-350 Pocket Edition
Sony shows the rest how it's done
Posted in Tablets, 13th October 2010 12:00 GMT
Review You may recall that I wasn't very impressed with Samsung's E60 e-book reader. Sony's new Reader Pocket Edition is a very different page out of the book.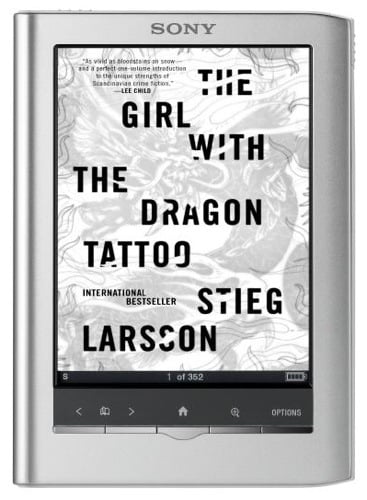 Sony's Reader Pocket Edition PRS-350: the acme of e-book readers?
Where the E60 is thick, the Reader is thin - and weighs a mere 155g. The E60 is clad in plastic, the Reader is armoured in aluminium. Both have a stylus and a tap-detecting screen, but where the stylus is mandatory on the E-60, the Reader can be controlled using the tip of your finger.
To be fair to Samsung, the E60, which was unveiled in January but has only now started to ship over here, is last year's tech, and I'm sure it'll do better second time round. Sony, by contrast, has been making e-book readers for years, and it shows.
The skinny gadget is compact and feels solid - helped by said metal exterior. The inclusion of the touchscreen has allowed Sony to dispense with many of the buttons and keys it put on previous models. So there's a slim line of keys on the front - for page turning, going to the home screen, a zoom key and an Options button.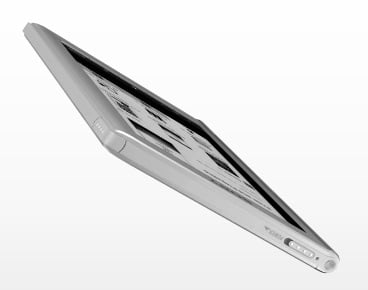 The power control is on the top - the stylus is tucked into the corner
There's a power slider on top; the stylus is tucked into a slot on the right side; the base is home to a micro USB port and a recessed reset switch.
The Reader is simple and clean of line. Unlike some other devices of this type, there is little in the way of adornment to distract you from the words on the screen.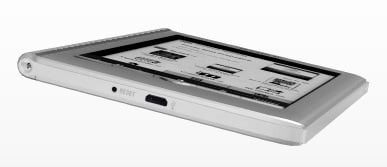 Micro USB is the only way to get content onto the Reader
Which is a 5in, 600 x 800 panel based on the lastest, Pearl generation of E Ink technology - so the text is crisper and the 'paper' less muddy than older E Ink screens, though it's still some way from white.
And unlike Sony's previous touch-sensitive Reader, the PRS-600, the addition of the tap sensors hasn't resulted in darker, less well-defined text.
Just as well, because it's the touch capability that makes the Reader. Swiping to turn a page comes so naturally now we've all become accustomed to touch-controlled user interfaces on our iOS and Android phones. Tapping on the title of the book you want to read or the setting you want to apply is even more so.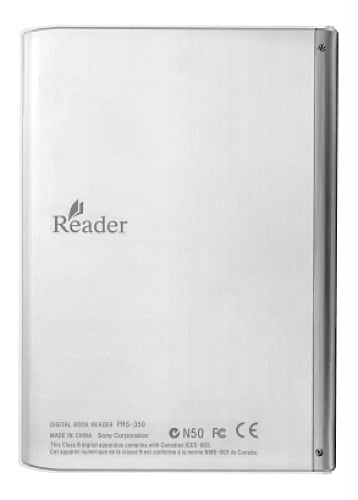 The back-cover blurb
You might wonder why Sony includes a stylus at all, but the new Reader's UI has some elements that are small and up close to the edge of the screen - the alphabet down the right hand side of the display that you can use to speed your navigation through long lists of books is a case in point - and folk with big fingers may find they can't quite hit the letter they want to.
Ditto the virtual keyboard you can use to enter text notes - in a separate application, for marginalia you can scribble with the stylus. Whatever the many benefits of E Ink tech - low power consumption, high bright-light readability - it's dog for drawing on. The nature of the touchscreen means you type quite slowly if you use your finger(s) - at least at first, as you learn to judge your accuracy - but it's quite possible to go too rapidly for the screen if you tap with the stylus.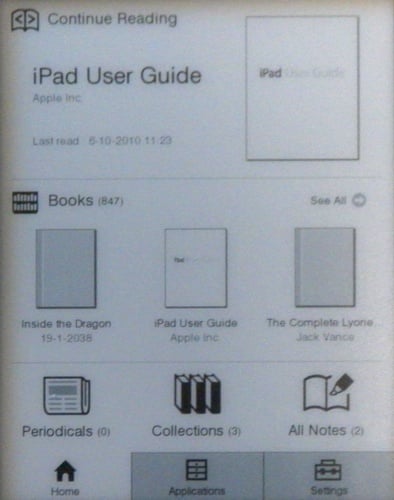 The UI is basic, but straightforward
I could easily get three of four Qwerty keys to highlight simultaneously so slow is the refresh rate. Your text will appear eventually, ditto the electronic ink that flows virtually from the stylus - there's a very noticeable lag that reminded me of passive matrix LCDs of old.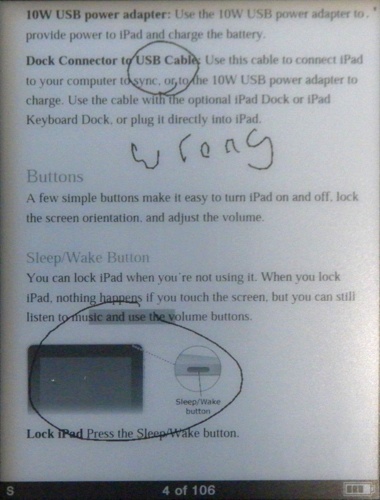 Scribble notes as you go
There's no memory card slot on the PRS-350, but with 2GB of on board storage, you may not need one - you can get a lot of long novels into two gigs. You can copy over pictures too, but what's the point on a 160-greyscale screen?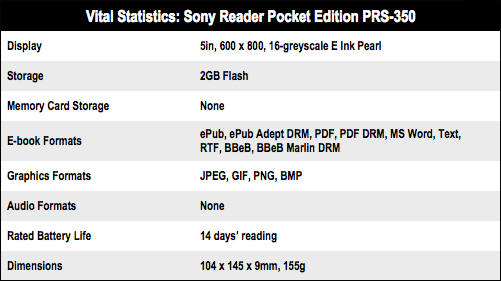 No, this boy is really just for text, and the Sony's e-book format of choice is ePub, either limitation-free or lumbered with Adobe's Adept DRM technology. Adobe's hold is to be resisted, not least because it has implications on unprotected content. Case in point: the Reader will present PDFs, but only if you first link your device to Adobe's DRM system. I copied over a couple of un-protected PDFs that I can read on a host of computers and handhelds, but not on the Reader, at least not without interacting with Adobe first.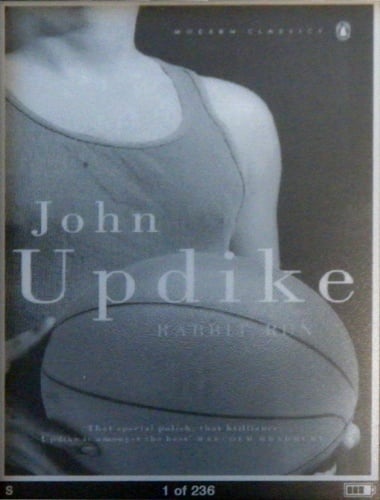 Not a great screen for jacket art
This so enrages me, I refuse to do it, and all gadgets that work this way will be marked down for it. Worse, it's the Reader's only real flaw unless you count the absence of wireless connectivity, which ensures the PRS-350 will always need to be tethered to a Mac or PC at some point.
There are quirks too. The Reader's design is asymmetric in a way that makes no sense until you rotate it through 90°, shorter length to the top. The Reader is particularly good to hold in landscape orientation. While there's no auto-reformating, a quick tap of the Options key allows you to manually rotate the display.
The only snag is that the page-turn keys don't now operate in the correct direction. Now facing up, the right-hand key still takes you to the next page - logically it should now take you to the previous one.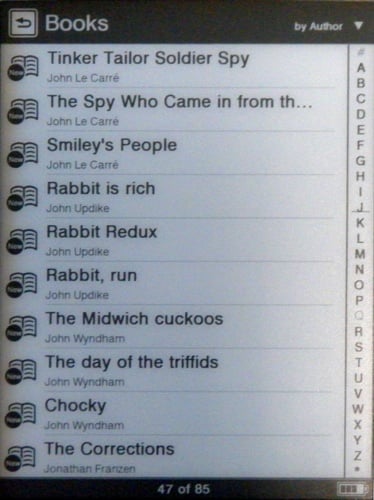 Finger-swipe gestures work horizontally, taking you from page to page, but not vertically , from the top of a list to the bottom
Irritating screen flash-to-blacks aside, reading text on the Reader's screen is a pleasure, thanks to improved anti-aliasing and a good Roman font. I didn't even find the 5in screen to be too small, as I had anticipated I might. The device is small enough to be pocketable and discrete when you're on holiday and fearing light-fingered locals.
And Sony gets thumbs up for including a batch of English and translation dictionaries, accessible directly or by double-tapping a word in an e-book. You can only use one dictionary at once, but swapping is straightforward. Words can be highlighted, as can all the instances of the selected word, if you choose.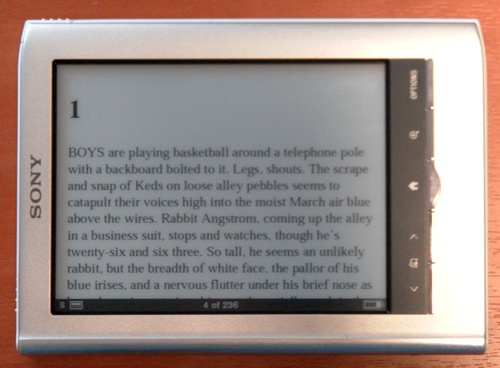 The Reader's odd shape makes sense when you hold it in landscape orientation
Incidentally, Sony wins Reg Hardware's Jack Vance 'what the bloody heck does that mean' award for including a dictionary able to present definitions for all the recherché terms and archaic verbiage I threw at it.
And it's only £160. Cheaper than all but the lowest price Android tablet, that, and with a darn sight better battery life - two weeks' continuous reading, according to Sony, and I can well believe it.
But... it's still £51 more expensive than the new Kindle, which comes with Wi-Fi, and pricier too than the Kindle with 3G. Lack of connectivity doesn't bother me, but the thought I can get an e-book reader with a comparable-quality screen and twice as much storage for a lot less money does.
Verdict
Compact, cheap and easy to use - what better write-up can a handheld gadget get? Sony's Reader Pocket Edition is all of these, making it as close to the e-book reader ideal as any of its rivals, and closer than most. Only its inability to present unprotected PDFs out of the box grates, and the absence of Wi-Fi and storage expansion may disappoint some potential buyers. But Sony must take note of Amazon's Kindle pricing. ®
More E-Book Reader Reviews

Amazon
Kindle 3
Samsung
E60
Apple iPad
3G 32GB
Viewsonic
VEB620