Original URL: https://www.theregister.co.uk/2010/10/12/review_gadget_scosche_solbat2/
Scosche Solbat2 solar charger
Sunny disposition
Posted in Personal Tech, 12th October 2010 07:00 GMT
Review Even though the phrase 'There's no such thing as a free lunch' remains a truism, however cynical, it doesn't seem to stop Scosche from using the promise of 'something for nothing' to tempt you to buy its Solbat2 solar-powered backup battery.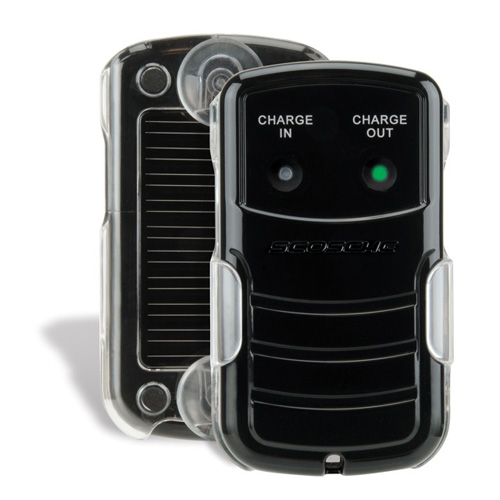 Scosche's Solbat2: Simple, idiot-proof design for charging and discharging
Like the Solar Pico Freeloader, the Solbat2 utilises a Lithium-ion battery with a charging circuit connected to a solar panel. Besides charging from the sun, a USB power source can be used instead. The battery is rated at 1,500mA, nearly double the Pico Freeloader's 800mA and enough to deliver a full charge to most smartphones.
The Solbat2 is a well-made piece of kit. The high-gloss black plastic body – about the size of a credit card, but 18mm thick – is solid and simple. With two LEDs in its front face, labelled 'charge in' and 'charge out' and two sockets in its top end – one USB and the other a small power jack – it doesn't take a lot to deduce how to use it.
The supplied power plug to USB cable connects the device to any USB socket which can supply power – typically a desktop or laptop, though you could use a mains to USB PSU. Taking power from it means using the dedicated USB leads – supplied with most mobiles, media players or PDAs – to connect from its USB socket to the receiving device.
With its internal battery full, the Solbat2 happily charged up a variety of devices I tried, including mobiles and an HD-based media player. No complaints there. It was the other side of the equation which proved less useful.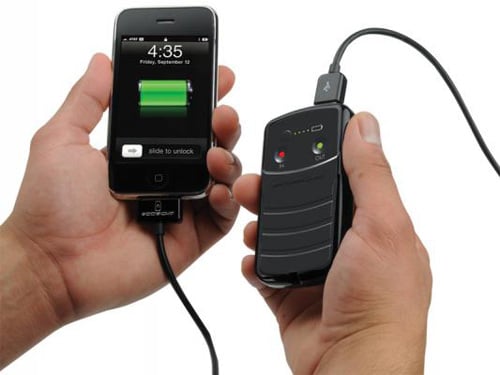 1500mAh battery can fully recharge most smartphones
Scosche claims the Solbat2 takes four to five days to charge its battery from sunlight. Yes, it's worth repeating that it's days. Brownie points to the company, for honesty. Solar, by comparison, claims a day for the Pico Freeloader, but I reckon it's not much faster than this one.

Solar flair?
Let's just consider how you might use the device, with that kind of charge cycle. You might leave it outside on an upstairs windowsill for a week before you go away on holiday, but only assuming you were going camping where there would, at no time, be access to electricity.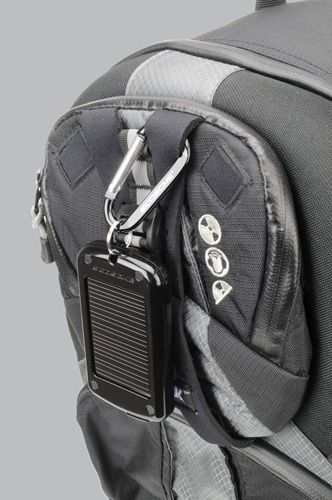 Comes with a free carabiner, to hook it up, but work better in sunny California
If you're in a hotel, you could charge it from the wall. Guest house, log cabin, caravan; the wall, again. Or from the cigar lighter in a car. The instruction sheet shows a Solbat2 suckered to the inside of a windscreen (a cradle with suckers is supplied), charging from its solar panel for when you next run out of juice five days into the future. But why wouldn't you charge it from the USB socket on your car stereo?
Given the initial charge time for USB recharging is quoted as five hours and it took the review unit two hours for the charging light to go out, are you that stingy? A few pence for a USB charge, or a free one from the sun, but five, good, sunny days down the line.
Don't get me wrong, the idea of a free, eco-friendly charge from our favourite neighbourhood star is appealing, but until solar panels are a lot – and I mean at least ten times – more efficient, the impracticality outweighs the greenness by about the same order of magnitude.
Verdict
If you want a robust, handy backup battery you can take with you on trips, which is more sturdy than a second battery for your phone and can service a variety of portable kit, this is a good choice. If you're heading for a holiday in the sun this half term, it could well keep your mobile going all day as you Tweet from the beach, Yet given the UK weather, don't expect to get a lot of use from a solar charger here. ®
More Solar Power Gear Reviews...

Etón
Soulra
Solar
Freeloader Pico
Roberts
SolarDAB
LG
HFB-500