Original URL: https://www.theregister.co.uk/2010/10/12/gamble_home_affairs/
CEOP chief accuses UK.gov of putting kids at risk
Microsoft 'extremely unlikely' to maintain support, claims Gamble
Posted in Policy, 12th October 2010 13:35 GMT
Britain's most senior anti-paedophile policeman, who resigned last week in a row with the Home Secretary over the future of his organisation, has told MPs he quit because a proposed new structure will put children at risk.
Jim Gamble, chief executive of the Child Exploitation and Online Protection Centre (CEOP), today appeared before the influential Home Affairs Select Committee.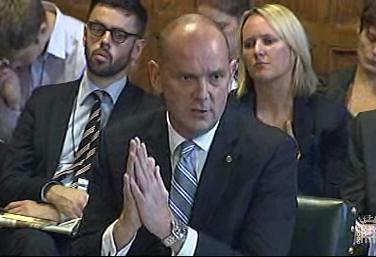 Jim Gamble in Parliament this afternoon
"I resigned to remove myself from the equation so there can be no mis-perception that I have a vested self-interest," he said.
The coalition plans to roll CEOP into a new National Crime Agency along with other bodies, overturning the Labour government's proposals to grant it independence under Gamble. He today criticised the decision as "arbitrary", and argued that CEOP's focus on child victims is bound to switch to offenders as part of a large crime-fighting agency.
"It's about ensuring the appropriate governance so we're continually focused on what's best for children and not fighting for airtime amongst drugs, counter-terrorism, organised crime, guns and gangs," Gamble said.
"Pushing us into a National Crime Agency where the culture will invariably be different is not going to be best for children."
He said that if independence for CEOP is not an option, ministers should consider placing under control of the Department for Education rather than a law enforcement agency.
"Making us fit is going to cost the taxpayer money. We're going to lose specialist staff, we're going to add bureaucracy."
Gamble's view is opposed to that of internet companies, who last week cautiously welcomed the new structure, arguing that a lot of child pornography online is now related to international organised crime.
Industry sources also welcomed Gamble's departure because of his combative style. He directly rejected such criticisms today when they were put to him by Committee chairman Keith Vaz, suggesting they arose from commercial self-interest.
"I think it depends on which internet company you speak to... I don't think Microsoft will be happy that I'm going," he said.
CEOP's annual budget is £12.5m. Two-thirds comes from taxpayers, with the remainder from commercial partners on a philanthropic basis. Gamble claimed that Microsoft, one of its largest donors, has stated it is "extremely unlikely" to maintain its support under the new structure. The firm was not immediately available for comment.
Gamble flatly denied rumours put to him by Tory Committee member Aidan Burley that he has another "big job" lined up.
"There is no truth in that whatsoever," the former Northern Ireland intelligence chief said.
Gamble did unsuccessfully apply last year for the role of chief constable of the Police Service of Northern Ireland. Today he repeatedly said he has no job to go to when he leaves CEOP in four months' time. ®