Original URL: http://www.theregister.co.uk/2010/10/08/review_dvr_humax_hdr_fox_t2/
Humax HDR-Fox T2 Freeview HD DVR
The telly addicts' new best friend?
Posted in Personal Tech, 8th October 2010 07:00 GMT
Review From a fairly slow start, the number of Freeview HD recorders is growing quite quickly; but the Humax has been one that many people have been waiting for. The company has a pretty good pedigree with DVRs for other services, and expectations have been quite high for the HDR Fox T2.

Humax's HDR-Fox T2: a week's worth of telly in a box
It's a fairly large unit – standard hi-fi component width, with a front panel that has a big power switch, dot-matrix display and buttons for channel and volume. On the rear there's a Scart, analogue audio in, composite video, HDMI, Ethernet, optical output, aerial input and output plus a CI+ bay. The hard drive is 500GB, which is sufficient for around 120-160 hours of HD content.
The remote is a fairly substantial affair. If you're used to the Humax Foxsat HDR remote, initially you'll find it infuriating, as the 'i' key has moved position. However, it can also be programmed to operate three other devices; there's a list of codes in the back of the manual. All the buttons are a decent size, and it's feels comfortable in the hand.
Of note is the 'TV Portal' button which doesn't do anything yet, but will give access to an on-line video portal later this year, due to include SkyPlayer and perhaps other services too.
The meat of this machine, though, is Freeview HD. Setup is straightforward and simple, the box auto-tuning and finding all the channels without any problems. Picture quality is extremely good, on both SD and HD channels. Standard def looks about as good as it's going to get and HD includes full transcoding to Dolby Digital 5.1, making this only the second Freeview DVR I've seen that gives you surround sound when it's broadcast.

The remote can be programmed to control TV, DVD and your AV system too
As you'd expect, there are the usual playback features, such as being able to skip forward and backwards by a definable amount, perfect for skipping over adverts.
The EPG is clear and easy to use, and there's also a search option which lets you browse by genre, or even enter a keyword. If you experience problems with the keyword search – it made the box stop responding to the remote in my initial tests – Humax has recently released a firmware update that I can report fixes this issue.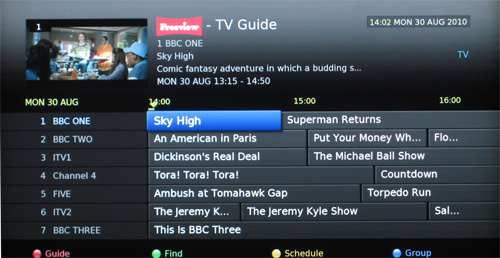 The programme guide is easy to use, with a genre and keyword search function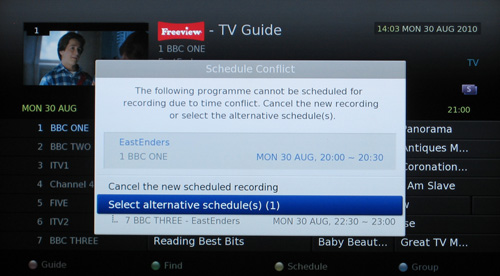 Recording conflicts are handled simply, with clear on-screen messages
Still, some interface niggles remain. It looks very slick and friendly, but the thumbnail previews of recordings take up lots of space on-screen, so you can only see five items listed at a time; I'd prefer at least the option to see more, especially as the hard disk fills up. It also takes a while to delete recordings.
And, if you're playing a current recording from the media list and use the skip function to catch up with live TV, then the box returns to the media list, and the channel you were watching beforehand – which might not be the one you're recording.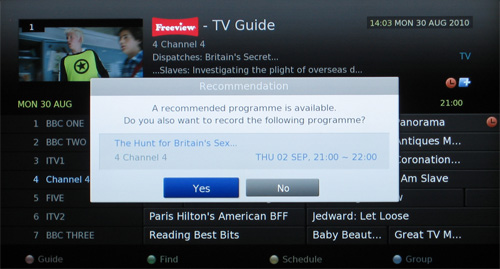 Set a recording, and you'll often be prompted to record other recommended programmes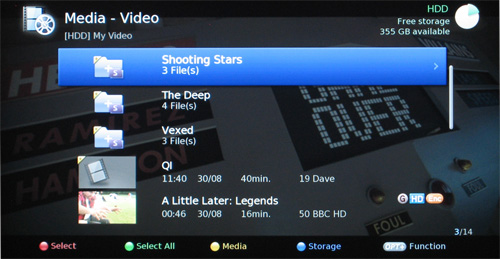 The media list is clear, but you can only see five items at a time
Those quibbles aside, I had no problems with missed recordings, as starts and stops were accurate and timely. Also, conflict handling is handled clearly, without confusing the user. Besides the planned TV portal, Humax says the box will be capable of streaming video to other Humax boxes later this year – much as the Panasonic DMR XW-380 can – and eventually, that may include other equipment too.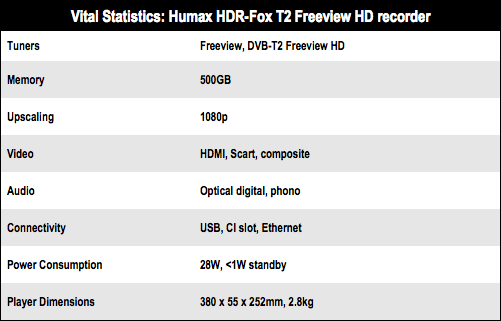 In the meantime, the HDR Fox T2 can stream content from your home network. Unfortunately, it's not quite comprehensive enough to make everyone ditch their media streamers; I had no problem with AVI, DivX, DivX HD, WMV, WMV HD, AVC HD (mts) and VOB files, but MKV support is decidedly patchy.

A good performer with a subdued front panel display that isn't overly distracting
To be fair, MKV playback is not something that Humax has claimed to support, but if you have lots of MKV material, you may be disappointed. I also found that when rewinding through AVI files served from my Synology Nas, the Humax had a tendency to jump back to the beginning of the file.
On the audio side, streaming is limited to MP3 only; even with transcoding enabled on the Synology, I wasn't able to play any other formats. So, again, if you have all your music in something like AAC or FLAC, you'll be out of luck.
As for power consumption, it notched up 24W in use. However, standby seemed to waver between 1.4W and 0.5W. It does have an energy save mode though, so I guess it'll drop to the 0.5W left for long enough.
Verdict
On balance, while it's not without some niggles, they are pretty minor and don't stop the HDR Fox T2 from turning in a great performance as a Freeview HD recorder. It even holds the promise of offering even more when the Humax TV portal is launched. ®
More Freeview HD Gear Reviews…

Panasonic
DMR-XW380
Sagemcom
RTI90-320
Panasonic
DMR-BW880
Group Test:
Freeview HD
Receivers