Original URL: http://www.theregister.co.uk/2010/10/08/review_camera_flip_mino_hd_8gb/
Cisco Flip Mino HD 8GB video camera
Image stabilisation, at last
Posted in Hardware, 8th October 2010 14:03 GMT
Review Appearing in its second-generation guise in March this year, the Flip Mino HD received a few refinements, the most obvious being the larger 2in screen and an 8GB version allowing for up to two hours of video recording. Yet this popular pocket video camera has always lacked image stabilisation, that is, until now.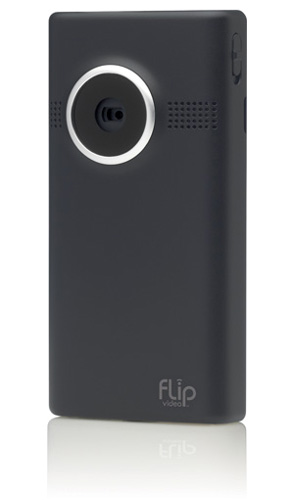 Cisco's Flip Mino HD: simple by design, effective in action
Both the Mino HD and the UltraHD have been upgraded with this feature, long-awaited by Flip fans. As with other Flip cams with the HD moniker, the 720p HD video is captured in MP4 format using the H.264 codec but it's now at 50fps in PAL territories (60fps NTSC), up from 30fps.
The 4GB (one hour) Mino HD sports fashionable, metallic finish, the matt black version signifies it's the revised 8GB model. The on/off button at the side falls neatly under the thumb. Give it a firm press and let go and it's ready to shoot in a couple of seconds.
On the control surface, the Flip Mino HD has just one big, hard to miss, red button for recording video clips. If you hold this as it powers up you get the setup options for language, time, bleeps and recording light.
Surrounding the red button are illuminated touch-sensitive keys. The forward/backward controls scroll through existing clips or move along the timeline during playback. Use the +/- keys to operate the zoom when recording or vary the playback sound level. Just below the display are two slightly recessed buttons for playing and deleting files.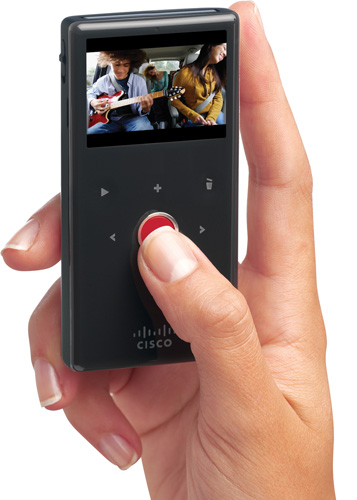 A big red button does the business, with touch-sensitive controls for digital zoom and other features
The screen itself is a big improvement compared to the earlier style models. Bright and crisp, it looks great and, appears a good deal more scratch resistant than others I've tried, such as the Sony Bloggie. It also comes with a soft cloth bag, which helps sustain its good looks and is certainly better than nothing, considering that it's £30 for Sony's Bloggie pouch.
Sunburn?
For a point and shoot camera, the image quality turns out to be surprisingly good – just about sharp enough to live up to the HD tag, and with bold, strong colours. However, in strong sunlight colours could appear washed-out and some detail burnt out too. In fact, up against the same style Mino HD (but lacking the image stabilisation and increased frame rate), the new version seems even more prone to over-exposure, yet the contrast appears less harsh, so there is more detail in the shadows, but the edges aren't so crisp.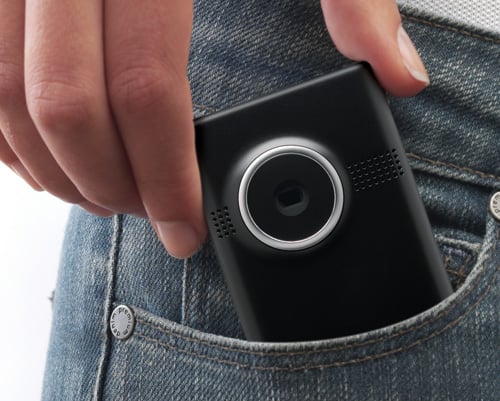 Pocket-friendly and comes with a draw-string pouch too
Certainly, you can perceive somewhat smoother shooting thanks to both the faster frame rate and image stabilisation. Cisco describes the latter as "Digital with hardware sensors…" The rest of the explanation is a bit of a blur. "With the mechanical gyro sensor we don't lose the quality that digital typically implies, since we have a sensor that shifts the frame to centre the objects and reduce shaking." Well, it seems to work.
Even so, with its candybar phone size and light weight, the Flip Mino HD is very susceptible to every little move of your hands, and while the results seem more steady now, given the on-the-go nature of the camera, shake is something to expect. Still, if you really need it, there's a tripod mount at the base, adjacent to the mini HDMI port.
The fixed-focus lens works between 0.8m to infinity (and beyond), and even clips shot within a range of 2 feet were acceptable. Yet used in low light conditions, the results were rather patchy. They don't look bad on the small display but blown up on a computer screen, the recordings do exhibit a fair amount noise and some colour smearing, exacerbated when using the 2x digital zoom. Still, the Mino HD does well to capture reasonably well-defined footage in difficult conditions, and just about every time gives you something useable, so long as you're not too fussy.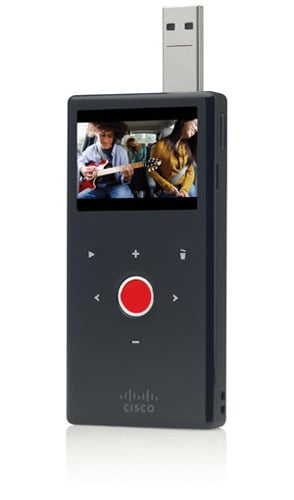 USB connectivity flips up for video transfers and the device will charge from its host
The Mino HD has a built-in USB connector that, er, flips up from the top – by sliding a switch on the side – and simply folds away again when not required. Dispensing with the need to carry USB cable when travelling, the Flip doesn't need a separate charger either. Hook it up to a Mac or PC and it starts charging – with a full recharge taking about 3 hours. The internal lithium-ion battery lasts for about 1.5 hours on a good day, but is non-interchangeable.
Made for sharing
Plumbed into a computer, the Mino HD's 8GB storage appears like a normal USB flash drive. Video clips can be dragged off for copying, however, all Flip Video camcorders are pre-loaded with FlipShare software for Mac and PC that enables easy copying, organising and editing. As there's no still photo option on the camera, FlipShare will take frame from video instead.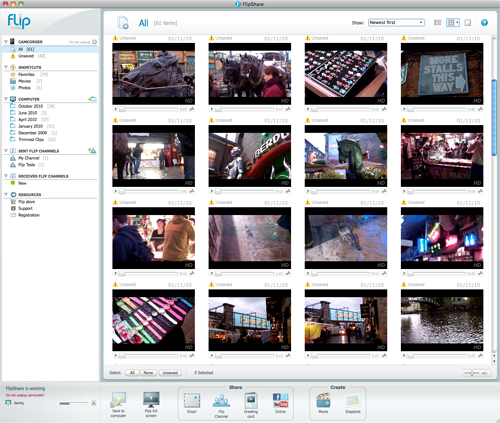 You can select the video you wish to import from thumbnails images in FlipShare
Click for a larger image
With social networking at its heart, FlipShare also offers seamless uploading to Facebook Video, Twitter, YouTube and other video sharing sites. This runs on both Macs and PCs and provides very basic editing features for trimming video clips and uploading them to sites such as YouTube. It's no Final Cut Express or even iMovie, but it still delivers as far as Facebooking is concerned.
FlipShare is worth getting familiar with though, as it will import other video clips and, if you've copied off Flip files without using the application, they can be added using the Recover other FlipShare files option from the Help menu.
There's also the Flip Channel on-line sharing service that seems to be Cisco's take on YouTube or Vimeo for its camera users. You create different content channels to effectively build up an on-line library. You can then share files directly (that stream from the site's servers) or upload the content you have there to Facebook, YouTube and the like.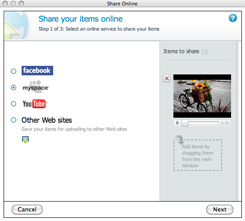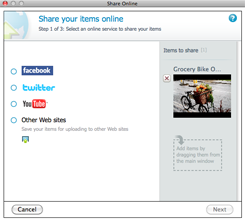 With the new FlipShare 5.8 (right), MySpace is now Twitter's space
A neat touch is the free FlipShare iPhone app that can stream the content on the Flip Channel. It all works and suggests that the FlipShare software could mature into something quite useful, it's just hampered by its oversimplification in some areas. For example, drag and drop is used to construct a final movie edit sequence, and requires starting all over again if you want to change the order of clips once you've exported the movie.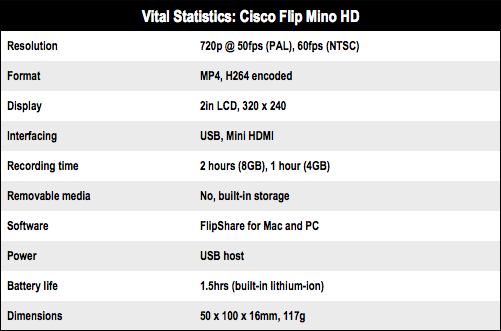 Sample Video
FlipShare Results
Video edit in FlipShare
Can't see the video? Download Flash Player from Adobe.com
Footage comparison
New Flip Mino HD with image stabilisation @ 60fps
Can't see the video? Download Flash Player from Adobe.com
Early 2010 Flip Mino HD, no image stabilisation @ 30fps
Can't see the video? Download Flash Player from Adobe.com
Stills From Video
Image comparison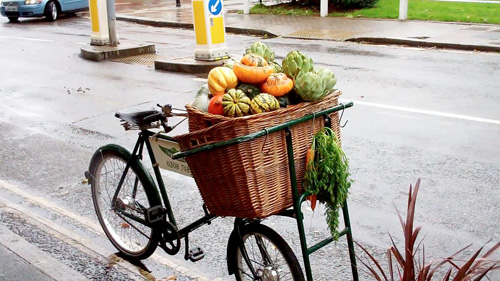 New Mino HD - the lighter exposure reveals more detail in the basket
Click for a full-resolution image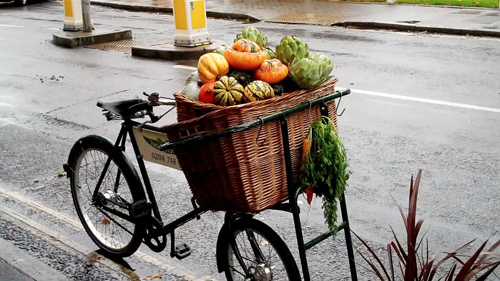 Early 2010 Mino HD - the high contrast delivers a sharper but darker image
Click for a full-resolution image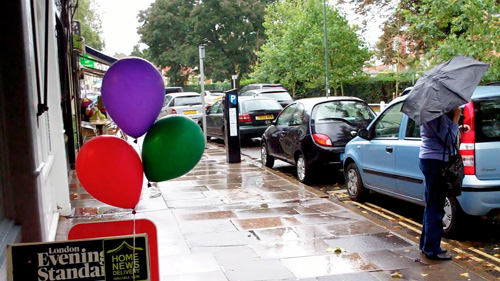 New Mino HD - the image seems more compressed losing detail in the trees
Click for a full-resolution image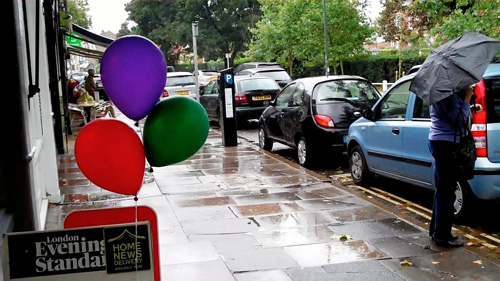 Early 2010 Mino HD appears to have fewer compression artefacts with solid colours
Click for a full-resolution image
Close encounters
The Flip Mino HD would certainly benefit from some kind of close-up mode, as the limitations of its fixed focus are frequently noticeable. Likewise, with the digital zoom, which, while better than most, is no substitute for an optical one. An extra memory card slot would make it more attractive too, but the Flip design concept is to avoid complication with the emphasis on ease of use, as well as look and feel.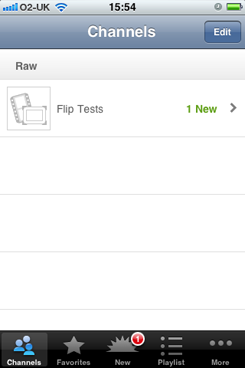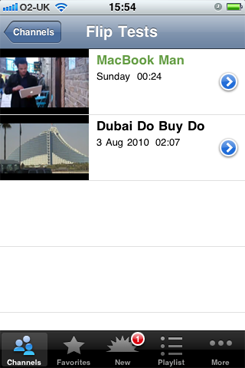 iPhone access of your FlipShare channel to view your uploaded clips
The comparative tests with early 2010 Mino HD suggest that, to get the faster frame rate, this new model has made sacrifices with quality and appears to have increased video compression, as the definition does seem slightly impaired compared to its predecessor, but the lighter exposure does seem to work better overall.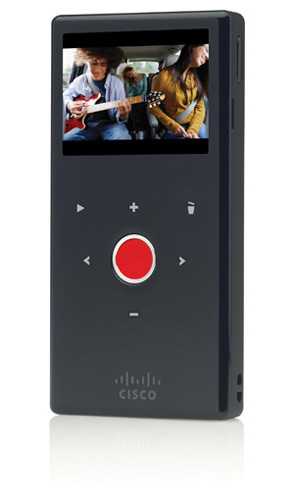 Available in the UK from November, but not in the pretty colours US buyers get to choose from
Yet if there was one outstanding complaint, then it's the touch-sensitive controls. On the earlier model, they seemed too insensitive, and with this version, the reverse appears to be true. Even though there are hoops to jump through to avoid accidental deletion of files, it never fails to be alarming when the lightest finger swipe can bring up the prompt: Delete video?
Verdict
The Flip Mino HD bears some comparison to the iPhone. While not the cheapest, it does have some cachet as a fashion statement. Moreover, while it doesn't do everything that you want it to, what it does do, it does fairly well. It's also great fun to use, finger trouble aside. It is pricey though, but given its portability, acceptable image quality and convenient on-board software, this pocket-friendly camcorder will continue to appeal to those who just want to keep it simple and get results. ®
More Camcorder Reviews...

Creative
Vado
Sony Bloggie
MHS-PM5K
Samsung
HMX-U10
Toshiba
Camileo S20