Original URL: https://www.theregister.co.uk/2010/10/08/carrier_struggle_torygraph_leaks/
'We Want Two' Navy carrier plan pondered by Cabinet
Flat-Earth frigateers v Fleet Air Arm Whitehall DEATHMATCH!
Posted in Policy, 8th October 2010 14:06 GMT
Comment Beleaguered admirals are fighting hard to save the Royal Navy's new aircraft carriers and with them the service's status as a world top-three navy, according to reports. One plan thought to be on the table bears a close resemblance to that set out in the Register's recent "We Want Two [carriers] Or No Votes For You" campaign.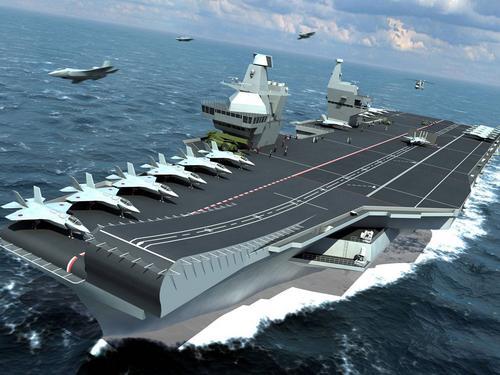 Not bad - but let's lose that ski-jump and stick in a catapult.
The Telegraph reports on the matter today, quoting unnamed insider sources at the heart of the ongoing Strategic Defence and Security Review (SDSR, the new government's name for the savage cuts that will be necessary to sort out the UK defence budget crisis).
According to the paper's informants, the navy has proposed cutting its fleet of "escort" warships (submarine-hunting frigates and air-defence destroyers) from the current 23 down to 12 - a couple more than we here on the Reg naval desk suggested under We Want Two. We didn't think that the navy could preserve its vital amphibious-landing capability without cutting the tremendously costly - and largely useless - escort fleet a little further. It seems that we were on the money, as reportedly the two-carrier, 12-escort plan calls for "all amphibious craft" to be dispensed with.
If the paper's sources are correct, some version of the escort-slashing, carrier-saving plan will go ahead. Reportedly the ministers of the National Security Council, meeting yesterday, "stopped short of a formal decision", but "insiders now believe both ships will be built".
The only decisions to be made now, apparently, are the details of the carriers' equipment, mission and aircraft. Essentially there are three options for each ship.
The first option is the existing plan from the previous government, under which both carriers would be built without catapults to operate strike fighter groups. As they would only be able to operate vertical-thrust aircraft, they would be equipped with air groups made up of F-35B supersonic stealth jumpjets and some kind of vertical-landing fleet radar aircraft - probably the existing Sea King helicopters to start with, perhaps replaced many years hence by some kind of pricey, custom replacement (for instance V-22 Osprey tiltrotors, modified under the unfortunately-monikered TOSS plan).
This plan has myriad disadvantages. Although it makes for a fairly cheap carrier, the F-35Bs would be horrifyingly expensive, particularly if bought in time to equip the ships as they are completed. Not only is the F-35B the world's first ever supersonic stealth jumpjet, it is currently suffering severe delays in flight testing: for quite some few years, until the production line gets into gear and economies of scale kick in, it will be very pricey to buy. It will also be comparatively expensive to own and operate, as perhaps the most or second-most complicated jet in the world today. Worse still, the need to carry a lift fan, swivelling exhaust nozzle and multiple lids and doors to cover these things when not in use means that the F-35B jumpjet will not be as good a combat plane as the F-35A and F-35C versions (runway and catapult respectively).
Then, the need for a unique vertical-landing radar bird will mean major cost and poor capabilities. A radar aircraft needs to fly high and stay up a long time, things which rotary-wing aircraft can't do as well as normal aeroplanes.
The second option is to build one or both carriers with catapults. As the ships are gas-turbine powered and so lack any steam source, they can't have present-day steam cat technology: this is a major reason why they were planned without catapults, as nobody knew at the time whether the electromagnetic alternative could be made to work.
Nowadays, though, the US Navy have a trial electric cat in tests ashore, and are certain that the tech will pan out - to the point that the next US supercarrier, currently in build, is now past the point at which it could be reverted to steam. British firms have also done trials for the MoD and are confident they can make electric jet-hurlers work.
But the two-carrier RN would be smaller than the Italians! Oh noes! (Also enormously more powerful, but let's not mention that)
Catapults would make the ships somewhat more expensive, but not much: their electric transmissions can furnish the necessary 'leccy with ease as they stand. And catapults would allow the purchase of much, much cheaper and better planes, as we've discussed on these pages before. The MoD might even choose to buy ordinary non-stealth F-18 tailhook planes, long in mass production and operated by the US Navy and other air forces round the world in huge numbers.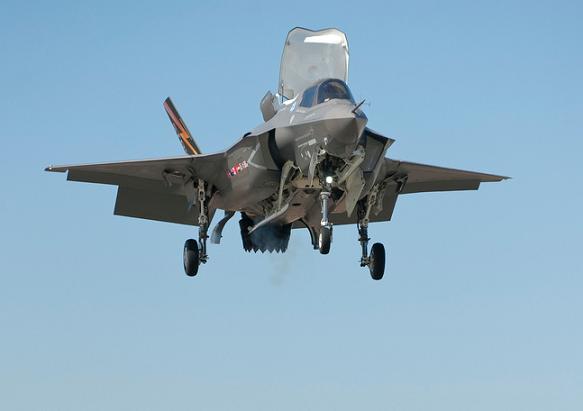 Nice - but a bit on the fiddly side, frankly
Stepping away from the F-35 would upset the Americans, but a vague promise to get some F-35C tailhook planes at some point would probably satisfy them - the Pentagon wants to keep the UK on board with the F-35 not for the relatively paltry number of planes it will buy, but simply to avoid negative publicity for the troubled programme.
The third option, which might be chosen for one carrier, would be to turn it into an amphibious-assault ship, carrying helicopters and marines rather than jets. This would be even cheaper than a bare-bones jumpjet carrier, and there would be no need to find any jets or radarcraft at all.
The Telegraph's sources think that this is on the cards, saying that "ministers have discussed reconfiguring the first new carrier as a helicopter platform that would also carry Royal Marine commandos. The carrier would then ultimately replace the existing helicopter ship, HMS Ocean".
This is a foolish plan, however. HMS Ocean is new: she doesn't need replacing. Furthermore, having only one proper carrier is much, much worse than having two, almost as bad as having none: an enemy need only wait until the sole proper carrier is in a planned refit before becoming aggressive, happy in the knowledge that the UK can't even rattle its sabre effectively in response. (One of the main ways that the USA resolves or responds to tense situations around the world day to day or week to week is to move its carriers about.)
In effect, the amphib downgrade plan sacrifices a hugely important and powerful carrier - gives up the critical one-carrier-always-up capability - and throws away the perfectly good HMS Ocean, which was actually quite cheap to have anyway (she cost less than a typical escort and her crew is no larger). The only upside here is that one or two more frigates or destroyers are preserved, a largely meaningless gain: the more so as there would now be fewer capital ships actually requiring escorts.
The Telegraph also recycles the usual witless grumblings about "a navy smaller than at any time since Henry VIII" and comparing the total number of ships under the two-carrier plan unfavourably with the fleets of France and Italy. The standard suggestion from the frigate mafia that escorts on their own can somehow "protect trade and sea lanes" is also trotted out.
This is all bilge, to use a nautical phrase. A navy with an arse-kicking fleet carrier always at sea is tremendously more powerful than one without: a two-carrier RN, should it be required to, could easily defeat the Italians out of hand - and the French too, by simply waiting until their one and only carrier is in maintenance. The number of floating tin cans possessed by either side is a complete non-issue.
To believe that frigates are as cost-effective as carriers, you pretty much have to accept that the Earth is flat
Italy or a future non-carrier RN, wishing to send warships - or protect any sea lanes! - beneath the footprint of even a poxy little foreign air force would be dependent on the USN or France to guarantee their safety. You can't protect sea lanes with destroyers and frigates: even the £1bn+ Type 45 destroyer can only defend a piece of sea perhaps fifty miles across from low-flying or surface attackers*, as it is on the surface and thus its radars cannot see very far.
Again in the case of non-nuclear submarines (the only kind we are ever likely to fight) the primary weapon is airborne radar scanning huge swathes of ocean. This forces the boats to submerge and pull down their masts - and thus in the case of conventionally-powered subs it blinds them, cuts off their comms and pins them to the map.
Needless to say, many Royal Navy officers, who are mostly not aviators and not marines, passionately want to believe that none of this is true. If it weren't it would make sense to spend taxpayers' money on lots of surface warships, and there would be many more chances for an officer to be captain of one - so, there would be hugely improved promotion prospects.
But as long as the world is round, radar will continue to see hugely further from an aircraft than from a ship. Only if the Earth were flat would an escort flotilla beyond the very smallest be worth having: and it isn't flat.
Everything is still to play for here, and one has to remember that the armed services often put forward savings plans - and leak them to the media, as we see here - in the hope that politicians and public will instinctively recoil. Such a ploy used to be known as "doing a Royal Yacht", as the RN was formerly known for offering up HMY Britannia for cuts in the belief that no politician would dare call their bluff. (An erroneous belief, as it eventually turned out.)
"Oh no - two carriers means a smaller navy than Italy! Scrap them now!" - that's what the wouldbe frigate captains of the RN are hoping people will say, on reading the Telegraph today.
But we here on the Reg naval desk say that the only problem with this plan is it doesn't go far enough. Get rid of another escort or two and save HMS Ocean along with the carriers, we say. Fit them both with catapults and fill them with lovely cheap F-18s, and fob off the Pentagon (and the US anti-F35 lobby) by staying in the F-35 test programme and saying that we'll buy some F-35Cs at some undetermined future point, when they have become cheap and our current financial woes are in the past.
We say again: Come on, Cameron, Fox, Osborne. You know you want this. When the next crisis blows up somewhere, you know you want to be able to say "Blighty will have a carrier on station shortly, merchant shipping can proceed in peace, we may very well land troops if we feel like it", and feel happy in the knowledge that no tinpot local junta or oligarchy with a handful of jets (or "stealth flying boats", or diesel submarines) can stop you. Nor need you worry what America may do or not do, whether you can get use of a local airbase from some other unsavoury regime, how your supplies will arrive and all the other things that non-carrier countries have to worry about.
You want two carriers, and we British citizens and taxpayers want them too. We Want Two Or No Votes For You! ®
Bootnote
*Actually the Type 45 can't fight surface vessels at all, other than by firing unguided cannon shells at them (with little hope of results unless very lucky): but it could if it were a proper destroyer.
Lewis Page is a former Royal Navy officer, who left after 11 years' service in order to avoid wasting his time and the taxpayers' money aboard escort warships.